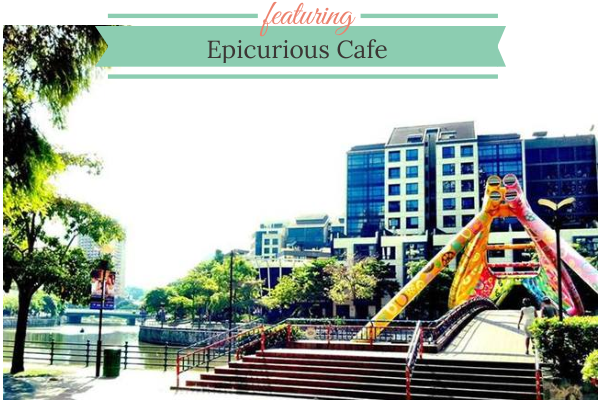 Boasting Time Out Singapore's accolade of Best Breakfast in Singapore, Epicurious Cafe has a lot to live up to. Parked at the corner along the Singapore River, it makes for one kickass weekend brunch with the family. The kids can scooter or bike up and down the riverside, whilst you keep an eye on them over a coffee.
The tables are large, wooden, and heavy. And so were the benches we sat on. But that's all part of the vintage charm of the cafe. Cups and plates are also old school vintage, which I thought was really cute.
We always order the Green Eggs and Ham ($14.60). Apart from sounding cute, the dish is very satisfying. Creamy scrambled egg studded with basil pesto, resting upon thin slices of parma ham. All this, laid upon country bread and scattered with parmesan cheese. Paired with oily but tasty potato chunks, this makes a superb choice for bigger appetites.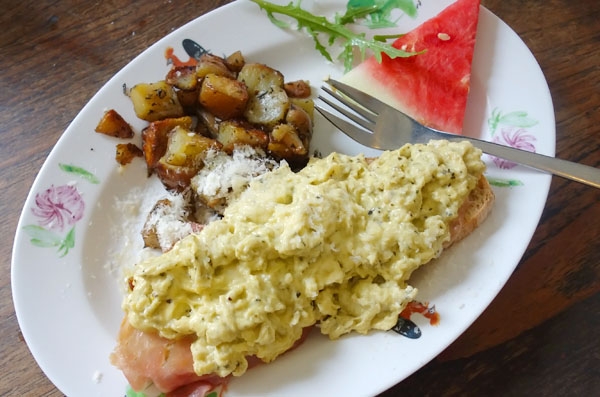 We also opted for the age old favourite, Eggs Benedict. It came drenched in Hollandaise sauce, which is a good thing for me because I love the stuff, but may freak out those that aren't into very heavy and high-calorie breakfasts. I enjoyed the soft English muffins it came on, and the generous portion of smoked salmon.
My only complaint? The eggs were over-poached! This is the reason why I get worried whenever I order Eggs Benedict. I'm always terrified of getting eggs that are over or under done 🙁 These yolks were still soft, fortunately, but were solid and did not have the luscious creamy ooze that I so desire.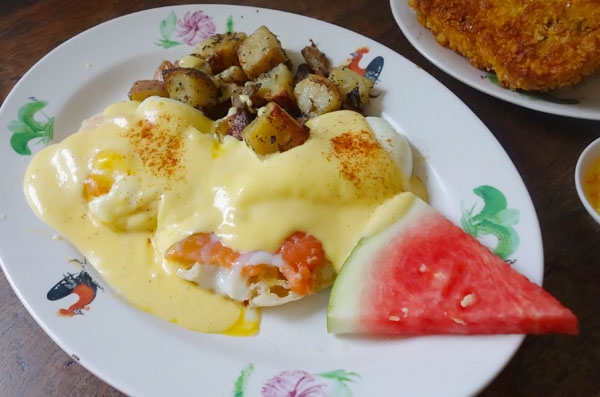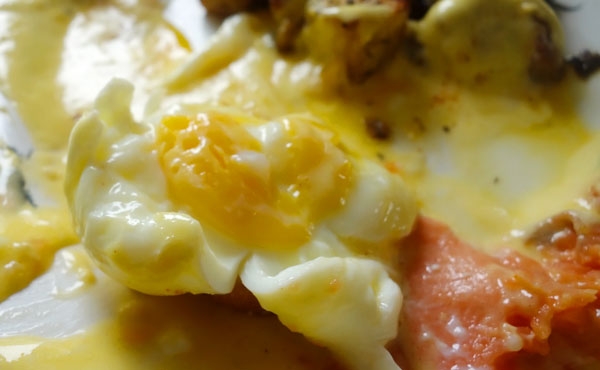 Happily, the Choco Nana ($7) was quite the hit. It was pretty as a picture! Perfectly toasted bread, containing melted nutella and bananas. The dish was dusted with icing sugar and topped off with bright red strawberry chunks. What's not to love?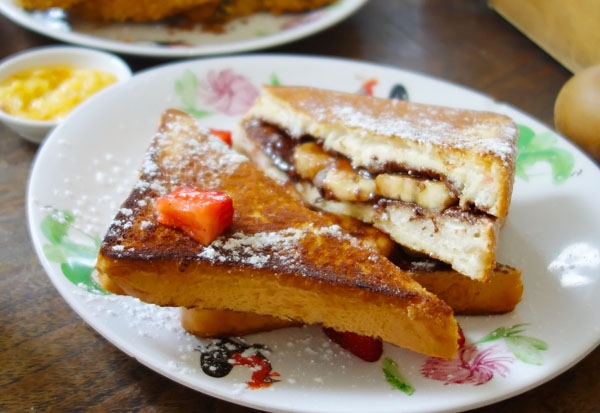 Their rendition of French Toast will have you (and everyone else at your table) curiously leaning over to take a second look. It's French Toast…. dipped in corn flakes!! If you like your crispies, like I do, you'll love it. If you're a traditionalist, you're going to think this is way too weird. I did enjoy it, but this is a dish to share, as the 3 fat chunks of bread can get a bit moreish.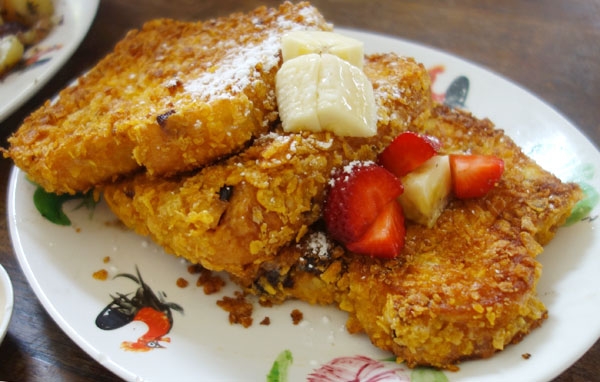 The Americano coffee was pleasant but nothing outstanding. I did like their old-style coffee shops cups that they were served in, though!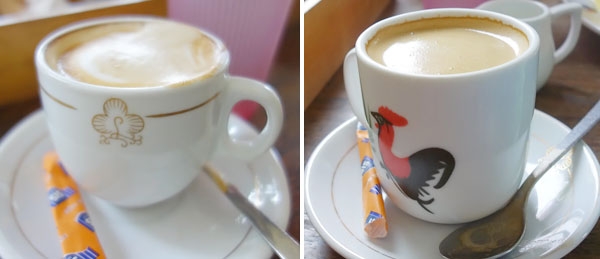 Remember to come dressed for the outdoors, as the cafe is almost entirely al fresco. It's a lovely, casual little spot to enjoy the view over the river, and is very popular with families.
My kids loved playing around in the area afterwards!
Oh the simple pleasures of splashing in puddles
Adrenalin junkies

Last Bite: Epicurious Cafe is a lovely spot to chill with your family by the Singapore River. Food is well-portioned and satisfying, and it's easy to keep an eye on the kids as they run around by the riverside.
Highchairs: Yes
Easy access: Yes
Change tables: No
Kids' menu: No
Epicurious Cafe
#01-02 The Quayside
60 Robertson Quay
Singapore 238252
Phone: 6734 7720
Prices: $$$
Hours: Tue – Fri: 11:30 am – 2:30 pm, 6:00 pm – 10:00 pm, Sat – Sun: 9:00 am – 10:00 pm