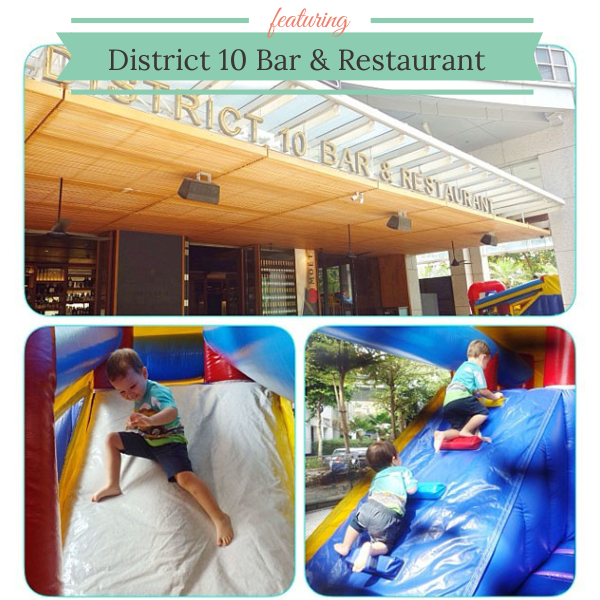 My kids got their first taste of a bouncy castle when they visited my gf's place and she had one in her back yard (as you do….). So they were REALLY REALLY EXCITED when they spotted one at District 10 Bar & Restaurant!
The bouncy castle is set up in a nook to the side of the restaurant, so you can sit back and chill out and eat, whilst still keeping an eye on the kids. The area is also sectioned off, so they can't run out. The bouncy castle is available during weekend brunch, which makes it a pretty fabulous place to bring the kids!
District 10 offer a very comprehensive Brunch menu, which is mostly Western but some dishes have an Asian influence. The kids ate a LOT, so I was very very pleased!
And… errrr… we ate lots too….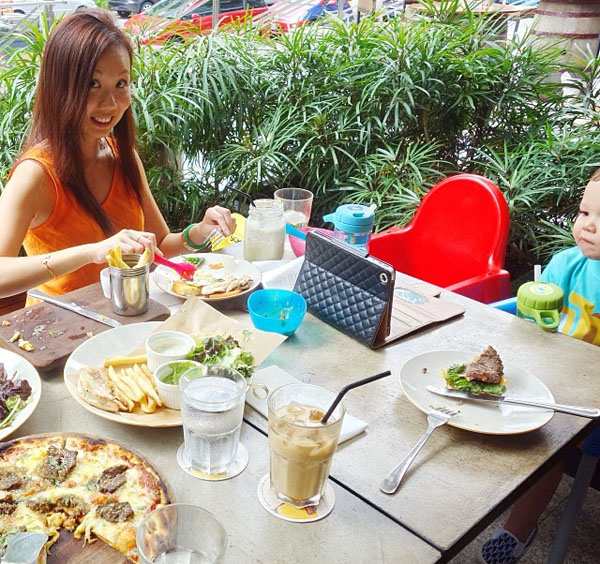 The Rigatoni with wagyu meatballs and fresh tomato basil sauce ($24) was ordered for the kids (off the main adult menu) and it was a H-I-T! The homemade tomato basil sauce was really tasty and I was surprised that Hunter, who doesn't like chewing meat, gobbled up the meatballs.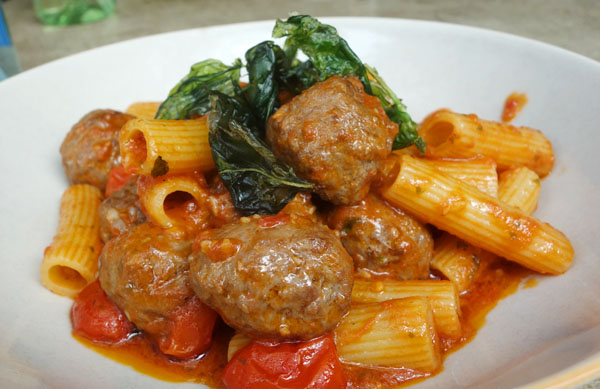 I LOVED the look of the Eggs Benedict; poached eggs on toasted muffin with sauteed spinach, smoked salmon & hollandaise sauce ($16). Seriously, how luscious do those eggs look? I suppose it must have been pretty awesome, because Hunter ate it all up and I had……….. none. Next time, I'll have to order a separate plate just for myself!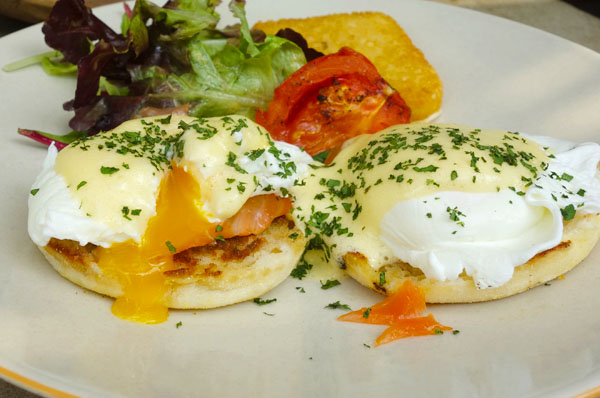 I've had the Hoegaarden Battered Fish & Chips; with mint mushy peas & tartare sauce ($22) before and it hasn't changed a bit since. It's gorgeous. The beer batter is fluffy and crisp, and the fish is thick and moist and juicy. The fish lay on a (large!) bed of fries, and I'd recommend this dish for a hearty eater – you won't be disappointed.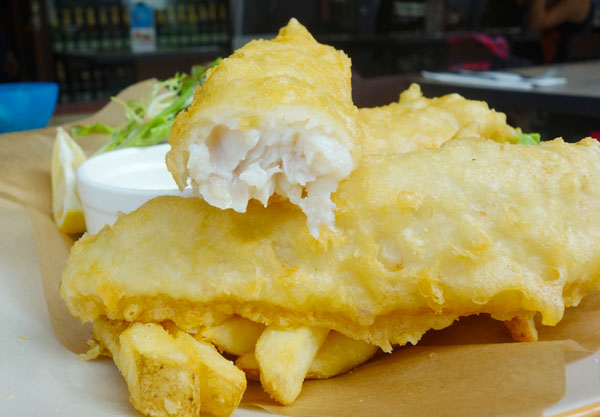 If you're looking for a real boy's brunch, you can't go wrong with their Beef Burger; charcoal-grilled Black Angus patties topped with fried egg, crispy back bacon, cheddar cheese on a sesame bun & served with natural cut fries ($20). That thing is BIG! I actually couldn't fit my mouth around the whole burger and had to eat it with a fork and knife 😉
The Black Angus beef patty was moist and thick, and the fried egg (with a gooey yolk!) gave the burger a lovely creamy texture and flavour. If the giant burger still isnt' enough for you, there's still a tin of chunky fries to go nuts over….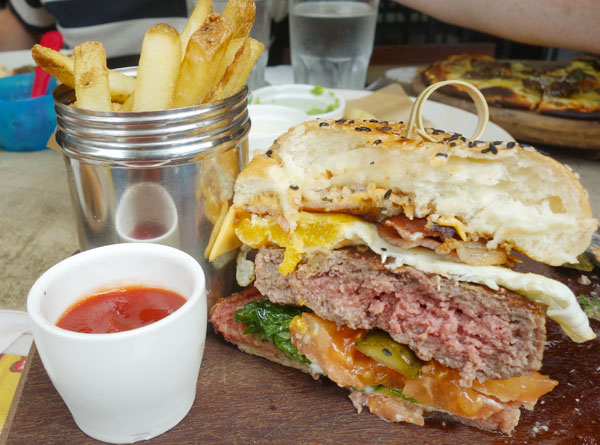 I left one of the best for the last – the Pizza with Wagyu Beef Cheek Rendang ($29). The pizza dough was fresh and crispy on the edges, and smothered in luscious cheese. But it was the wagyu beef cheek that was the winner – the beef was so tender! I've eaten beef on pizza where you're gnawing away like a rabid animal, but this was the exact opposite. The beef actually wasn't very spicy (thankfully), despite it being called a 'rendang', so the kids could have some.
My wish? That there was more beef on the pizza, because I loved it!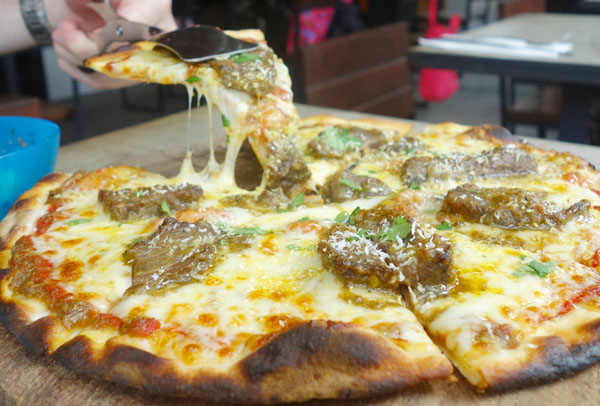 I believe my juice was a Dragonfruit and pineapple juice, which is listed under their Health Boosters section. Unsweetened, these freshly-squeezed juices were my ticket to convincing myself I was having a very healthy and light lunch 😉 The juice came in a large mason jar, so I was actually pretty full just from the juice alone!
Chris had an Iced latte. You can't quite go wrong with a coffee at brunch, can you?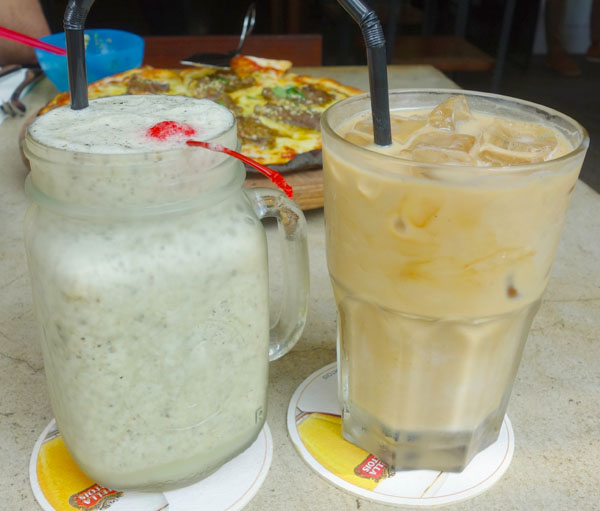 Evidently, we are a family of foodies………..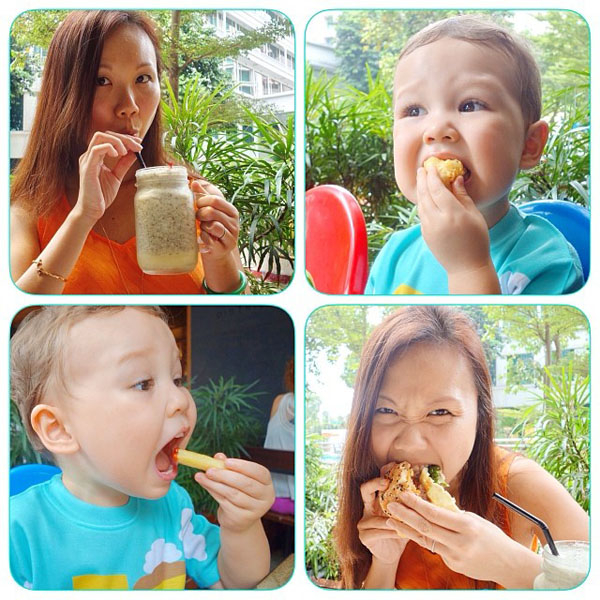 The kids went back to the bouncy castle after they polished off their food. For an HOUR!! Thank goodness it's lovely to sit and chill outdoors at District 10, and we had icy drinks to relax over. The kids made friends with a brother-and-sister duo there (I think they were the chef's kids), so they were kept well occupied and very well babysat by the two lovely older kids.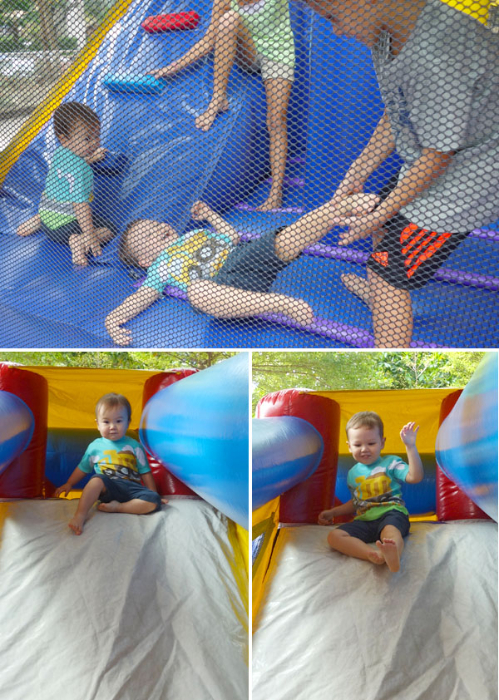 This is the interior of District 10. Very different to the chill and bright ambiance of their outdoor seating area, huh? The indoor area is lovely for a quiet dinner date, and I'd imagine it would be great to dine here over a bottle of wine.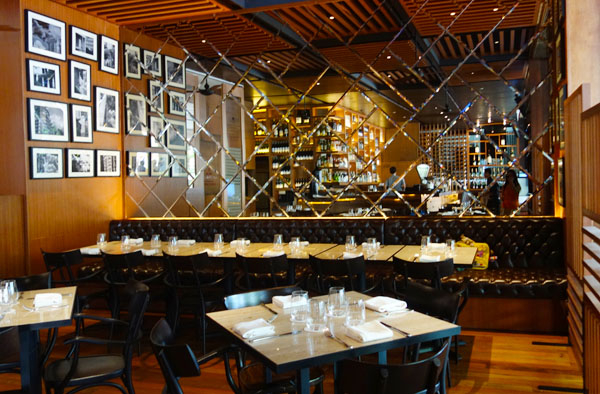 Last Bite: District 10 hits it out of the ballpark with a bouncy castle for kids on weekends. Their brunch menu is simply tops, our kids loved all 5 mains we ordered!

Highchairs: Yes
Easy access: Yes
Change tables: Yes (in the mall)
Kids' menu: No
District 10 Bar & Restaurant
UE Square Shopping Mall
81 Clemenceau Ave
Singapore 239917
Phone: 6738 4788
Prices: $$$
Hours: Mon – Thu: 11:30 am – 11:00 pm, Fri – Sat: 11:30 am – 1:00 am, Sun: 11:00 am – 11:00 pm