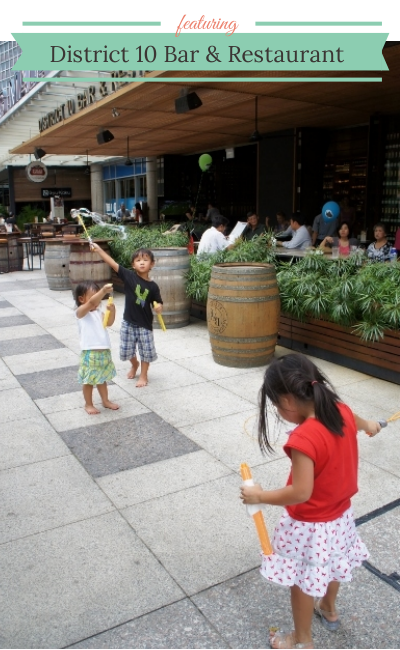 Hot on the heels on her first guest review on The Marshmallow Tree, Delphine Tan of the popular blog Life In The Wee Hours has hit us with a super-fun restaurant that I'm pretty excited about. A bouncy castle for the kids is always good in my book!
The following review is by guest reviewer Delphine Tan: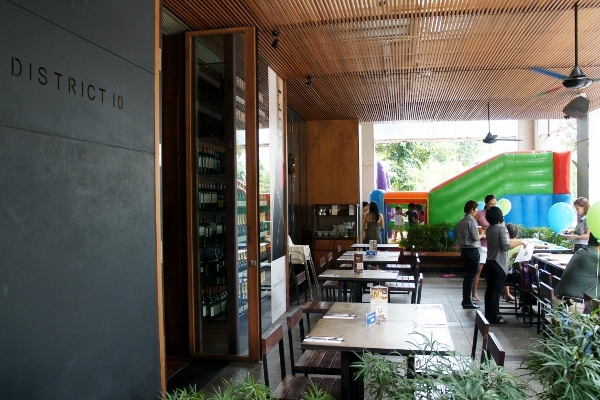 District 10 Bar & Restaurant in UE Square is a not a place I'd automatically associate with children's birthday parties. But we attended one there last Sunday and it was a lot of fun for the kids. Every Sunday, a bouncy castle is set up at the al fresco area of District 10 from 11.30am to 4.00pm. I love that the castle is outdoors but still under shelter so the noise from screaming children doesn't build up that much but the weather is not an issue either. I've seen some restaurants with bouncy castles that heat up like crazy under the sun and the children are practically roasting inside!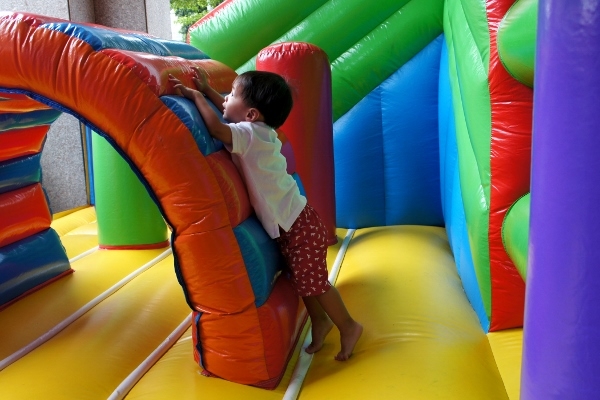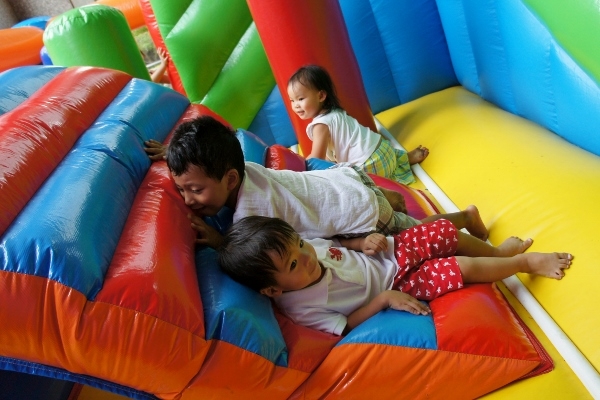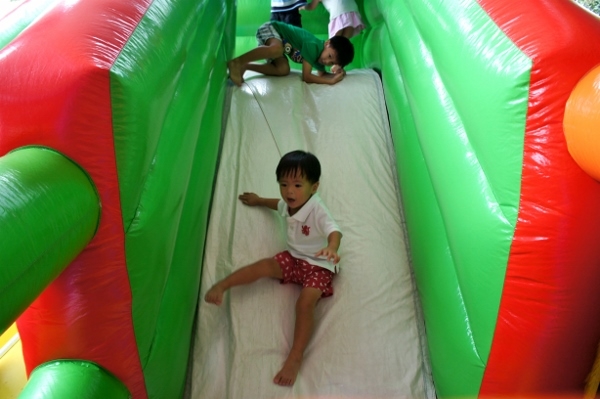 The bouncy castle alone makes District 10 a fab place to have family lunch on Sundays. But there are also colour pencils for the kids to colour with and a spacious walkway just beside the al fresco area for the kids to hang out at when they need a break from all the bouncing around. Our kids used that space to blow some bubbles and we could keep them within view the entire time.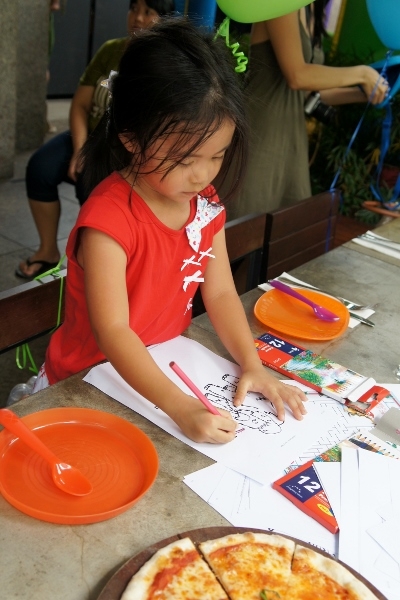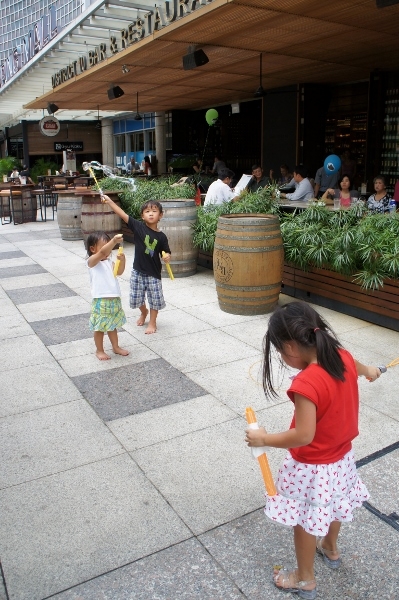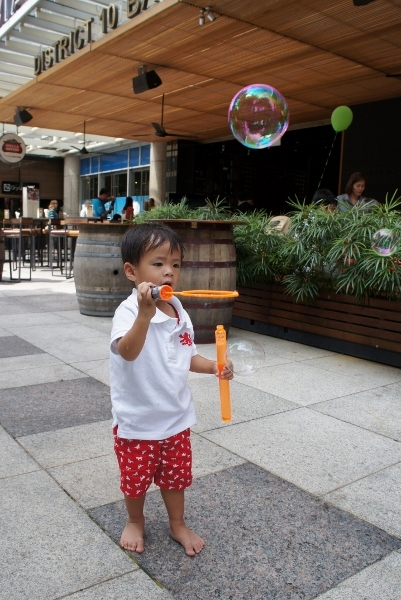 No matter how kid-friendly a place may be, I think it still needs to serve up some decent food to keep the grown-ups happy and to get people to make a return trip. With the kids happily playing in the bouncy castle, the adults could sit back and relax with a beer (or two) and the ones who couldn't have alcohol could choose from an extensive range of mocktails, juices and soft drinks. The food was pretty good too!
The Gunner ($12) was a favourite with the children and pregnant ladies (there were two of us there).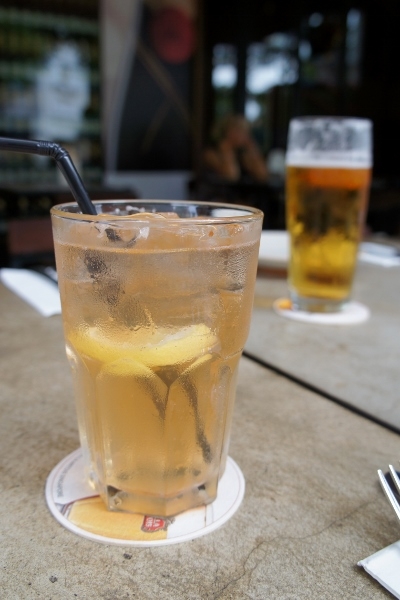 The classic French onion soup ($13) wasn't the best. It was too thick and too strongly-flavoured and came across more like a stew than a soup.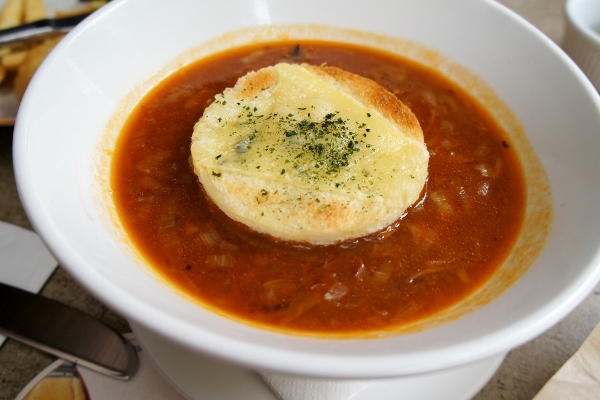 The Caesar salad ($14) could be a bigger portion for the price but is otherwise very decent.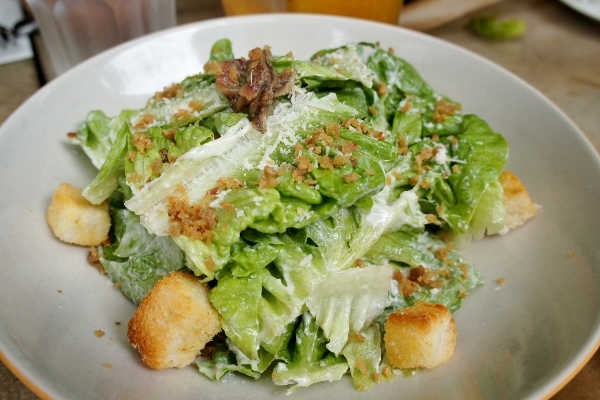 I enjoyed the fried Buffalo wings with blue cheese dip ($12) which were spicy enough to give a kick. The blue cheese dip was not overly pungent and went very well with the wings. I would have liked more veggie sticks.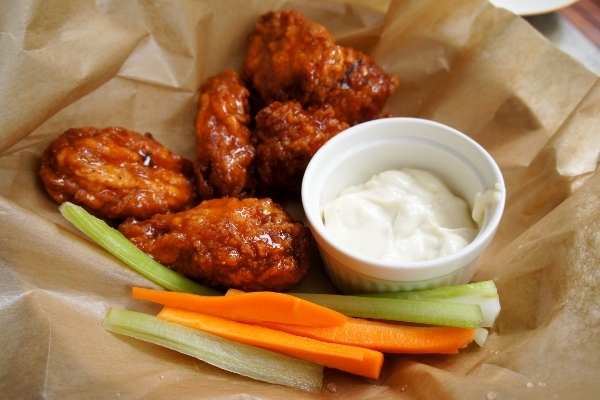 The kids were somewhat suspicious of the rocket leaves on the Pizza Jamon Iberico de Bellota ($32) but it was well-received by the grown-ups. District 10 offer interesting combinations of pizza toppings to choose from.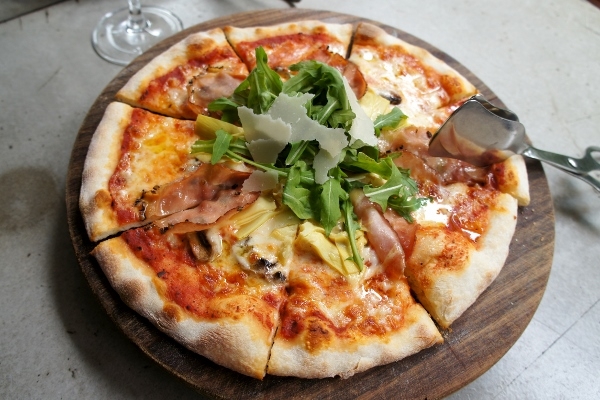 The Black Angus beef burger ($22) was cooked well done, yet was still moist and juicy when other places would have made it really dry.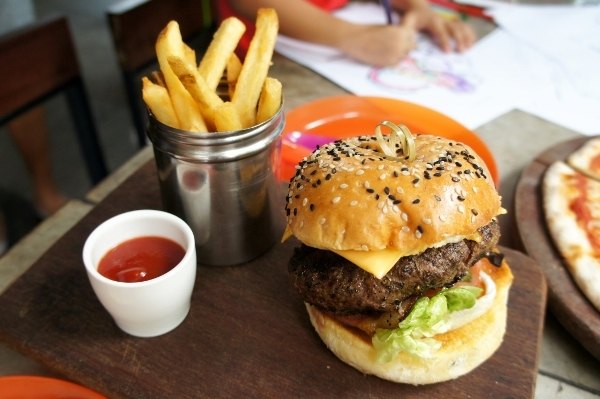 The Hoegaarden battered fish and chips ($22) was a hit with both young and old. There are two substantial pieces of fish very nicely fried with mint mushy peas, some greens and fries on the side. The husband considers himself a fish & chips connoisseur of sorts (he orders it whenever he sees it on the menu) and he was very satisfied with the one at District 10.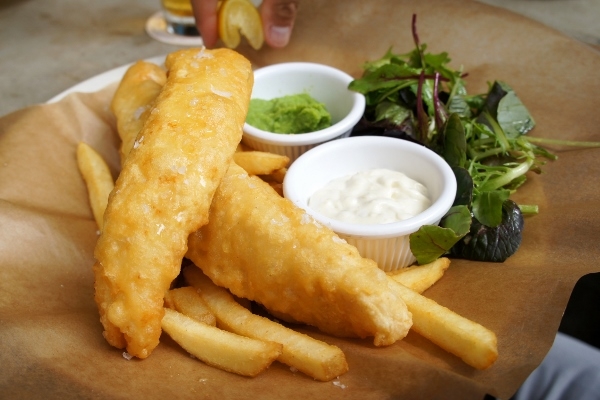 Since we had the birthday cake, we didn't order any desserts but there's a pretty good range including warm lava chocolate cake, New York cheese cake and Italian tiramisu.
I really enjoyed our lunch at District 10 and would definitely like to go back again. It's great for a small gathering like the one we had, especially if most of your friends have kids above 2 who can bounce around in the castle without needing too much parental supervision.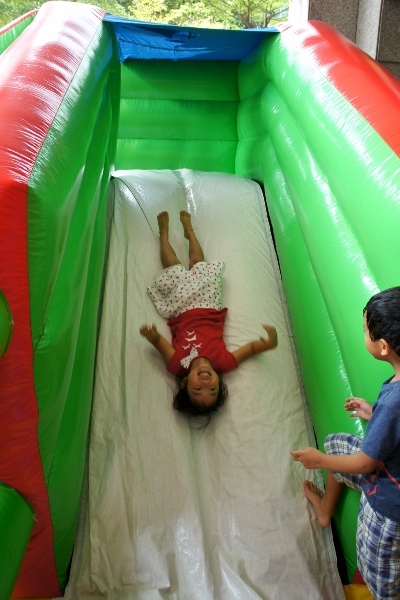 Last Bite: District 10 is perfect on Sundays. The kids get to go mad in the bouncy castle; the adults get to eat good food and enjoy a beer.
Highchairs: Yes
Easy access: Yes
Change tables: Yes (but you need to get the key from the security guard at the counter)
Kids' menu: No
District 10 Bar & Restaurant
81 Clemenceau Ave
#01-15/16/17
UE Square Shopping Mall
Singapore 239917
Phone: 67384788
Prices: $$$
Hours: Mon – Thu: 11:30 am – 11:00 pm, Fri – Sat: 11:30 am – 1:00 am, Sun: 11:00 am – 11:00 pm