What do you get when the Franciscan order and a flying pig cross paths? You get a slice of pizza heaven. St. Michiba's is a kid-friendly pizza eatery on Waterloo's leafy Phillip St with a sinfully delicious menu with a playful shade of Japanese-anime-inspired ambience.*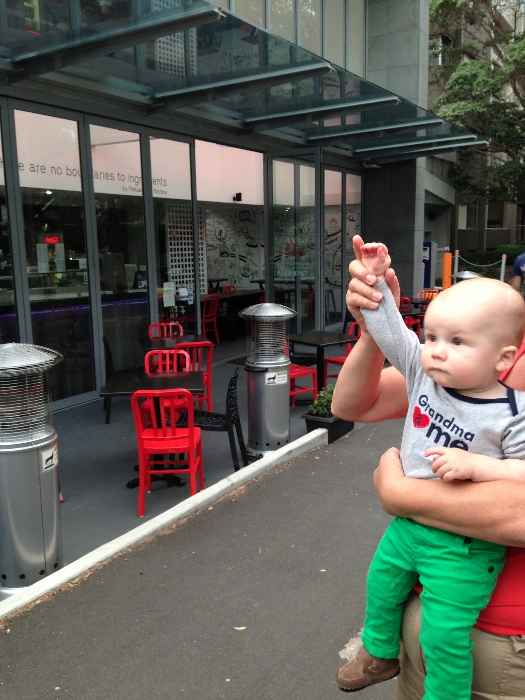 On a recent blustery spring evening, Baby Lukas and I took my parents (visiting from Canada) to St. Michiba's. For the sake of full disclosure, I must admit that it was not my first time at St. Michiba's and that they may even know me when I ring for takeaway.
As the restaurant interior is small, we elected to sit outside which was great because it left us room for the pram and allowed Baby Lukas free access to zawk (my word to describe his style of zombie walking – a fresh skill he's acquired) and gawk at all the people walking by.
The first thing my parents noticed was the unusual menu – salads are listed under "The Garden of Eden" while vegetarian pizzas hail from "The Franciscan Order". We decided on the Genesis salad (prosciutto, avocado, toasted walnuts, parmesan on wild rocket, $14), the Rahmiel (smoked ham, mushroom, pineapple and olives, $26) and the Assisi ($22, otherwise known as a Margherita).
In not very long our pizzas arrived, and they didn't disappoint: for approximately 10 minutes not a sound (other than Baby Lukas happily chowing down on pizza crust – which make for excellent teething snacks, by the way) was heard as we concentrated on the goodness. As a testament to the quality, my father, who'd rather have a steak over pasta (which is what he classifies pizza), was stunned at how good these thin-crust pizzas tasted.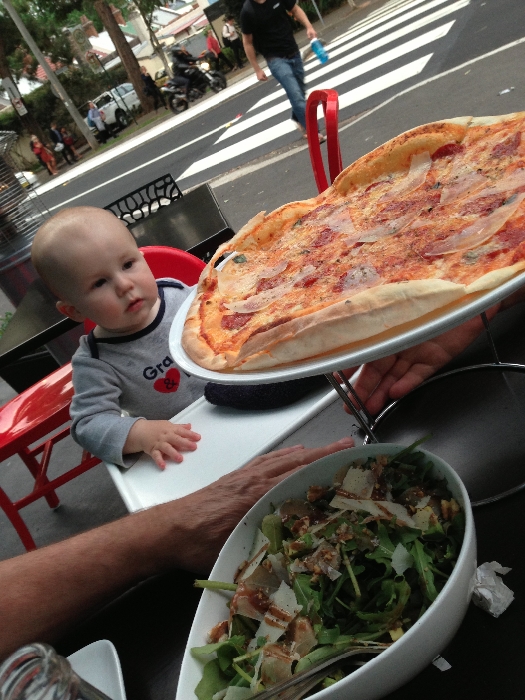 While we ran out of stomach to try any of the Last Temptations (also known as dessert) we were more than satisfied with our dinner.
Last bite: Waterloo doesn't lack for pizza joints, nor does it lack for kid-friendly places to eat, but St. Michiba's is one of those rare places where good food and stuff to do make happy babies and happy parents.  
*Clarification: I've no idea if the flying pigs artwork that adorn the pizza boxes and the walls actually are Japanese Anime inspired, but this is what my uninformed self would call it.
Highchairs: Yes.
Stroller storage: Yes.
Easy access: Yes.
Change tables: No.
Kids' menu: No, the menu suits any kids eating pizza
St. Michiba's
Shop 8 / 863 Bourke Street, (actually located on Phillip St at end of Pedestrian crossing)
Waterloo NSW 2017
Ph: (02) 8068 8767
Prices: $$$
Hours: Sun-Sat 5pm-10pm
Get Directions
Emily is an intranet guru, passionate about organizing information to make it easier for others to find it. She's brought organization to replace chaos at The National Archives of Canada, the Canadian Broadcasting Corporation, Google, PricewaterhooseCoopers and most recently Stockland. Emily's also a newish mum whose organized world flipped on its head with the arrival of her son, Baby Lukas.