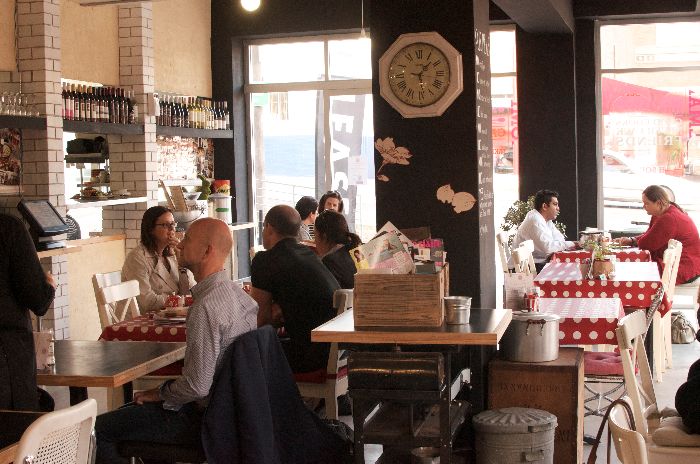 Looking for some comfort food that reminds you of grandma's cooking? Look no further than Grandma's Little Bakery, a cute, kid-friendly restaurant, café, bakery and store in Alexandra, where their tagline proclaims it's "just like home".
With winter undeniably here and it being my last day of maternity leave, I was in desperate need of comfort food. Grandma's Little Bakery, which had always caught my eye en route the airport, seemed the natural choice, my two men—Baby Lukas and husband Lorin—in tow.
The mouth-watering smell of home-cooked soup and the cheery red-and-white polka-dot table cloths greeted us the second we walked through the door.  This being Alexandria, however, Grandma's Little Bakery is positioned within a warehouse-like building, so it ticks the "little bit trendy" box too.
When I think of comfort food, I think of macaroni and cheese, grilled cheese, soup—basically anything warm and cheesy and full of carbs. Grandma's Little Bakery doesn't disappoint and you must try the Traditional Chicken Soup ($12.50).  The menu here also offers some non-standard comfort-food fare, such as the Couscous Beef Kebab Salad ($12.50), which I just had to try—and I'm glad I did (the picture should say it all).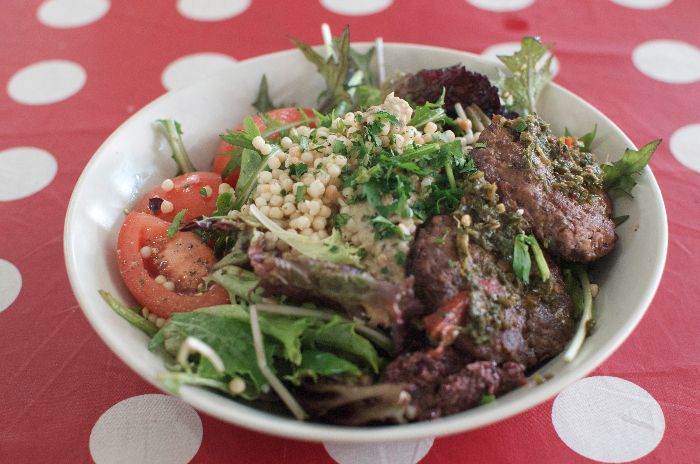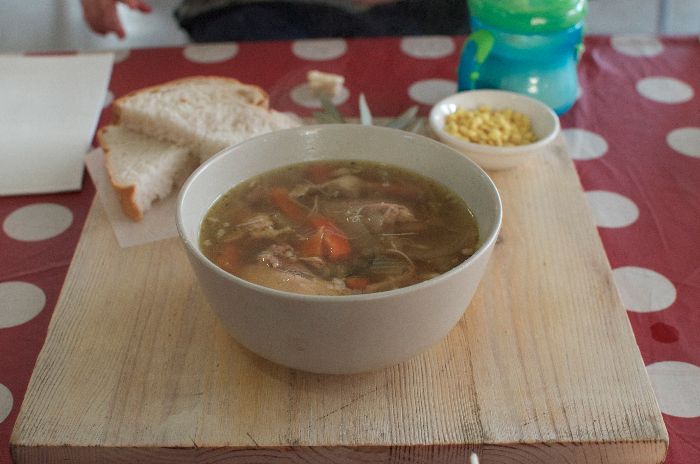 After we ate (Baby Lukas, occupied with a piece of sumptuous chicken from the soup, let us finish our meals) we  took a little tour of the bakery and shop, located just behind the pay counter. Dozens of frozen soups, strudels and jams were neatly aligned on the wooden shelves, ready-made for some of grandma's comfort food to be enjoyed in—well—the comfort of your home.
As with all good comfort food, my food (and time) at Grandma's Little Bakery was a great distraction from the realisation that this was my last day of maternity leave.  You really can't ask for more for a place that promises to deliver its wares as being "just like home".
It's worth mentioning that there's an indoor playground area for toddlers and older kids, so boredom won't be a factor at this Grandma's!
Last bite: If you're looking for some comfort food in a trendy but not too-trendy-for-itself venue that's kid-friendly, Grandma's Little Bakery in Alexandria is the go.
Highchairs: Yes.
Stroller storage: Yes.
Easy access: Yes.
Change tables: Yes.
Kids' menu: Yes.
Grandma's Little Bakery
42 O'Riordan Street
Alexandria, NSW 2015
Phone: (02) 9690 0069
Prices: $$
Hours: Mon-Sun 7am-4pm
Get Directions