It's that familiar weekend challenge: finding a kid-friendly restaurant that can accommodate a large group people, including kids ranging from 7 months to 5-years old, and not just a little bit of chaos.
On a decidedly spring-like autumn Saturday, our herd descended upon Darley Street Bistro in Clovelly to try our luck with lunch.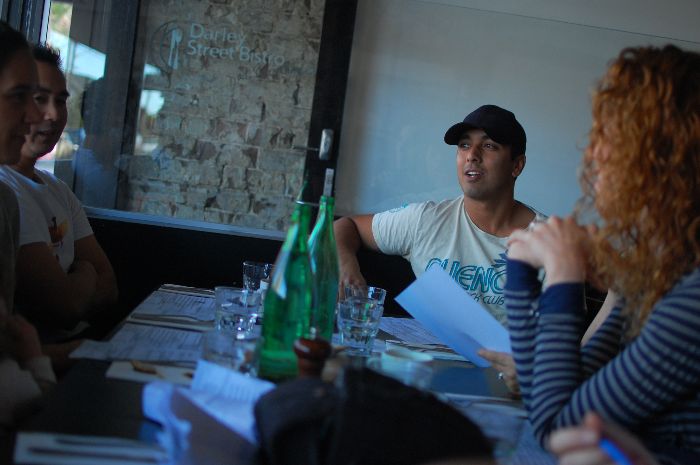 Now, lunch out with my 7-month-old son Baby Lukas is like a game of roulette: either he'll be amazingly charming or he'll be a screaming banshee before lunch is served.
Darley Street Bistro is a cozy affair, which is code for don't bring a pram if you can do without one. Upon being seated at two long tables, we were given paper menus which the older kids immediately turned around to colour. Baby Lukas was stuffed (he's got the chub) in a pristine-for-now high chair.
Like the place itself, the menu was smallish, with a handful of delicious pasta dishes and sandwiches. I chose the Southern Crispy Chicken Wrap. Some sort of secret-sauce-style zing really upped the ante on this little number. This is a must-order or a convince-your-partner/friend-to-order-and-eat-theirs.
The older kids all chose Fish and Chips from the kids menu, and I'm pretty sure that judging from the empty plates (and perhaps a sneaky bite) it was delicious.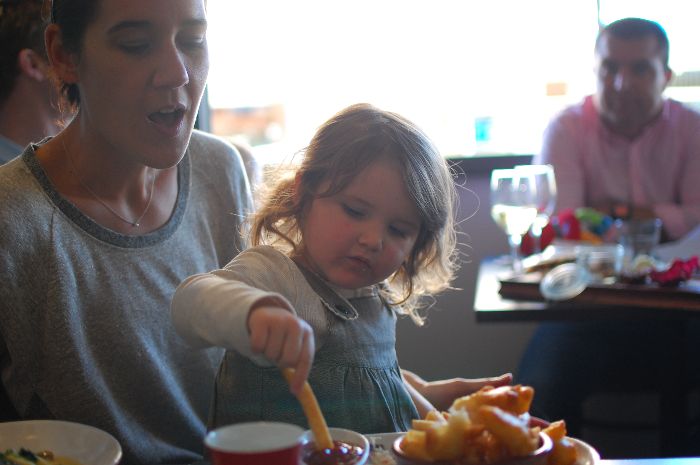 Back in the high chair, Baby Lukas was flinging pureed goop all over the no-longer pristine high chair and anyone within hitting distance. He had also moved on from smiling at everyone to escalating shrieking, indicating that our time was running out.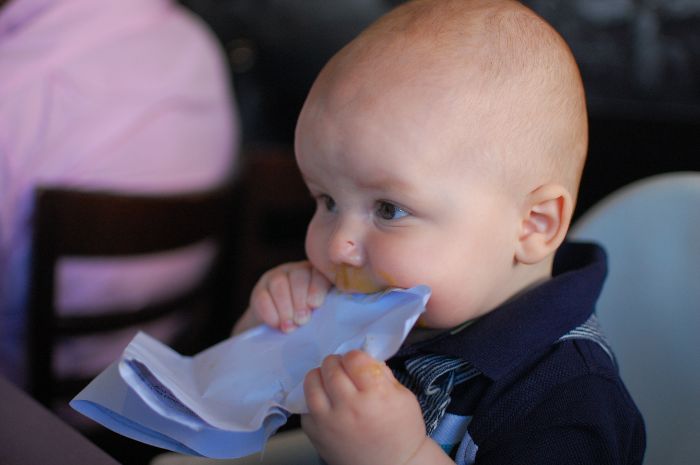 The ridiculously accommodating and non-fussed staff, realizing our plight, arranged for my husband and I to receive our food first so we could take off when needed.  Their kid-friendly approach to service really took the stress out of lunch so we could focus on, well, lunch.
Last bite: If you're looking for a kid-friendly place that caters for larger groups and takes reservations, you can't go wrong with Darley Street Bistro. We'll certainly be back!
Highchairs: Yes.
Stroller storage: No.
Easy access: Yes.
Change tables: No.
Kids' menu: Yes.
Darley Street Bistro
309 Clovelly Rd.
Clovelly, NSW 2031
Phone: (02) 8068 2182
Hours: Mon-Sun 12pm-3pm and 5:30pm-late