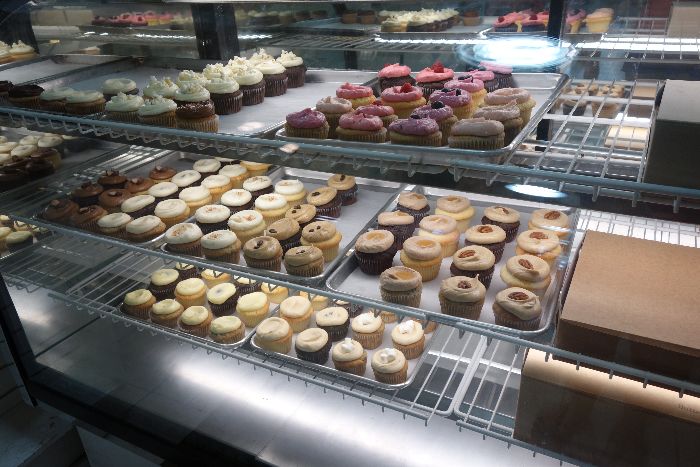 All I need is to hear the word "cupcakes" and "new location", and I'm there, basically the next weekend. This was the case with the new Park Slope opening of Butter Lane, a cupcakery based, until now, just in the East Village. Butter Lane is known for having something for everyone—you can mix and match your cake base and frostings, meaning that even the pickiest eater can "design" (kind of—they're pre-made, but you get my point) their perfect cupcake.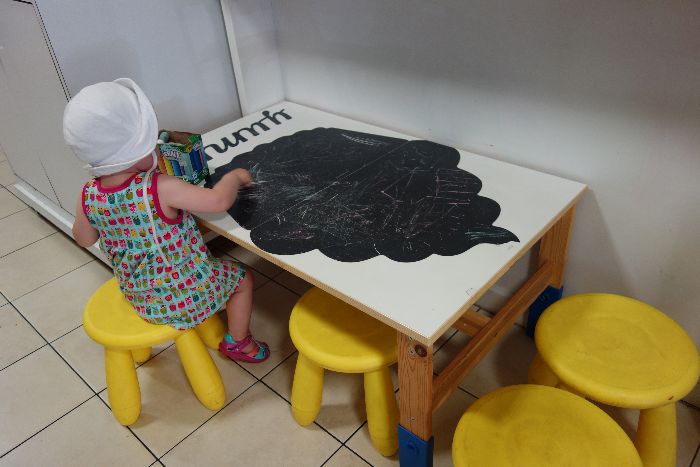 Our afternoon tea break at Butter Lane came on a steamy hot Sunday, after a day in nearby Prospect Park. The cafe is a decent size, with high counters and kitchen stools, decorated with pastel KitchenAid mixers. Nestled in between the tables is a kids' table and chair set, the perfect size for toddlers. The table is embedded with a chalk drawing area and there is a box of large chalk pieces for little kids to busy themselves while parents line up for cupcakes—and then devour them.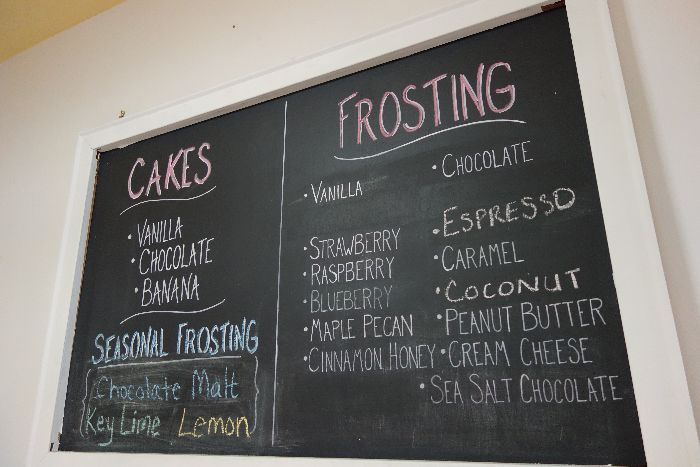 As I mentioned earlier, Butter Lane let you choose your perfect cupcake combination. Choose your base cake (vanilla, chocolate, banana), then your frosting. Try a seasonal special (we had options like chocolate malt and key lime) or a classic favourite like caramel, raspberry (my favourite!) and sea salt chocolate.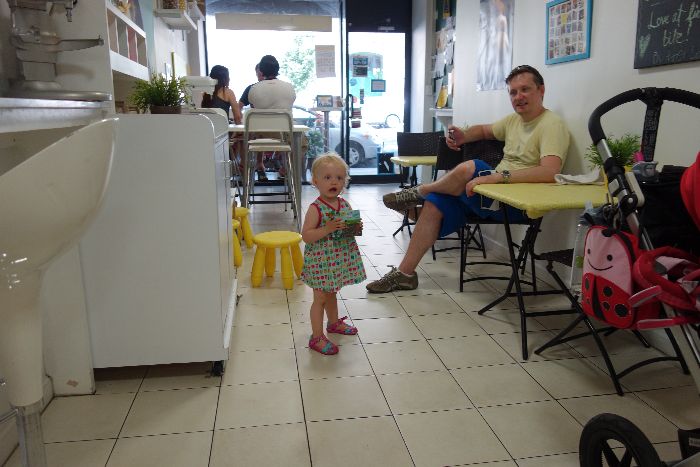 I find it hard to chose a single cupcake with so many options before me, so I had to get two (one for now, one for later!). I picked up a vanilla cupcake with raspberry frosting, and a banana cupcake with caramel. The first was definitely my favorite, just because I love raspberry so much. The vanilla cake base was light and fluffy, and the frosting just tasted like a whole bunch of raspberries crushed up and spread all over it. Holy moly, amazing. The banana cupcake I saved till later, and it was also really delicious. A dense base with big chunks of banana, and the caramel frosting was light and fluffy—probably not the best combination, in retrospect—next time I'd do banana with cream cheese, or vanilla with caramel, I think.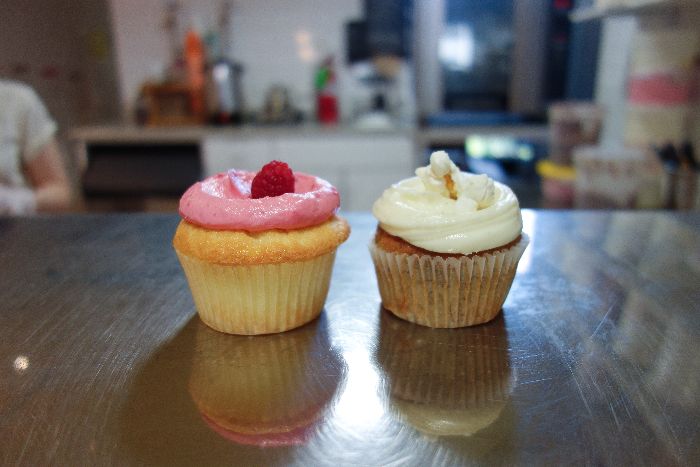 Butter Lane also do baking classes (in both locations) for both adults and kids. What could be sweeter than that?!
Last bite: The perfect place to stop off for a sweet treat before or after (or before AND after!) a trip to Prospect Park with your kids. Pick your perfect base and frosting to create your dream cupcake.

Highchairs: No.
Stroller storage: Yes, plenty of room for strollers.
Easy access: Yes.
Change tables: No.
Kids' menu: No. But, come on. CUPCAKES!
Butter Lane Cupcakes Park Slope
240 7th Ave
Brooklyn, NY 11215
Phone: (718) 369 0466
Prices:$
Hours: Daily 11am-8pm