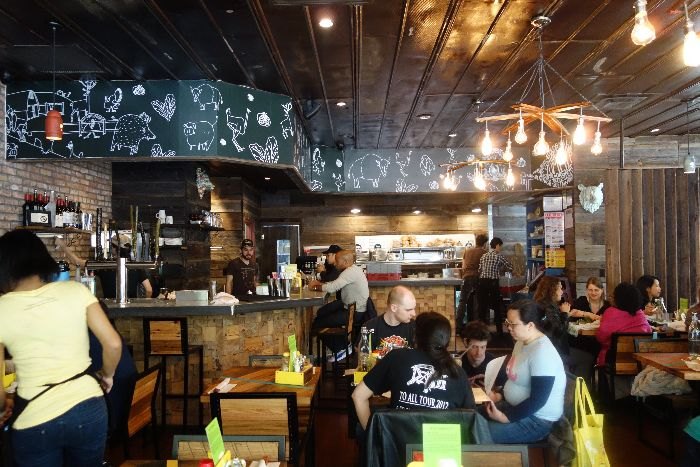 As a vegetarian and fussy eater in general, I really struggle to find good burgers. My husband has been a fan of Bareburger for a while, but I've never had the opportunity to go until the new branch opened recently in Cobble Hill. There are about a gazillion burger joints in New York—so what makes Bareburger special? They partner with local artisans and organic farmers to give diners the tastiest, locally-grown and humanely-sourced food possible. The result is healthy and delicious food that will fill you up and make you feel good in the inside—happy tummy, happy soul.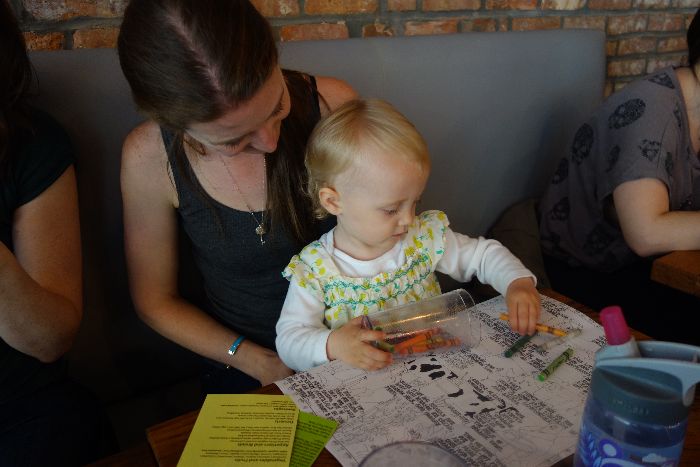 The new Bareburger in Cobble Hill is a little tight inside—be prepared to wiggle between tables. We rocked up at prime lunch time and were sat immediately. They have minimal space for strollers, so our jumbo one had to wait patiently for us on the sidewalk. They had room for folding stroller, however, so bring your umbrella stroller or carrier where possible.
Our friendly server couldn't do enough to make Cheese happy. Crayons, colouring paper and a cute little cup filled with iced water. "Would she like anything else? Juice?" The thoughtfulness was great and made us feel super welcome.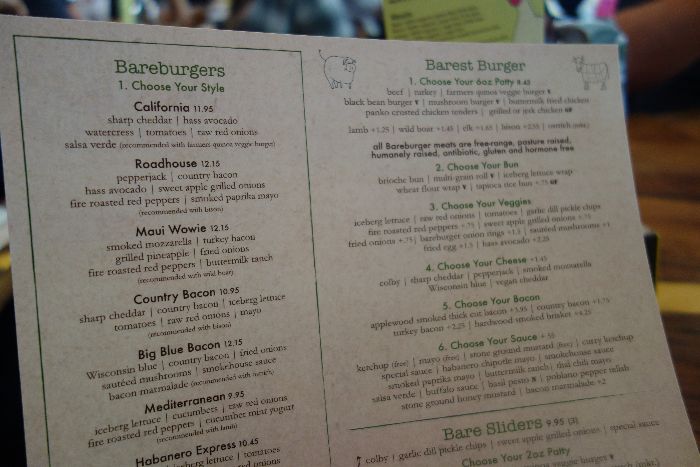 My favourite burger is very simple – patty, tomato, cheese and ketchup. Since I always get the veggie patty, it's difficult for me to just get the simple burgers I love so much. Anywhere I can build my own burger is guaranteed to become a firm favourite of mine, very fast.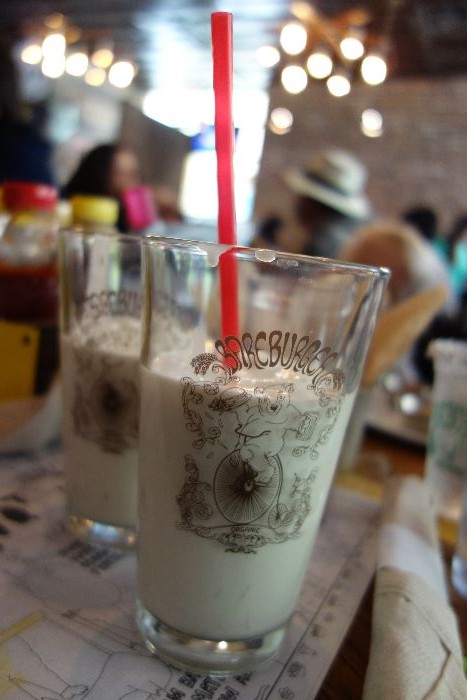 Alec and I split a banana shake—it was huge, and half each was the perfect amount. We also loved that it arrived with two glasses and straws, so we could each have our own half-sized shake, meaning less fighting over who drank the most shake.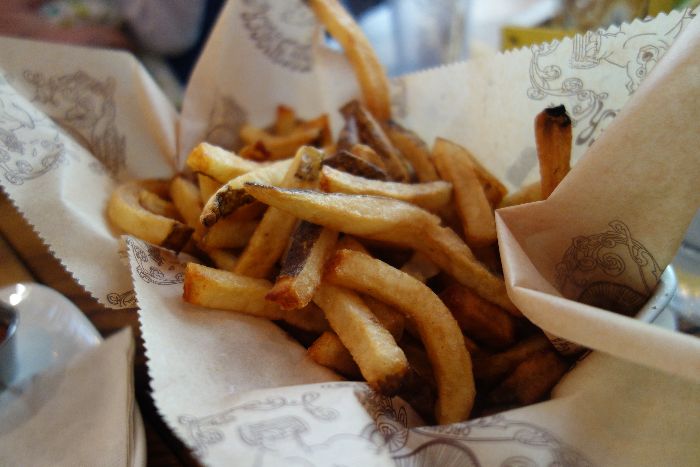 We also ordered a big side of fries. It came with a bunch of dipping sauces—Cheese tried them all and declared the curry ketchup her favorite.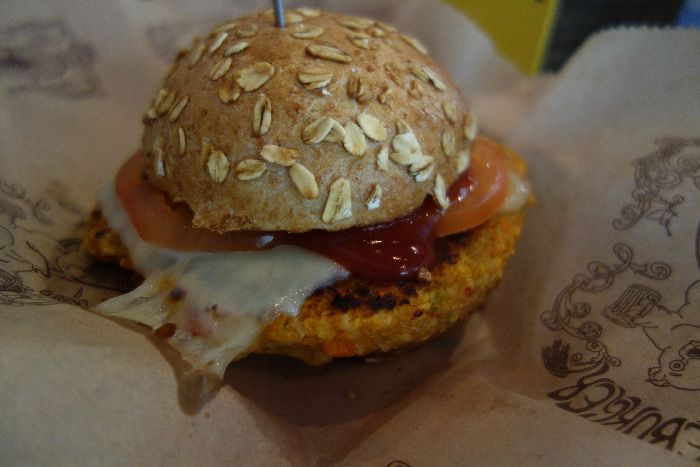 My vege burger was fantastic. A hint of spice, tasty cheese, and a whole grain bun. Delicious and filling, and possibly even, dare I say it, healthy?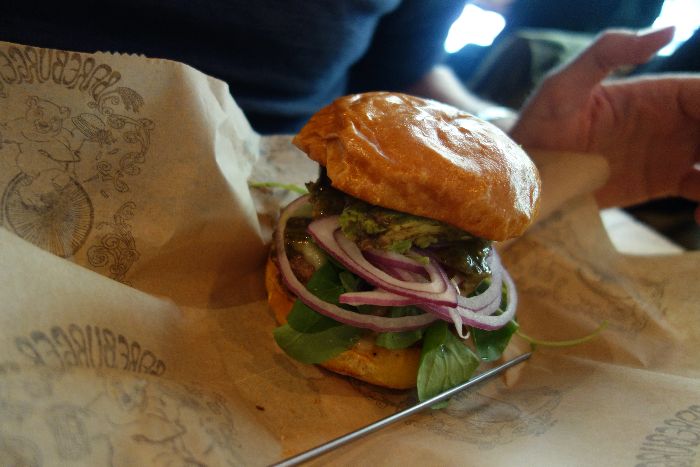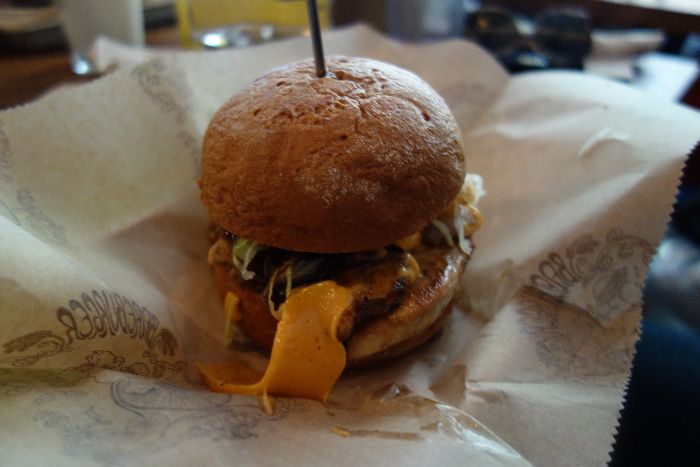 My friend who came with us has a gluten and dairy allergy. If you have any similar special dietary requirements, Bareburger is the place for you. My friend had what she described as an amazing burger, with vegan cheese and a tapioca rice bun.
Last bite: Bring your kids and a big appetite for a great burger, shake, fries or salad. Leave your big stroller at home, and enjoy the Bare experience!
Highchairs: Yes.
Stroller storage: Yes – but minimal. Bring a folding stroller if possible.
Easy access: Yes.
Change tables: Yes.
Kids' menu: Yes.
Bareburger Cobble Hill
145 Court St.,
Brooklyn, NY 11201
Phone: (347) 529 6673
Hours: Sun-Thur 11am-10pm, Fri-Sat 11am-11pm