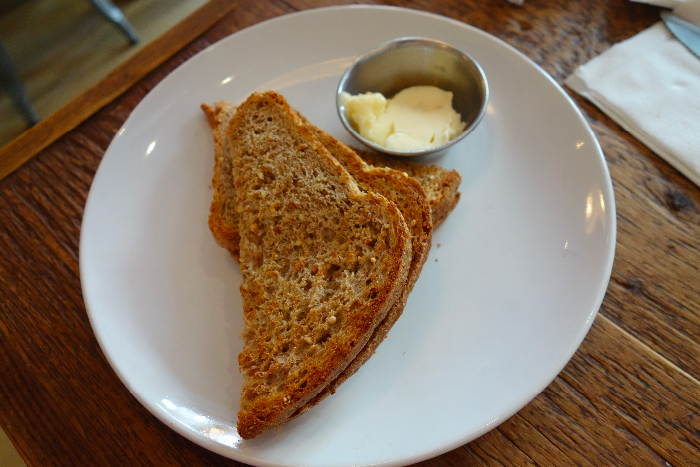 One of the best things about New York City is the amazing variety of food you can enjoy to meet any type of dietary requirements you might have. A good friend of mine has a gluten and dairy intolerance, so we regularly eat at cafes and restaurants where her dietary needs are met — and where she has more choice than a salad or eggs.
Sun In Bloom is a gluten-free, vegan & raw food kitchen, with locations in both Brooklyn and Tribeca. We visited their Park Slope cafe for brunch to see if their pancakes measure up when they're made without delicious gluten. All three adults in our party ordered the Gluten-Free Pancakes with Spiced Germinated Walnuts & Side of Maple Syrup ($11.50), but we each chose different combinations of fruit toppings to go with it.
The pancakes were surprisingly still yummy even without gluten, and the fruit on top was fresh and sweet. We gave Missy E a side of Sprouted Wheat Toast and Sunflower Seed Butter to try, but it was too crunchy for her and so she preferred the pancakes and fruit. At prime brunch hour there was no wait for a table, but when we were leaving the cafe it was quickly filling to capacity. The wait on some of our items was a little longer that I would have liked, particularly since Missy E was being a whiny pain that day and we were desperate to eat and leave! We all enjoyed our brunch and will be back, particularly when entertaining people with special dietary requirements.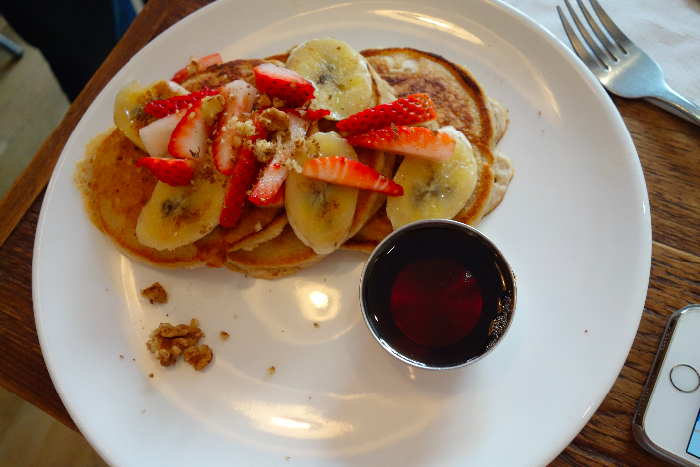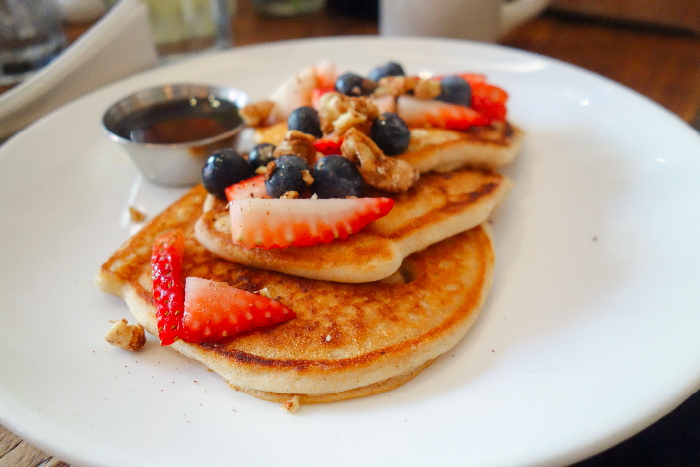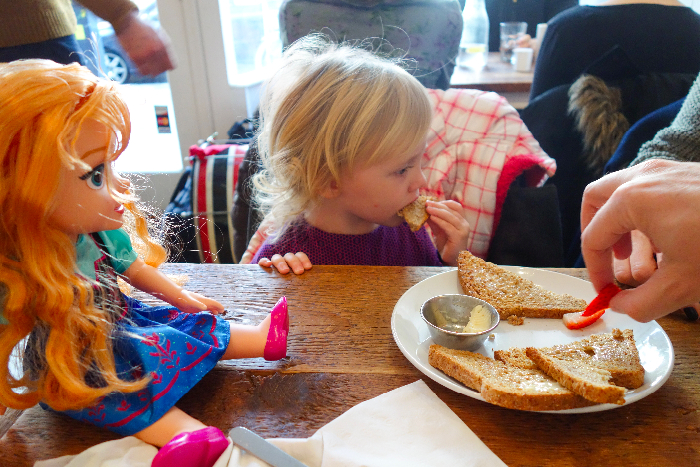 Last Bite: A healthy brunch option that caters to the special dietary requirements of vegan, raw-food-followers and gluten-intolerant diners.
Highchairs: Yes.
Stroller storage: Yes.
Easy access: Yes.
Change tables: No.
Kids' menu: No.
Sun In Bloom
460 Bergen St,
Brooklyn, NY 11217
Prices: $
Phone: (718) 622 4303
Hours: Mon-Fri 8:30am-9pm Sat & Sun 10am-5pm
Get Directions