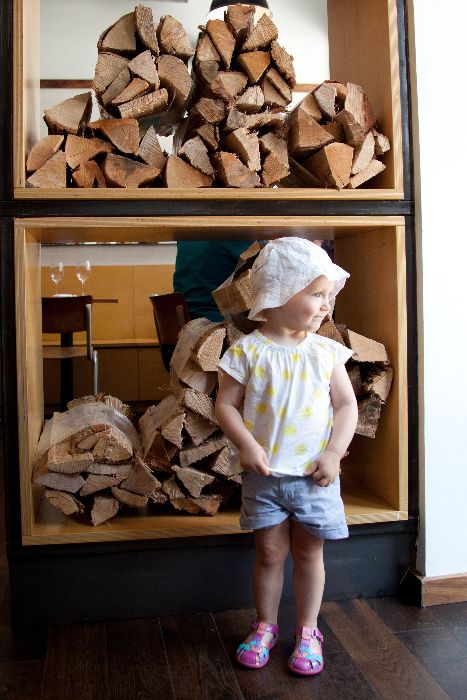 Franny's is a firm neighbourhood favorite for families. As well as serving up a great pizza pie, Franny's is committed to sustainable agriculture. They buy locally grown foods and serve seasonal produce. The vegetables, fruits, eggs, dairy, and fish are largely sourced from local and/or organic producers; all the meats at Franny's are from sustainable sources, containing no hormones or antibiotics. It's a place you can go to and feel really good about what you are eating there.
While this is all well and good, the question remains . . . Are their pizzas any good?? We dropped in recently with some hungry friends and proceeded to test out a significant section of their pizza menu, in search of the perfect slice.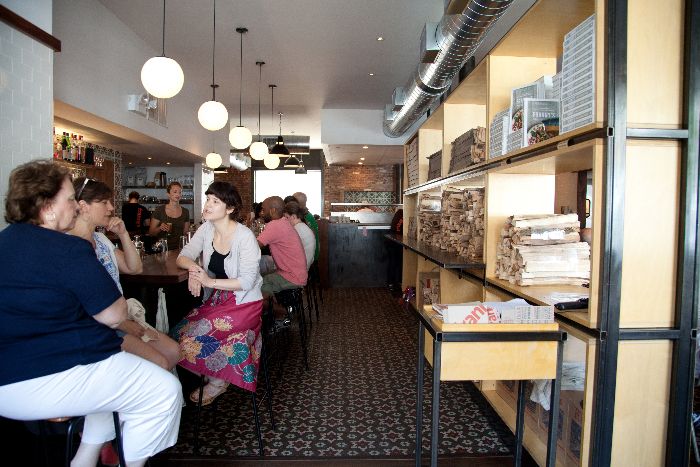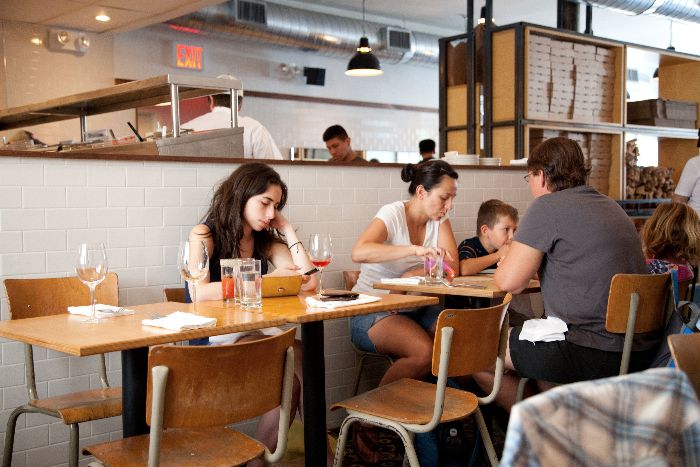 Franny's is a goodly size, with plenty of seating and space. We arrived at peak lunch hour with a party of four adults and two wiggly toddlers and were quickly seated at our table. Missy E was in a particularly squirmy mood since we hadn't had time to stop at a playground beforehand to wear her out (not the smartest move we've ever made, but thank God we had the iPhones). Franny's was our destination of choice because I was really feeling pizza that day, and our friends were big Franny's fans. They also have a lot of tables so you've always got a pretty good chance of being seated straight away with no wait, even with a party the size of ours (Franny's only tasks reservations for parties of 8 – 12). 
Our umbrella strollers were stored in their stroller and scooter parking space (note — bring a folding stroller only as there is no room for the jumbo ones inside).
The service was adequate but nothing special. Not particularly fast, even though we had two toddlers with us who really did not want to be sitting down for long. We ordered four pies (it seems like a lot, but hey, don't forget that pizza is a toddler crowd-favorite!). Tomato, Buffalo Mozzarella and Sausage ($17); Tomato, Basil and Buffalo Mozzarella ($16); Wax Peppers, Onions, Olives, Oregano and Provolone Piccante ($17); and Tomato, Buffalo Mozzarella and Meatballs ($17).
The pizzas come as one giant pie, requiring you to cut it up with cutlery yourself. The pies are pretty big — larger than personal, but not as big as family. If you're particularly hungry and are sharing with a pizza-loving toddler, you and any other adults you dine with may want to order as we did (ahem, one each). The base is soft and pliable, with a crisp bottom (no soggy pizza!) and the high-grade toppings deliciously melt together. I'd prefer the toppings to be closer to the edge of the pizza since I prefer a higher topping-to-crust ratio. The pizza tasted as a great pizza should — mouthfuls of slightly sweet tomato sauce and stringy mozzarella.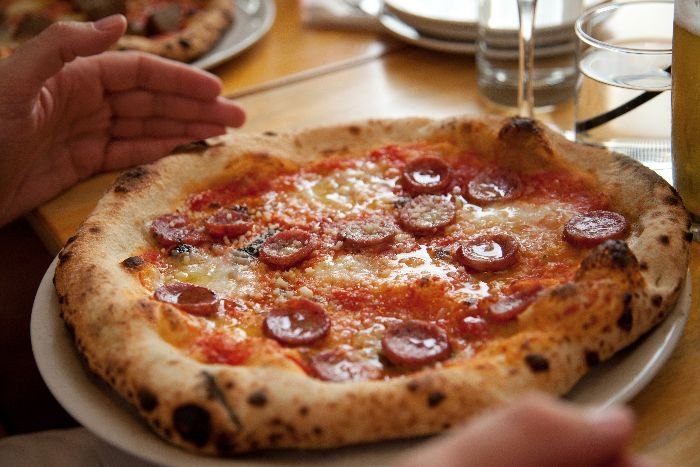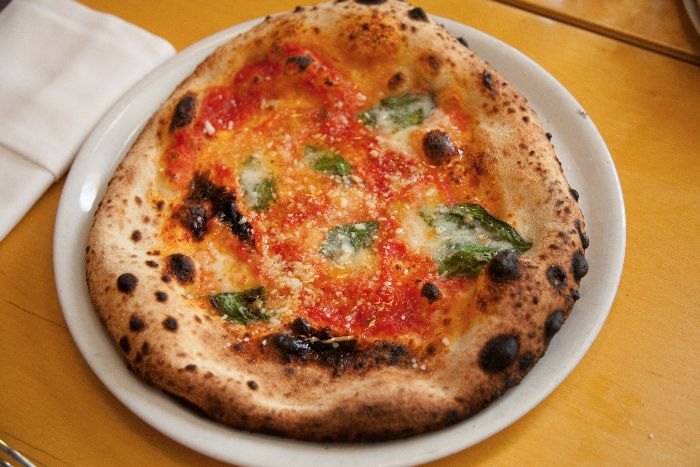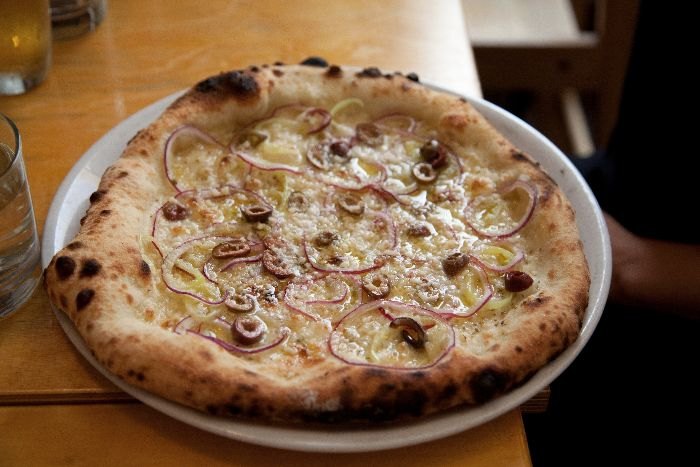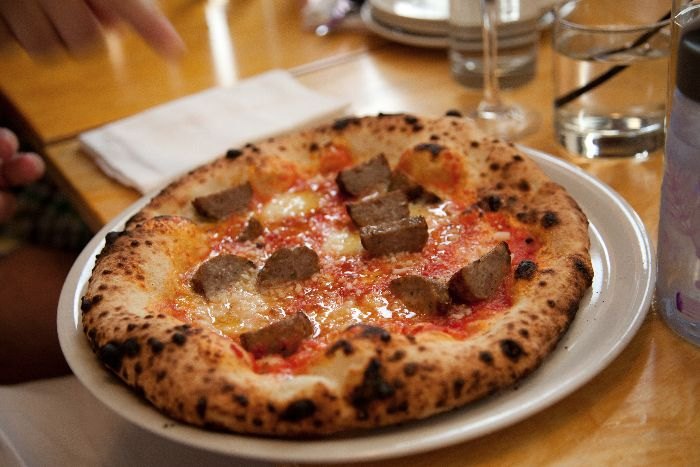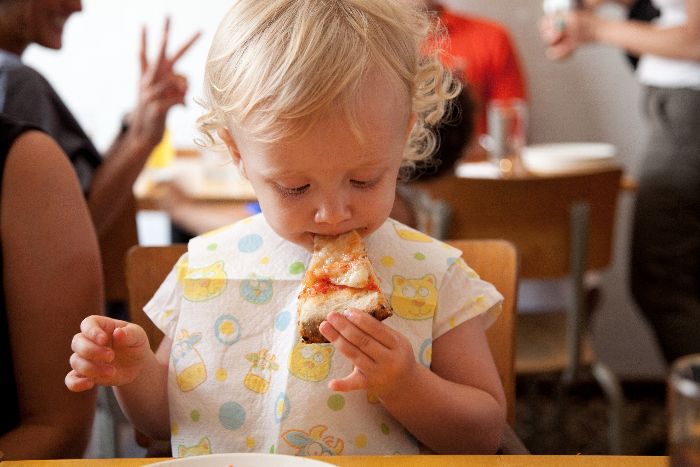 Missy E ADORES pizza and was in absolute heaven. With the DIY pizza-slicing, we could cut her pieces into the perfect size for little toddler hands. Luckily I'd remembered her disposable bib, which was absolutely integral to saving the adorable outfit I'd dressed her in that morning. E eats pizza with gusto, shall we say. And in large quantities. Two adult size slices vanished into her tummy like she was a Toddler Pizza Houdini that day. Amazingly she sat still while she was eating — it was literally the only time she sat still for an entire meal. The rest of her time at Franny's was spent running up and down the bench Alec and I were seated on. I don't think I've ever mentioned it before — but so far E is a vegetarian like me, so the only pizza she was sampling was mine.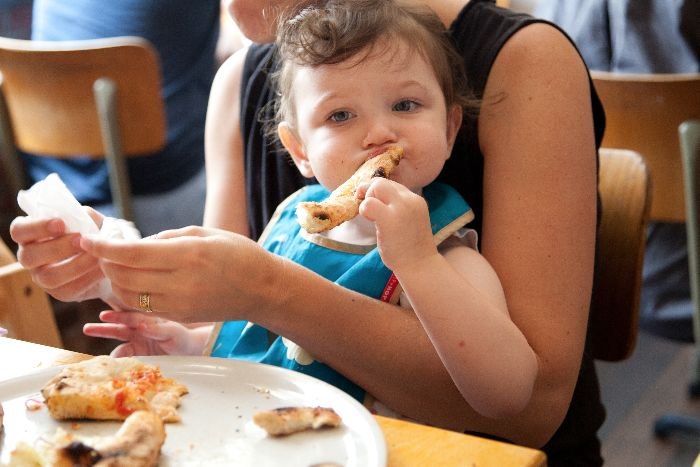 Little E's friend who was dining with us and her parents is a few months younger. Not quite so active, she's usually happier to sit rather than stand/run/drive the servers wild like Cheese does. It was the cutest thing to watch the two little pizza fans gorging themselves, and knowing that at least it was a relatively healthy meal (for a pizza, I mean!). Pizza is often my fall-back for Cheese because I know she's guaranteed to eat it. At Franny's, at least I don't feel so lazy for our meal choice, because of the super healthy ingredients.
For dessert, walk a few blocks over to Ample Hills Creamery to complete a day of deliciousness.
Last bite: Great pizza that will cost you a pretty penny but that you can feel really good about. Enjoy easting local, seasonal and organic produce, and give your kids some big chunks of pizza to gnaw on (and enjoy slicing it up yourself). 
Highchairs: Yes.
Stroller storage: Yes.
Easy access: Yes.
Change tables: No.
Kids' menu: No.
Franny's
348 Flatbush Ave
New York, NY 11238
Phone: (718) 230-0221
Hours: Sun-Thur 12pm-11pm Fri-Sat 12pm-11:30pm