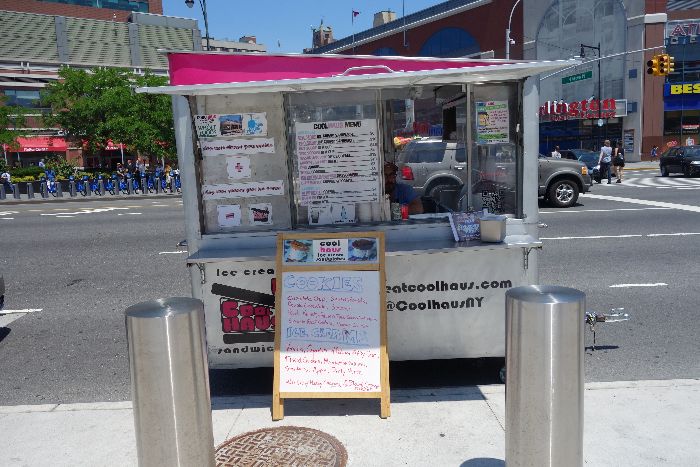 Here's some happy news for foodies who usually hunt down food trucks on Twitter: Brooklynites can now catch some of their faves on select weekends—July 6 and Sept. 7—at the plaza outside of the Barclays Center.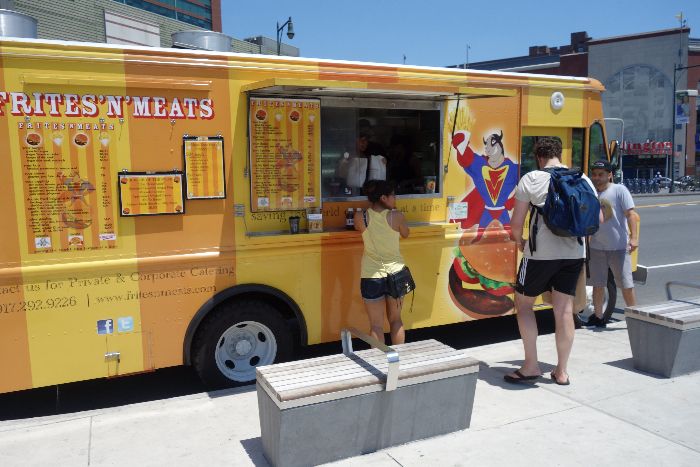 We wandered on by to check out the food trucks on their opening day, and were so pleasantly surprised to see a great variety of trucks (with no queues) and plenty of seating in the shade. Score! The food trucks out on that day were: Kimchi Taco Truck, (think Korean-cross-Mexican), Treats Truck (the actual truck that serves the Carroll Gardens store of the same name), Coolhaus (build-your-own ice cream sandwiches), Mamu Thai Noodle (a family-owned and operated truck specialising in Thai food), Frites 'n' Meats  (design your own burgers) and Taim Mobile (gourmet falafels and smoothies).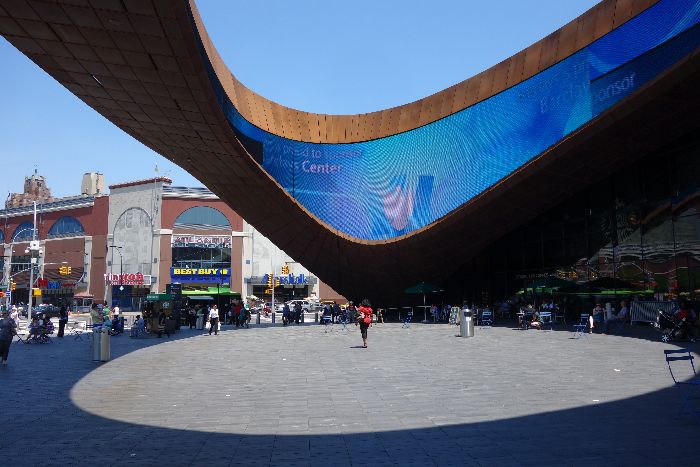 We were planning to pick up food from a truck and walk with it to Prospect Park. But when we felt an unexpected cool breeze coming through the plaza (on an otherwise stifling hot day), we decided to sit and eat in the nearby plaza instead.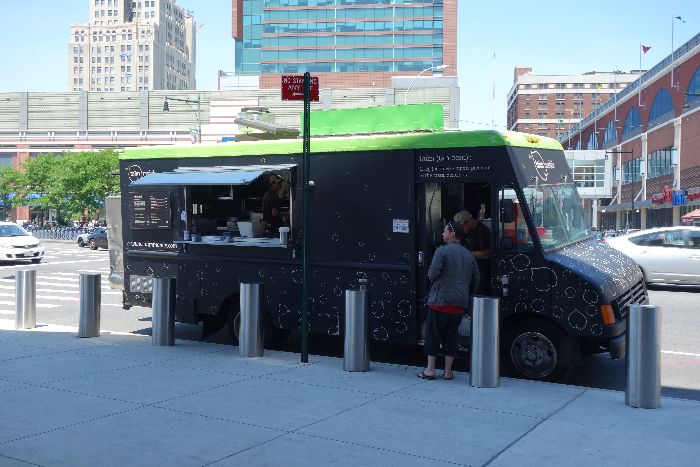 I'd been wanting to try Taim in the West Village for ages, so was delighted to see their truck Taim Mobile in attendance. Taim is great for more than just vegetarians like myself—their falafels are gluten-free and cooked to order in 0% trans-fat vegetable oil. All of the items on their menu are vegetarian—most are actually vegan (items with a * on the menu contain either dairy or egg products).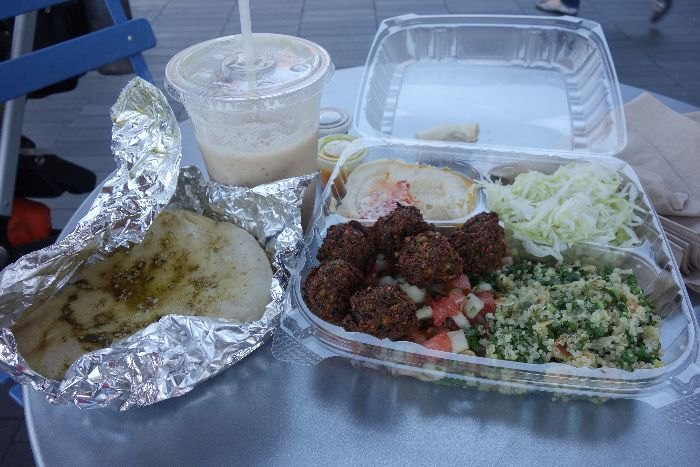 We decided to share a few things—the Mediterranean Platter, $9 (hummus, tahini, israeli salad, green cabbage, quinoa salad and pita), Falafel Side, $4 (six balls) the Date Lime Banana smoothie with soy milk, $5, and Falafel Sandwich, $6.50 (green falafel, hummus, israeli salad, green cabbage and tahini sauce).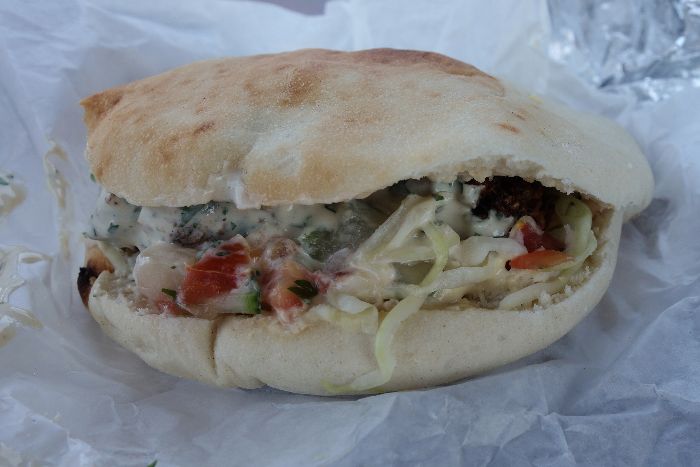 In retrospect we didn't need the sandwich—we had SO MUCH FOOD. We tried our best to eat some of everything, but admitted defeat with groaning stomaches. Note to fellow diners—the platter plus falafels are PLENTY for two people to share, plus a toddler. Miss Cheese tried a bit of everything, and decided she liked the smoothie, pita and falafels best—perfect kid food, by the way.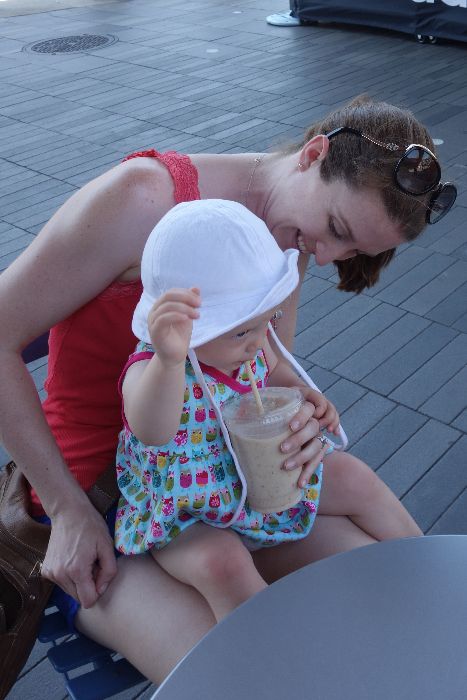 We let Cheese sit on our laps or on a proper chair since she was too wiggly to stay in the stroller. If your kid sits still you can park them right at the table. We each also took turns chasing her around the plaza while the other parent finished his or her food. There was a lot of shade and plenty of fun things for toddlers to explore (doors and fences and tables, oh my!), so she was actually really reluctant to leave.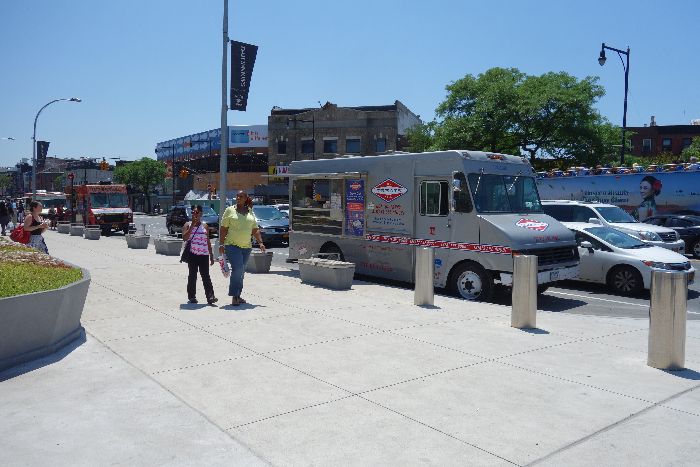 Last bite: A great variety of food surrounding a shady plaza with tables and chairs. Put the dates on your calendar and make it part of a day trip to Prospect Park.
Barclays Center
620 Atlantic Ave. (between Dean St and Flatbush Ave)
Brooklyn, NY 11217
Food Truck Dates: June 1, July 6 and Sept. 7
Hours: Saturdays, 11am-5pm