Summer to me means one thing—the unrelenting search for the city's best ice cream. My current fave is Ample Hills, which I discovered when they opened up a concession stand at Pier 5 in Brooklyn Bridge Park.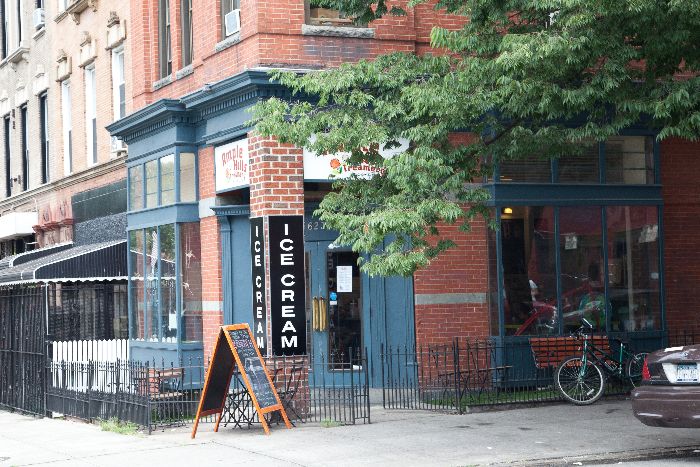 The concession stand in the park usually has about eight flavors, but I was curious as to what frozen delights I would find at the actual Ample Hills Creamery cafe in Prospect Heights. We made the pilgrimage to Ample Hills Creamery one hot summer's day to check out the full shebang. The name for the creamery came from a Walt Whitman poem, who liked to wax lyrical about what an awesome place Brooklyn was back in the 1800s (he was an early adopter). The poem goes: "I too lived. Brooklyn of ample hills was mine…" And thus, Ample Hills Creamery was born, using only the freshest local and hormone-free ingredients. The dairy and eggs come from farms in upstate New York.
The first Ample Hills ice cream was sold out of a cart to concert-goers in Prospect Park. It didn't take long for an ice cream cult to form and grow to the point where a shop was needed to keep up with the demand.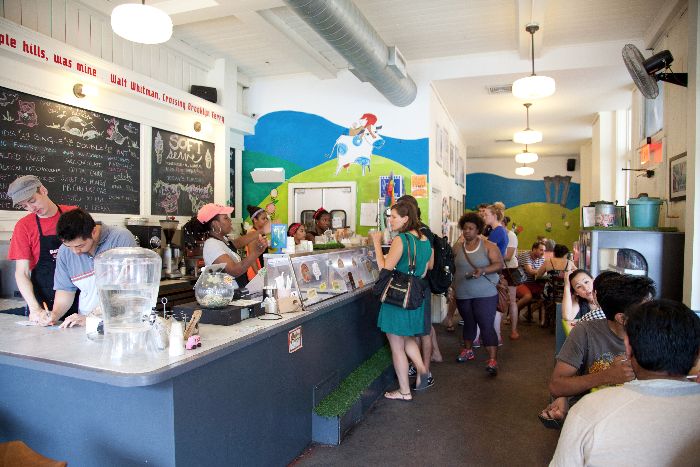 The creamery itself has a lot of space inside—tables, chairs and a little play area for kids in the rear. It's geared towards people buying a sundae and sitting down to chat, rather than ordering a cone and taking it to go (although you can do both, I'd recommend enjoying your ice cream while taking in the quirky ambiance inside).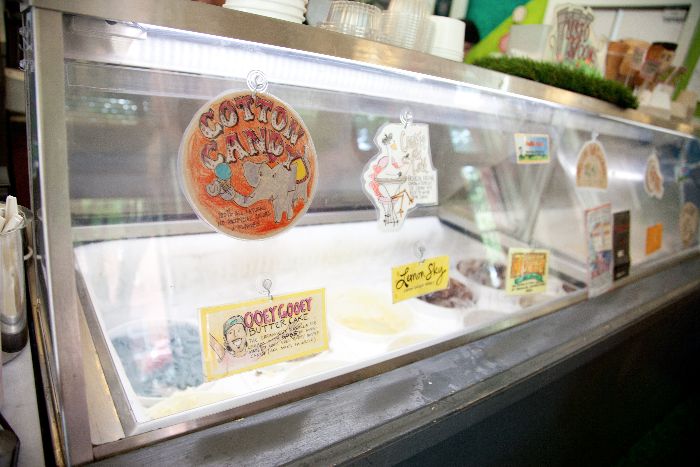 The Ample Hills flavours border on the wacky and wild sides, such as their Cotton Candy (which is slate blue), Salted Crack Caramel and Ooey Gooey Butter Cake, which has giant chunks of butter cake mixed into the ice cream.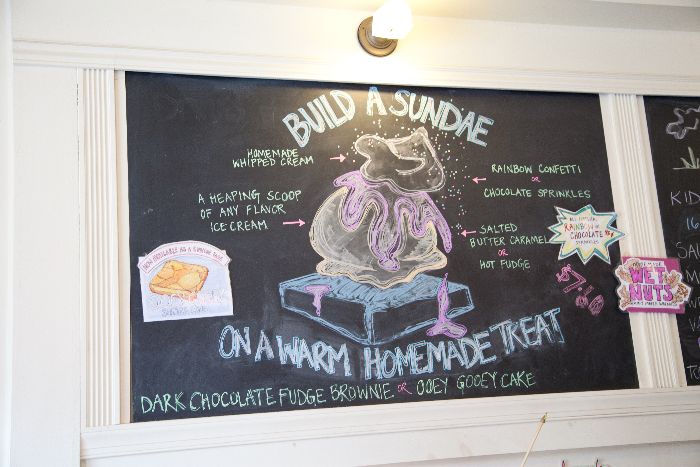 Their speciality is the "Build a Sundae" ($7.60) — a warm, homemade brownie, topped with your choice of 24 kinds of ice cream, whipped cream, and sprinkles. Buy it to share between at least two people, it's pretty big.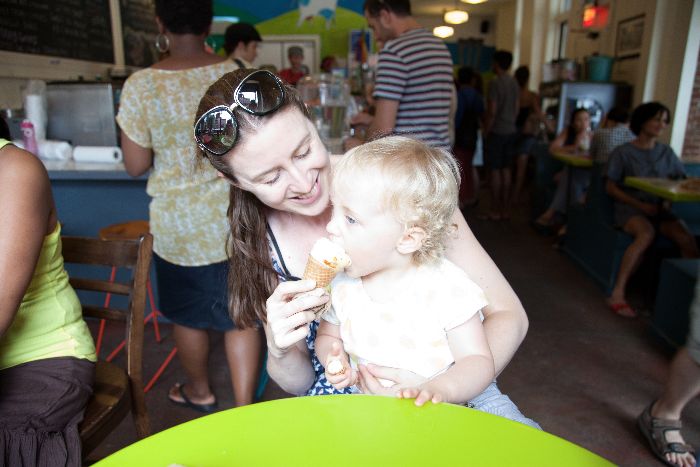 My Ample Hills staples are Sweet Cookies 'n Cream, Sweet as Honey and Ooey Gooey Butter Cake. A single serve is $2.75, a double $4.35. I usually get one cone to share with Cheese but lately she's been eating the lion's share so pretty soon she will likely need her own.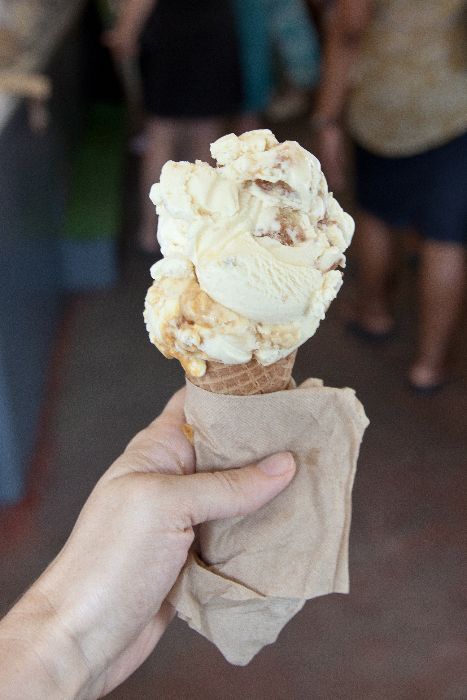 After eating our ice cream, we take Cheese to the back section of the creamery, to play in the kids area. It's thoughtfully planned out with a play kitchen and shop front — selling ice cream, of course — and a bookshelf filled with kids books on ice cream. Cheese is in heaven. We're stuffed with ice cream. Mission accomplished.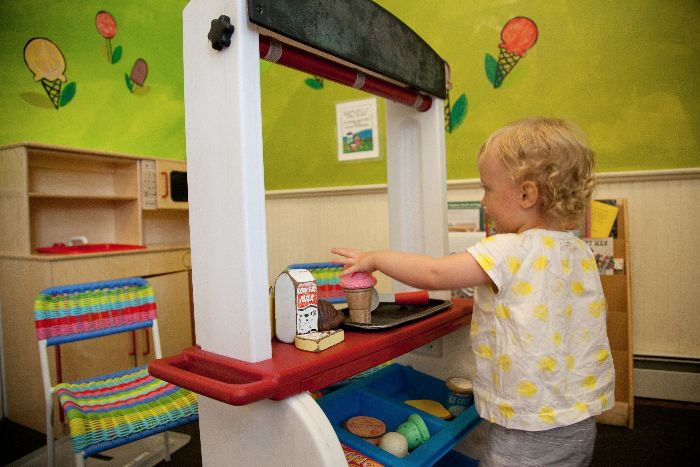 Last bite: This ice cream shop serves seriously delicious, naturally and locally-made frozen treats. It's the perfect respite from a steamy summer's day — plan to sit in for a while, eat up, and let the kids play.
Highchairs: Yes.
Stroller storage: Yes.
Easy access: Yes.
Change tables: Yes.
Kids' menu: Yes. Kid-sized scoops of ice cream.
Ample Hills Creamery
623 Vanderbilt Ave,
Brooklyn, NY
Phone: (347) 240 3926
Prices: $
Hours: Sun-Thurs 12pm-11pm, Fri-Sat 12pm-12am