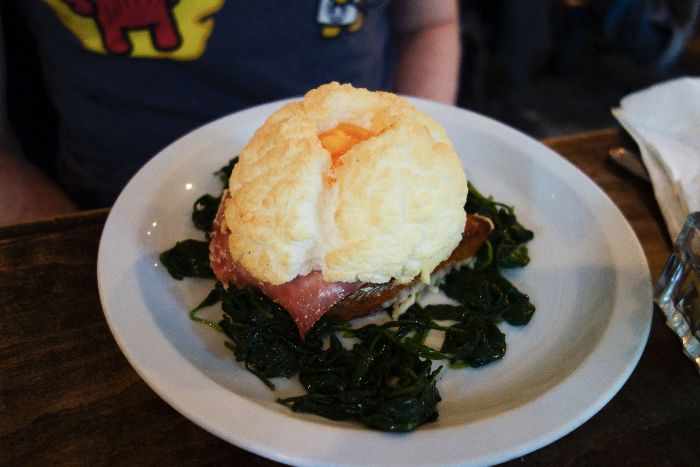 In the heart of DUMBO lies Front Street—which is somewhat confusingly located a few streets back from the waterfront. (Ditto for Water Street, which is not on the water, but that's another story). Most eateries, bars and shops are either on or near this main artery, making it a good way to get in brunch, candy, and a drink at a bar all without leaving a single block radius.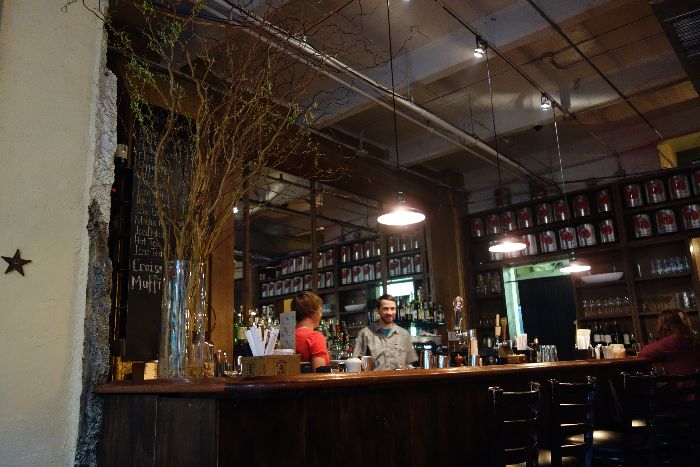 When we had woken up on that particular day, rain was pelting down outside, so we chose the restaurant AlMar mainly because of its location (we knew we could get there via the handy F line, without getting too drenched.) We were also interested in checking out a dish there that I'd read about: the dreamy-sounding Egg In A Cloud dish (baked egg yolk floating on whipped egg whites, fontina cheese, smoked ham, toasted brioche, served with sauteed spinach, $12).
Our beginning was not auspicious. The hostess sat us down without menus, so no one came to serve us. After grabbing a nearby staff member, I managed to procure the menus, but things were not off to a good beginning. As an FYI to restaurants—rule number one when people come in with a baby or toddler is to help them get in and out as fast as possible! This makes for happy families and happy diners surrounding those families.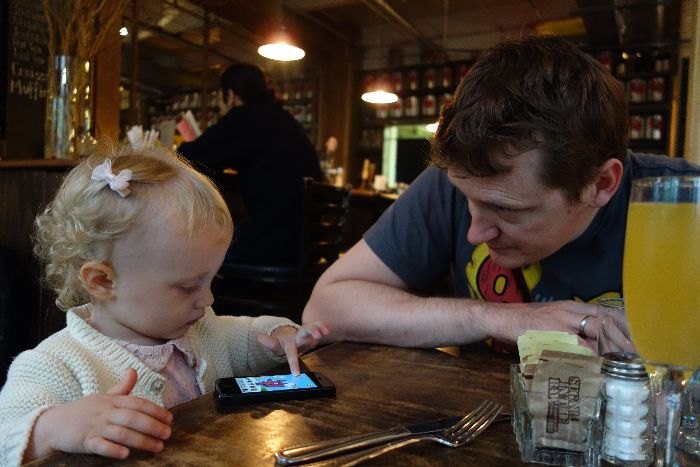 Once we had the menu situation sorted out, our server became aware of us, and things ran much more smoothly. We ordered the aforementioned Egg In A Cloud for my husband (the omnivore), and the Egg Toast ($12 —baked egg over melted fontina cheese, toasted brioche, truffle oil and asparagus) for me. We weren't sure if Cheese would eat off either of our plates since she wasn't feeling the best that day, so we ordered her her own, especially made, single pancake, since there wasn't a kids menu. They were also happy to make something like a single scrambled egg for her if we wanted.
Our served warned us that our dishes would take 10 minutes to cook, which I thought was very thoughtful of him. We entertained Cheese with our trusty iPhones and the sugar bowl while we waited.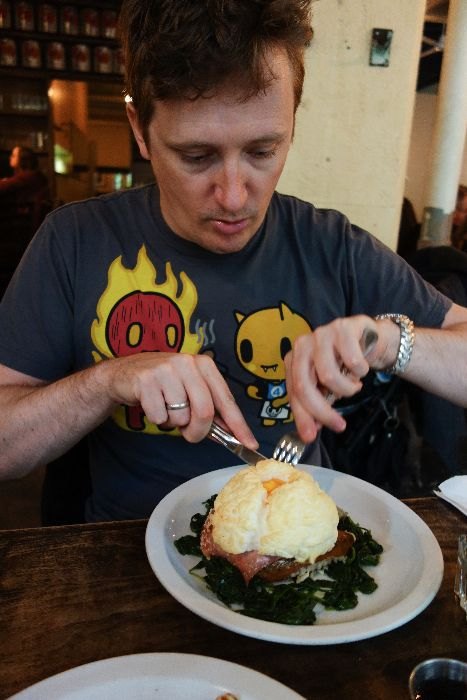 The Egg In A Cloud did not disappoint visually. It's a spectacular-looking dish, with a big fluffy "cloud" of egg-white literally on top of the toast. My husband said it was "pretty good", which is his standard response to food. When pressed further on what could make it "outstanding", he replied that the brioche was a bit overcooked, so it overpowered the delicate egg-whites. So detailed. Thanks, Husband!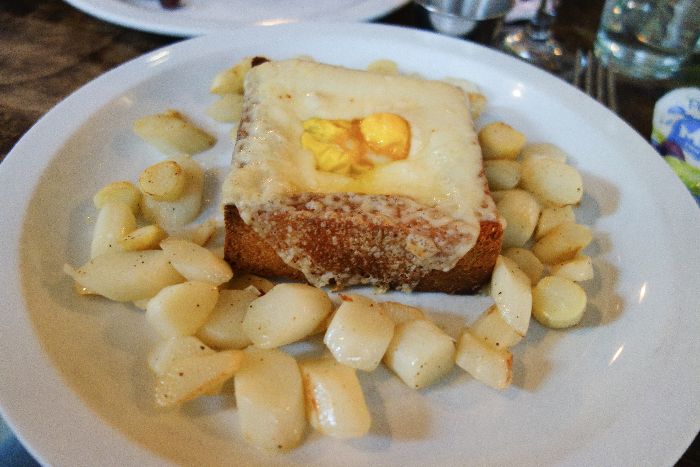 My Egg Toast looked a much simpler affair, and was absolutely delicious. Perfectly baked egg, loads of melty cheese (yes, I know, a heart attack waiting to happen); and a huge amount of my favorite vegetable, white asparagus, perfectly blanched, in a ring around the plate.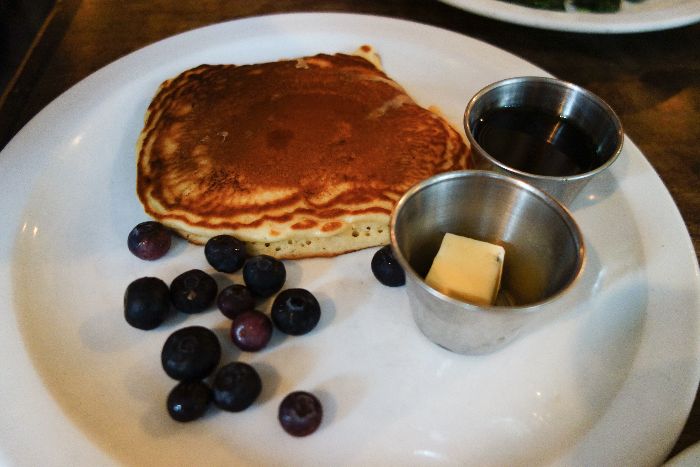 In typical form, Cheese wanted nothing to do with her pancake (which, thoughtfully was garnished with blueberries, syrup and a butter wedge), and instead wanted my cheese and egg on toast. That's my girl!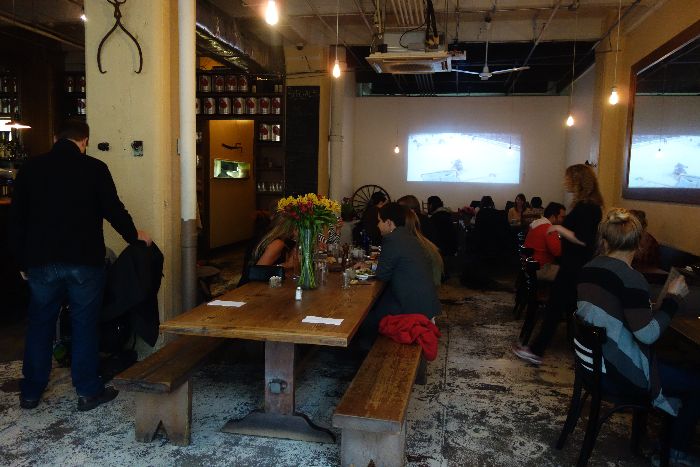 Other tips: AlMar can get quite busy, so reservations are recommended (via phone). They're a cash-only establishment, so visit the Chase ATM across the street on the way if you arrive without real money in your wallet.
Last bite: AlMar is a handy Italian eatery, serving up a solid brunch menu. High ceilings and plenty of space make you feel like you've briefly left New York.
Highchairs: No.
Stroller storage: Yes, but it's outside.
Easy access: No. There are a few steep steps to get in.
Change tables: No.
Kids' menu: No.
AlMar
111 Front St.
Brooklyn,NY 11201
Prices: $$
Phone: (718) 855-5288
Hours: Mon-Thur 8am-10:30pm; Fri 8am-11pm; Sat 9am-11pm; Sun 10am-5pm
Get directions