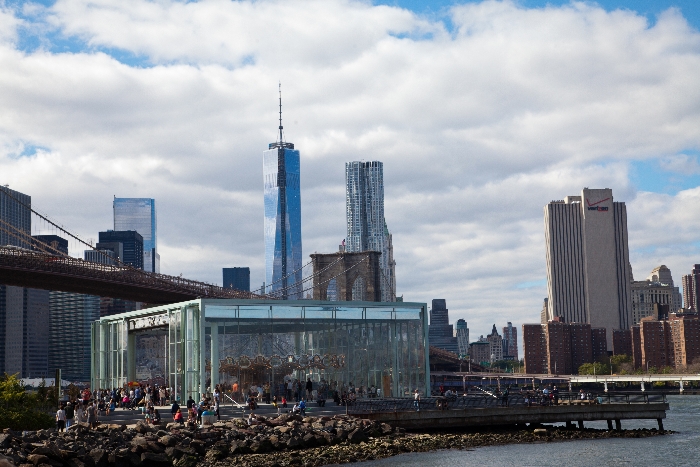 Take a stroll over the Brooklyn Bridge into Dumbo, to enjoy cobblestones, carousels and cake.
Not to be missed: Jane's Carousel
Built in 1922, the carousel has been recently restored and is now an iconic part of the Dumbo waterfront. Open year-round, taking a ride is a must-do for every visitor to NYC.
Brooklyn Bridge Park, Dock St, Brooklyn, NY
Best cake: One Girl Cookies
This delicious cafe serves the cookies they are named for, plus whoopie pies and their famous layer cakes. Ask for a slice of the daily cake (anything with dulce de leche is particularly delicious).
33 Main St, Brooklyn, NY
Best slice: Juliana's Pizza
Skip the lines at Grimaldi's next door and instead sit down for piping hot mozzarella courtesy of the Grimaldi family. You read that right, the Grimaldi family own and run this pizzeria.
19 Old Fulton St, Brooklyn, NY
Best grab-and-go: Little Muenster
Delicious grilled cheese sandwiches. Take one and eat it in nearby Brooklyn Bridge Park.
145 Front St, Brooklyn, NY
Best way to run out the energy: Brooklyn Bridge Park
This 85-acre park stretches along the waterfront, filled with cycling paths, playgrounds, bbqs and breathtaking views of Manhattan.
Best kids' clothes: Egg Baby
Drop by this cute boutique for some adorable outfits designed by Susan Lazar.
72 Jay St, Brooklyn, NY
Best kids' store: Half Pint Citizens
Focusing on innovative and environmentally-friendly toys and gear for kids.
41 Washington St, Brooklyn, NY
Best croissant: Almondine
Almondine has recently re-opened after being destroyed in the 2012 Hurricane. They are the go-to spot for croissants and French pastries in Brooklyn. 85 Water St, Brooklyn, NY
Best hot chocolate: Jacques Torres
The hot chocolate at Jacques Torres is like liquid gold. Heavy, rich and decadent.
66 Water St, Brooklyn, NY
This article first appeared on MommyNearest.