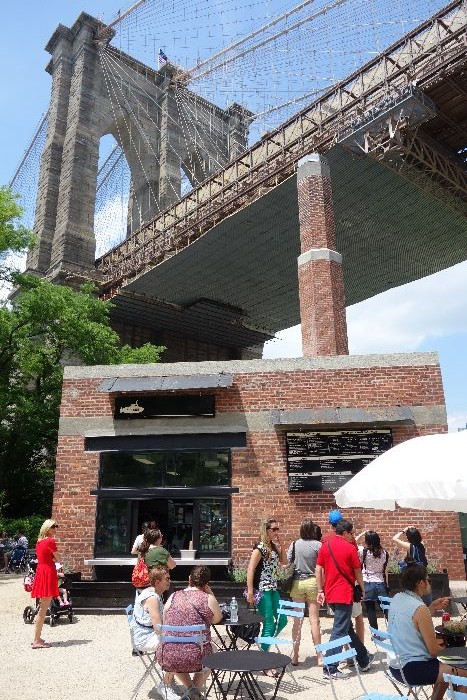 With toddler Cheese now refusing to sit in restaurants, we're doing a lot of "grab and go" lunches to keep everyone happy. One of our favourite things to do on weekends is to walk on down to DUMBO and spend an afternoon chasing Cheese around the playgrounds, taking a spin on Jane's Carousel, and eating — usually at the same time as running …
Sandwich experts No. 7 Sub opened up over Memorial Day in the Smokestack Building on Water Street. The location is perfect — directly in between the Pier 1 toddler playground and ferry terminal, and Jane's Carousel and the Pier 1 pirate playground. It's also a great option for Sundays when you attempt to go to Smorgasburg and are scared off by the massive queues.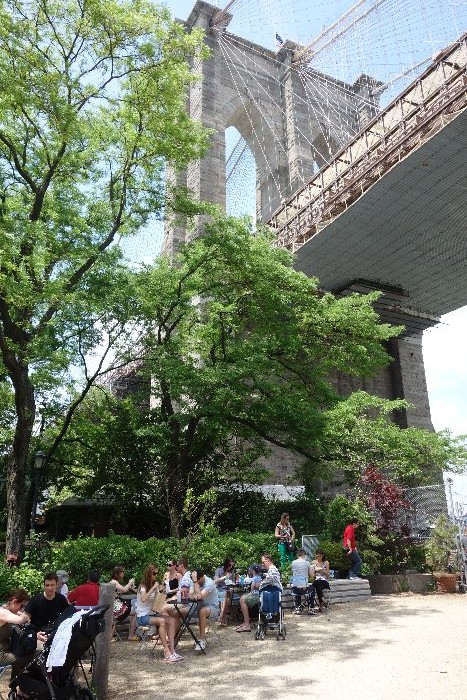 Behind the Smokestack Building is extra seating — yes, in the shade! If you can actually take advantage of seating, it's the perfect place to take a break and enjoy your sandwich.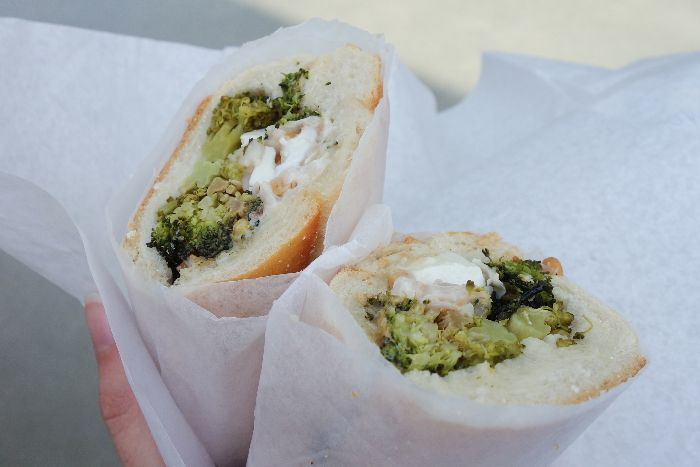 I chose one of the staple sandwiches, the Broccoli Classic (Lychee Muchim, Ricotta Salata, Pine Nuts, Mayo). At $9 it's a pricey sandwich, but it's also big and filling. The combination of broccoli, ricotta and nuts is delicious. I wasn't a big fan of the lychee muchim (pickled lychees). They had a bit too much of a kick of chilli for my taste. Next time I would probably order a build-your-own sub, which is perfect for picky eaters like me.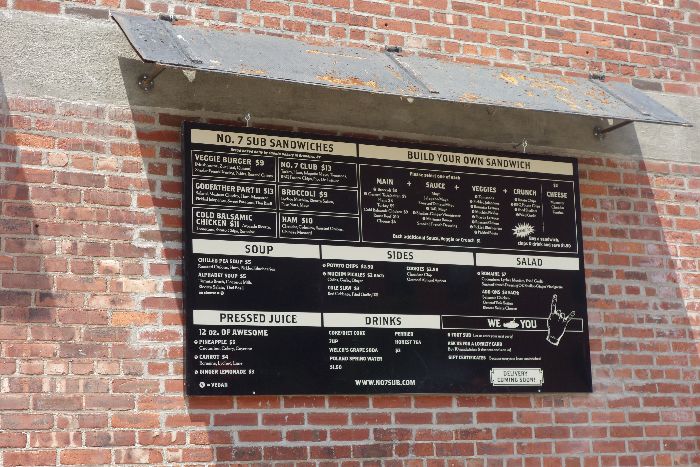 Sandwiches made from scratch, so be prepared to wait 10-15 mins for your creation. If you have an energetic toddler like we do, take your sandwich to one of the nearby playgrounds to enjoy it while your kid runs around.
Last bite: A great grab-and-go option for lunch (and now breakfast!) in DUMBO. Freshly-made sandwiches are a delicious option when you want good food, fast. Cafe seating is available if you have time to sit with your family. 
Highchairs: No.
Stroller storage: Yes.
Easy access: Yes.
Change tables: No.
Kids' menu: No.
No. 7 Sub
11 Water St,
Brooklyn, NY
Prices: $$
Hours: Daily, 11am-8pm