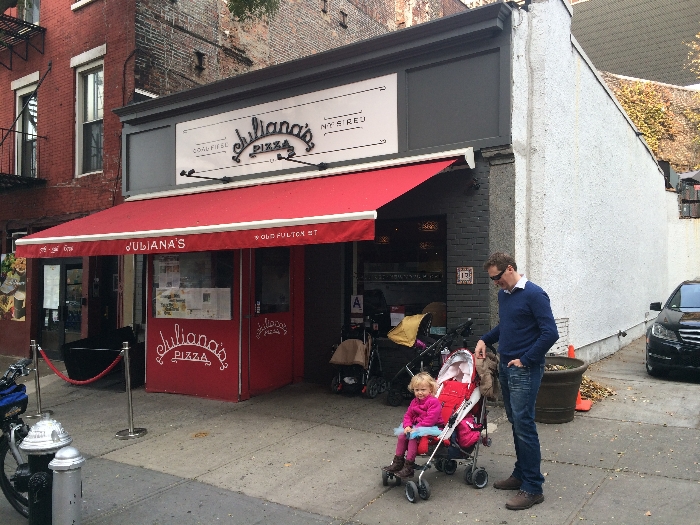 There are always famous food institutions that you think you should try when you visit a city. People walk over the Brooklyn Bridge just to try one such spot: Grimaldi's Pizzeria in DUMBO. It's impossible to walk past the restaurant without stumbling over the queue of people waiting patiently for their slice of famous pie. I get it, I love trying food that I've been told is great — but I really, really, really hate lining up for it.
So the secret I'm letting you in on here is huge: Right next to Grimaldi's is a little pizzeria with a red awning called Juliana's Pizza. It's run by the actual Grimaldi family — the ones who started, and then sold, Grimaldi's Pizzeria. Yes, let that all sink in for a minute, and then ponder, like we always do, how they ended up situated next to each other in DUMBO.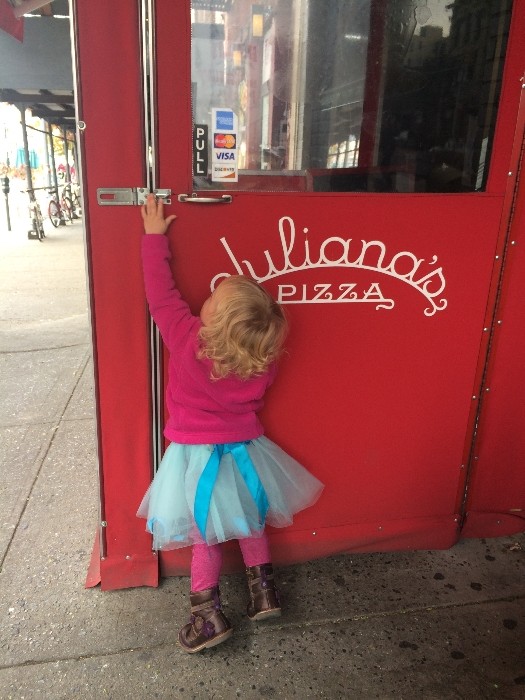 Juliana's is owned by Patsy & Carol Grimaldi. They sold Grimaldi's Pizzeria over a decade ago to a customer, but it seems that their passion for pizza never quit, as they partnered with a long-time collaborator to open Juliana's. The Grimaldis wanted to create a neighborhood pizzeria, preparing and serving pies the way Patsy had for generations. Their new endeavor, Juliana's, was named in honor of Pat's mother, Maria 'Juliana' Lancieri, and has found its home in the Fulton Ferry Historic District, in the building that was once home to Grimaldi's.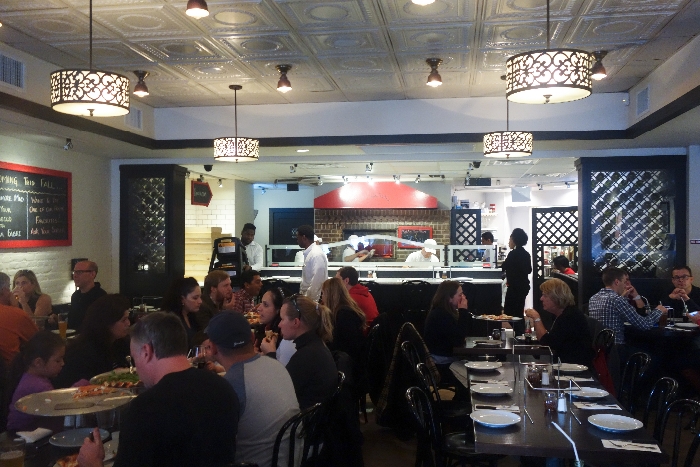 Juliana's is usually busy and tightly packed, making it hard to move around with a little one. It does however mean that they have lots of tables constantly turning over and makes it easy to get a table on weekdays. if you're visiting on weekends, be prepared to wait. Call ahead and put your name down, but make sure your party is all there or they won't let you sit down.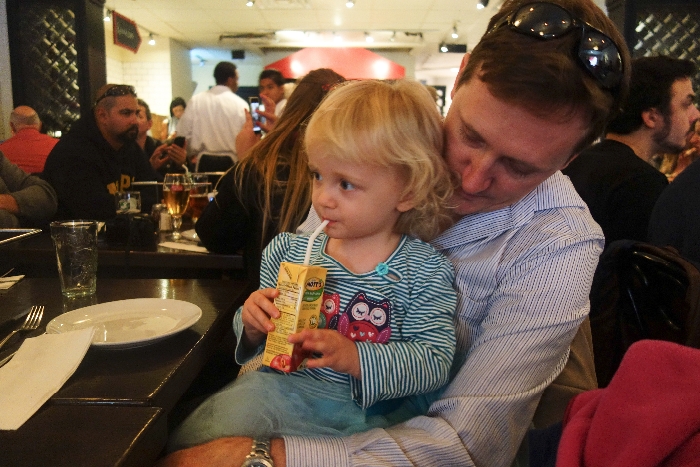 We don't usually let Cheese have juice since it makes her totally hyper, but we relented this time because we were dining with friends whose kids were having juice, and Cheese was desperate for juice too. We totally regretted it about an hour later when she was high as a kite, but sometimes it's worth it to keep the peace at the table.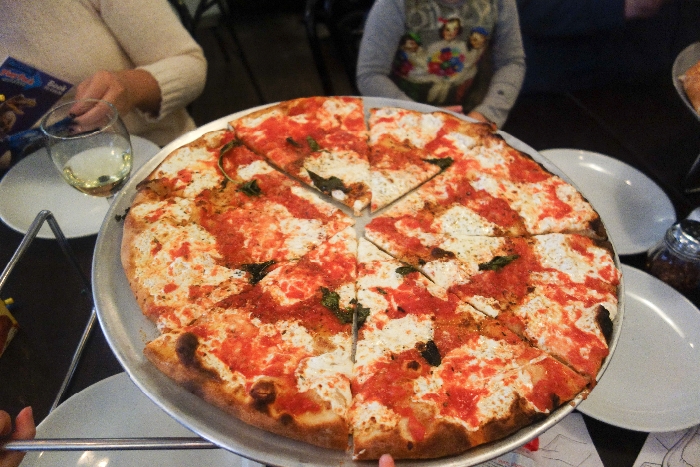 We ordered a simple large classic Margherita ($19). Tomato, mozzarella and basil — the only ingredients needed for the perfect pizza. Juliana's produces a flavorful, thin crusted pizza, topped with locally and internationally-sourced toppings, and cooked inside a hand-built, coal-stoked hearth. Locals know that Juliana's is a source for great pizza, and are known to pick up pizza and drive it home, not letting the fact that they don't deliver stop them from getting their hit of tasty mozzarella and crispy dough.
Looking for somewhere nearby to play? In colder weather, let little ones run around (indoors) at Jane's Carousel. If it's warm enough for playgrounds, take your pick between the toddler playground at Pier 1 and the Main Street pirate ship playground in Brooklyn Bridge Park.
Last Bite: An alternative to the long lines of  tourist-destination Grimaldis; with reasonably priced, delicious pizza that hits the spot. 
Highchairs: Yes.
Stroller storage: Not in the restaurant if it's busy (especially on weekends). Be prepared to leave your stroller outside.
Easy access: Yes.
Change tables: No.
Kids' menu: No.
Juliana's Pizza
19 Old Fulton St,
New York, NY 11201
Phone: (718) 596 6700
Prices: $$
Hours: Sun-Thurs 11:30am-10:30pm Fri & Sat 11:30am-11pm
Get directions