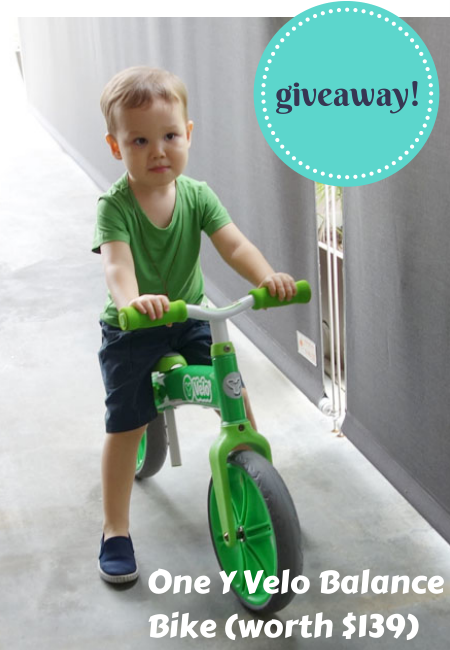 Hunter is a supremely cautious kid. He's worried about…. pretty much everything. However, I've noticed that when it comes to moving toy vehicles, he becomes quite the speed demon!
He became a pro with his scooter at a very young age, and adored his Ybike – zooming all over the place. It came to a point when I felt the Ybike was too 'basic' for him, and he needed a proper bike.
So there's 2 ways for a child to learn how to ride:
Balance Bike – these are bikes without pedals. The idea is for kids to feel and learn balancing, to be able to kick off and let the bike cruise along, keeping their balance.
Training Wheels – these are bikes with the extra wheels on either side. As the kid gets used to pedaling, you raise (and eventually) remove the training wheels.
Personally, I've always preferred Balance Bikes. I don't like the look of training wheels, and those bikes are really clunky and heavy. I like the idea of learning the courage to balance first (because that's often the most fearful and difficult part), then putting on the pedals once kids are confident.
Also, I knew Hunter was good with his balance, since he was good with both his scooter and Ybike.
Here's what I like about the Y Velo Balance Bike:
The seat and handlebars are adjustable – the bike grows with your child.
It's extremely lightweight – at under 4KG, Hunter can lift it up by himself.
It's sturdy – made with aluminium, it's really solid and doesn't tip over when Hunter rides it, and takes up to 25KG in weight.
It's the most appealing of all the balance bikes out there – Hunter whole face lit up when he saw it! And I like how it looks like a real bike.
The Y Velo Balance Bike comes in two sizes and colours: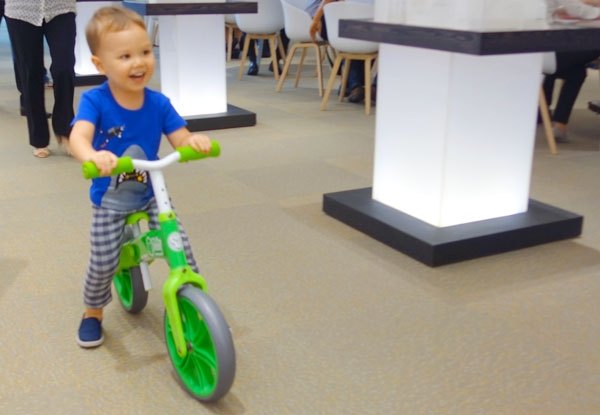 There are only 50 Y Velo Balance Bikes available for sale in Singapore!
These limited bikes are only available (they launched this week!) at multi-label kids boutique nottoobig, as well as selected Mothercare shops. But guess what…….
nottoobig are giving away one Y Velo Balance Bike (worth $139)!
You can submit some of the entries more than once a day, so come back tomorrow to get more entries in the draw.
Giveaway will run from 13 Dec to 19 Dec 2013 inclusive.
Winner's entry(s) will be verified according to the entry criteria(s).
Winner may pick up the Y Velo (green $139, or blue $119) from the nottoobig boutique at Forum The Shopping Mall.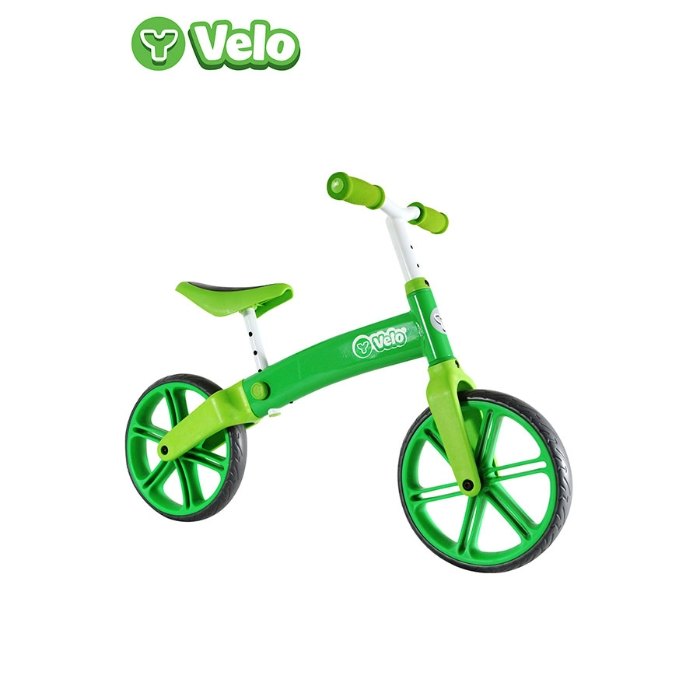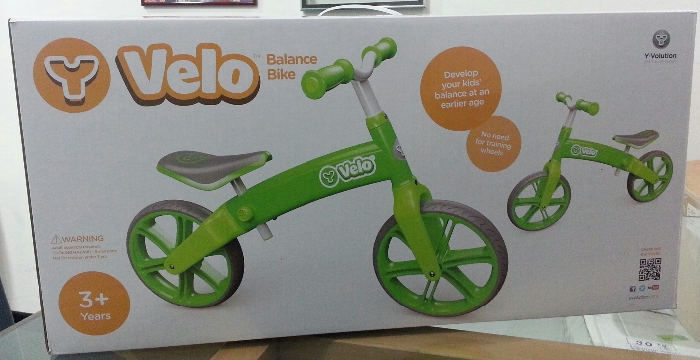 Hunter was delighted with his Y Velo the moment he saw it, and to this day, is still extremely attached to it. It mustn't look too daunting to a toddler, because he's under the recommended age of 3 yrs old, but eagerly climbed on and whizzed around.
This photo was taken mere minutes after it was presented to him, showing how he can easily lift and walk around with the bike:
And then when he first got on the bike, taking it for a spin:
These three videos will give you an idea of his progression on the Y Velo..
The first video is his very first time getting on the bikie – you'll see how slow and careful he is:
This second video shows him riding his Y Velo after a few days of practise – you'll see how much more confident he is:
And this third video shows him after yet a few more days of practise – you'll see how he zooms around with BOTH feet off the ground. He's balancing!!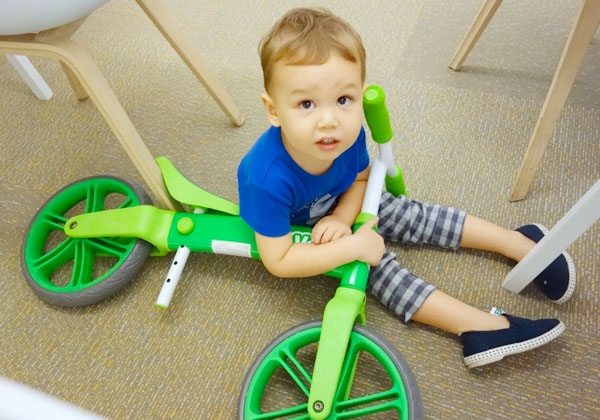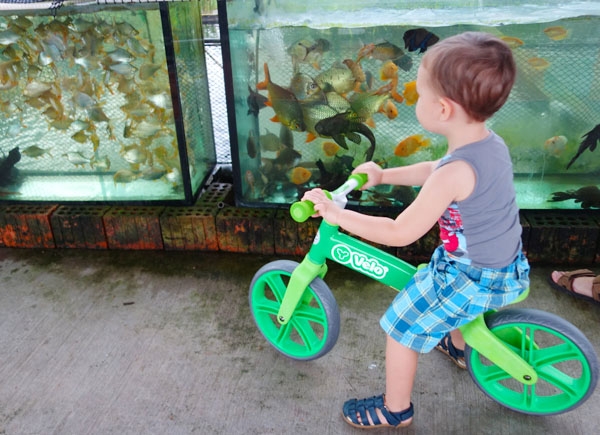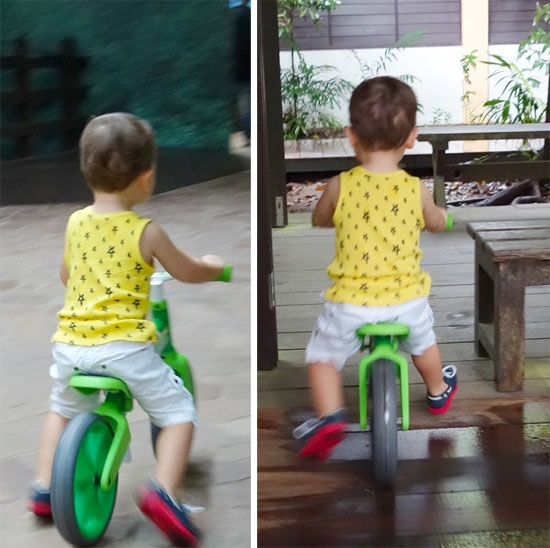 Carter is too short to use the bike, but it doesn't stop him from sitting on it and being pushed along by Daddy: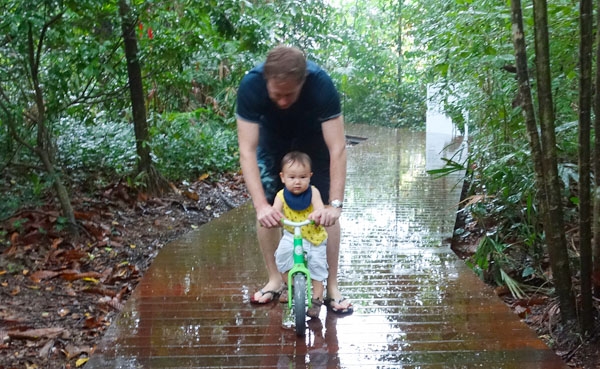 And here's my friend's 4+ year old riding it. The bike is set to the lowest setting though, it should be raised higher since he's much taller than Hunter.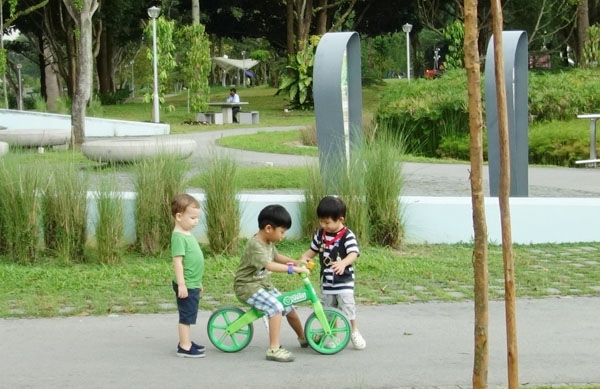 I was surprised by how Hunter, being a cautious kid that shies away from 'scary' stuff, was dead excited and hopped onto the Y Velo immediately. It also amazed me that he learned it so quickly and can balance easily on it. If you have an active and/or daring kid, I bet they'll pick it up even quicker than Hunter did!
The bike's also quite a hit with other kids and adults.. kids always want a go on it when Hunter brings it out, and parents always admire how it looks and ask me where to get one. It's definitely eye-catching!
Thanks nottoobig!