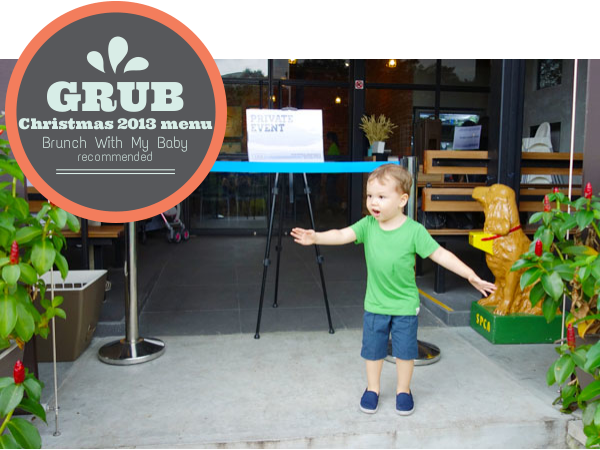 What's that you say?
A fun Cake Pop making session for the kids?
An epic multi-course Christmas set meal, from GRUB's limited edition Christmas 2013 menu?
A fabulous 'ol time with the kids running in the park and chilling with coffees and icy cold beers?
Yes. Yes. And yes!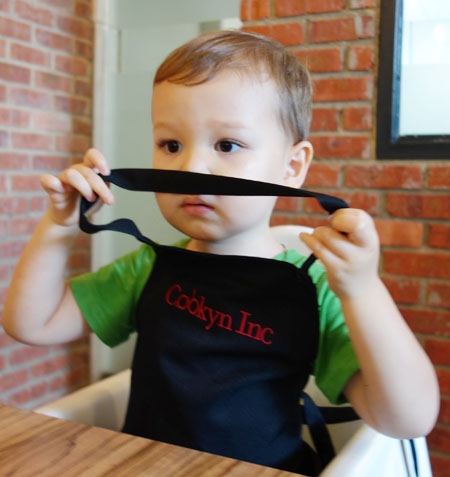 Us mummies and our kids donned our aprons, cracked open a couple of cold beers (only one beer each okay, we don't promote drinking on the (mummy) job here at Brunch With My Baby!), and rolled up our sleeves for a fun afternoon with the kids at GRUB.
What a blast we had!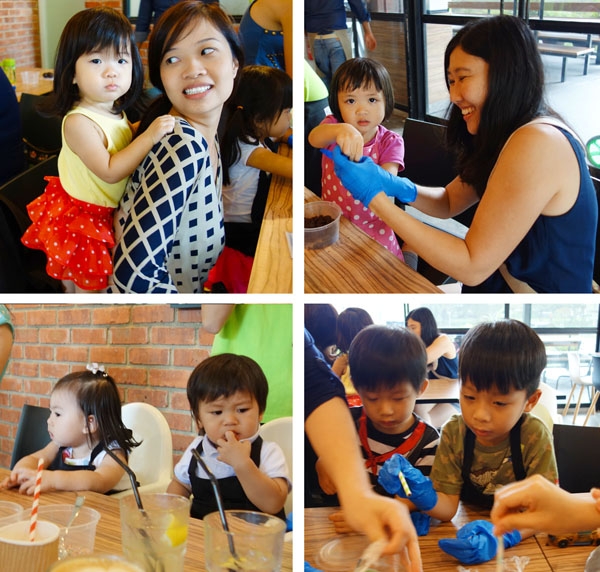 The Cake Pop making session captured the kids' full attention. And ours too. It was actually a very simple process, but I wouldn't do it at home because it's just too much prep work and fiddly. Much better to do it in an organized environment like at GRUB!
First we rolled the cake into balls, then chilled them in the fridge.
Then, we stuck a straw into each one and dipped them into liquid white chocolate.
Finally, we decorated them with pretty sprinkles!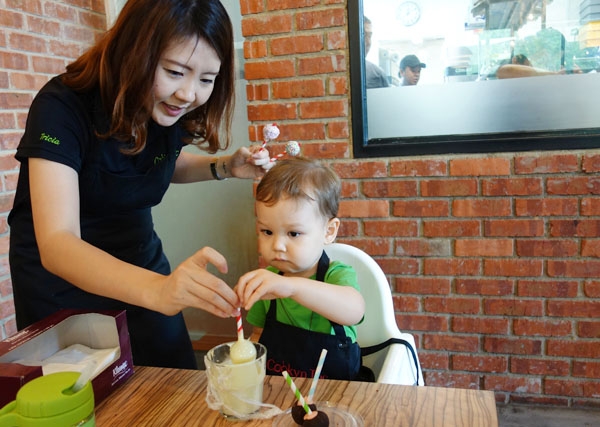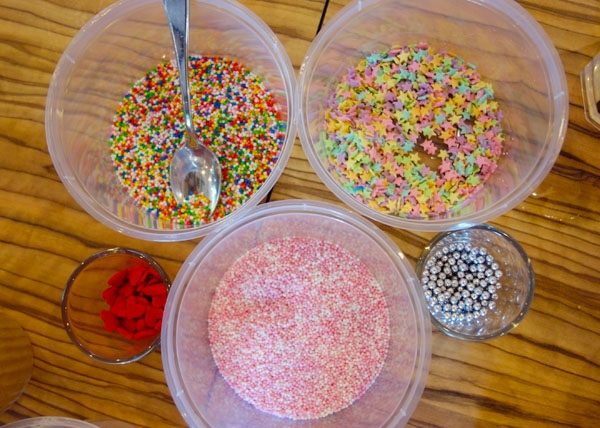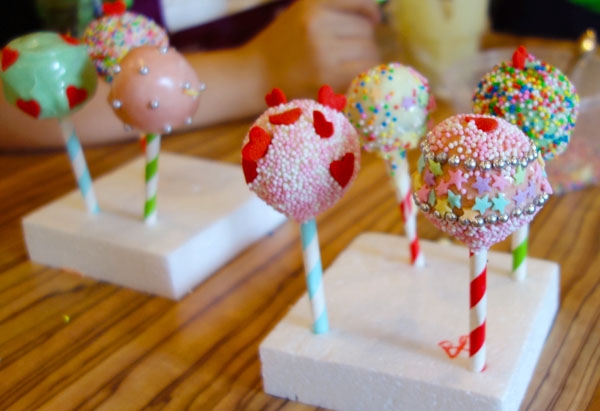 SO PRETTY, RIGHT????
It wasn't much effort, and you don't need to be a creative genius. Everything just looks pretty with sprinkles, you see. Hunter had loads of fun meticulously dotting his cake pop with silver sprinkle balls. I was delighted, because it kept him occupied for a good 20 mins.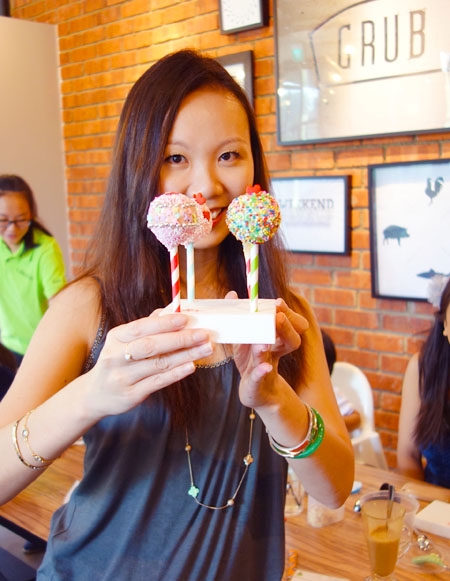 After that, the GRUB crew cleaned up the area (thank goodness for them, and kudos to their patience considering the tables and floor was covered in liquid chocolate and sprinkles!!)…. whilst all of us took the kids out to play in the park right outside. It was perfect, because the kids got a chance to stretch their legs and run up and down and get some fresh air.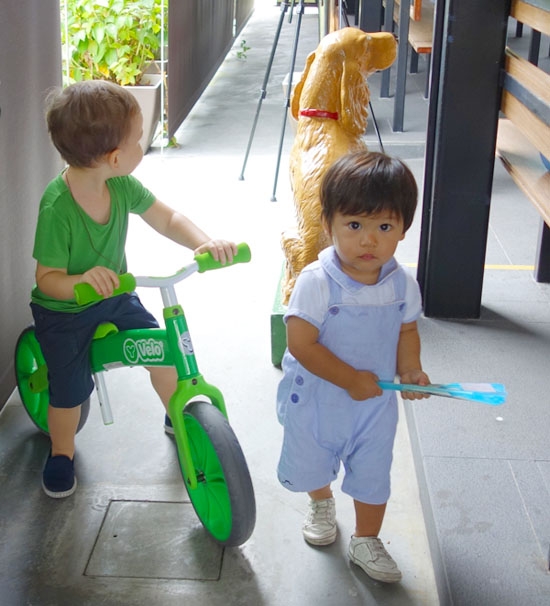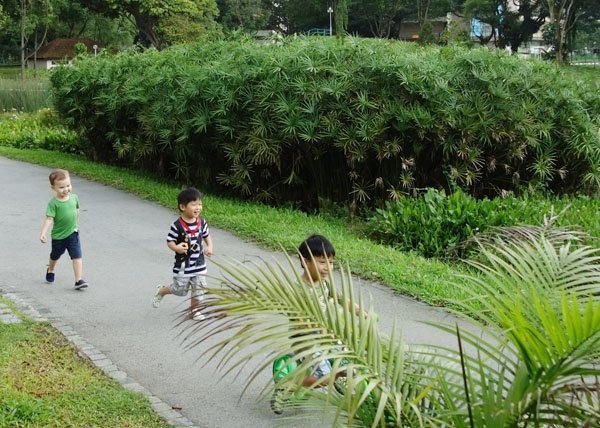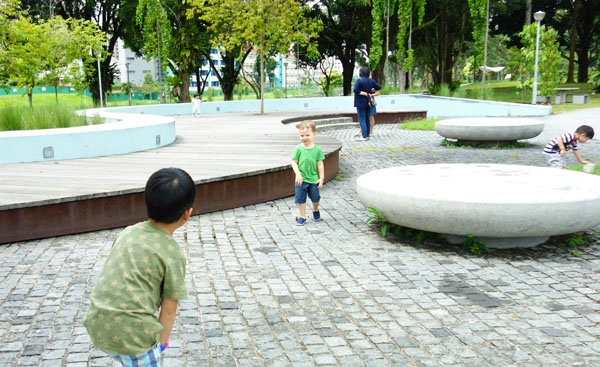 After the place was cleaned up, we were ushered back in again (though it was a bit of a challenge herding our active kids back!) for their………. Christmas set meal 🙂 This 3-course set meal is exclusive for December 2013 only, so get yourself down to GRUB asap!
And this is GRUB's kitchen.. where all the magic happens!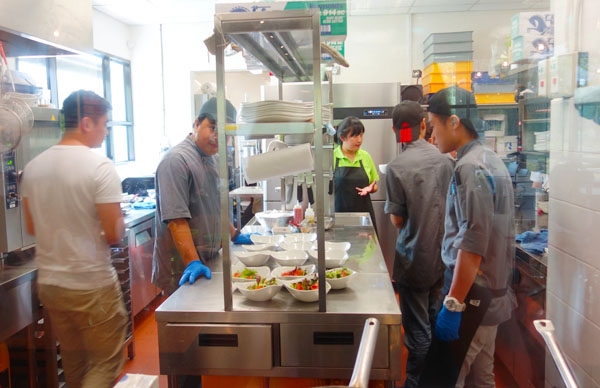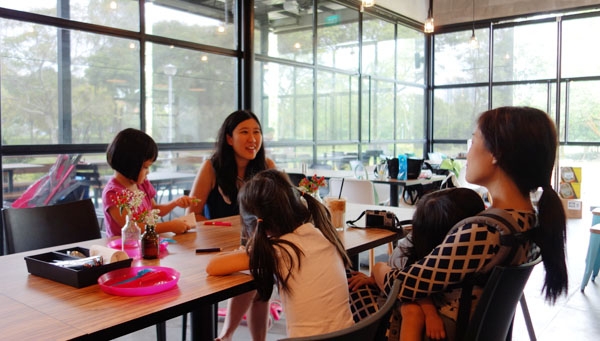 I opted for the Soup of the Day, a Potato, leek and gorgonzola soup. It was my favourite item on the menu, which is a big thing for me as I'm not even a soup person! Hunter polished off the fluffy foccacia bread, and more than half of the soup. With gusto.
The soup was creamy and rich, without being too heavy on the palate. And the gorgonzola was very very subtle but lended a delectable twist to the soup. It was delicious and so comforting. I'm hoping they put this on their regular menu, because it was a total hit with all the kids!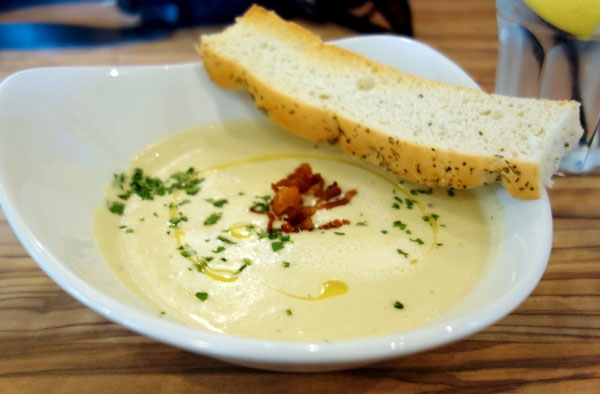 I was suspicious about the Slow-roasted juicy turkey breast with gravy on sweet potato mash and pea tendrils shoots. Turkey is not my thing. To me, it's like the drier, tougher version of chicken.
I'm not sure what GRUB did with the turkey breast here, but it was soft enough to be cut with a fork, and it was, yes, juicy! Very moist and tender enough that Hunter ate a whole piece himself. It had me astounded, since Hunter is not really a meat eater, let alone a kid that would sit and chew on meat. But he gobbled it up, along with the creamy sweet potato mash and cranberry sauce.
Colour me impressed!
And considering turkey is low-fat and high in nutrients, I'm very pleased that I can order this for my kids whilst it's available in December.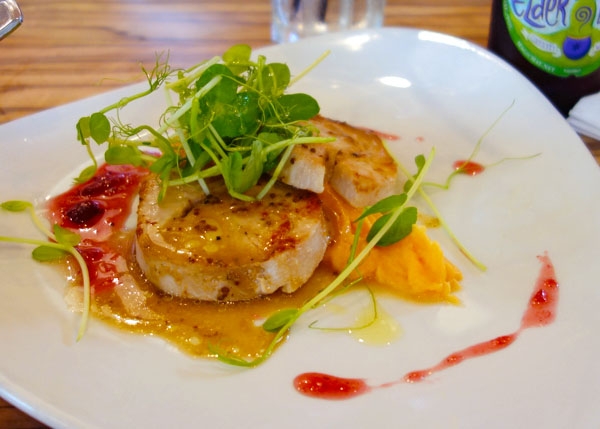 Everyone gave big thumbs up for their Honey baked ham on mash, apple sauce and french beans. Cast aside your ideas on a ham dish being highly processed and salty. This ham was fat and freshly cooked, and wasn't salty like what you imagine ham to be. It was very tender too, and was well received by the kids.
I particularly LOVED the french beans it came with, and wanted more! And more of the delicious apple sauce too please! I like lashings of it on my ham 😉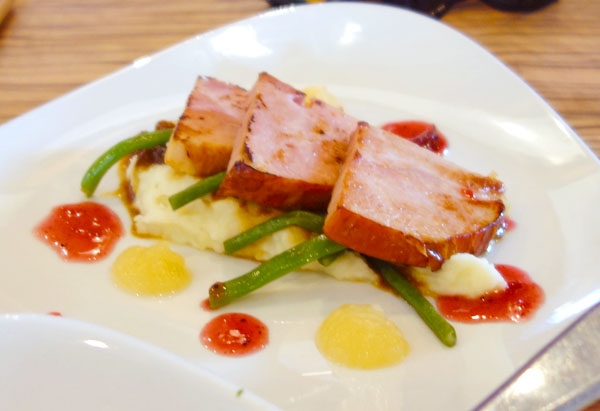 I'm not a Bread and butter pudding lover, so was a bit meh when it came out as a surprise extra dish. I personally am never a fan of bread and butter pudding, because I don't like the mushiness of it and the raisins in the bread completely freak me out.
Not that it mattered, because Hunter ADORED it and polished it off!! It's not a small portion either, especially for a 2 year old!!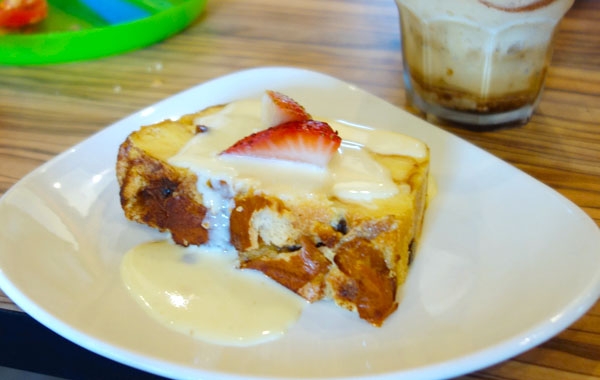 My favourite dessert was the Banoffee – banana and toffee trifle with freshly whipped vanilla cream. Shhhhh….. I actually scraped most of the cream off (a travesty, I know, since it was freshly whipped!) because I don't like cream, but I loved loved LOVED the banoffee below!! The delightful salty-and-sweet biscuit base crumbled delightfully on my tongue and was so good I wanted twice the amount. It paired very well with the sweet banana slices also in my glass cup.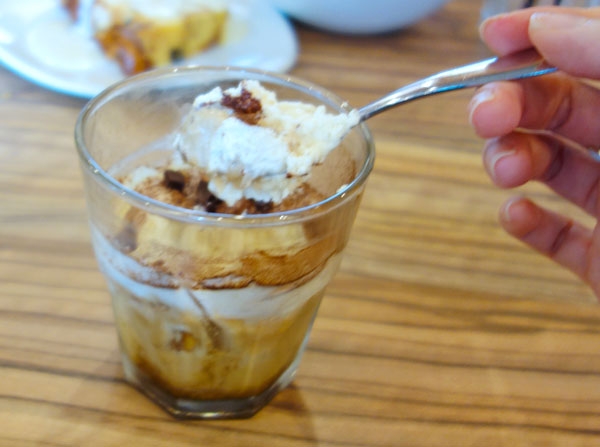 GRUB's new dessert (also on their regular menu now) was also served, the Sticky date cake with burnt caramel, vanilla ice cream and toasted almonds. It's served very cutely in a coffee cup, and is a combination of hot and cold that really hits the spot. The sticky date is soft and moist, and you really need to eat the sticky date, ice cream, and burnt caramel sauce to appreciate this dessert properly.
The last time we got this (when we were dining at GRUB for dinner), Hunter ate the entire thing. It's good.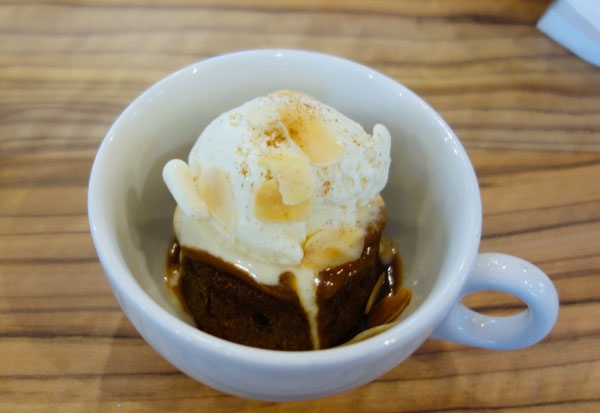 Bellies aching from our meal, the kids and us were sent home with our cake pops!  Aren't they adorable?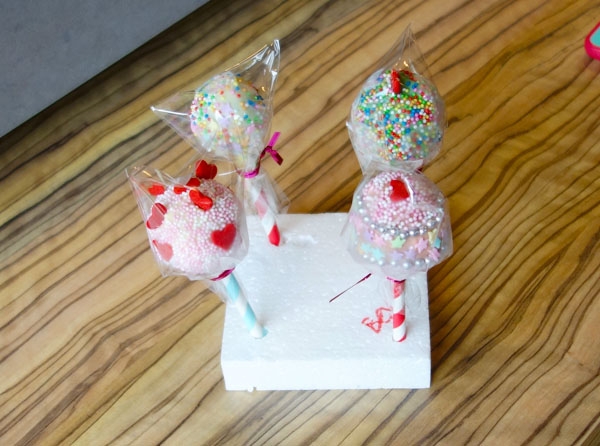 The most-heard feedback at the end of the session: PLEASE do more kid-friendly events and lunches! The kids had a fab time and it's even more fun if you get a couple of friends together for some mess-making and food-eating.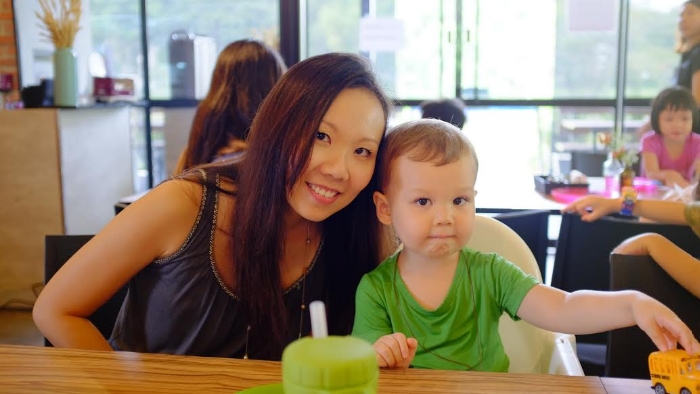 GRUB's limited edition Christmas 2013 set menu is available from now til 31 December 2013. At $30++ per set meal, it's a real deal considering the fine-dining quality and presentation you get. It's also extremely kid-friendly.. all our children ate all the dishes!
Remember to bring your scooters/bicycles/etc so the kids can have some fun at the park too 🙂