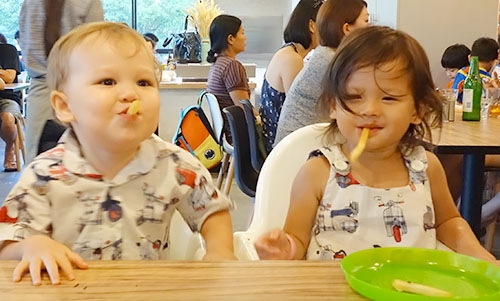 I've blogged about GRUB before, but that was over their weekend brunch. This time, we were there for an early dinner!
Here's a little tip: GRUB opens at 5:30PM. By then, you'll see the eager beavers skulking around the park, waiting to dash over to grab a table once the cafe opens. So, if you're already there, you can be an eager beaver too and be seated right on the dot at 5:30PM, meaning you get a table straightaway (GRUB almost always has a queue).
What we do is pop over just before then, and let the kids stretch their legs in the park. That way, even when we get our table, I can do the ordering and the kids can continue playing in the park right up until the food arrives. We waste no time, the kids get maximum playing time, and everybody is happy.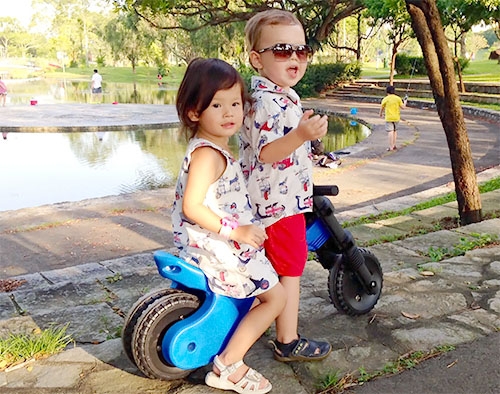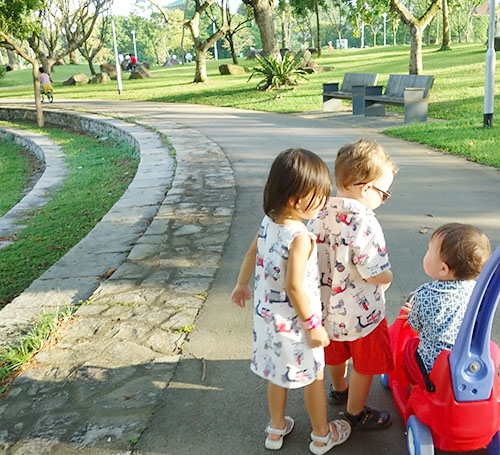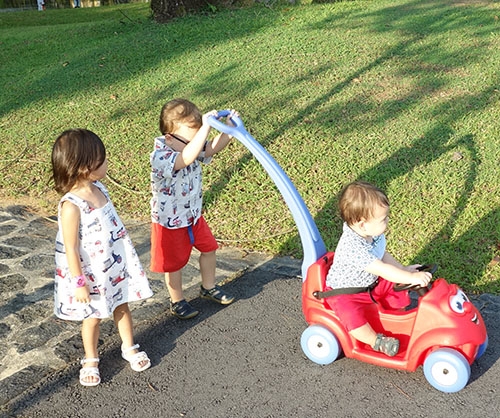 As expected, there are heaps of people lurking around GRUB by the time we are ready to eat. And the kids sure are ready to have their dinner, since they've already used up a bunch of energy whizzing around the park.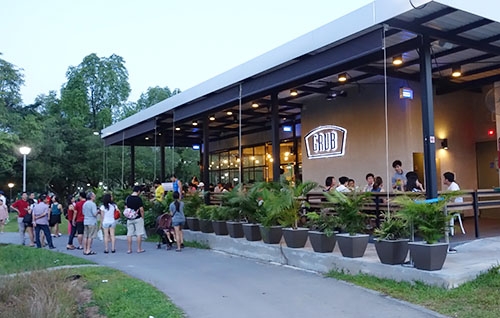 I love their Crabbies ginger beer. It's served icy cold and is practically the drink to have after a walk around the park.
We kicked off with their Compressed Tomato Salad, with Feta, Rocket and Pine Nuts (S$7). I've heard so many raves for this dish, but never ordered it because it's… errmm.. salad. I have issues with ordering salad. Salad and I do not agree.
I was surprised by the tomatoes.  The reviews are true – they do taste different! I hear they are marinated in a vacuum, thus making the tomatoes ultra juicy, soft and sweet. If you don't normally like tomatoes, I reckon you'll like this version.
The rocket leaves were horrific to me, I hate rocket.
Nice scattering of feta cheese and pinenuts, that complemented the tomatoes really well.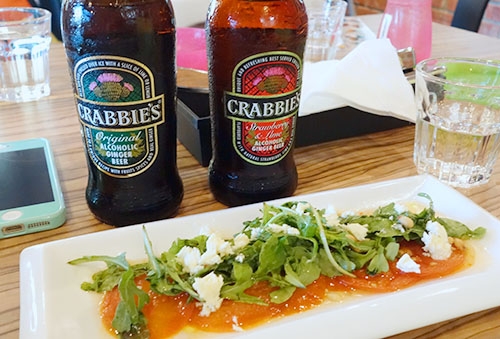 I had a Pork steak burger with apples, cashew chimichurri ($12). It's a popular burger and one of my faves. The bun is super soft and fluffy, and the sauce is a fantastic and interesting mix. But what gets me is the PORK! It's literally a steak of pork, all chunky and meaty. And it is soooooooooooo freakinnnnn soft. Absolutely tender, my kids can eat it (note: Carter only has two bottom teeth).
I swapped my fries for mashed potato, and you'll see why later. Frankly, next time I'll always swap it for the mash, because my kids can eat it, and it's ridiculously yummy. The fact that it's made of real potatoes on premises delights me, because I am still grossed out by the fact that most eateries in Singapore used re-constituted/powdered mash potato – I mean, how unappetizing is that? I certainly don't want my kids eating that kind of food.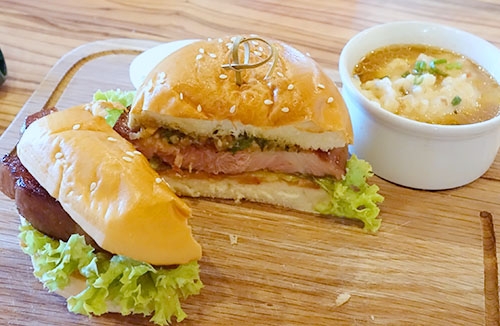 I always see people ordering the Grilled chicken leg with honeyed feta, roasted peppers, mash, rocket and corn salsa ($15). I guess it's a healthy dish, so it appeals? I really like how it's boneless, so it comes out almost looking like a giant sausage. The chicken is very moist, and the salsa is paired well with it. That said, in general I find chicken a very boring dish so I rarely order it for myself.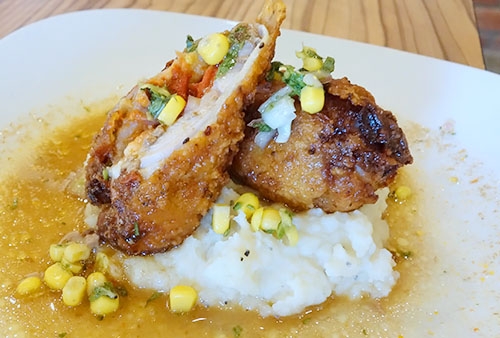 This is their signature GRUB cheeseburger with 100% freshly minced beef patty and Monterey Jack cheese ($13). It ain't a huge burger, but the price point is really good, considering it comes with a big cup of fries. The patty is fresh and tastes distinctly like real beef. I feel the need to point this out since a lot of burger patties taste…. un-meat-like.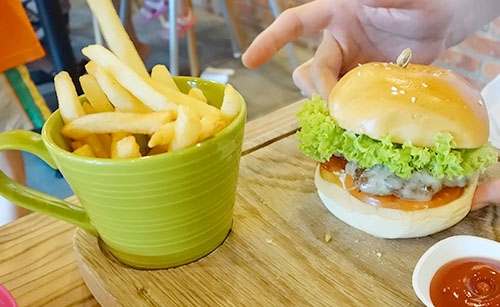 One of our favourite dishes? The Slow roasted pork belly with mango sauce, mash, and cherry tomato salsa ($15). A photo of this bad boy always shows up on blogs and social media channels, and I can see why. It's blimmin' AWESOME!!!!!
I must caveat – my photo looks positively unappetizing because it kinda got mangled (forgot to take a photo when it first arrived) and the light was not in my favour when we were dining there.. so in fact, most of my food photos don't look very nice 🙁
But anyway. This pork belly is a real doozy. It is UTRA TENDER with just the right amount of fat through the meat. You can cut it with a fork, it's that soft. But my favourite is the crisp exterior, which is seasoned to perfection. It's paired beautifully with their creamy mash, and studded with sweet cherry tomatoes.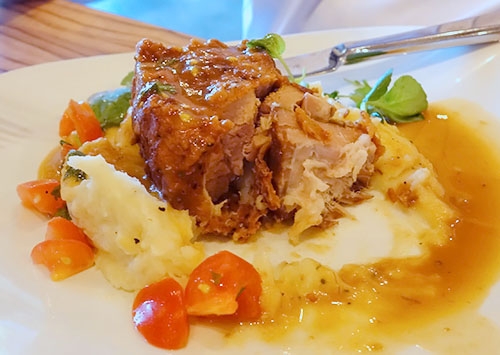 Leaving the best for the last, and here it is…….
MENTAIKO FRIES!!!!!
GRUB has just launched these and hooboy, they take the cake over truffle fries for me. You get a big bowl loaded with fries, and they drizzle their homemade mentaiko sauce all over it (they provide a pot of sauce on the side if you're like us and want mooooorrrrre), then toss on a bunch of seaweed.
The combination is pretty mind blowing.
I find it very hard to describe here, but think fries dipped in a sauce that's like mayonnaise-on-steroids. It's creamy, but has a real punch of flavour in it. And coupled with the shreds of seaweed? (note I don't normally like seaweed) It's AWESOME.
I can't wait to go back and order another bout of these.
Obviously, as you can tell from below, the kids loved it.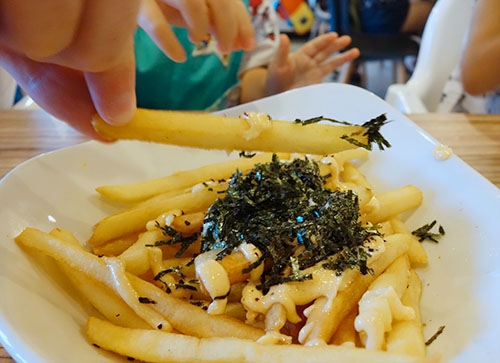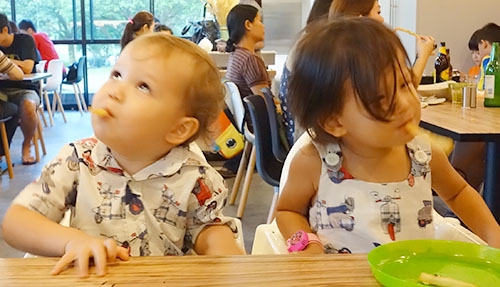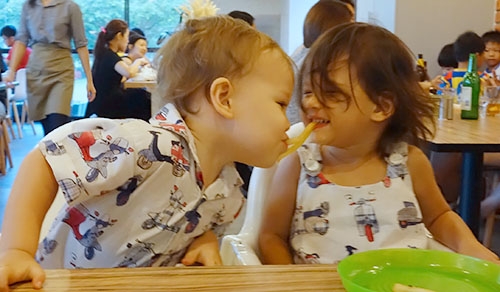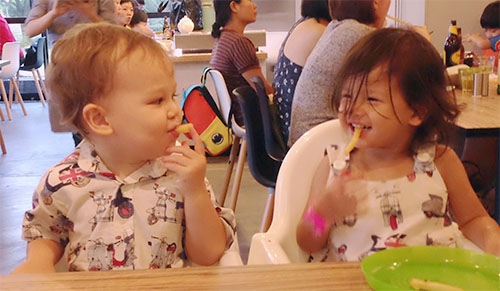 And since we had an early dinner, the kids still have a bit of time to run around Bishan Park afterwards, while the sun sets.
Oh, to be so young and carefree……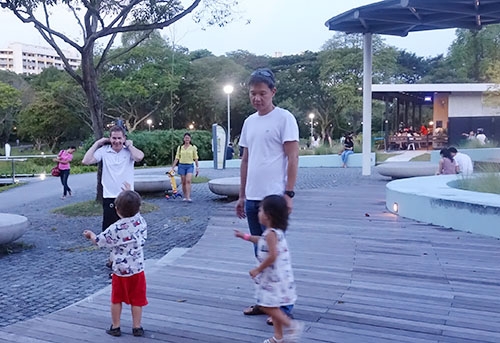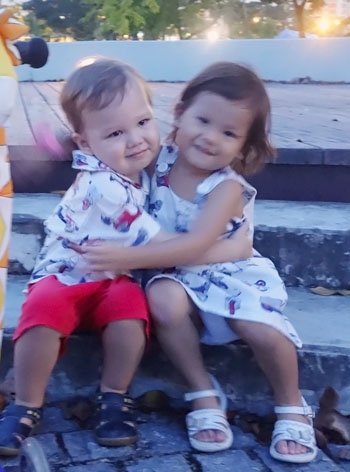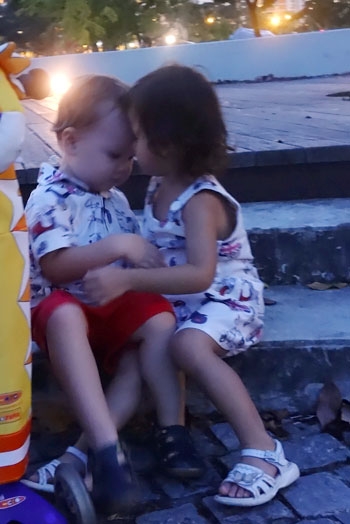 Big kids wearing Elly.
Hunter's sunglasses by sons+daughters from nottoobig.
Ybike (blue) from Mothercare.
Last Bite: Go to GRUB for an early dinner, and let your kids stretch your legs in Bishan Park at sunset. Their burgers are always spot-on, but our favourite is the slow roasted pork belly.
Highchairs: Yes
Easy access: Yes. Strollers and wheelchairs have a gated side entrance.
Change tables: No
Kids' menu: No. The premise of the cafe is that kids can eat off the main menu.
GRUB
Bishan Park
510 Ang Mo Kio Avenue 1 (enter off Sin Ming Ave, opposite Blk 408)
Singapore 569983
Phone: 64595743 (no reservations)
Prices: $$
Hours: Tue-Fri 5:30pm– 10:30pm, Sat-Sun and PH 9:00am–2:30pm 5:30pm–10:30pm