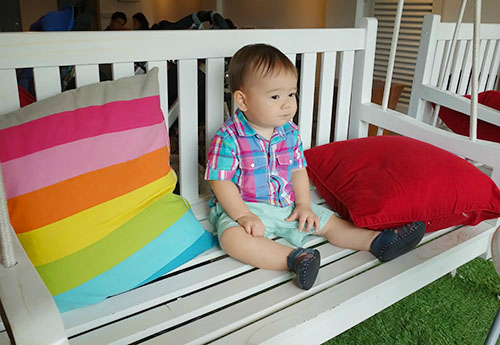 d'Good Cafe has been around for over a year now.. but I'd only recently checked it out for the first time. And now I wish I'd discovered it a whole lot earlier!
Nestled upstairs in the Holland Village area, you have to take the stairs up (super baby-unfriendly) but there is a 'secret' lift accessible via the laser clinic next door. So fortunately I managed to get Carter and his stroller up with no fuss.
It's an adorable cafe, split into 3 levels:
You place your order at the counter inside (no service charge here, whee!) and take your buzzer and find a table. It's all very fuss free and food and drinks arrive quickly.
The staff are friendly and service is efficient. I thoroughly enjoyed my Fresh sea prawn aglio olio which came with copious amounts of fried garlic (mmmm) and with lots of prawns. It was pretty perfect a dish, and I would most definitely re-order this again next time. I'm trying to figure out when I can bring Dad here… cos he LOVES this dish and d'Good Cafe's version is outstanding!
We tried their famous Maple sea-salt cheesecake and it didn't disappoint. It's their signature dish baked by the cafe's owner each morning, and is usually sold out by noon (!). The cheesecake was fluffy soft and moist, with a mild flavour. What stood out was the tracings of maple syrup, offset with the sharp saltiness of the sea salt. It was pretty delicious 🙂
My Iced latte was lovely and no complaints there, though next time I'll go for a hot latte as I hear their foam art is gorgeous 🙂 My girl friend rated the Iced chocolate as "really really good".
I thoroughly enjoyed my visit to d'Good Cafe, and considering it's pretty close to where I live, I'm definitely going to be back!
Last Bite: Gorgeous little cafe with a delicious menu and cute swings for kids to sit on or play. Look for the lift if you go with a stroller in tow.
 
Highchairs: Yes
Easy access: Yes (via the lift)
Change tables: No
Kids' menu: No
D'good Cafe
273 Holland Avenue #02-01/02
Singapore 278992
Phone: 6219 9807
Prices: $$$
Hours: Mon-Thu: 10am-10pm, Fri-Sat: 10am-11pm, Sun: 10am-10pm
 
This food review was first published at Beverly's Adventures!