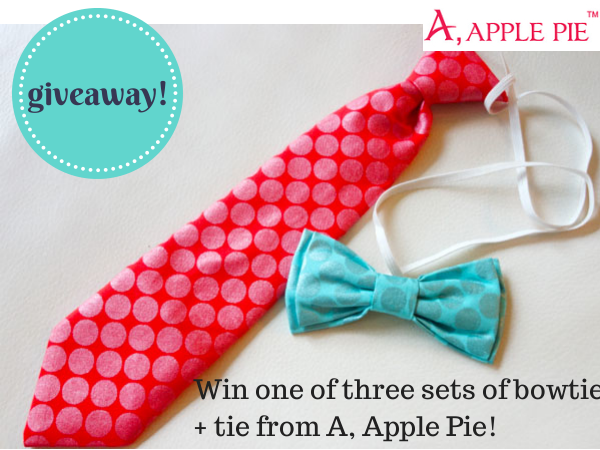 There's something really ridiculously cute about a little boy all spiffied up. I feel like I just gotta go nibble on their ears and pinch their cheeks until someone pulls me aside and tells me I'm being weird!
A, Apple Pie (a brand created by Pupsik Studio) have just launched their pearlised polka dot fabrics for Chinese New Year, which feature girls cheongsams as well as boys shirts.
But if you think it's a bit full-on, you can tone it down with just a smart little Bow Tie or Tie. Psssstttt…… they're on SALE right now at those links! (Was: S$14.90. Now: S$12.90)
They come attached to an elastic band that you simply pull over your kid's head, and tuck into their collar. Simple concept, and fuss free.
A, Apple Pie are giving away three sets of bowtie + tie!
a Brunch With My Baby giveaway


You can submit some of the entries more than once a day, so come back tomorrow to get more entries in the draw.
Giveaway will run from 17 Jan – 23 Jan 2014 inclusive.
Winner's entry(s) will be verified according to the entry criteria(s).
Three winners will be sent a set of bowtie and tie, colours chosen based on availability.
And, here's an extra goodie from A, Apple Pie:
Get 15% off anything from A, Apple Pie's 2014 collection, using code: BWMB
Valid until 28 Feb 2014.