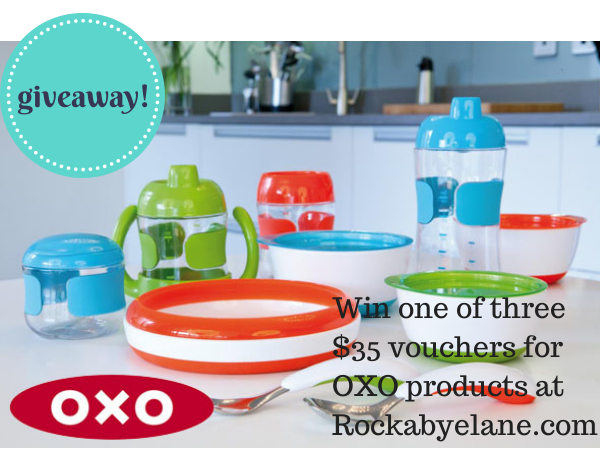 I've been a fan of OXO products for about two years now, and actually own… errrrr… pretty much the entire product line. I've accumulated them over the months and one day I realised I own the range! I know, I'm such a sucker for cool kid products.
The quality of the materials used in OXO products are excellent, and the colours are vibrant, which appeal to kids.
This, below, is my existing OXO product lineup *ahem*. I did tell you I really like their stuff!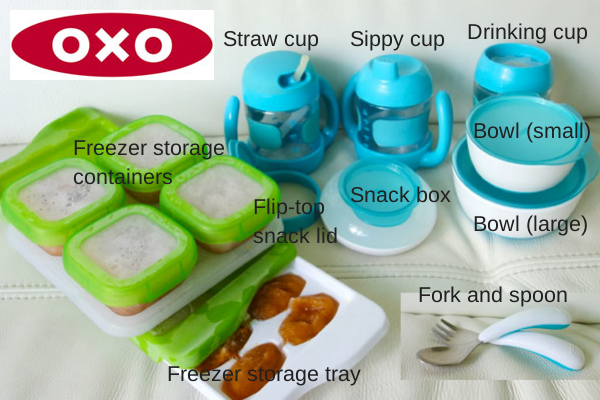 Rockabyelane are giving away one of three $35 vouchers to spend on OXO products!

a Brunch with my Baby giveaway

You can submit some of the entries more than once a day, so come back tomorrow to get more entries in the draw.
Giveaway will run from 3 Jan – 9 Jan 2014 inclusive.
Winner's entry(s) will be verified according to the entry criteria(s).
Voucher may be used to purchase OXO products at Rockabyelane.com
And, here's an extra goodie from Rockabyelane:
Get a 10% off STOREWIDE DISCOUNT at Rockabyelane with code: brunchwithmybaby
Valid until 17 Jan 2014.
Discount is valid on all merchandise storewide, but excludes shipping cost.
OXO is stocked at Rockabye Lane, a local online boutique that ships out speedily and packages arrive with a pretty little sticker: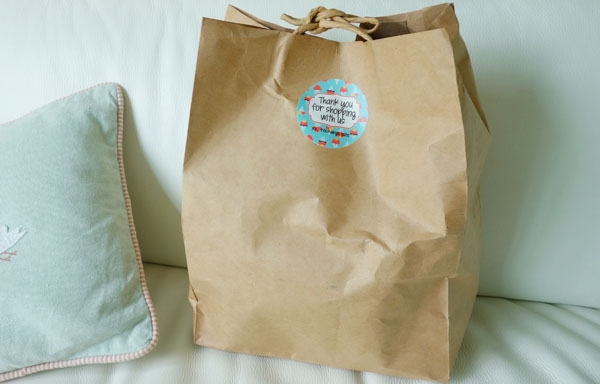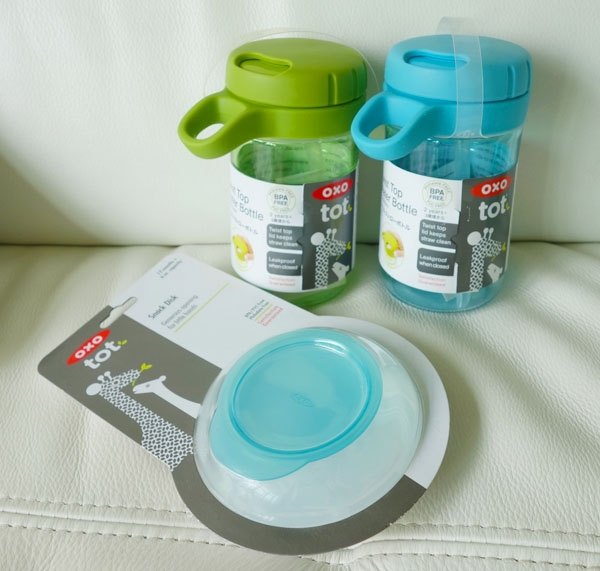 You'll see in the photos of the water bottles that there is a little hole thingy (I'm sure there is a lovely name the OXO product folks have come up with, but I'm sorry I don't know it!) where your thumb can go through, or little fingers can grab onto. It's a simple idea, but works really well – it's easy and fuss-free to grab my kids' bottles and go!
And, is it just me, or do you guys have SUPER ANNOYING PROBLEMS with twist-up-straw bottles? You know, the type where you twist  the top and the straw emerges? By problems, I mean when I twist the top to get the straw out, the whole top unscrews off the bottom. Hello water spillage. Not happy. A lot of brands have done this to me, but this new OXO water bottle does not. When I (or my kids) twist the top, the straw comes out easily. I think it's party due to that thumb-hole thingy, which helps you hold the lid in place.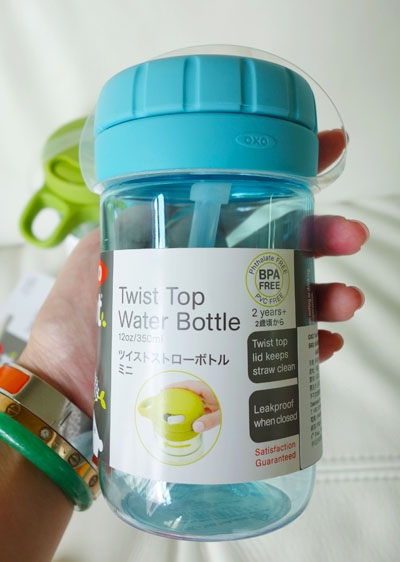 The water bottles are sturdy, completely leak-proof when closed, and my kids happily use them with no issues (ie. they don't choke). All good in my book. My kids actually have around…. errrr.. more than ten (or maybe twenty) water bottles. It's a creepy lil obsession of mine. I'm really satisfied with these OXO ones though, so all the others have been chucked into the cupboard and my kids just use these now.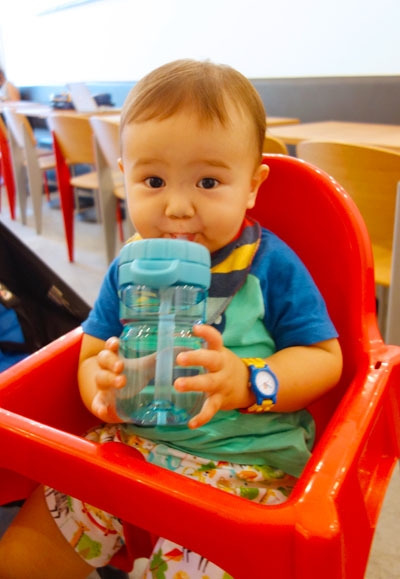 The OXO snack box is my most-used vessel for the kids' snacks. I pop in little biscuits, raisins, and puffs. I LOVE the design because I don't like the silicon reach-in lids (the flaps always bend and don't work properly after awhile) and the curved-in container keeps snacks INSIDE when kids tip the box. The opening is wide enough for little hands to reach into, and the box is shallow enough for little fingers to reach the bottom.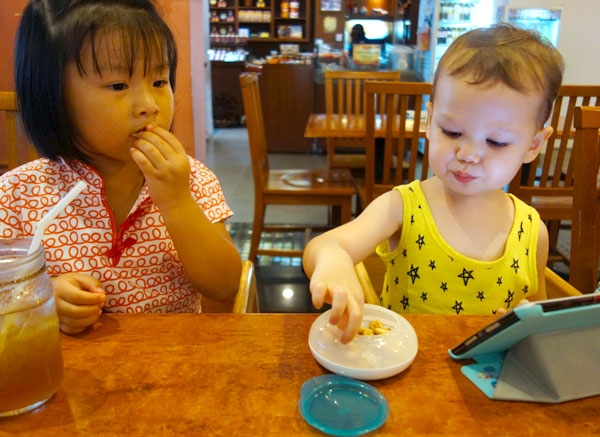 So.. what of all the other OXO products?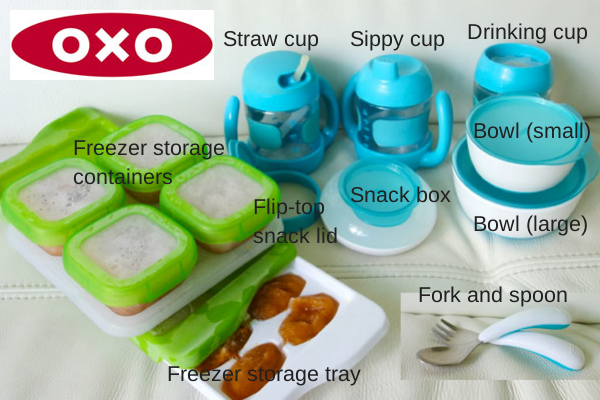 Here's a quick run down from my personal experience:
OXO Freezer storage containers – these are marketed as containers to freeze your homemade baby food in, but I personally like them as small snack jars too. The lids pop on-off easily and they're pretty air tight (they have a rubber seal around the inside edge). But as freezer containers, they work well as they snap in nicely into the tray, to keep things neat in your freezer. I use mine to freeze cooked fruit, and homemade soup stock.
OXO Freezer storage tray – I used these to death when both kids were babies and eating purees. I own a LOT of freezer trays and found this one to be the best. I pop out a cube or two of the veg puree to add into their food (excellent to make a pasta sauce with), and they slide out easily thanks to the curved bottom. The tray washes clean easily and has a slide-on lid so you don't expose everything when you just want to pop out one piece.
OXO Straw cup – This was what Hunter was using before he got the new design. The cup was too small to last one day for him (they do sell a larger version, but we don't have it), but I really liked the fat curved handles (so comfy to hold).
OXO sippy cup – I got this for Carter, because the grand plan was for him to drink his milk from it, instead of from a teat bottle. Unfortunately, he is more stubborn than me and refuses. We compromised on sticking a sippy spout onto his current milk bottle, but transitioning him to a different bottle/cup like this is still a work-in-progress. Hunter used to use it for drinking water though, as a transition before he started using a cup!
OXO drinking cup – this one is super cool, it's meant to transition kids into using a proper cup, but has a transparent cover with lots of holes around the edge. So the water still free-flows out, but spillage is relatively contained. I'm going to get Carter to use this soon.
OXO Flip-top snack lid – this lid can clip onto either the small or large cups, to pop snacks into. I like the flip-top design but I don't have the small cup to clip it onto, and my kids don't eat that many snacks to warrant using the larger cup size. So this is a bit defunct for now! Very sturdy clip lid though, and I'd recommend getting the small version that's super cute and practical, unless your kids eat a lot of snacks (or larger-sized biscuits).
OXO Snack box – This is better for younger kids or kids that don't eat many snacks. It works well because the curved edge keeps snacks in even when tilted, and it's small enough for kids to reach to the bottom. This is hands-down my most used snack box.
OXO Bowl (small) – I use this as a portable bowl in my diaper bag, because it has a lid to keep it clean. It has a heavier bottom so it doesn't dip or fly off the table easily, and is really durable.
OXO Bowl (large) – This is for home-use, since it's a larger size. Excellent for cereal or for pasta, and the heavier bottom (that's non-slip) helps kids learn to self feed.
OXO fork and spoon – Oh by far one of my favourite cutlery for kids!!! And I own a drawerful from various brands. The design and functionality is, simply, perfect for kids. The metal isn't sharp but well rounded, and the spoon has the perfect depth and size. The handle is chunky and non-slip, with a very useful curve in it when I'm feeding the kids (or even when they use it to feed themselves). It's so good my kids use theirs on a daily basis.
Thanks Rockabyelane!