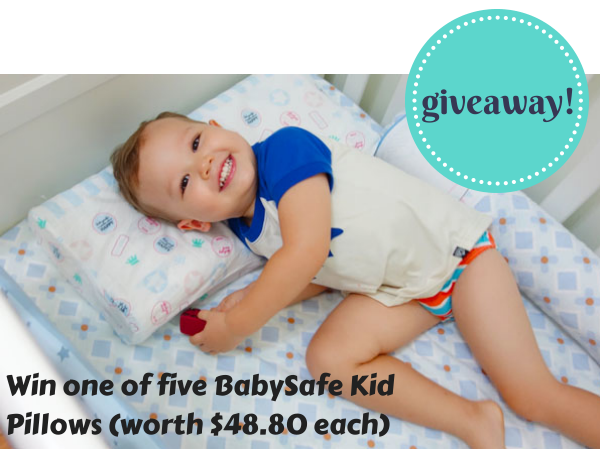 Chris and I splurged on really nice latex pillows and mattress when we moved to Singapore 2+ years ago. We aren't alone – most people I know are willing to splurge on really comfortable bedding, rationalizing that we are lying on them at least 6-7 hours a day, even more so than sitting on a couch!
Yet, for some reason, I haven't seen many quality baby/kid bedding around. They are either just stuffed, or made with foam. And kids sleep on their pillow and mattress for 12 hours a night… not even including their nap times!
Hunter has always used the BabySafe latex mattress and pillow, since birth. The firm and breathable latex provides excellent support and safety for a baby, and I couldn't find any other bedding that was superior.
When Carter was born, I gave him Hunter's BabySafe latex mattress and pillow, and got Hunter a regular pillow and cheap foam mattress *ahem*. He used this for a couple of months, and I always felt bad whenever I changed his sheets and saw the poor/crappy quality of the foam! So I was really delighted to finally transition him (back) to the BabySafe mattress and pillow a few weeks ago.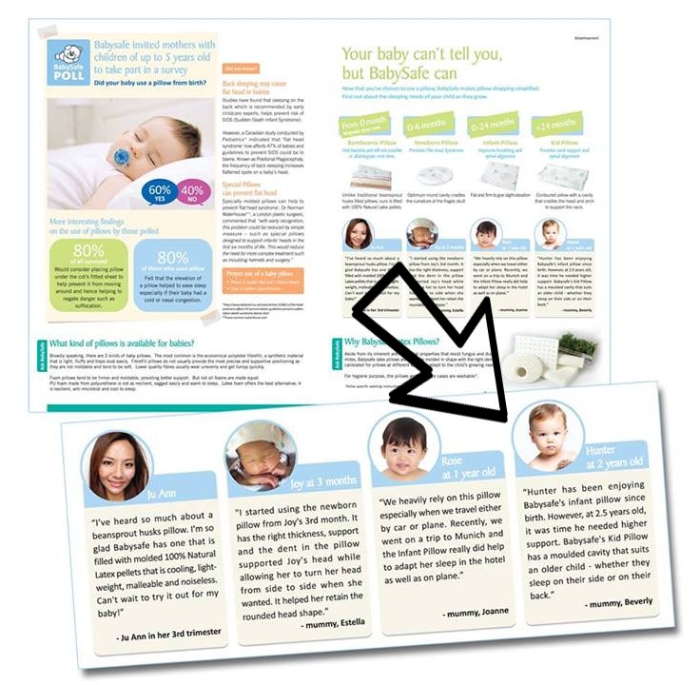 BabySafe latex range is hypoallergenic, and provides firm orthopaedic support for spinal alignment and adjusts comfortably to the contours of the baby's body. Aside from preventing allergies, it is naturally mold and mildew resistant, inhibiting dust-mite infestation. Being natural, it contains no toxic substance and unlike synthetic materials, does not emit fumes. It is also self-ventilating, reducing the risk of suffocation.
I am super happy that BabySafe are being brilliant and want to offer a giveaway!
BabySafe are giving away 5 Kid Pillows (worth $48.80 each)!
You can submit some of the entries more than once a day, so come back tomorrow to get more entries in the draw.
Giveaway will run from 20 Dec to 26 Dec 2013 inclusive.
Winner's entry(s) will be verified according to the entry criteria(s).
Winners may pick up the BabySafe pillow at the Spring Maternity (Hoi Hup) showroom.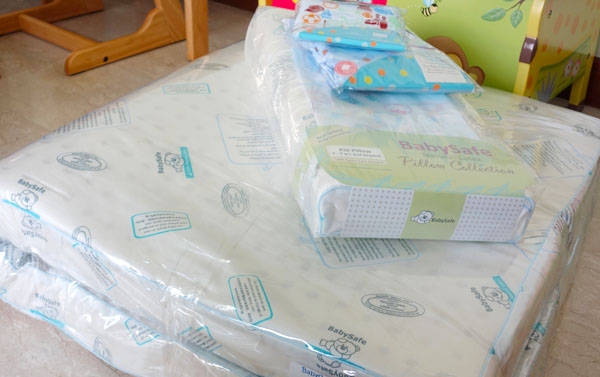 You'll see below that there are a variety of pillows for babies and kids. Hunter (at 2+ years old) currently uses the BabySafe Kid Pillow and I love how it is molded. My own pillow is a molded latex pillow, so I know how comfortable this is!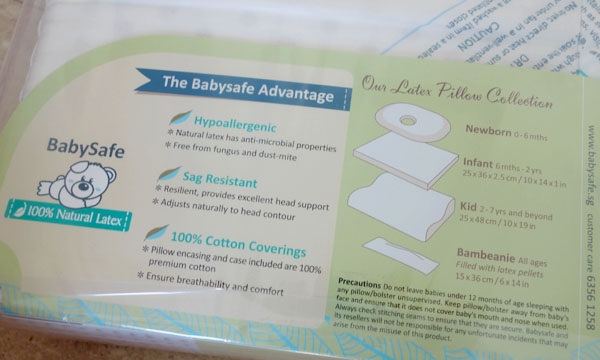 Below is the BabySafe Kid Pillow and the BabySafe mattress. The mattresses come in a variety of sizes to suit almost all cots. I like how both come with a soft 100% cotton cover, so they can be whipped off and washed easily.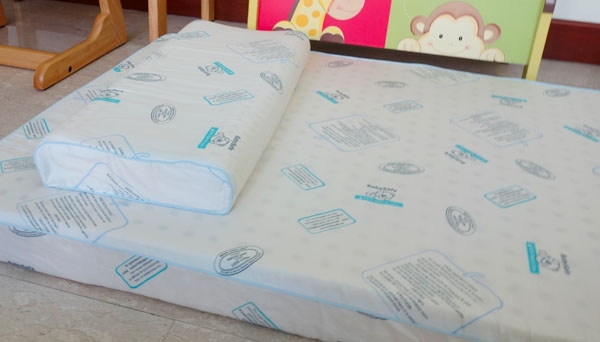 Here's a peek at the latex mattress uncovered. Latex holds its shape beautifully, and doesn't attract dust mites and bed bugs – a huge plus in my book. It's also a very heavy mattress, which I like because it doesn't feel flimsy like regular cheap foam mattresses.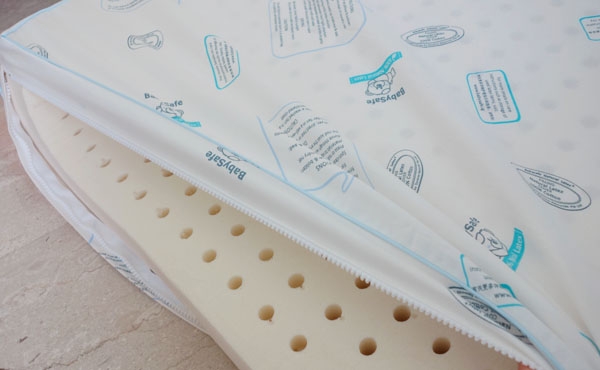 BabySafe include one set of sheets when you purchase their products, but I usually go out and get extras. Made of 100% sateen cotton, they are really smooth and soft and come in cute prints. Below you will see the BabySafe mattress, BabySafe Kid Pillow, BabySafe bolster… all in Hunters bed from Mothercare (I believe BabySafe mattresses will fit any Mothercare bed).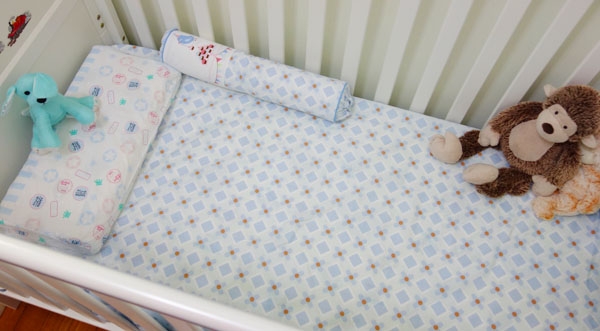 Hunter is bizzarely HUGELY fascinated with the latex mattress, and insisted I put it on the ground for him and Carter to lie on. And they did, for ages!! When I tried to cover it up with sheets and put it back in his bed, he had Meltdown Central. Go figure.
Here he is inspecting his new bedding, after he finally allowed me to put it all back in his bed.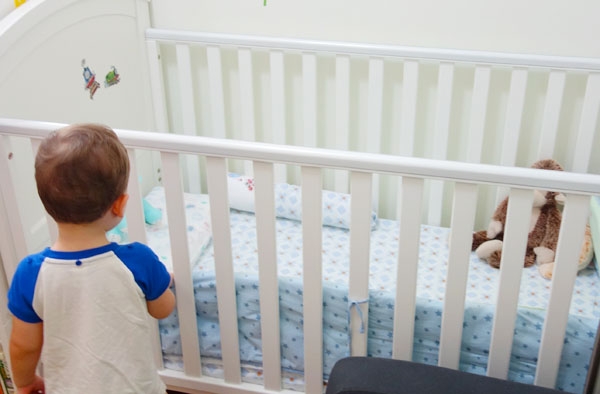 He then wanted to hop on in and test it out…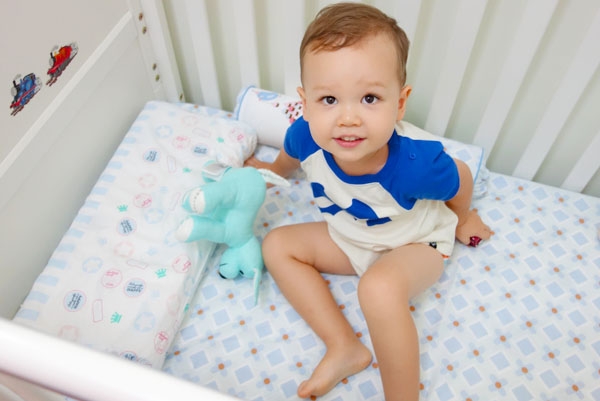 "OK I nap now, Mama!" 
REALLY???? Well, go right ahead…..!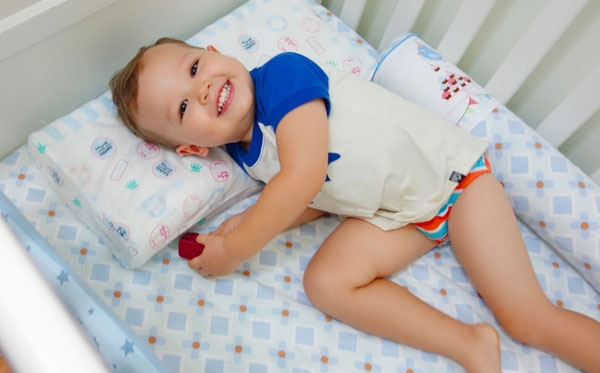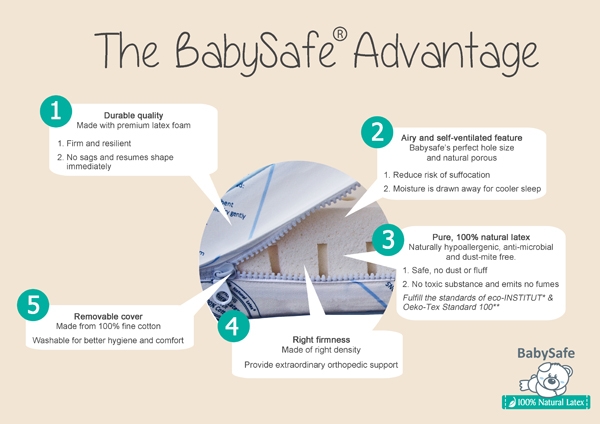 Thanks BabySafe!