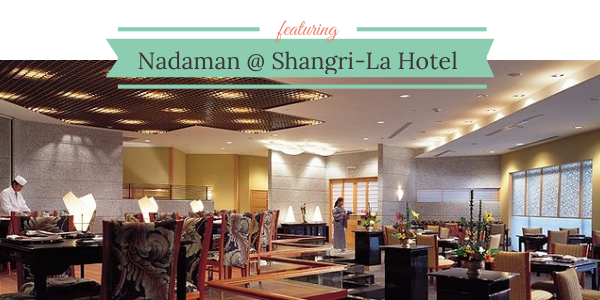 (photo credit: Shangri-La)
I've been to Nadaman at the Shangri-La a couple of times now, but have never managed to take photos and/or review the restaurant. I finally did this time, but only managed a few photos, and ZERO photos of the Kaiseki… whoops. I blame it on being distracted by both kids – either trying to get one to nap or one or both to eat, etc, etc. I regret it, because the presentation of their dishes (especially in our Kaiseki) is beautiful!!
The kids appreciate the place because it's quiet (we always go for weekday lunch) and the service is top-notch. They are extremely attentive, very patient with children, and give an all-round pleasant experience.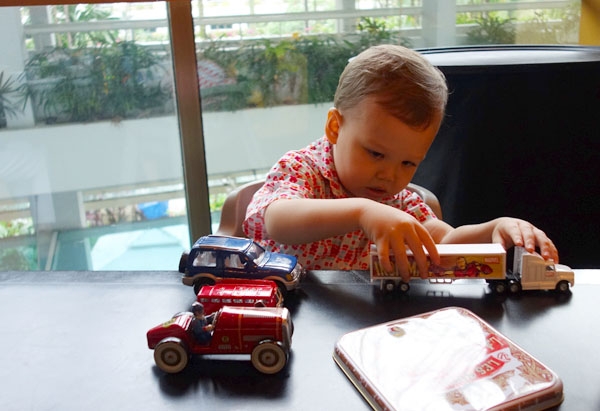 Nadaman started in Osaka, Japan, 180+ years ago. The restaurant here, too, boasts refined Japanese cuisine that will delight any Japanese-food lover.
Obviously, their Kaiseki is top-notch and what I always get. Their Seasonal Kaiseki menu ($60) includes an appetiser, soup, sashimi, grilled dish, simmered dish, rice, pickles, miso soup and dessert.
However, this time, I decided to do something different and get the Bara Chirashi (diced raw seafood on sushi rice, with appetiser, deep-fried bean curd, salad and miso soup). At $50, you get a huge amount of sashimi that's disproportionate to the amount of rice. What can I say? It's a sashimi lover's delight!! You won't be disappointed nor will you leave hungry.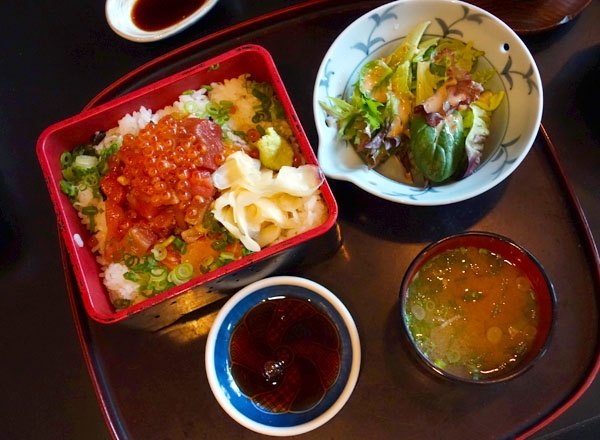 This is the deep fried beancurd that comes with my Bara Chirashi. It's silky and delicious, and is a hot favourite with my kid (though they eat just the inside tofu and not the deep fried exterior).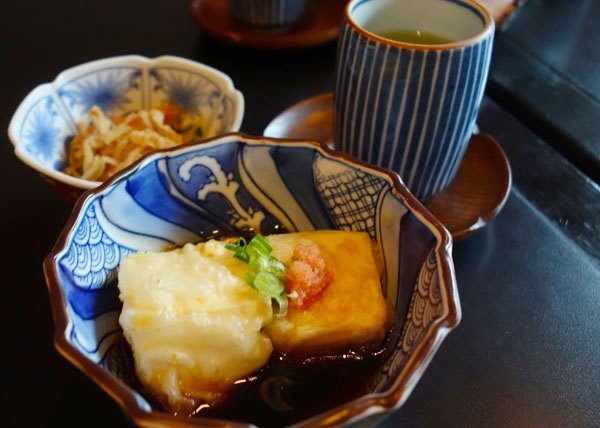 We got the kids a set lunch each, of Grilled cod fish (Gindara Teriyaki) ($35). They can polish off a whole set each by themselves!! I discovered I can dip the sashimi into the piping hot miso soup, and it lightly cooks it, resulting in a gorgeously poached slice of fish… yummmm. And that cod fish? Delectable. Silky. Smooth. The perfect kids food.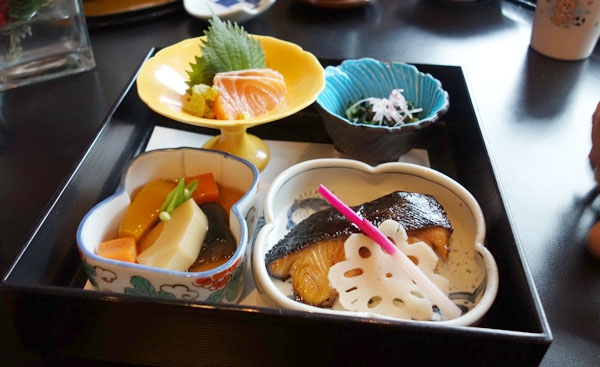 Last Bite: Nadaman's refined and elegant ambiance, coupled with delicious food, is a must for any Japanese cuisine lover. Get their lunch sets or kaiseki!

Highchairs: Yes
Easy access: Yes
Change tables: Yes (in the hotel)
Kids' menu: No
Nadaman
Shangri-La Hotel
22 Orange Grove Road
Phone: 62134571
Prices: $$$$
Hours: Daily: 12:00 – 14:30, 18:30 – 22:30