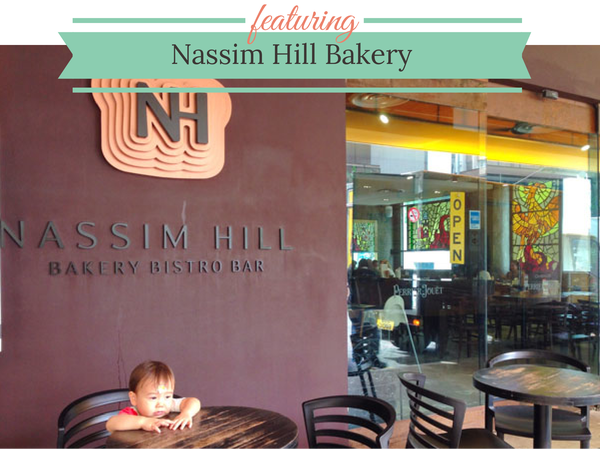 I hold a soft spot for Nassim Hill Bakery, and always leave the place so impressed and eager to return. It's along Orchard Road (right where the Tanglin post office building is), yet very quiet on weekdays and not packed out on weekends. I fear Orchard Road, and malls in general, on weekends. I can't handle crowds, and a really packed out cafe makes me anxious. With two young kids in tow, we also don't have the option or luxury to sit around waiting for food and jostle with everyone else.
Nassim Hill Bakery is centraly located, yet makes for a wonderful and relaxed brunch spot. The area is spacious, the staff are friendly, and the food is excellent.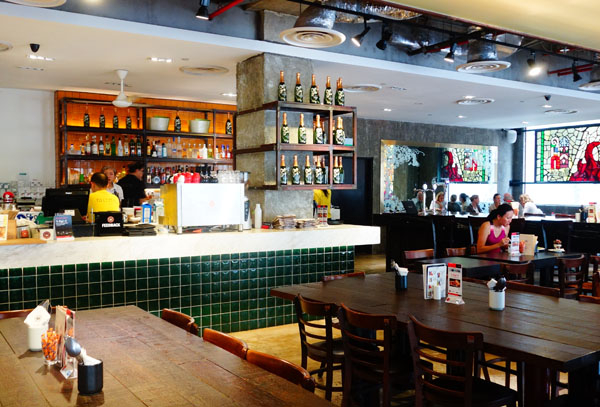 The menu is pretty extensive, but be warned that the Breakfast and Lunch menus are mutually exclusive – the latter kicking in only at 11AM. I wish the dishes were just part of one menu, because the Breakfast options are limited to eggs, eggs and more eggs.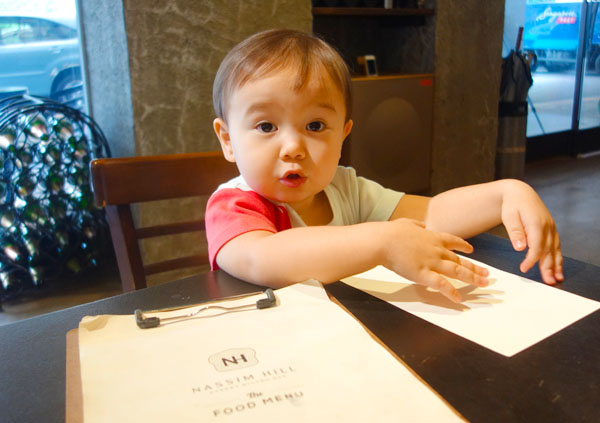 Nassim Hill Bakery do a lovely and smooth coffee, albeit with woeful latte 'art'. I have never had a chance to try the biscotti, because my kids always pinch it straight off my saucer!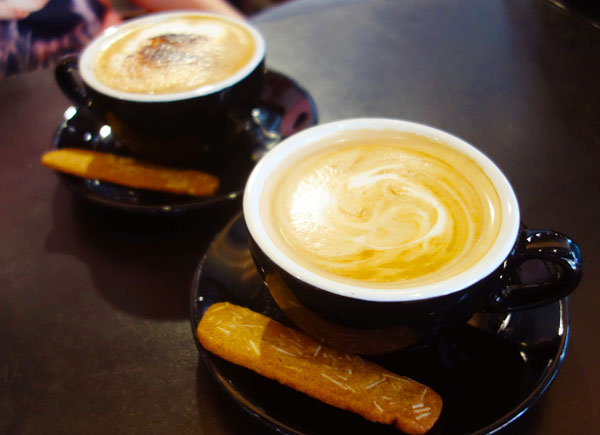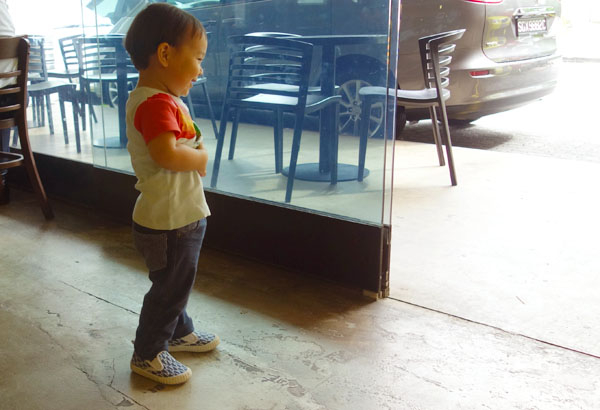 The complimentary bread basket (served with the Breakfast menu items, I believe), is a stunner. All the breads are baked fresh that morning within the premises, and it shows. The breads are all exceedingly soft and fluffy, with a beautiful aroma. A HUGE hit with the kids, being the carboholics that they are!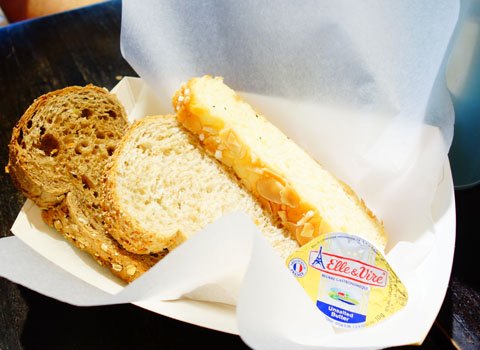 My interest was piqued by the sound of the Spicy Huevos Benedict. The two poached eggs oozed perfectly, and the seared Spanish chorizo slices added a lovely saltiness to the dish, which was paired well against the subtle flavour of the freshly baked ciabatta.
The only woeful item was the jalapeños guacamole, which was shockingly bad. It was basically mashed avocado, but the avocado was clearly 'off'. It was brown, mushy, and had the weird brown 'wormy' bits all through it. It was absolutely inedible, and very obviously looked disastrous to the naked eye – so I was totally shocked they actually allowed this out of the kitchen (pretty shameful).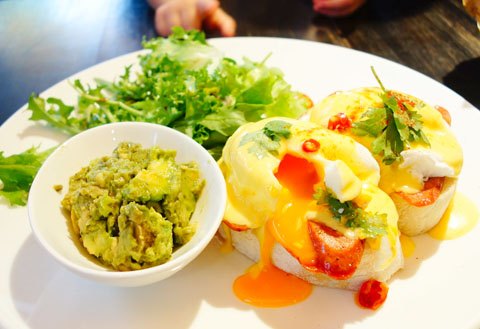 Nassim Hill Bakery's rendition of the Chilli crab pasta ($16/$25) is a stunner, and easily the best crab pasta I've had in Singapore.. and possibly one of my favourite overall pastas. Yes, it's spicy, but it's worth it. The sauce is spot on, tasty and creamy, and studded with generous amounts of crab meat. It was fantastic and a must-order.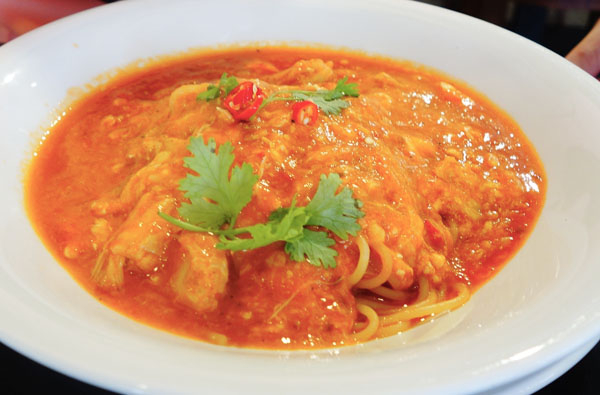 Equally impressive was their Hot Reuben – corned beef with melted emmental, sauerkraut, onions and russian dressing on signature asahi kuronama beer bread ($18). The saltiness of the corned beef went very well with the melted cheese, but was not overly salty. The beef was extremely tender, and came in a generous portion. In fact, the whole sandwich is actually pretty big. Small eaters can easily share one of these sandwiches between two people.
It comes with a side of garden salad, though I'd have also loved to have seen it served with a side of fries as well.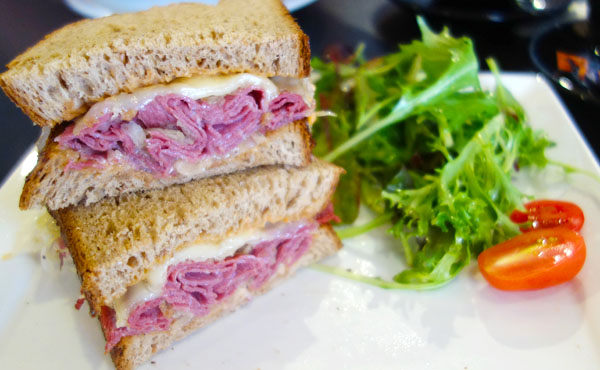 I'd actually ordered the Granola & Berries Parfait for Carter, but I ended up eating quite a lot of this, surprisingly! I generally dislike this sort of breakfast (too healthy, too boring, too fruity), and don't like fruit in my meals. But I was surprised to find myself liking this, and kept going back for more with my spoon!
The crunchy granola paired well with the smooth yogurt, and the berries and raisins dotted through were sweet. It was very nice all mixed up together, and Carter gave this the thumbs up too.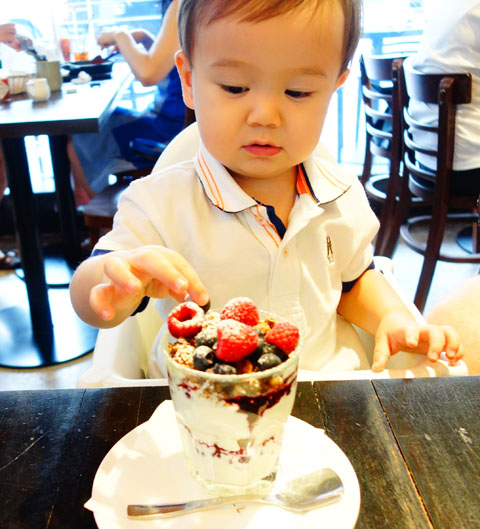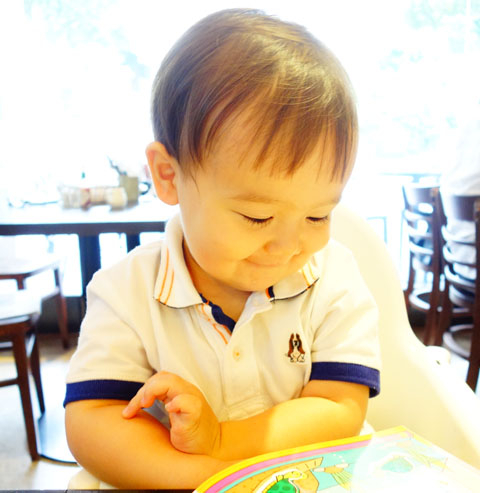 Last Bite: Nassim Hill Bakery is the place to go to if you want a relaxed cafe right on Orchard Road. Their food is excellent, as is the coffee, but it's their freshly baked breads (also available to bring home) that wow!

Highchairs: Yes
Easy access: Yes
Change tables: Yes (in mall)
Kids' menu: No
Nassim Hill Bakery
56 Tanglin Road #01-03
Singapore 247964
Phone: 6835 1128
Prices: $$
Hours: Tue – Sun: 8:00 am – 8:00 pm