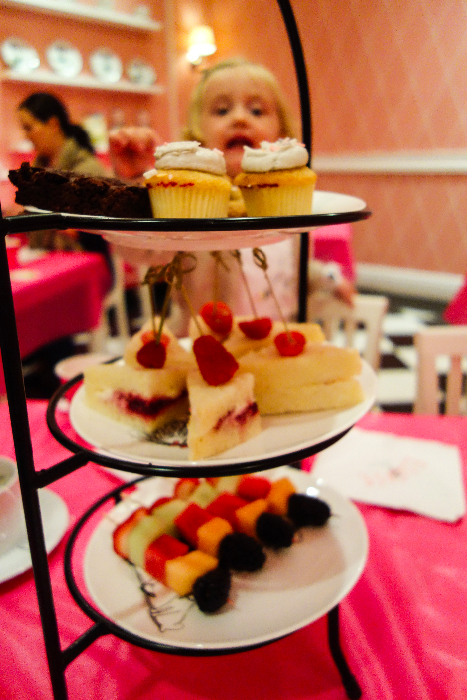 Something I've been wanting to do for a long time is take little E to an Eloise-themed Rawther Fancy Tea Party at the Plaza Hotel. The Rawther Fancy Tea Parties are part of the special events run under the Plaza Hotel in the Eloise store. I ADORE the Eloise character and have been so excited to share her with my own Miss E. So it happened on a steamy, rainy Friday that the Little One and I found ourselves at the pinkest tea party that ever might be.
Our host, Stephanie, made us feel extremely welcome. Stephanie ran the tea party for us, providing us with pink lemonade as well as real tea (E and I both had citrus chamomile). It was E's first "real tea" and she flipped out when I gave it to her, because it made her feel like such a big girl to be drinking adult tea with mummy.
Our afternoon tea delights arrived on a three-tiered platter of illustrated Eloise plates. The bottom plate held fruit skewers, the middle plate had sandwiches (egg salad, cream cheese and cucumber and peanut butter and jelly), and the on the top plate, sweets (mini cup cakes, chocolate brownie and choc chip cookies). Please excuse the terrible photo of the tea platter. E was SO EXCITED when it was placed in front of her that she photobombed me and I laughed so hard the camera shook.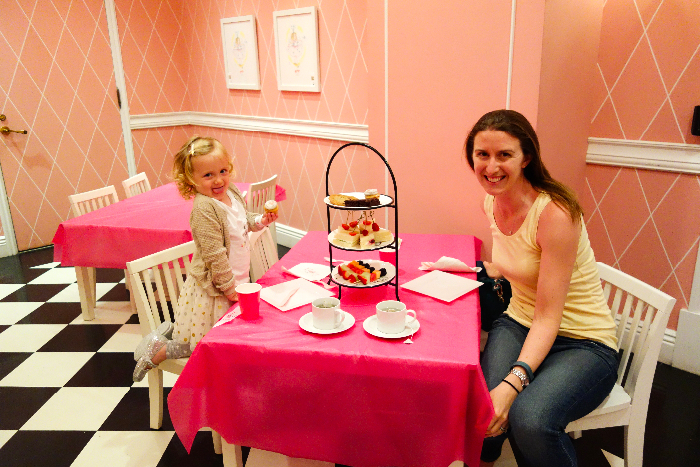 The Rawther Fancy Tea Party was held in the party room in the Eloise Store, which is under the Plaza Hotel, next to the Plaza Food Hall. We've visited the store before on many occasions and E has always been attracted to the tiny chairs and tables — a perfect size for this little one to feel like a big girl, while at a very special tea party with kids her age in mind.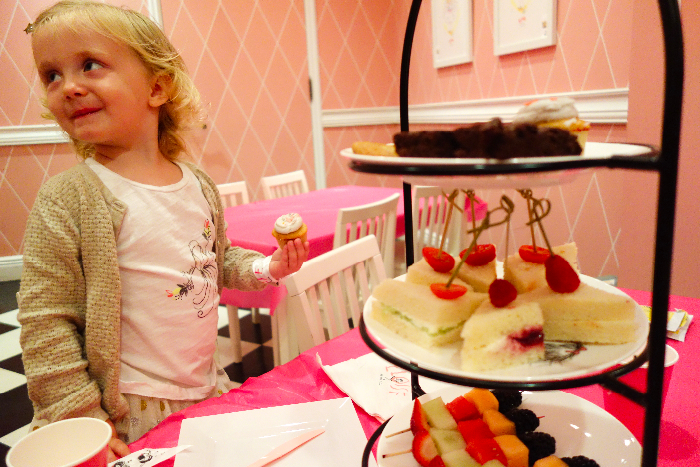 E tried a little of everything, but particularly loved the mini cupcake and the fruit. I happily ate the sandwiches (LOVE me some tea sandwiches) and can report that they were delicious. The fruit was super fresh and tasty (they didn't taste like the fruit had been sliced hours earlier, languishing in a fridge), and the baked goods were all kid-friendly crowd pleasers (it is hard to go wrong with cookies and brownies.) As often happens with me and tea, we couldn't eat all the sweets so we had them boxed up to take home.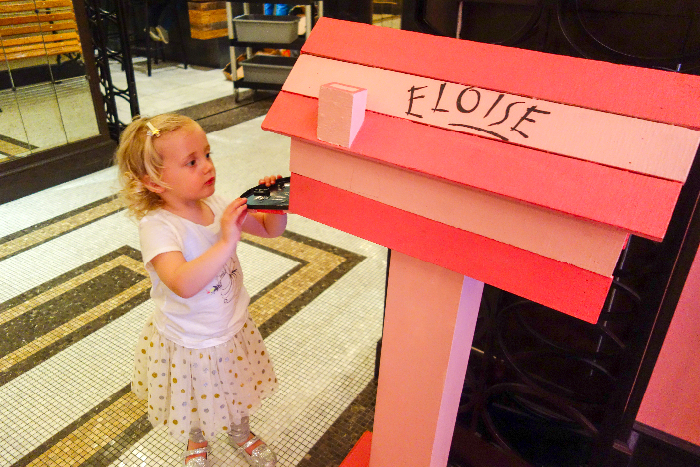 Our fellow tea party goers were girls of similar age, along with their mum or mum plus an out of town friend. After our tea party we all wrote letters to Eloise. Stephanie told us that Eloise always writes back, so we're very excited to receive a special letter in the mail. Miss E "wrote" her letter in some beautiful swirly drawings, at the end of which I added that we loved our tea party and wished Eloise had been able to make it.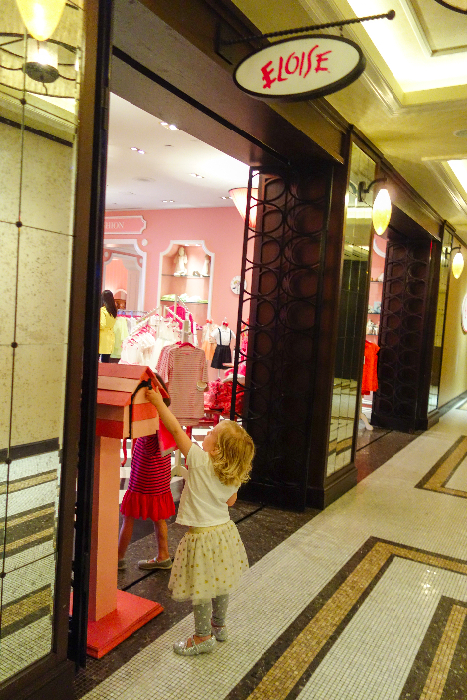 The letters were all posted in the appointed Eloise mail box, ready for delivery upstairs to the Plaza's most famous resident. E loved posting the letter so much that she took out everyone else's letters and reposted them all several times.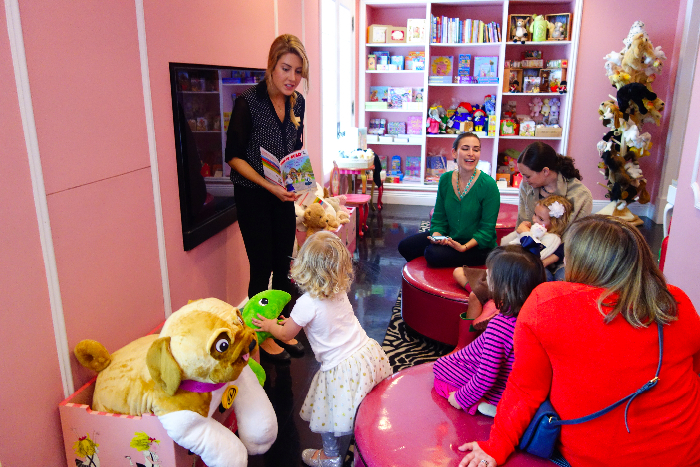 Next came story time. Stephanie read two shorter Eloise books to the party in the back room of the Eloise store, while we lounged on the bright pink ottomans.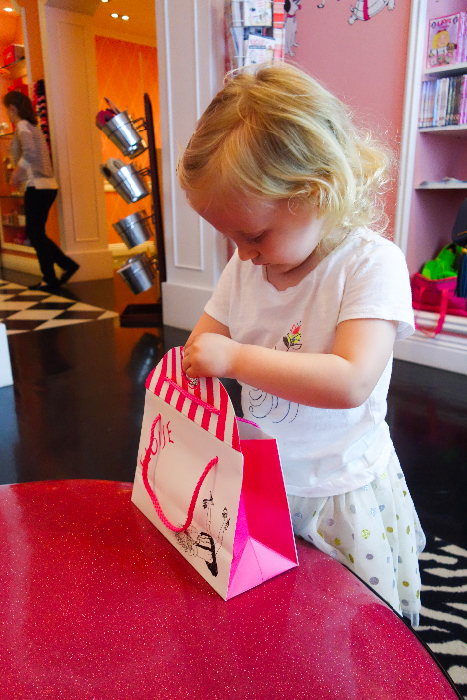 And then the party was over! Each child received a gift bag containing an Eloise pencil, postcard, mints, gift voucher to the store, and a book.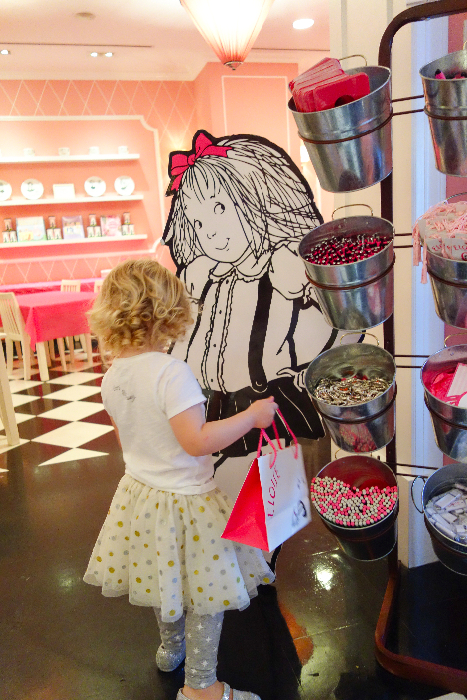 We shopped around, said "hello!" to Eloise, and went home. We love, love, love a tea party! Thanks Eloise and The Plaza!
Rawther Fancy Tea Parties are held on Friday at 4pm at the Plaza Hotel. Cost is $100 for an adult and child pair. Reservations are required.
The Plaza Hotel
Fifth Avenue at Central Park South,
New York, NY 10019