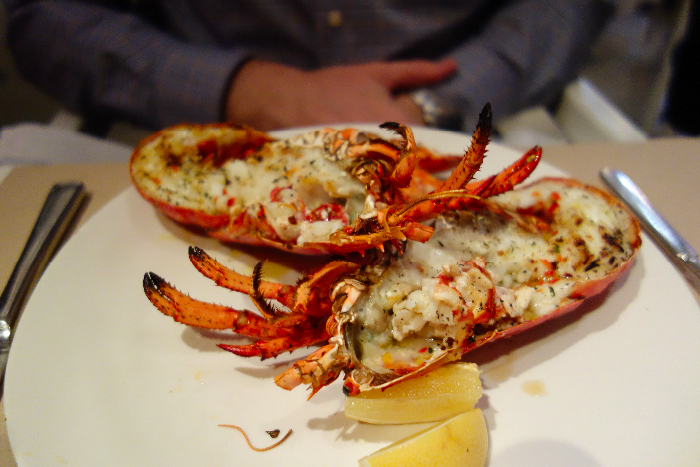 For the husband's big 40th birthday, I decided to spoil him with lunch at ABC Kitchen. With Chef Jean-Georges Vongerichten at the helm, I knew we were going to be in for a great dining experience. The restaurant is situated in the ABC Home store near Union Square. They have a seasonal menu with fresh, locally-sourced ingredients (where possible). Their menu alignes with the farm-to-table movement, and is free of pesticides, synthetic fertilizers, insecticides, antibiotics and hormones. All of the food at ABC Kitchen is also GMO-free, and naturally and humanely sourced from regional farmers and fair trade cooperatives. The restaurant celebrates community and the future of the slow food movement.
Taking a toddler to a fancy lunch is always risky. I planned this lunch to get wiggly E to nap in her stroller on the way so we could get through at least part of lunch before she woke up. The staff couldn't have been sweeter, finding us a table that accommodated our sleeping toddler in her stroller, and had a place set for her upon her awakening. In the best birthday gift of all time, E slept right through lunch, waking up when dessert was served. A happy birthday to Daddy indeed!
Since it was his birthday, Alec ordered the Wood Oven Roasted Maine Lobster with Oregano and Lemon-Chili Vinaigrette ($39). It was his first lobster ever, and he proclaimed it delicious. Together, we shared a few smaller dishes: Roasted Kabocha Squash Toast with Fresh Ricotta and Apple Cider Vinegar ($12), Roasted Brussels Sprouts with Mustard Vinaigrette ($11) and Roasted Sweet Potatoes with Cipollinis, Cashews and Maple Syrup ($10). The roasted squash toast was probably my favourite – I absolutely love the combination of ricotta and roasted squash. The flavors go together perfectly. I wasn't a huge fan of the brussels sprouts – I found they were a bit bitter for my liking when paired with the mustard vinaigrette. Alec's favorite was the roasted sweet potatoes with a hint of heat to them. For my main I had the Housemade Ricotta Ravioli with Herbs and Tomato Sauce ($23). It was absolutely delicious. Big fluffy pillows of pasta stuffed with creamy ricotta, and in a perfect tomato sauce.
For dessert we ordered the special, which, to be honest, I've forgotten what it was called (clearly not memorable!), and the Orange "Creamsicle" Tart ($10). The sweet staff put a candle in Alec's dish and wrote a big "Happy Birthday!" on it in chocolate. With Little E to help him blow out the candle, Alec proclaimed it the perfect birthday lunch.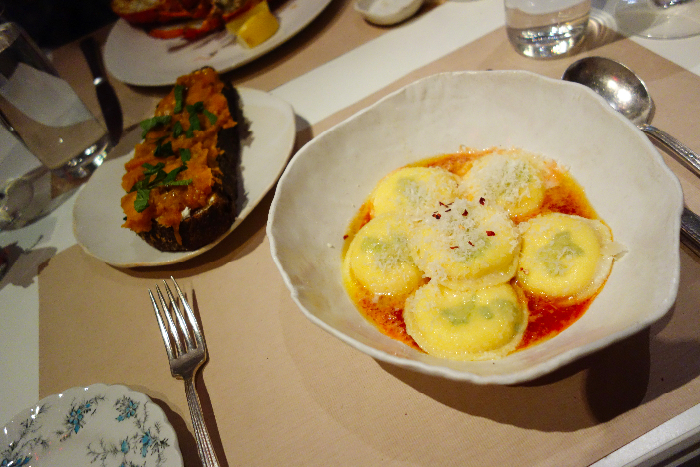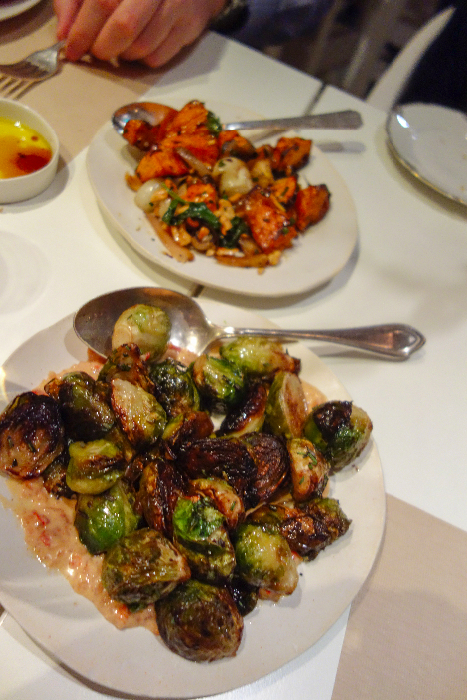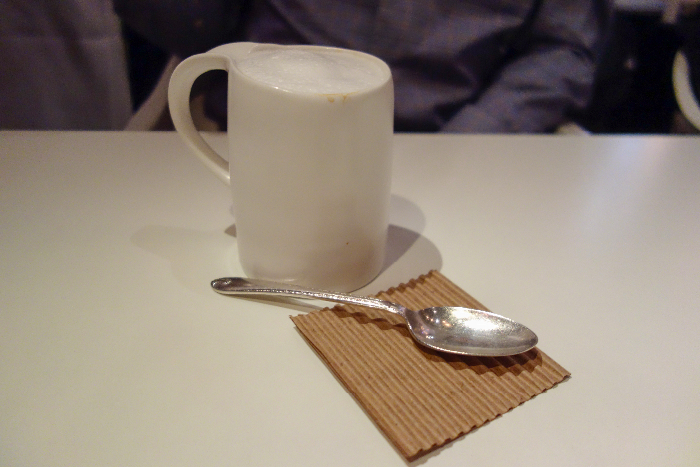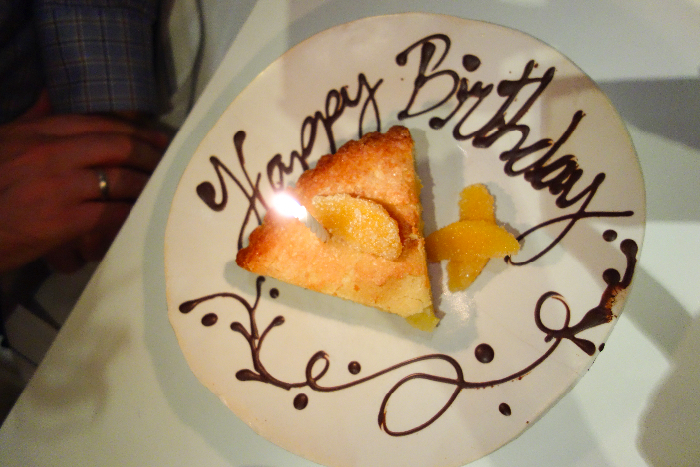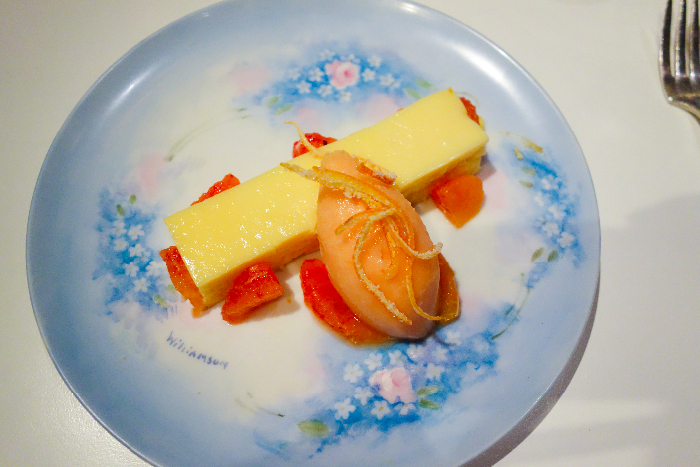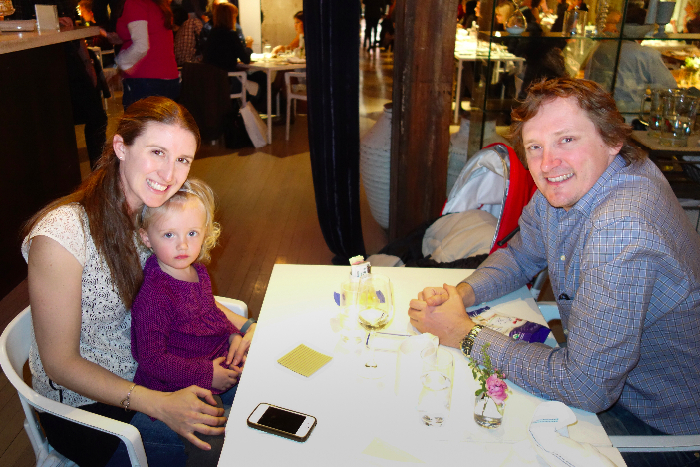 After eating we adjourned to nearby Union Square for play time.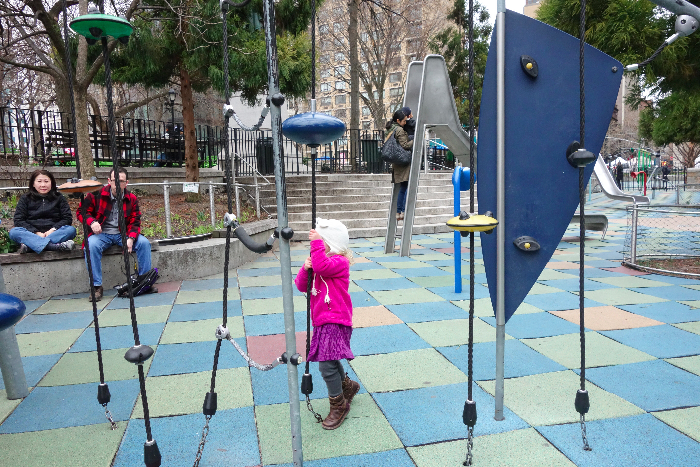 Last Bite: High-end dining where kids are welcome. Reserve a table in advance so there's no wait.
Highchairs: Yes.
Stroller storage: Yes.
Easy access: Yes.
Change tables: No.
Kids' menu: No.
ABC Kitchen
35 E 18th St,
New York, NY 10003
Phone: (212) 475-5829
Prices: $$$
Hours: Mon-Wed 12pm–3pm, 5:30–10:30pm, Thurs 12pm–3pm, 5:30–11pm, Fri 12pm–3pm, 5:30pm–11:30pm, Saturday 11am–3:30pm, 5:30pm–11:30pm, Sunday 11am–3:30pm, 5:30pm–10pm
Reservations
Get Directions