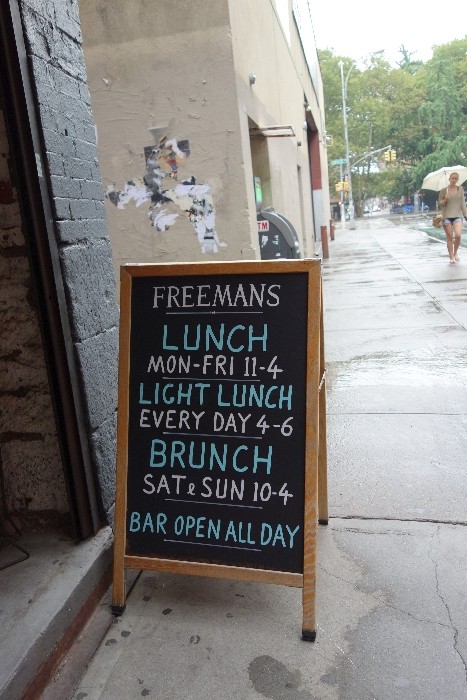 On an unexpectedly rainy day, I did something I NEVER do — I let my friends (without kids) choose a restaurant for brunch. My only prerequisite was that they have vegetarian options and that it was below Union Square so I didn't have to travel much. Their selection was Freemans, a restaurant they discovered not long after they moved into the Lower East Side a few years back, and that they love so much that it has become their go-to place for a reliable, delicious (and somewhat hipster) brunch.
Sign number one that the restaurant you're going to is probably hipper than you are — it's hidden at the back of an alley, and the only sign of it is a chalkboard at the end of the alley way to guide you.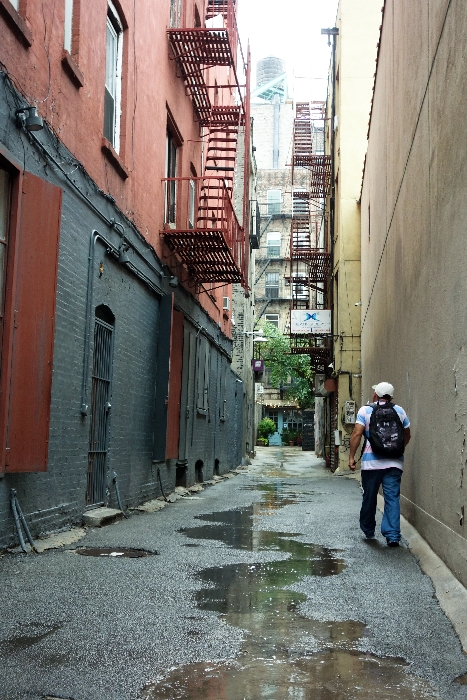 Down the alley way … would we really find brunch??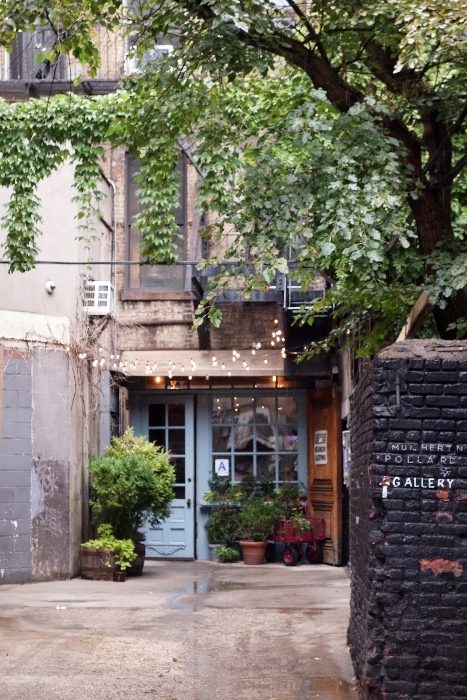 As promised, a super-stealthy (and adorable) entry awaited us — with the air of a secret club that you have to be invited into (wait — am I cool enough for this??? I HAVE A TODDLER).
Our friends made the reservation for our party of six adults and one cheesy toddler. I was travelling solo while I waited for Alec to arrive with Cheese after her nap, so my friends and I sat at the bar watching the bearded bartender in flannelette light drinks on fire (they don't seat you until your entire party has arrived).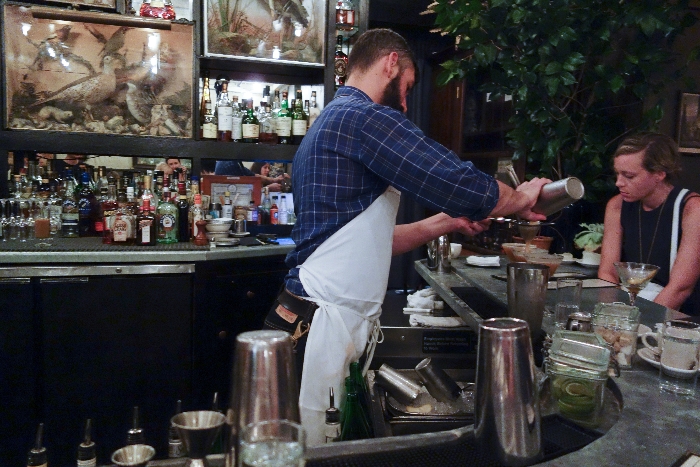 This was one of those restaurants that I walked into and immediately thought that it was NOT going to be the best choice for our family. I was happy to be mistaken. The creepy taxidermy on the walls actually entertained Cheese ("DUCK!!" "QUACK QUACK!"). Thankfully even LES hipsters are entertained by a cute, well-behaved toddler.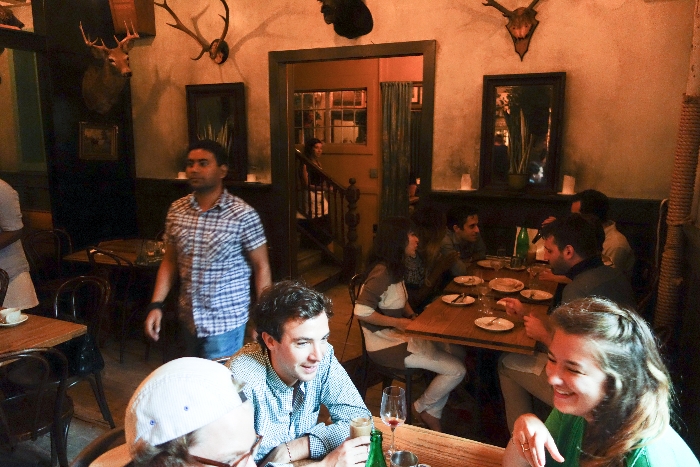 You could call the space "cozy". There's enough room to move and there are plenty of tables, but the layout is twisty and turny — little rooms lead into more little rooms with multiple bars. There's an air of it being an exclusive party.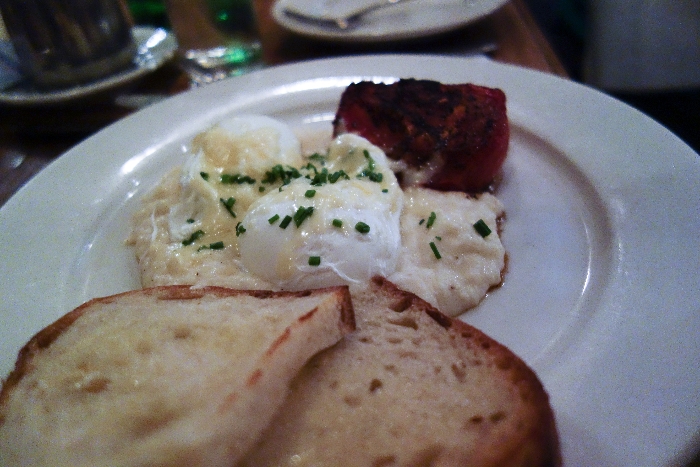 When Alec and Cheese arrived, we were sat immediately at our table, with a high chair. Menus and water arrived quickly, and after we ordered, the food was also fast to arrive. LOVE when that happens. Let's move it along so we can GET THE TODDLER OUTTA HERE.
We ordered a few dishes, including the Poached Eggs with Roasted Tomato (with cheddar cheese grits & buttered toast, $12). The eggs were cooked to perfection, delicious tomato and toast, but not a huge fan of grits in general … must be because we're Australian? I had to ask what grits were.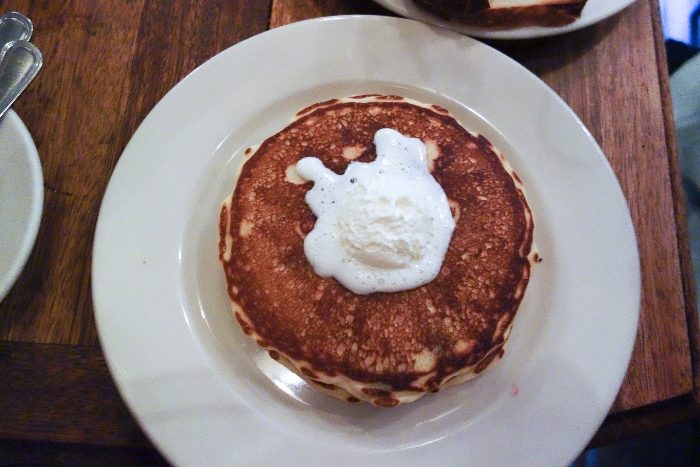 I ordered the Blueberry Buttermilk Pancakes (with whipped cream, $12). The pancakes were a delicious surprise — light and fluffy, with a lot of juicy blueberries cooked into the bottoms of the pancakes.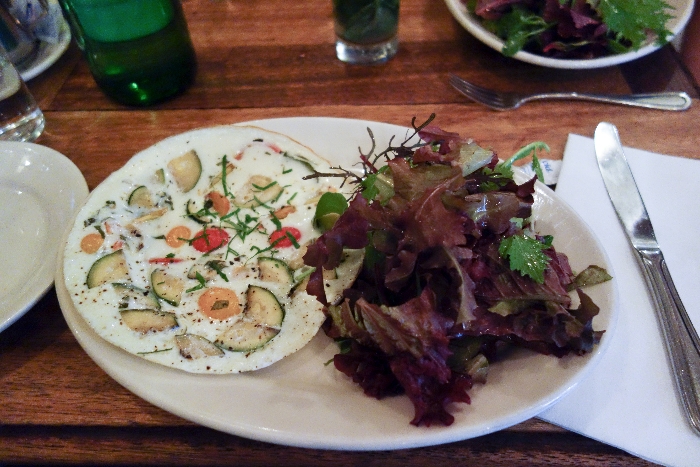 Alec ordered the Open Faced Egg White Omelet (with charred zucchini, cherry tomatoes, basil and mixed greens, $13). It was delicious and had a very attractive presentation — but it wasn't very filling. We also ordered the Hot Artichoke Dip with Crisp Bread, $11, for the table to share (it was devoured in minutes — highly recommend), and a side of fries for Cheese to eat and play with.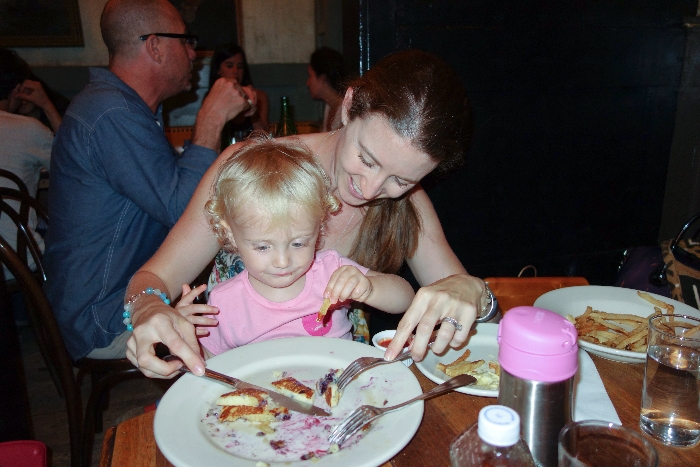 I balanced Cheese on my lap while we ate — she highly enjoyed dipping fries into tomato ketchup, and THEN into my pancakes. Yum? It was pretty noisy inside and the loud environment made her a little anxious, hence my lap and NOT the highchair being used.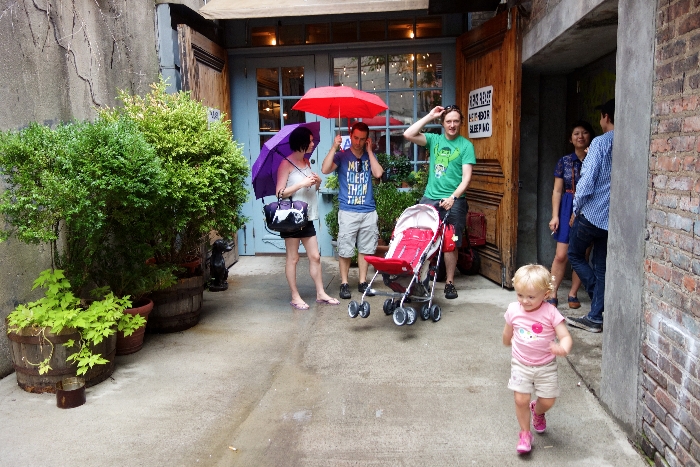 Outside it was wet and dreary. It was much more fun inside our secret, cozy tavern.
Last bite: Nothing special for kids, but fast service and reliable reservations make this a great choice for a kid-friendly brunch that will impress your trendy friends. 
Highchairs: Yes.
Stroller storage: Yes but minimal. Bring the umbrella stroller.
Easy access: Yes.
Change tables: No.
Kids' menu: No.
Freemans
Off Freeman Alley
191 Chrystie St,
New York
Phone: (212) 420 0012
Prices: $$$
Hours: Lunch: Mon-Fri 11am – 4pm, Brunch Sat, Sun & holidays 10am-4pm, cocktails & bar menu daily 4pm-6pm, dinner daily 6pm-11:30pm
Reservations recommended, but they also take walk ins. You can order the full menu while seated at the bar.
Book a table via opentable.com