On the surface, the Britax Carrier doesn't look much different from most other carriers on the market. Believe me, I've become quite the baby carrying expert over these past two years. I must have tried nearly half a dozen carriers in the hopes that just one might be comfortable for long treks around the 'hood or in and out of the city.
Word around the Mommy Block was that this particular carrier was something special. Curious, I had to try it. Especially since Cheese is pretty vocal about not wanting to go in her stroller as often as she used to. And, short of putting her on a leash, I was running out of options to keep her in my grasp. But once I tried the Britax Carrier for myself, it was clear that this was one very unique and well designed carrier.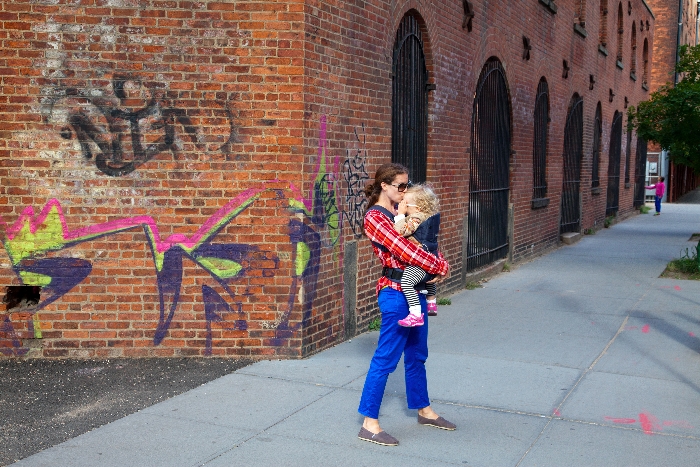 Here's what I enjoyed about using the Britax Carrier:
It's easy to put on
Straight out of the box, just unclip the buckle that folds it together and slide it over your shoulders. Clip the waste band, adjust the straps, and you're ready to go. It's just so easy — so easy you almost don't need to read the instruction manual (Disclaimer: but you should read it anyway! You should always read the manual!).
It's easy to get baby in and out 
It was super simple to slip even my giant, wiggly, Cheese into the carrier. All of the clips and straps are easy to access and can be maneuvered using just one hand.
It takes you from infant to toddler
The carrier can be used for babies 8 pounds up to toddlers 32 pounds (which is basically newborn to around age 2-2.5, depending on your kid's weight). Out of the box, the carrier is set up with the removable infant insert, which stays in place until Baby outgrows it; at which point you replace it with the older infant piece, which extends the seating area, making it more comfortable for older babies and toddlers. My Cheese just turned two and weighs 26 pounds. Not only does she enjoy being in the carrier (she actually snuggled against my chest last time I used it), but its nice being hands-free again, plus I love carrying my baby so close to me once more.
It's REALLY comfortable to wear 
The Britax carrier has a specially designed CarryLong System incorporated into it: a padded waist belt and shoulder straps, which distributes weight across shoulders, back and hips for maximum extended wear comfort. It felt very comfortable, and both my husband and I were able to carry Cheese for long periods of time walking around Brooklyn with no resulting back aches or pain (a miracle!). I can definitely feel Cheese's weight being well distributed across my hips (as opposed to just my back), making it really easy to carry her for extended periods of time.
It's a comfortable ride for babies AND toddlers
Baby can face towards you as a newborn, then outwards as she gets older and wants to experience the world. Toddlers can face you again, in a comfortable position where their legs can wrap around your waist. Both our tester infant and toddler really enjoyed being in the carrier (no screams of protest! Hoorah!)
What I'd change:
The Britax carrier is a front carrier only. Now that my toddler is older, I like wearing her on my back as well. If I could change one thing about the carrier, it would be to have the ability to wear my baby on my back as well as front.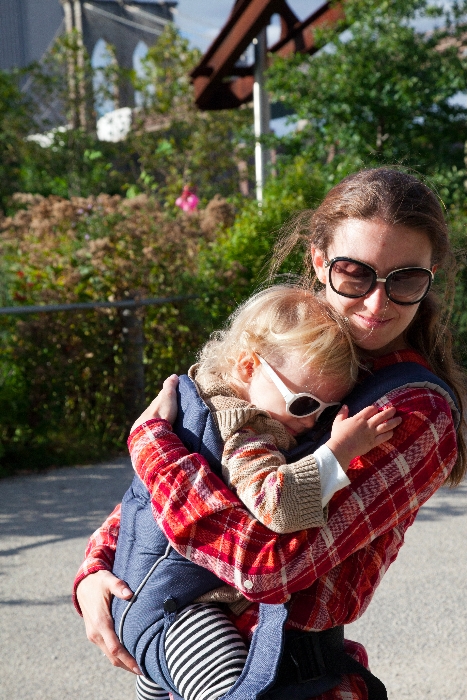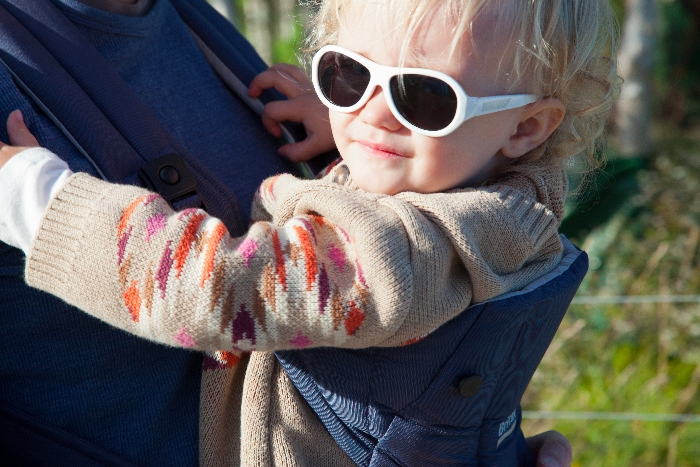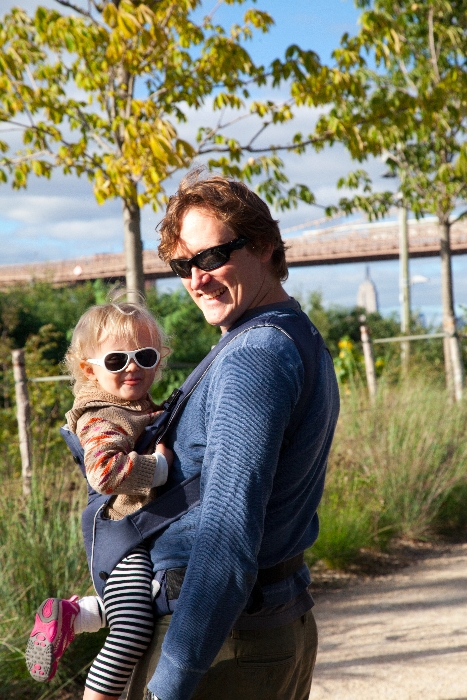 The Britax Carrier retails for $129.99, and comes in black and navy. The carrier is also available in organic cotton for $139.99.
Tester #2: The Britax Carrier with an infant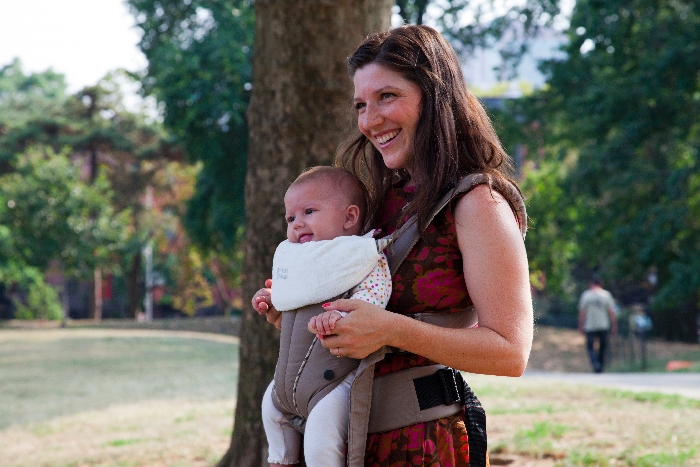 We had our good friend Jenna (the beautiful calligrapher behind Love*Jenna Calligraphy) test drive the organic carrier with her four-month-old, Georgette, to get the scoop on how the carrier performs for infants.
A little bit about our tester, Jenna: she creates beautiful custom, modern calligraphy for weddings, magazine features & special styled photo shoots as well as logos & tattoos. Her clients include Martha Stewart Weddings, Balenciaga, The Knot & many happy brides. Jenna lives in the awesome borough of Brooklyn with her two girly girls, Clementine Bea, 2 and Georgette Pearl, 4 months.
Here is what Jenna had to say about the carrier: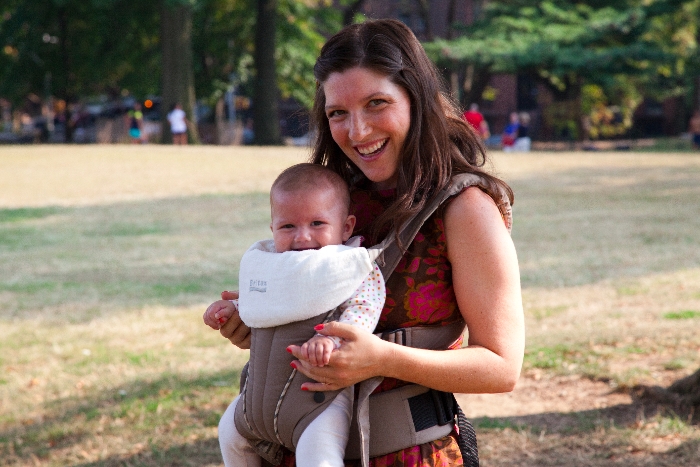 What Mama likes:

It's easy to put on
I love the slip-over-the-head feature. It's easier than most carriers to put on.It's super comfy to wear
The carrier is much softer and cushier & less stiff than others I've used making it easier to pack at the bottom of my double stroller and in a carry on-bag for plane travel. It's also more comfortable in general.
The great design for new babies
The carrier has a very smart, intuitive zip in & out infant insert. I like the little hammock it creates for my baby.
What Baby likes:
The soft terrycloth fold over fabric to munch on! Also the tan color. It's much cooler in the summer than the black one.
What Mama thinks could be improved:
Since the carrier slips on over the head and you can't remove or flap open the back piece, I can't lay my already napping baby gently on a bed upon arriving home. I have to slip her out which wakes her up.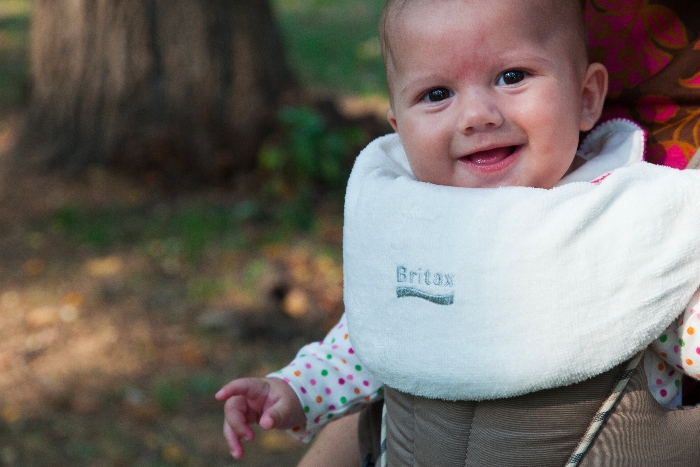 GIVEAWAY
The kind folks over at Britax are offering one Brunch With My Baby reader a chance to win a Britax Carrier in their choice of color (RRP $129.99, black, navy, $139.99 for organic cotton). Enter using the Rafflecopter widget below.
Competition opens Monday, Sept 16th, and closes Sunday, Sept 22nd, 11:59pm, 2013.
Open to US mailing addresses only.
a Rafflecopter giveaway

We were sent a product sample to aid us with this review. All opinions are our own.