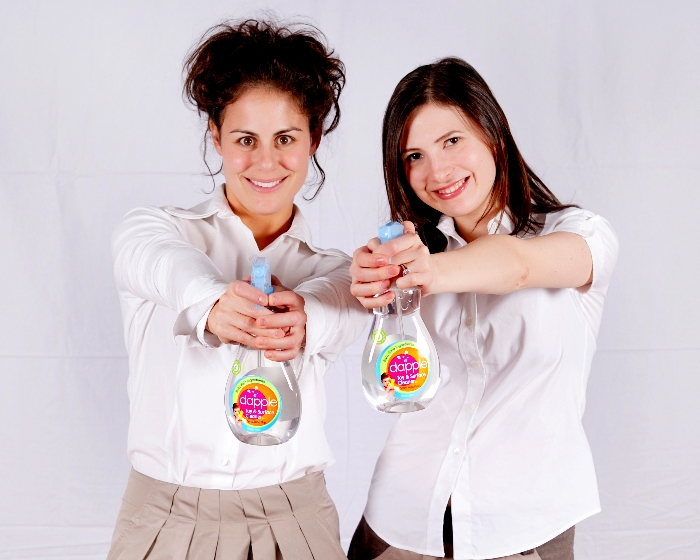 We were introduced to Dapple's line of green, baby-friendly cleaners when we were new mothers, terrified of germs (Alexis was especially OCD about it), and uncertain of what cleaning products we could safely use around our newborns. Dapple came to the rescue for all of our cleaning needs. All Dapple products are made with all-natural ingredients, and are free of nasties like parabens, BPA and dyes.
A little bit about the history of Dapple from co-founder (and local NY mom of four), Dana Rubenstein
"Tamar (Rosenthal, co-founder of Dapple) and I have been close friends forever. She had her first baby a couple of years before me so of course I turned to her when I had a question about washing baby bottles and pump parts: Did she know of an all natural and baby-safe solution to clean baby bottles and utensils that actually worked? It's hard to stump Tamar but this question did. So we decided to do something about this and create our own solution. We assembled a small team of knowledgeable pediatricians and experienced green chemists and the rest is Dapple history."
Dapple's offices are in Long Island City, so when you buy Dapple, you're supporting a great local business.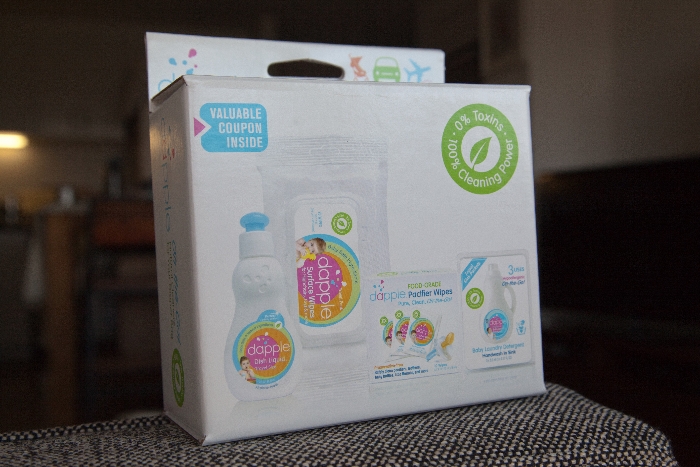 REVIEW: Dapple On-The-Go Essentials Kit
The Dapple On-The-Go Essentials Kit combines our four favourite Dapple products into one throw-in-the-diaper bag essentials box. The kit is perfect for keeping in your bag for daily outings around town, or for weekends away. The Dapple range is baby-safe, hypoallergenic and biodegradable, so not only are their products going to help you stress less about keeping Baby's bottles clean and Baby healthy, they're also great for the environment. Each item is TSA compliant, so you can keep them in your carry-on luggage when you fly.
Travel Baby Bottle and Dish Cleaner
Christine: I've been using this to clean Cheese's bottles, sippy cups and utensils since she was born. It removes milk film and gets rid of any smells. You can also use this to clean breast pump parts. As well as being a thorough cleaner, it has a subtle, pleasant scent, is gentle on skin, and a little bit goes a long way. Bottle size is 3oz.
Toy & Surface Wipes
Christine: These wipes are essential for sticky situations when you're out in restaurants and on public transport. They quickly clean surfaces and toys that have hit the subway floor. Since they're made with natural ingredients, Baby can put toys straight back in her mouth again without you worrying about what chemicals (or subway germs) she is also eating. Contains 20 count wipes.
Food Grade Pacifier Wipes
Alexis: Unfortunately my almost two-year-old is still hooked on his paci. And as much as I am a firm believer in the "5 Second Rule" there are those moments when the paci falls on the subway floor or city sidewalk and a quick wipe on my pants leg won't cut it. I use the paci wipes for those kinds of falls, and feel a little better about the fact that I almost always forget to bring a backup paci. So far,Little J has failed to exhibit any signs of that third eye or second head springing up due to paci contamination so the wipes must be working! Contains 10 individually-wrapped pacifier wipes.
Baby Laundry Detergent Handwash in Sink
Christine: I've taken these small laundry detergent bottles on all of our trips. It's so helpful to have baby-safe detergent in a small bottle on hand when you travel. It's also useful to keep in your diaper bag in case of any diaper blowouts that require emergency attention, since you can use it to wash clothes in a sink. I've found the detergent to clean clothes well, leave a pleasant smell, and produce zero irritation on Cheese's skin. Contains three travel sink packs.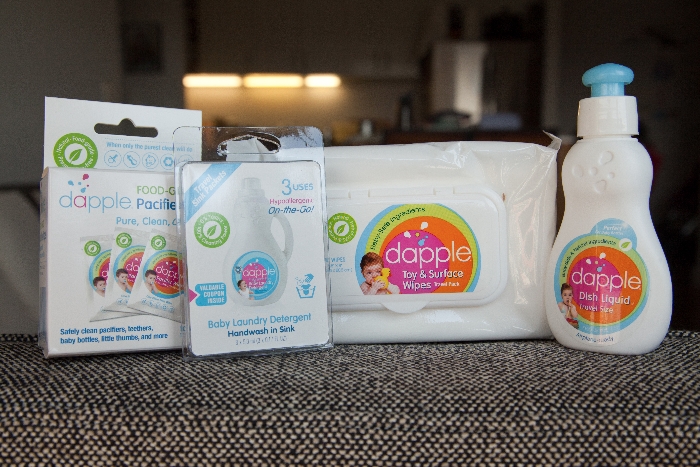 GIVEAWAY The kind folks at Dapple have given us FOUR Dapple On-The-Go Essential Kits to give away to Brunch With My Baby readers. Enter the Rafflecopter widget below for your chance to win one of these four boxes.
The competition is open Wed Sept 11th to 11:59pm, Tue 17th, 2013.
Competition is open to US mailing addresses only.

We were sent a product sample to aid us with this review. All opinions are our own.