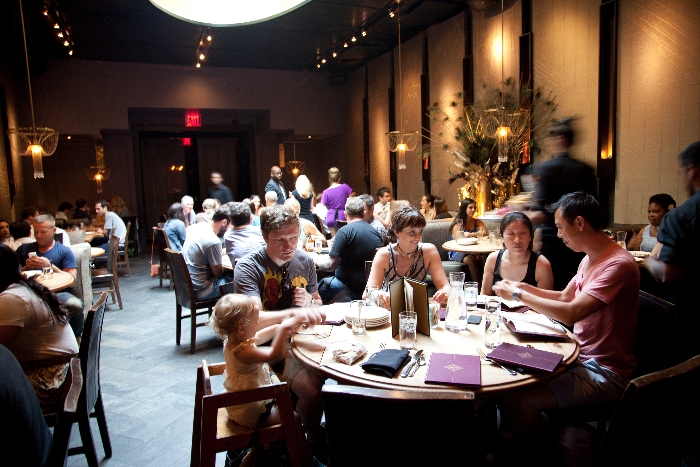 Beauty & Essex is the type of restaurant you'd usually visit with a few friends for a champagne brunch — adult friends, I might add. I didn't know this when friends suggested we go for brunch (a departure from my usual hyper-organized self).
We arrived to some confusion with our party of six adults and one energetic toddler for a Sunday brunch. We thought we'd reserved a table via Open Table, but it turned out the booking hadn't gone through, and we were left table-less at peak brunch hour.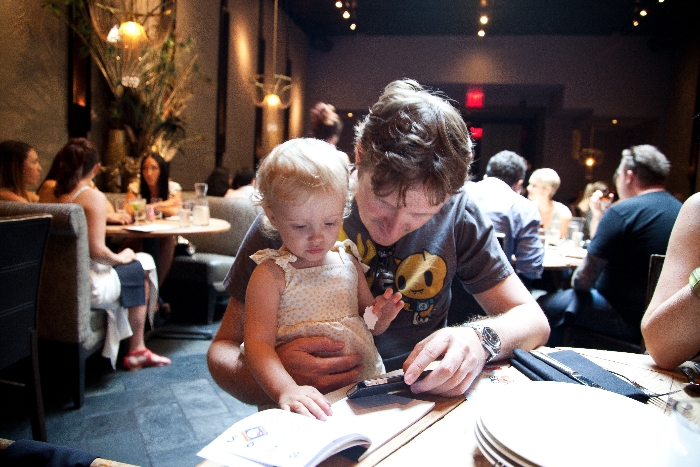 Even though they were fully booked, they quickly found a table for us and set up a high chair – not a squishy table out of the way, but a large, centrally placed table under a skylight, with plenty of room for our large party. Score. The stroller wasn't an issue either – after we collapsed it, someone whisked it away and checked it with our other bags.
While the staff were setting up a table, I realized that we had a diaper "situation" that needed to be dealt with, and fast. Walking down stairs to the restroom, I was dreading what I might find there – picturing a tiny, dark bathroom (the kind you usually find at restaurants and bars on the Lower East Side) and wondering if I'd need to put my toddler, whose nickname is "Cheese", on the dirty floor. Amazement doesn't cover how I felt when I opened the door and saw a huge lounge room, with a giant chaise, perfect for our urgent needs.
Back at the table, our server introduced himself – and made a beeline for Cheese to say hello. While Cheese was a bit overwhelmed with the attention, our server was so welcoming to her that any doubts I had about bringing the only child under the age of 10 to this restaurant were immediately dissolved.
If you've never brunched at Beauty & Essex before, this is what you need to know: Brunch here is all about the shared experience. It's really designed for groups to share a delicious meal together, and to enjoy the communal experience. The menu has lots of options to suit the fussiest of eaters, including the two vegetarians at the table, and a special gluten-free menu for another member of our party. Each plate is actually tiny, and arrives with enough small portions for everyone to have a taste. Some dishes you'll need to order two of (the pancakes, for example, come in servings of three small pancakes. If you want a pancake each for a table of six, you'll need to order two servings). Actually ordering the right amount of food requires a strategic approach, so designate one person to organise your group – and who can figure out the right amount of food for the table (two to three dishes per person) – more if you're all big eaters.
The dishes come out in a special order — eggs first, followed by any other savoury dishes, and the sweet dishes last. They also have a dessert menu that looks amazing (but for which we had almost no more room in our bellies), so save room if you love the sweet stuff like I do.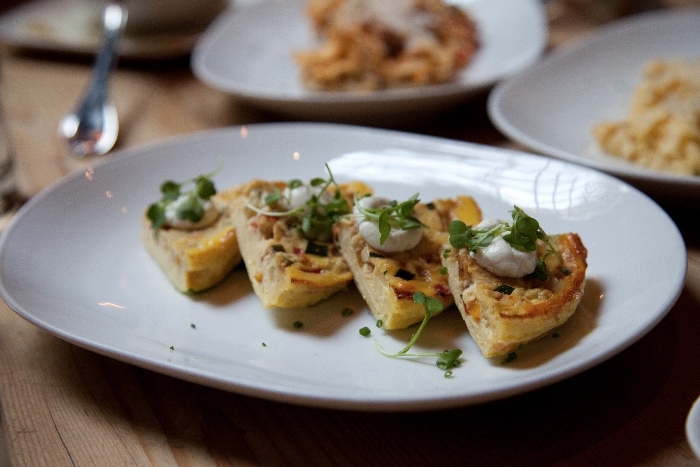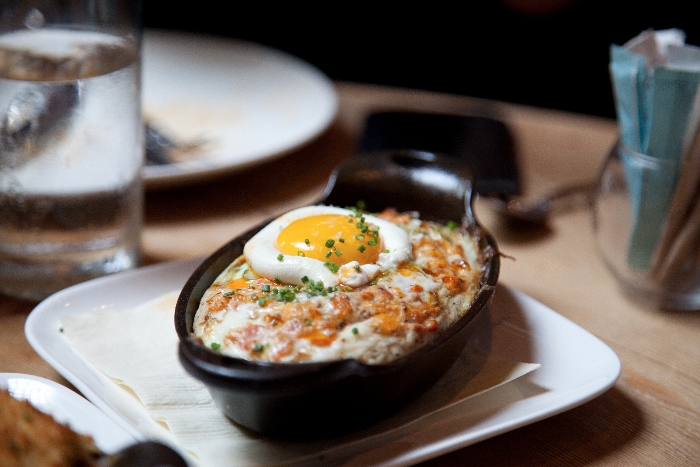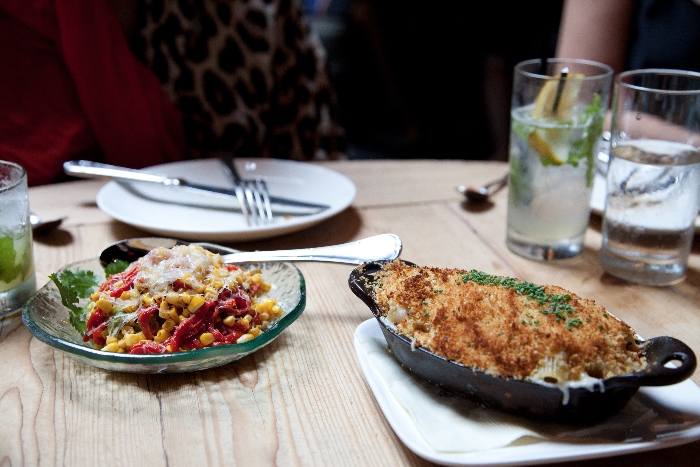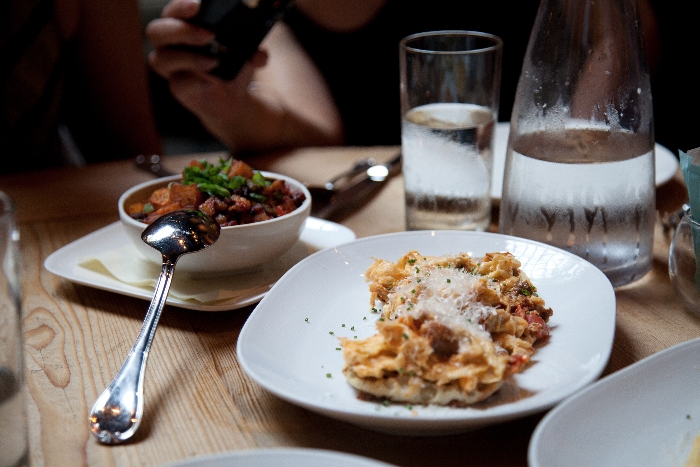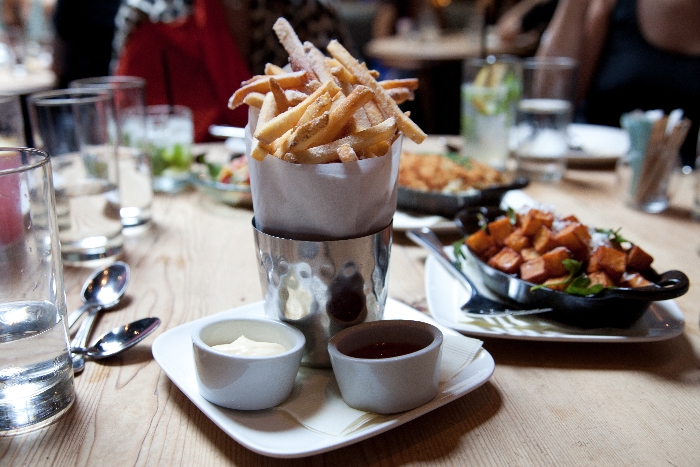 We ordered the following dishes:  Oven Baked Frittata (with grilled vegetables & goat cheese, $14), 3 Eggs & 1 Yolk (skillet baked, with grilled asparagus, roasted tomato, goat cheese, $14), Lemon Blackberry Pancakes (with sweet ricotta, $11), Vanilla Beignets (with raspberry jam, $8), Free Range Scrambled Eggs (with sweet roasted tomatoes & cheddar cheese, $11, with spicy merguez sausage +$3). The star dishes were the Free Range Scrambled Eggs, which were creamy, fluffy and flavorful, thanks to the roasted tomatoes; the Vanilla Beignets, which resembled tiny little donuts dusted in icing sugar, and the Lemon Blackberry Pancakes – light and fluffy, topped with a sweet ricotta, and with a surprise blackberry compote underneath the pancake.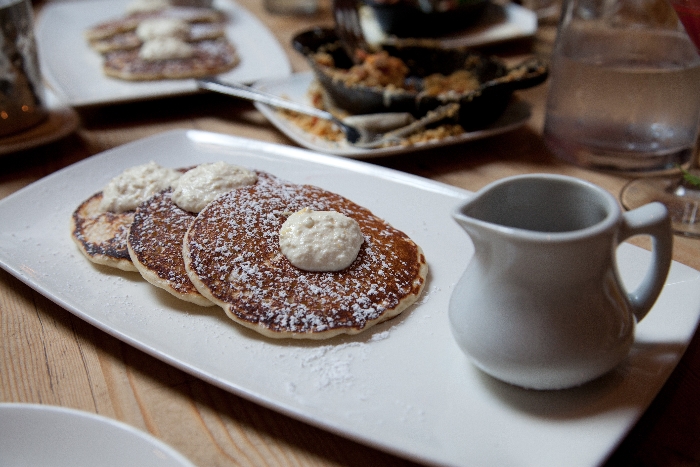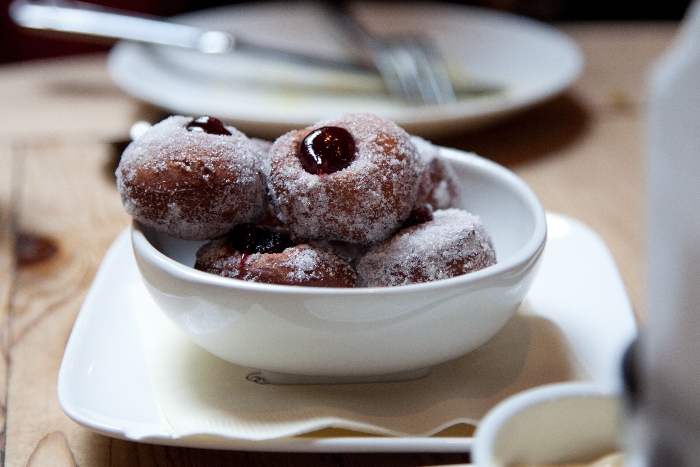 We ordered a few sides as well: Skillet Roasted Potatoes (with roasted peppers, herb sea salt), Salt & Vinegar Fries, Roasted Sweet Corn (with avocado, lime, manchego), Lobster & Chorizo Hash (with peruvian potatoes, cilantro butter) and the Mac & Cheese (with pancetta, tomato, sicilian-style bread crumbs). The favorites among the sides included the Roasted Sweet Corn, with its perfect combination of sweet and tanginess, and the Skillet Roasted Potatoes, which has a great punch via the roasted peppers sprinkled over the outsides while they were baking.
This may seem like an insane amount of food, and at first we thought we had over ordered when we kept seeing dish after dish appear on the table. We devoured every dish, however, and each diner reported feeling perfectly satiated rather than overstuffed. The perfect brunch had been achieved.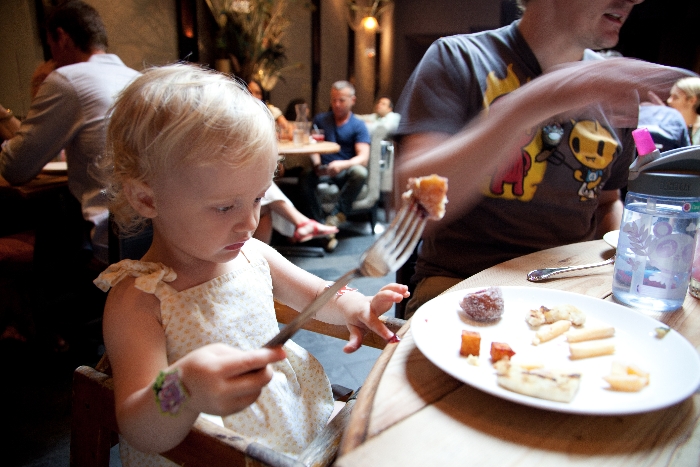 What was our toddler doing, you may ask, during this parade of dishes? Cheese was on her best behaviour (lucky for us!) and was amused by new Elmo stickers, iPhone apps (her favorites are "Endless Alphabet" and "Beck and Bo"), the food (she inhaled my portion of scrambled eggs and loved the fries) and our obliging server, who repeatedly checked back in with us, not just to see how we were doing, but to specifically ask our toddler how SHE was doing.
The last happy surprise for the day was when the bill arrived. The menu had sounded expensive when we browsed it initially, but the total per person (including a cocktail for five of the six adults), was $33 each before tip. You really can't do better than a restaurant that's incredibly stylish, that serves decadent cuisine, that is welcoming to people of all ages, AND doesn't put a huge dent in your weekly budget. Beauty & Essex — we will be back for more (especially more of those Vanilla Beignets!)
Last Bite: For a brunch venue that will please discerning adults and toddlers alike, Beauty & Essex delivers fine food for sharing fun.
Highchairs: Yes.
Stroller storage: Yes, but bring a stroller that folds. Our stroller was "checked" and whisked away somewhere magical.
Easy access: Yes.
Change tables: No, but there's a large lounge in the women's restroom area that is perfect for changing babies if you need it.
Kids' menu: No.
Beauty & Essex
146 Essex St
New York, NY
Prices: $$
Phone: (212) 614-0146
Hours: Mon-Fri 5pm-1am, Sat-Sun 11:30am-1am
Reservations: opentable.com