I've gone through a lot of baby cutlery with Cheese, with both good results (i.e. spoon helps shovel food into her mouth) and bad (i.e. food spills off the sides before spoon lands in her mouth), so I was super excited to hear about the new spoons by Spuni.
Spuni are ergonomic spoons designed to be the perfect fit for infants' mouths, resulting in easier feeding for Baby, and less mess for Mom to clean up. Spuni is the perfect tool to help your baby transition to solid food. The recommended age for using Spuni is when the parent believes the infant is ready to make this transition — usually around 6 months and up.
The spoon's handle length is just right for feeding infants — an infant spoon needs to be long enough for a parent to maneuver  (the short and stubby ones are great for toddlers, but not infants) — plus it is easy for a parent to hold (and not too skinny like other spoons I have tried).
But what really makes this spoon special is the spoon tip. The unique tulip design makes it easier for babies to slurp food off of it.
Now, Missy Cheese is older than the target age, but boy do I wish I'd had this spoon when she was younger, as it's a million times nicer to use than the ones I used while she was on her first solids. Here why:
It doesn't fade or yellow with use.
It fits just the right amount of food (not too much or too little) for a toddler-sized bite.
It's dishwasher-friendly.
It's comfortable for an adult's hand to hold.
It's sold enough for a young toddler to use to feed themselves.
It's really attractive (the colors are so pretty).
Cheese really loved the spoon. Like me, she was attracted like a bird to the beautiful colours (ours came in Giggle Green and Peekaboo Purple). She's using toddler cutlery pretty confidently these days, and was excited to use her spoon to "chop chop" her eggs, and then placed the eggs on it to eat.
You can buy your own Spunis from spuni.com or Amazon for $18 a pair of spoons. Follow Spuni on Facebook, Twitter, Pinterest, Instagram and Google +.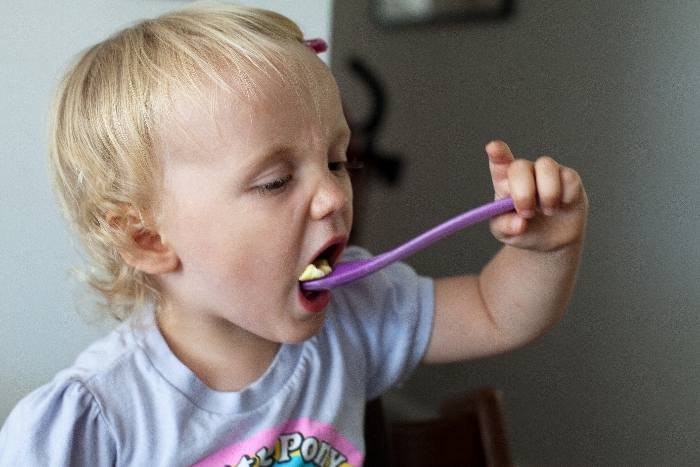 GIVEAWAY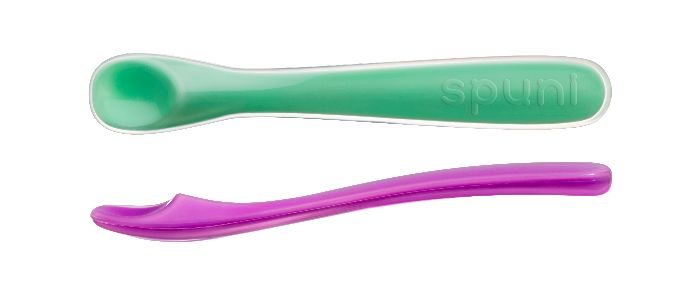 The kind folks over at Spuni have offered Brunch With My Baby readers the chance to win one of two sets of their awesome new spoons. Enter via the Rafflecopter widget below.
Competition opens Sept 25th to Tues Oct 1, 11:59pm.
Entry open to US mailing addresses only.
We were given a set of Spunis to aid in our review. All opinions are our own.