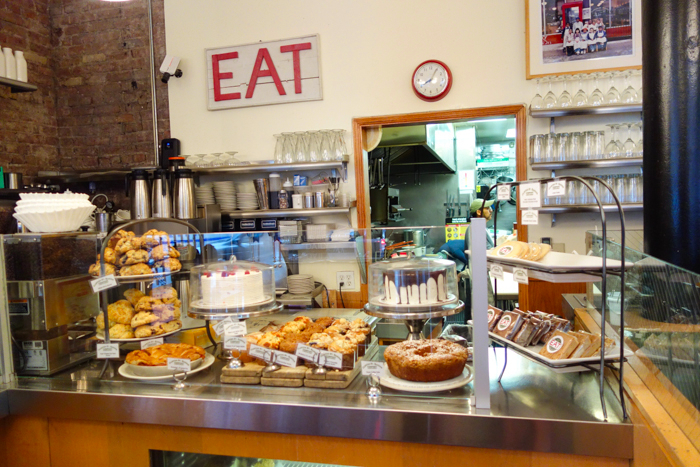 When you want good pancakes in New York City, it's a well-known fact that you head to Clinton St. Baking Company. The bakery and restaurant was opened in 2001 by husband and wife team Neil Kleinberg and DeDe Lahman, with a mission to make the best baked goods in the city, hand-mixed in small batches.
Fast forward to 2014 and the once tiny bakery is now a bustling restaurant, with their pancakes awarded the title of "the best in the city" (twice!) by New York Magazine. Clinton St. Baking Co. is such a popular breakfast and lunch spot that if you turn up for brunch on a weekend, you'll often find yourself facing an up to TWO HOUR wait. They have the waiting system down to a fine art, and even have a page on their site devoted to "the wait".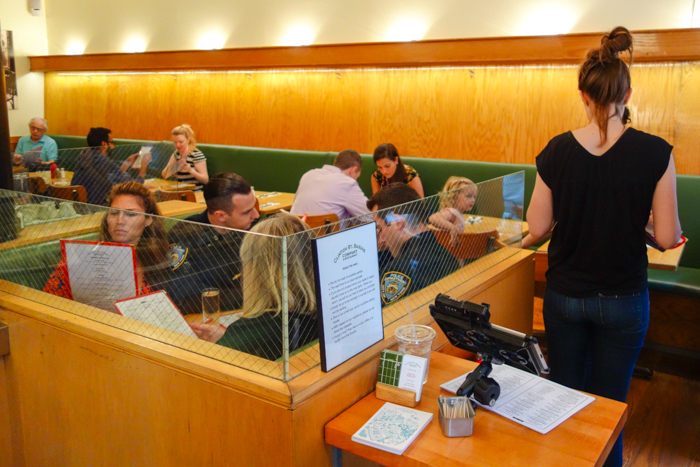 Don't let this dissuade you from going, however. To avoid a wait on weekends, your best bet is to arrive by 8:30am and put in your name for the first seating at 9am. To avoid a long wait in general, visit during the week or at night when the waits are shorter, if at all. Don't worry — they serve breakfast during the dinner hour. We visited on a weekday at 8am. The restaurant was full by 8:30am, but the wait outside was pretty short, with most diners not having to wait too long for a table. If you find yourself waiting for a table, the surrounding streets have some really cool graffiti/street art that's worth checking out.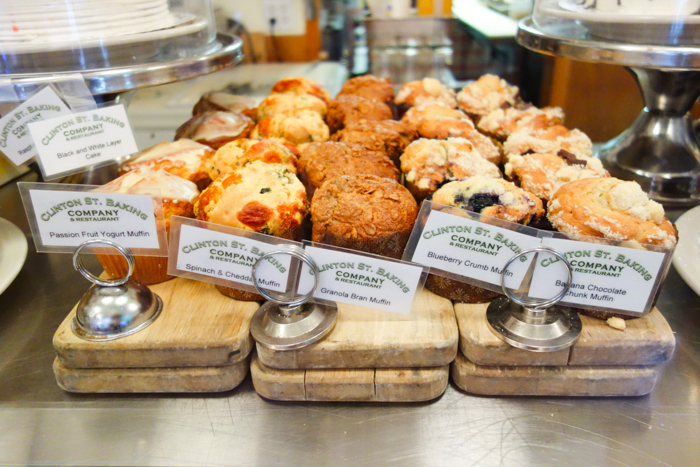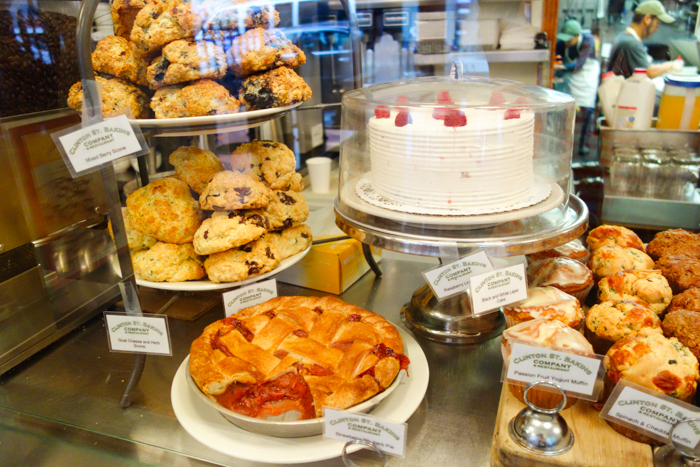 Since Alec had to get to work, we ordered and ate as quickly as we could. I ordered the Pancakes with Warm Maple Butter (choice of wild Maine blueberry, banana walnut, or chocolate chunk pancakes, $14) and Alec ordered the Southern Breakfast  (two eggs any style, sugar-cured bacon, cheese grits, and fried green tomatoes, $14). We also ordered a side of sourdough toast for Missy E ($2), which arrived with Vermont butter and the most amazing raspberry conserves I've ever tasted. As well as the toast, E shared my pancakes when they arrived — the novelty of chocolate for breakfast was just too exciting for her to handle.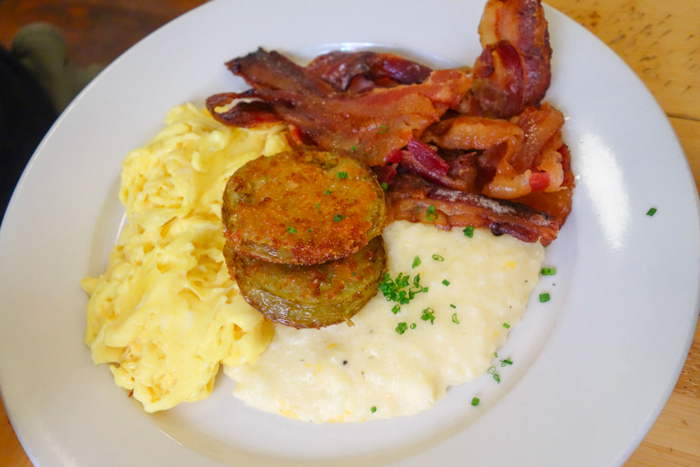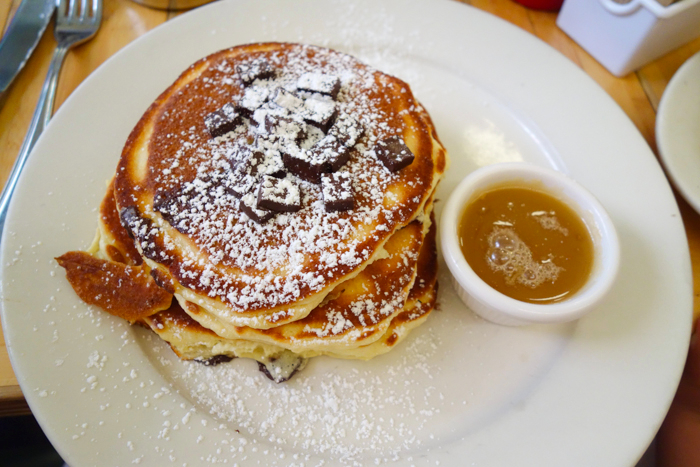 My pancakes were fantastic. I chose chocolate chunks, and my three big fluffy pancakes were absolutely chockfull of the chocolate. The pancakes were warm and the butter atop them was slightly melting. I really enjoyed their warm maple butter instead of maple syrup as it wasn't anywhere near as sickeningly sweet. Alec's southern breakfast was a bit on the dry side — he would have preferred some kind of sauce to go with it. He did, however, thoroughly enjoy the cheese grits and fried green tomatoes — both novelties to an Aussie.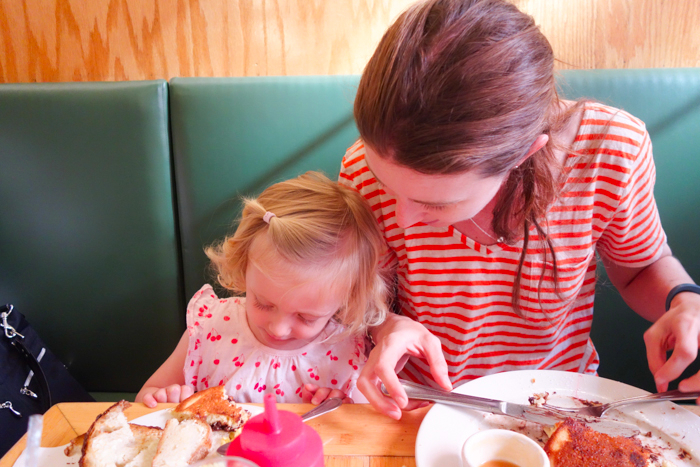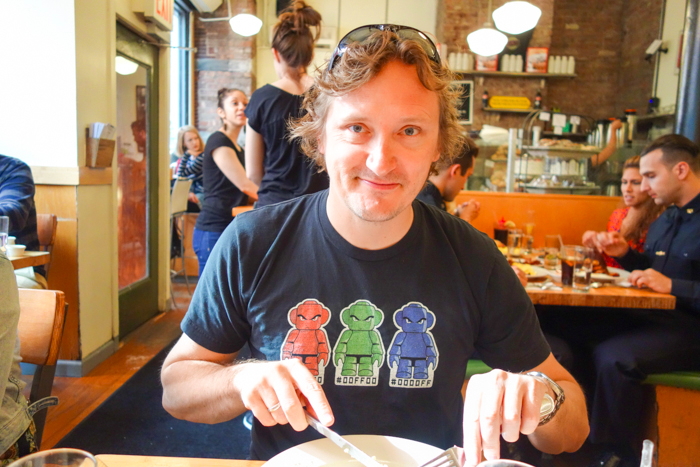 So are they the best pancakes in New York? I'm afraid I can't say as I don't really eat pancakes often enough to be able to rank them! I will say that I thoroughly enjoyed mine and would absolutely go back for more.
Last bite: How can you resist trying some of NYC's best pancakes? Be prepared for the wait and you'll enjoy a really great breakfast.
Highchairs: Yes.
Stroller storage: No.
Easy access: Yes
Change tables: No.
Kids' menu: No.
Clinton St Baking Co & Restaurant
4 Clinton St.
New York, NY
Phone: (646) 602 6263
Prices: $
Hours: Mon-Fri 8am-4pm, 4pm-5pm (pastries/ coffee to go only), dinner 6pm to 11pm; Sat 8am-9am (pastry & coffee to go only), 9am-4pm, dinner 6pm-11pm; Sun 8am-9am (pastry & coffee to go only), 9am-6pm.
Get Directions