Spring in New York means many things. The end to hibernating indoors, cherry blossoms in Brooklyn Botanic Gardens, and the return of outdoor food fairs. Smorgasburg just reopened again in DUMBO, Brooklyn, and we joined the crowds to soak up sun and food from some great local vendors.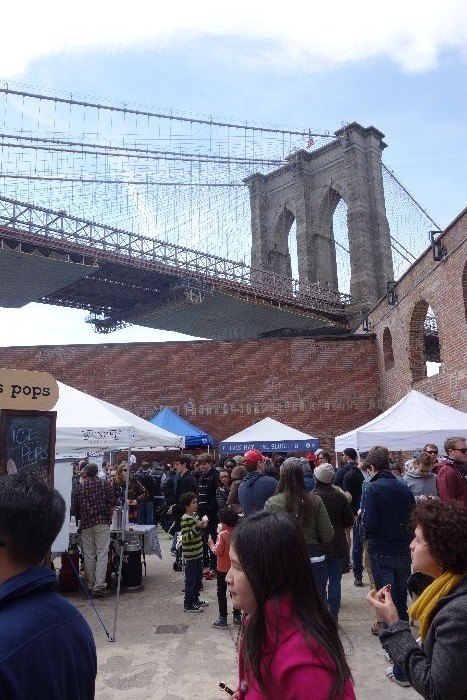 The location is amazing. Seriously, how can you beat a food fair situated right under Brooklyn Bridge, on the waterfront, with Manhattan in the distance? You just can't, so for the most scenic food fair in New York, Smorgasburg wins every single time.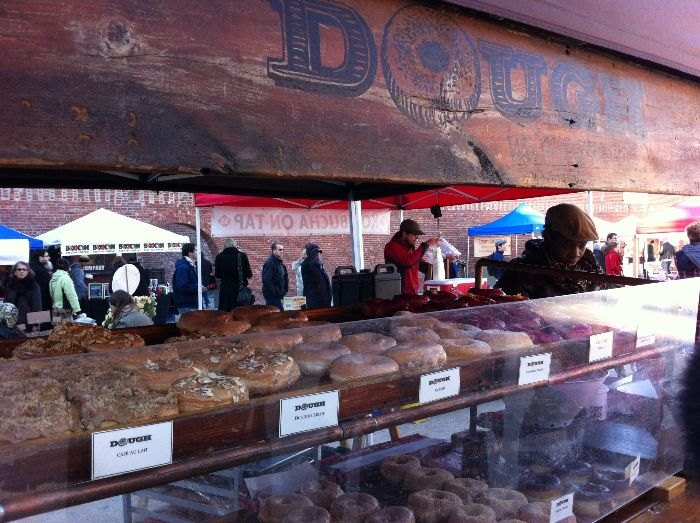 Our favourite vendor at Smorgasburg is Dough, the makers of possibly the most delicious doughnuts I've ever eaten in my life. They go fast and usually have a huge queue – but they restock during the day, so doughnut-lovers need not go without their precious Dough.
Other vendors for Smorgasburg DUMBO and Williamsburg are listed together on their website, so you can check in advance if there are things that you and your kids like to eat. They have a huge variety, including basic things pizza, grilled cheese, fries and shakes, so fussy kids and mini foodies are both catered for.
On opening weekend, the crowds were huge and lines were long. Our advice – get there early (it opens at 12pm).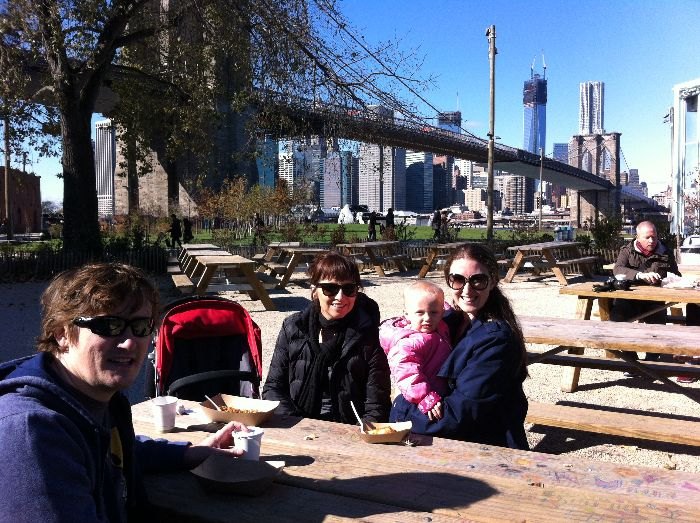 Smorgasburg is right on the waterfront, next to Jane's Carousel, a picnic area with tables and chairs, as well as a huge grassed area. Nearby are also playgrounds for toddlers and big kids. Bring a ball for the kids to kick around, or a mini stroller if your toddler loves to push things like ours does, and you've got a perfect day for the whole family – as long as the weather holds!
Last bite: Great choice for meeting a group of friends or enjoying a day in the sun. Great variety of food – lines can be long, so arrive early.
Highchairs: No.
Stroller storage: It's open air, so bring your jumbo stroller if you like.
Easy access: Yes.
Change tables: No.
Kids' menu: No.
Smorgasburg DUMBO
Tobacco Warehouse
30 Water St DUMBO, Brooklyn
Hours: Sun 11am-6pm, rain or shine.