Smooch Organics is an Australian-owned cafe in leafy Fort Greene, Brooklyn. The service is laid-back and friendly, the ambiance hip, and kids of all ages are welcome.
As an Australian living in New York, I'm always looking to meet other expats, and searching out Aussie-run businesses. Even though I love our life in New York, there is a part of me that's always homesick, and finding other Aussies and talking about home really helps.
A friend back home recommended Smooch when she saw it written up an Aussie newspaper. Amazingly, it's in Fort Greene, only a hop, skip and a stroll from where we live, so we checked it out on a (finally!) sunny, spring day.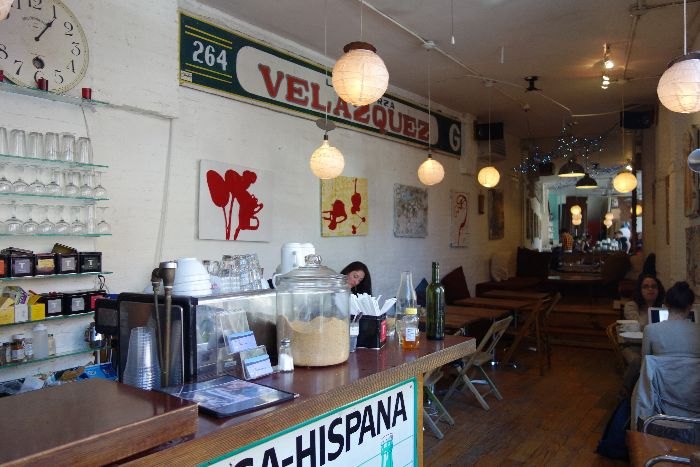 First impressions – it's quite a hipster little place. Lots of Aussie references with pictures of our beaches and items on the menu named after places I miss, like "The Tamarama" (described as "sexy toast with avocado, tomato, pepper, olive oil and lemon juice, served with a latte, cortada, flat white). My husband misses flat whites possibly more than anything, so was all over this toast and coffee. He says the coffee is solid, by the way, so be sure to check it out if you're a coffee-lover living nearby.
The cafe is on the small side, with the tables pretty close together. It's not super kid-friendly for eating in – we could instead suggest either eating on the benches outside, or taking your food to Fort Greene Park, which is just around the corner (literally less than a block away). If you're after a place to work during the week, this is ideal – they have free wifi and welcome laptops. Yay!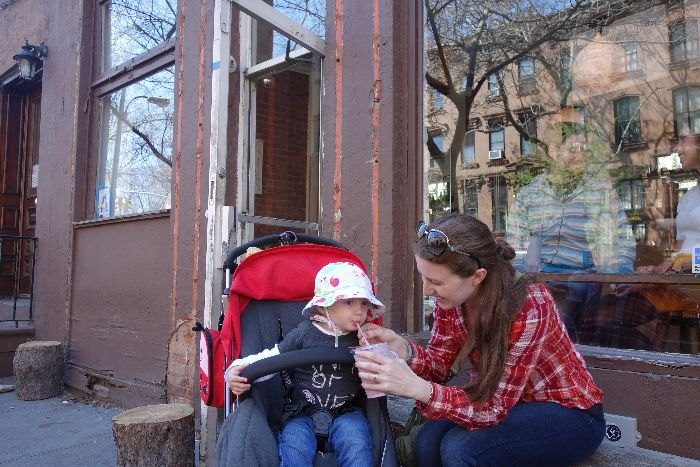 I ordered a smoothie, which was delicious. Cheese and I shared it on the bench outside, enjoying the warm day that had been so long in coming.
As a side note, I saw the owner while we were there. He was in board shorts, thongs (calm down, it's what Aussies call "flip flops"), and a bucket hat. He was so Aussie I forgot I was in Brooklyn for a moment.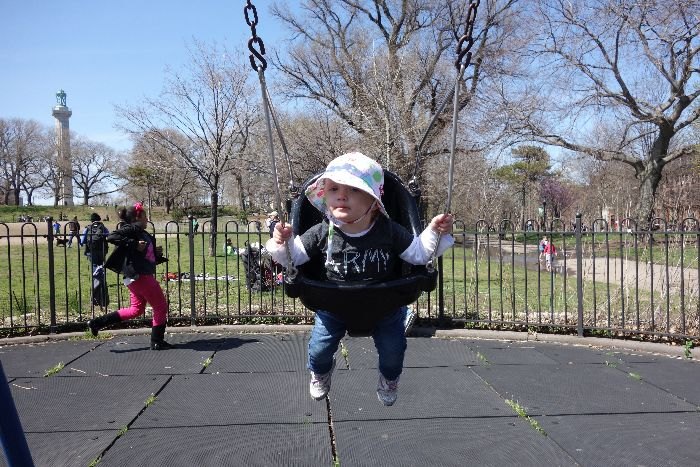 Be sure to take your kids to Fort Greene Park afterwards to run their crazy out – Cheese particularly loves the swings and slide.
Highchairs: No.
Stroller storage: No.
Easy access: Yes.
Change tables: No.
Kids' menu: No.
Smooch Organic
264 Carlton Ave
Brooklyn
Phone: (718) 624 4075
Hours: Mon-Wed 8am-9pm, Thur-Sun 8am-12am