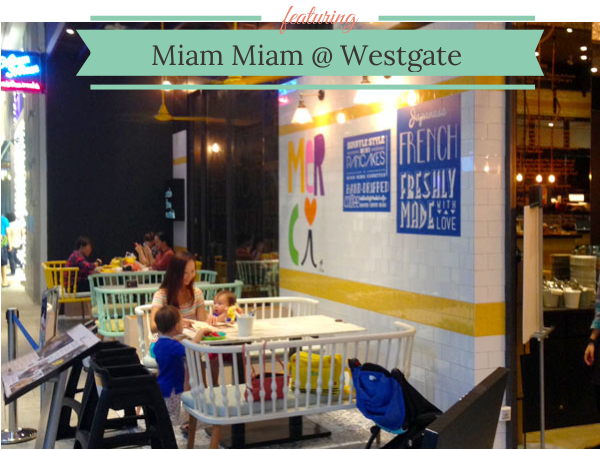 I thought long and hard before deciding to write about Miam Miam @ Westgate, because I prefer to focus on positive reviews. We had a very very poor customer service experience (they lost my credit card and were very disinterested in getting it back for me, until my husband hit the roof and insisted) that spoiled our entire meal, but I decided to wait it out for 1-2 weeks til I've calmed down – to write about the food and be as factual as I can about our experience. I am writing about it below in the same order of events that occurred.
Located in the new Westgate mall, we chanced upon Miam Miam and decided to pop in for an early dinner. There were 3 adults and 3 children, and since the restaurant was largely empty when we arrived (on a Saturday early-evening), the staff were quick and very helpful with setting up high chairs and settling us in.
I love their bright blue, sunshine yellow and clean white decor. The restaurant is spacious and cheery, and their menu is an interesting French-Japanese mix of dishes. A lot of it is pictorial, which always really satisfies my hungry eyes.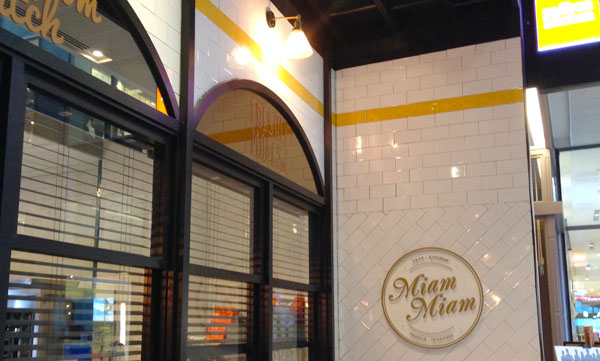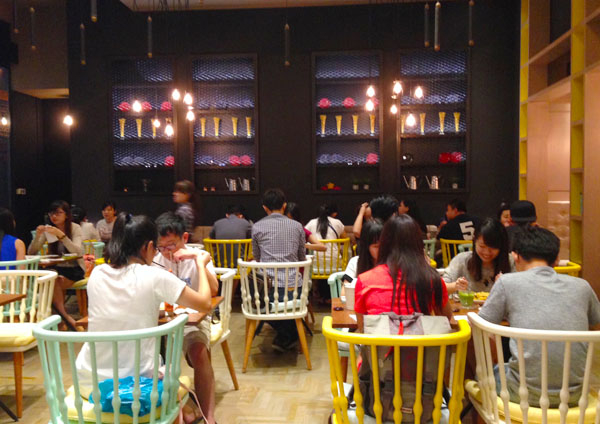 We asked for "iced water" and were informed that "water is chargable at $2/carafe, non refillable". 
We nearly fainted.
A simple cafe, charging for plain drinking water? I guess you all know by now I have huge issues with places charging for water – all it says to me is that they reaaaallllyyy need the extra cash, at the expense of pissing customers off. When diners are charged a 10% Service Charge to their bill, I expect iced water to be complimentary.
Anyway.
I really enjoyed the Riz Noir – squid ink rice with assorted seafood ($16.50). It's a small-sized dish, but arrives cutely in a black pot. The black rice is mildly flavoured and subtle, and dotted with seafood which is probably frozen seafood because I didn't detect the fresh sweetness of fresh seafood. It was still good, though, and the lightly-scrambled eggs were divine – so creamy and the mild flavour paired well with the rest of the dish.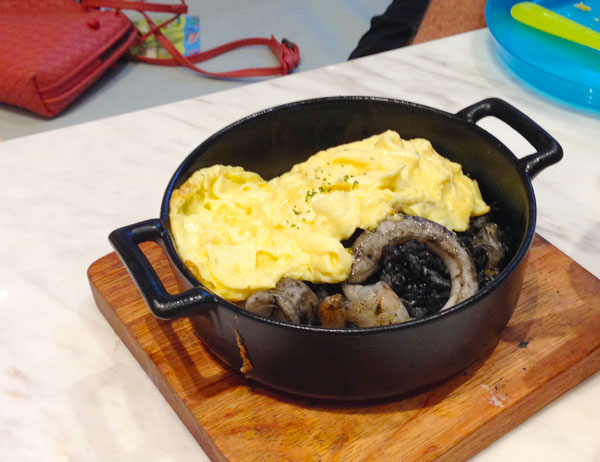 The Lobster bisque pasta ($18.80) had a large prawn on top, not lobster. It would have done better with two prawns, because there simply was not enough ingredients/meat to go around with the pasta!  The pasta sauce was rich and creamy, and a little on the salty side, but overall the dish was decent.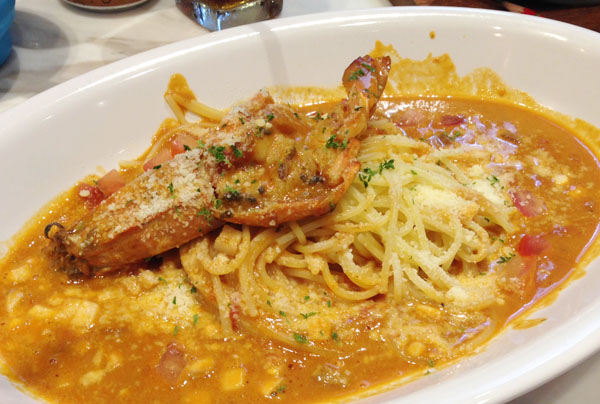 Their Mac and cheese ($14.50) is tiny, more of an appetizer or to share among a few people. The cheeses used were strong and flavourful, and the dish was well-received by the kids. Oddly, large shell-shaped pasta is used, so some parts of it are a bit dry/hard whilst others are fine. A more liquid sauce (as the dish is a bit dry) or smaller pasta would have made this a winner.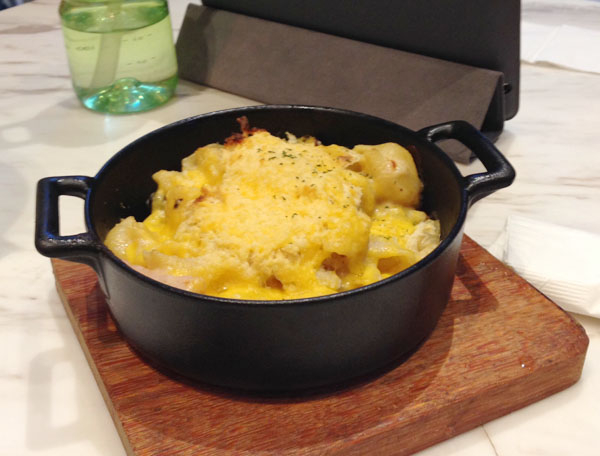 We were FULLY geared up to have their French Toast, which looked awesome on the menu and I figured would be a hit with all 3 kids. Our ideas were quickly deflated when we were told by the waitress that it takes "20 mins to cook" (!!!). The dessert souffles? Same deal.
I love the idea that it's all cooked-to-order, but please, inform diners that there is a long wait for dessert so they can pre-order. I'm pedantic about this because young kids simply won't sit around doing nothing for so long, whilst waiting for dessert to arrive.
Regardless, we went ahead with the French Toast order and waited.
And waited.
And waited……….
Finally, Chris got agitated and asked "Where is our dessert?" and they went to check.
And promptly came back with……………………. a parfait ice cream instead.
Eh? We waited almost half an hour for an ICE CREAM in a glass?? Evidently, they'd first entirely forgotten our dessert order, then got it confused with something else when we asked.
No apology was made. 
After all that time, it was into the kids' bedtimes and we had to get outta there. We settled on a Matcha ice cream which arrived in this incredibly odd and tiny cup (see below). It was actually quite comical, I've never seen a smaller 'ice cream bowl' in my life! That said, I believe it was about $2, so that wasn't too bad.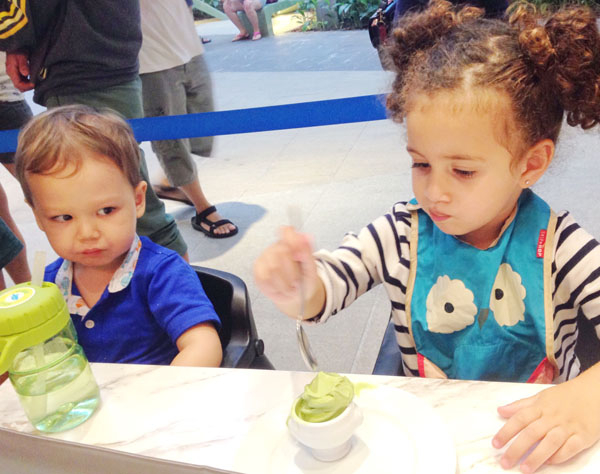 We were now desperate to get out of there, as it was late. The other adults rushed off with the kids to wash faces/hands, and I got the bill. I gave them my credit card and waited for them to come back to get my signature.
And waited.
And waited.
And waited………
Finally, I walked up to the cash register inside. There was nobody there. 
Confused, I hailed down a passing waitress (which happened to be the same one that took my card) and said "Errr… can I sign now?" and she sheepishly said "I lost your card and can't get it out."
SAY WHAT?????????????????
I had no idea how to respond. And why was she doing other things instead of getting my credit card back??
I ended up going behind the counter to see what happened, and realised my card had slipped into a tiny gap between the cash register and counter. A long and hard ruler would be needed to try and dig it out.
No one seemed very interested in getting my card out, since there was nobody there. Then the lady manager came over and started fiddling around, to no avail.
I asked, "HOW did it even fall down there?" 
And she replied, "I'm just trying to help you out."
SORRY???
Help ME? Like it was a mistake I made, and caused such an inconvenience for the restaurant?
There was no apology made.
She suggested I either 1) cancel my card and get one reissued by my bank, or 2) wait until they get it out and they will mail it by post to me.
I was desperate to get my kids home, so I agreed on #2. But when I met up with Chris, he completely balked at the thought of leaving my credit card there, and went back to them.
I'm not sure what happened after that, because I plonked both kids into the car and drove them home myself to put them to bed myself… whilst Chris stayed behind to sort it out.
But Chris said something along the lines of he wouldn't leave until they got my credit card out, and he would call the police to report credit card theft if they didn't make an effort.
So they ended up getting it out, gave it to Chris, and he FINALLY came home (after having to pay for a taxi home himself, they never reimbursed him).
Hilariously, they actually swiped my card to charge us – after all that! When Chris asked, they actually said "Oh don't worry, we've already charged you!". Chris explained to them that they ruined our night, and prevented him from being at home to spend (precious) time with the kids before bedtime, and wanted a refund. To their credit, they ended up giving us a refund.
We were never given an apology.
I still feel a bit traumatised when I'm Westgate and walk past Miam Miam, because the memories of feeling so shocked, annoyed, and helpless is still really fresh in my mind. I don't fault the dropping/losing my credit card – it's just a simple human mistake. What I am upset with was the blasé attitude (no one informed me about what happened until I gave up waiting and came in to check, and there was no one there trying to get it out), and the absolute zero apology we received. I just felt like I was a huge burden to the staff, having to ask them to recover my credit card THEY lost .
So if you're after a casual meal with food that's a bit different, Miam Miam's the place to go. Just be mindful of their service (Hungrygowhere doesn't rank them too well), and be careful of your credit card!
Last Bite: Miam Miam's casual and cheerful decor complements their unique French-Japanese dishes, and their heavy lean toward desserts is sure to appeal to your sweet tooth. It's a shame we had a poor customer service experience there!
Highchairs: Yes
Easy access: Yes
Change tables: Yes (in the mall)
Kids' menu: No
Miam Miam @ Westgate
#01-21/22 Westgate
3 Gateway Drive
Singapore 608532
Phone: 63699065
Prices: $$$
Hours: Mon – Sun: 11:30 am – 10:00 pm
[EDIT:] The management at Miam Miam wrote and expressed their apologies over the debacle, and will be training their staff to handle such (rare) situations better. It was, all in all, a mistake. But it could have been handled better by staff there. 

Regardless, we are impressed that Miam Miam proactively and promptly wanted to correct the issue after reading the post – thank you.