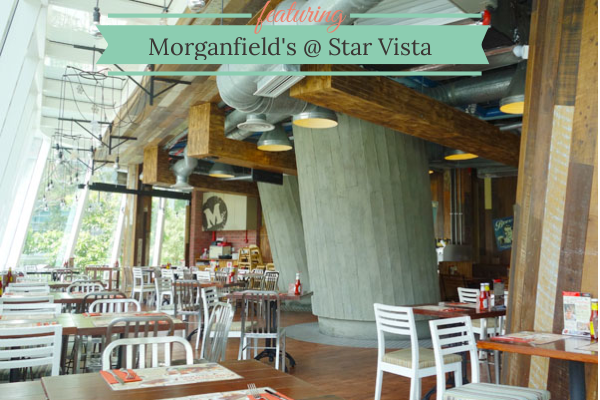 Just a quick little Hump Day post… hope your week is going well so far!
My girl friend and I (with kids in tow) popped into Morganfield's at Star Vista last week. I'm just gonna say here, straight up, that Morganfield's do one of THE BEST RIBS in Singapore. And they're consistently good – I've visited this joint maybe 4 or 5 times, and it never fails to delight me.
I like the large glass-paneled windows, which allows natural light to stream into the restaurant. It gets busy just after noon (office lunchtime crowd, I presume), but I always go early so I have no issues.
Their ribs, called Sticky Bones, are the star dish, and IMHO the only dish that you should order. Why bother with other dishes, when this one is perfect?
$26.90 (the lunch set) gets you half-slab of pork ribs, a soup/appetizer of the day, and a bottomless glass of soda or iced tea. Its' good value, because it will fill you right up!! I was initially scared off at the "half slab" description… it sounded more like "you'll go hungry" to me. But the ribs are pretty gigantic and very meaty, plus they give you a tumble of fries and a pot of coleslaw just to make sure you're sufficiently fed.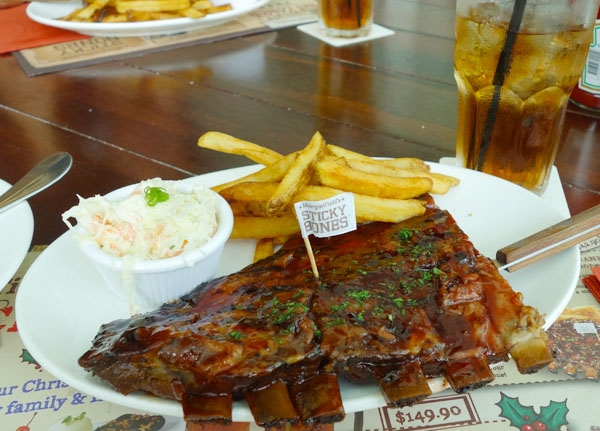 The ribs? Blimmin' SUPERB. We didn't bother using a knife – it wasn't necessary. We just used a fork and poked away at the meat, which fell easily off the bones. It is oh-so-tender, and the sauce is not overpowering. Talk about a meat eater's dream meal!!
To give you an idea as to how delicious and tender the pork is – Carter (currently 15 months and with only 3 barely-there jutting out teeth), can easily chomp and chew his way through a rib or two.
Drop in if you're a meat lover. I reckon you won't be disappointed.


Last Bite: Morganfield's is a meat lover's delight, with their outstanding baby back ribs (dubbed Sticky Bones). Think ultra-tender, tasty pork ribs… perfect downed with an iced lemon tea or cold beer!

Highchairs: Yes
Easy access: Yes
Change tables: Yes (in the mall)
Kids' menu: Yes
Morganfield's
The Star Vista, #02-23
1 Vista Exchange Green
Singapore 138617
Phone: 6694 3635
Prices: $$$
Hours: 11am – 11pm (Sun – Thu, PH) / 11am – 12am (Fri, Sat, PH Eve)