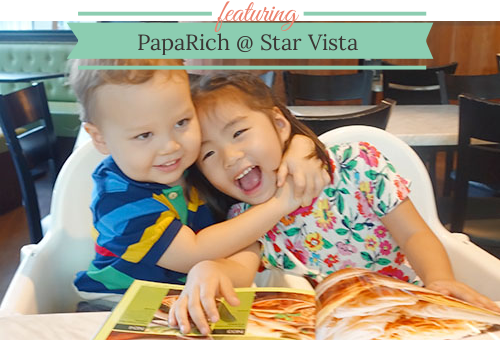 Tucked in the outside-corner of the Star Vista mall, casual Malaysian diner PapaRich was completely empty when we arrived on a weekday at 11:30AM. This delighted us, because it meant our 3 kids had free reign over the place and we didn't have to be extra-careful that they wouldn't disturb other diners.
That said, by the time it came to 12:30PM or so, the cafe was absolutely packed to the brim with diners (mostly office workers). By then, the kids had finished eating and were happily in their high chairs, so we weren't fussed with the crowd. But just something to note, if you plan to arrive during the lunch time crush.
PapaRich prides itself on serving authentic Malaysian food at reasonable prices. And that they certainly do well. To me, they are very similar to Old Town, but with a more extensive menu.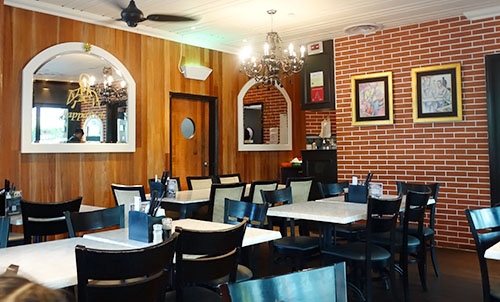 Our kids spent around 5 minutes running around the (empty) cafe, giggling and climbing on the couch seats. The staff just looked on, bemused by their exuberance. Hunter loves my friend's daughter, so he was rather pleased that he was on a date with her! (Her older brother was around, but Hunter mostly just ignored him….)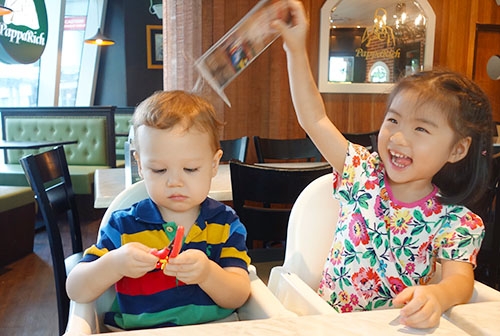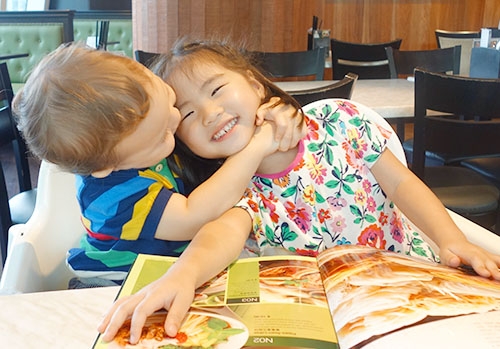 The Chicken Satay was delicious. The chicken was lean and tender, and flame-grilled beautifully. I personally loved the peanut sauce as it wasn't spicy at all (though this will annoy some folk), and Hunter could eat it too. Who doesn't love satay? It makes for such a tasty treat, and kids love nibbling on them.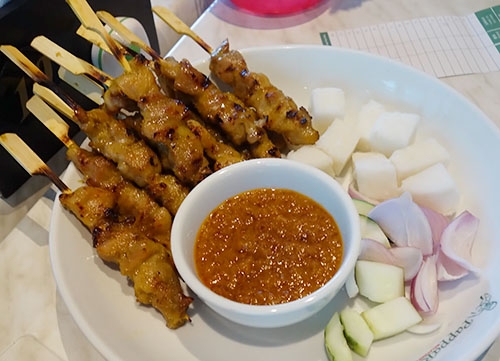 The kids shared this Chicken hor fun in soup. It looks pretty dreadful and bland in the photo, but Hunter loved it and gobbled it all up.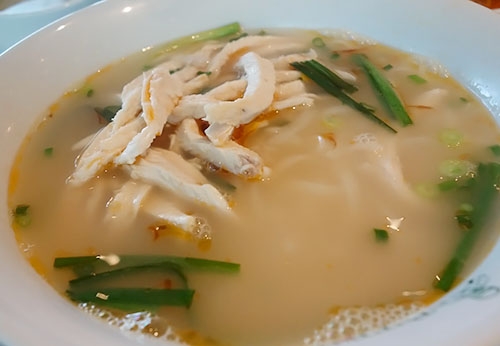 My Nasi Lemak with curry chicken was just….. spot on. I'd order this again in a snap. The rice was moist and fragrant with pandan leaves, the ikan billis (tiny fried fish) were perfectly crisp and tasty, and the curry chicken was lip-smackingly"lemak" (creamy). I adored the sambal chilli sauce it was served with, and I don't even like chilli normally! But this one had lots of little bits (onion?) in it that made it taste different to regular chilli sauce.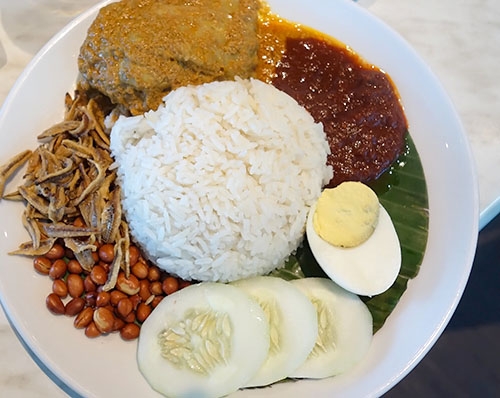 My girl friend opted for the Chicken rice set which came, horrifically, with a plate of bean sprouts. I'm sure people love it and all, but I don't, and just looking at that plate of bean sprouts made me feel all shuddery inside.
She enjoyed the chicken rice so maybe I'll get this next time, just without the bean sprouts!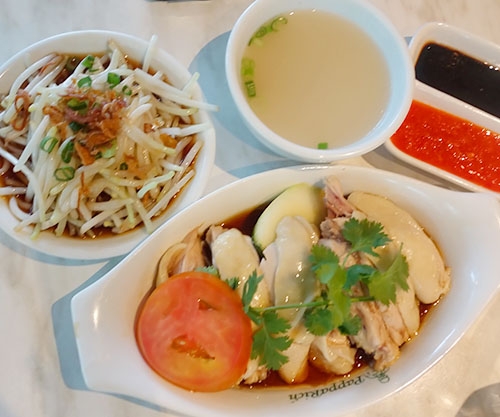 This was a stand-alone serve of Curry chicken. They do a killer curry chicken here. The meat is succulent and moist, and the gravy is absolutely delicious!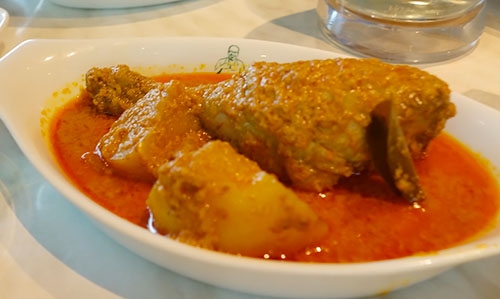 My other favourite dish is the Prawn Noodles. It is EXCELLENT. You can smell the richness of the prawn stock from across the table! The broth is incredibly flavourful and I love to slurp it all up. It's chockers with ingredients too (chicken and prawn) and absolutely hits the spot.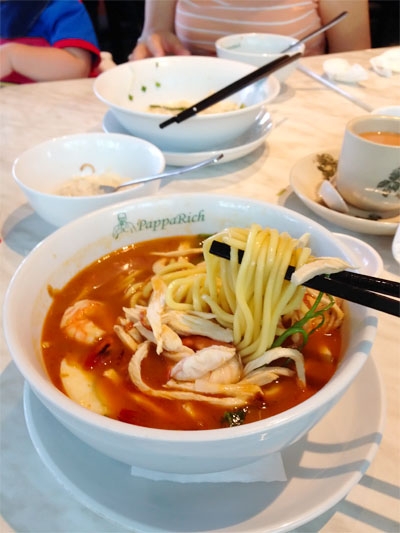 The Roti prata with banana and ice cream was for the kids, so I didn't have any. We asked for the ice cream to be served later (because as parents, you and I both know that once kids spot ice cream, IT'S ALL OVER RED ROVER!), but errrr.. forgot all about it at the end of the meal!
The roti prata looked a little odd served with a banana on it, but my friend's son gobbled up the entire dish, so I suppose it was good!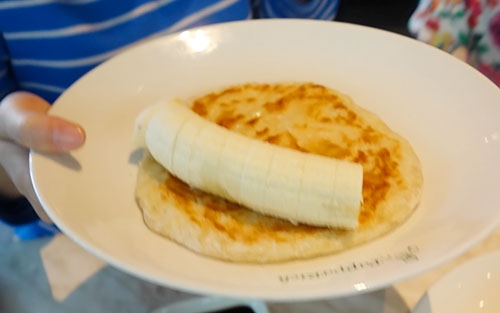 I was very pleased with my Cham drink. This was a 50% coffee and 50% tea drink, and really did taste of both! I had mine served iced (it was a sweltering hot afternoon) and it really hit the spot.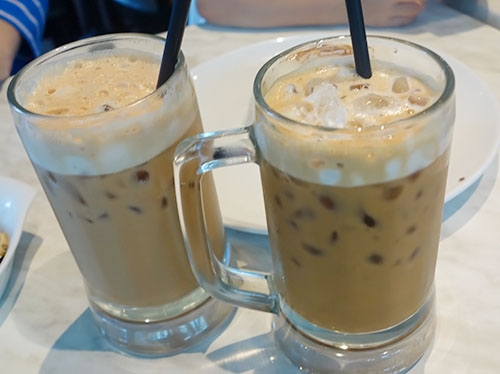 One iPad.
Three kids.
Somehow, this combination worked, even though I was envisioning sparks. And not the fun kind.
The kids were actually pretty well behaved and managed to take turns playing on it. They were pretty fascinated watching the Tayo theme song on the iPad! It kept them occupied for a good 20mins or so, whilst we adults managed to scoff our own meals and have a bit of a chat.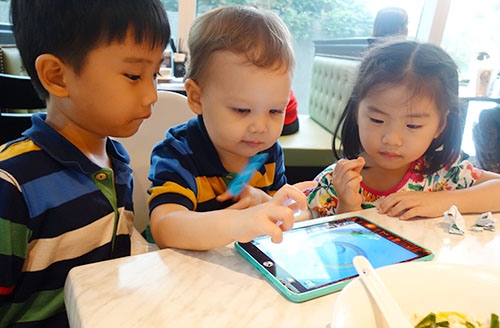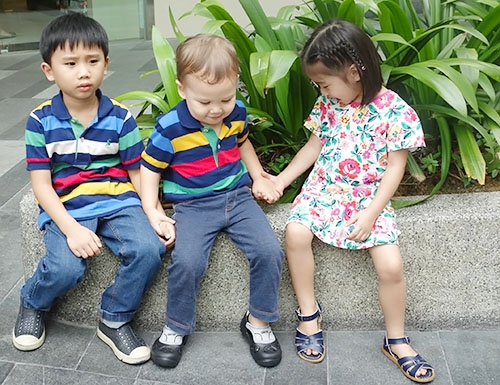 All kids wearing current season clothing from Joules (stocked at nottoobig)
Last Bite: PappaRich is the place to go for affordable Malaysian cuisine. The menu is extensive, and the curry chicken was a winner with us. Go before the lunch crowd to avoid the chaos!
Highchairs: Yes
Easy access: Yes
Change tables: Yes (in mall)
Kids' menu: No
PapaRich
The Star Vista
1 Vista Exchange Green #01-43
Singapore 138617
Phone: 6684 3373
Prices: $$
Hours: Mon – Wed: 10:00 am – 10:00 pm, Thu – Sat: 10:00 am – 12:00 am, Sun: 10:00 am – 10:00 pm