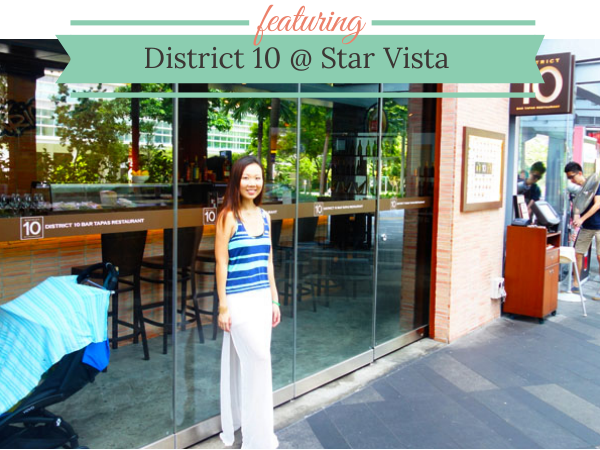 The sunlit District 10 at Star Vista holds a special treat for young diners…. a bouncy castle! Available during weekend brunch, the brightly-coloured bounch castle turned the head of every kid that walked enviously past (I felt sorry for them that they weren't dining there!). The bouncy castle is free for your kids to use, so you can sit back and relax with your brunch whilst they make full use of it.
The outdoor tables are seated right around the bouncy castle, so it's easy to keep an eye on the kids. There are also fans dotted all over the ceiling to keep the shady area cool.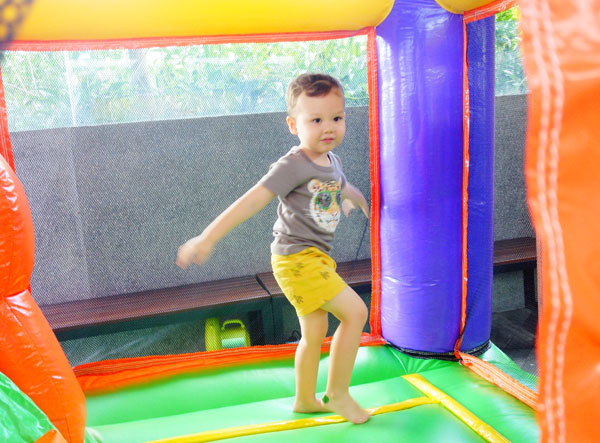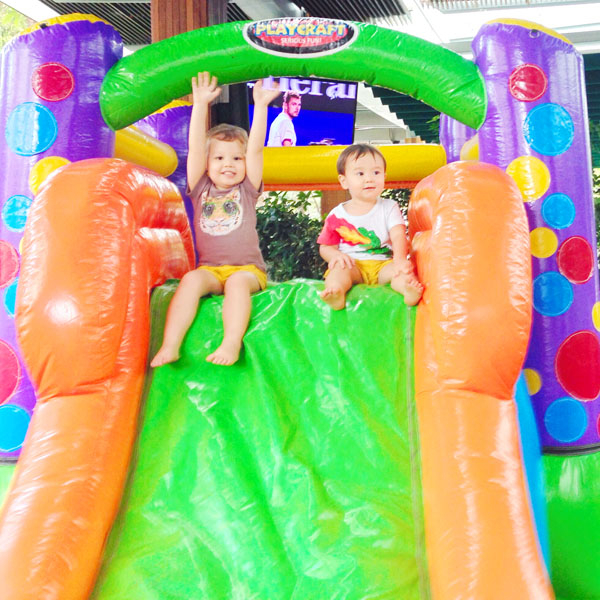 Me? I sat back and relaxed with my icy cold Lychee Mint Freeze ($10). It came in a startling shade of green, and was delicious. It had a distinct lychee flavour, with a subtle hint of mint. The PERFECT drink to sip on whilst sitting outside watching my kids bounce themselves silly 😉 (where do they get that energy from?!)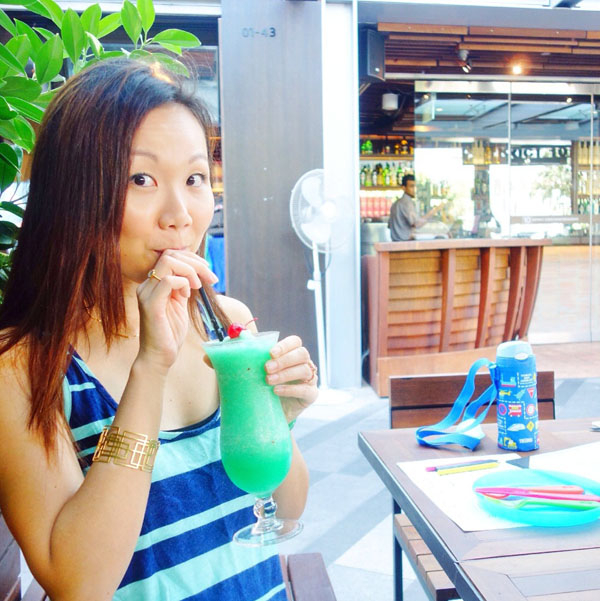 District 10 offer a very reasonably priced kids menu. But my kids don't eat burgers, fish & chips, or pizza (their choice, not mine!)…. so we decided the regular adult menu would suit them better. I prefer that anyway, because we get to order more for the table, and the kids get to pick and choose to their liking!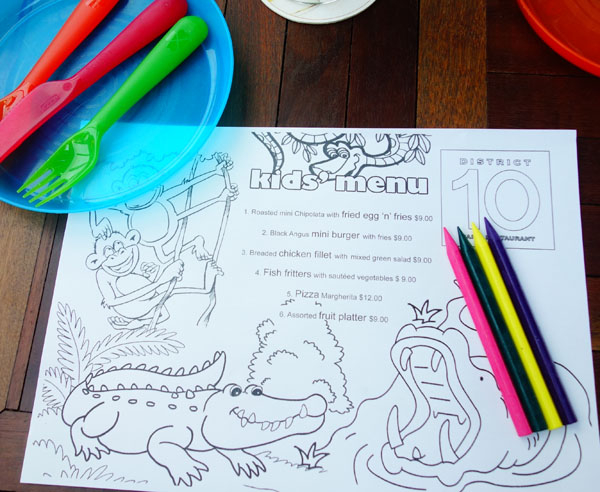 The kids were kept occupied colouring in their kids menu with the crayons that our waitress provided.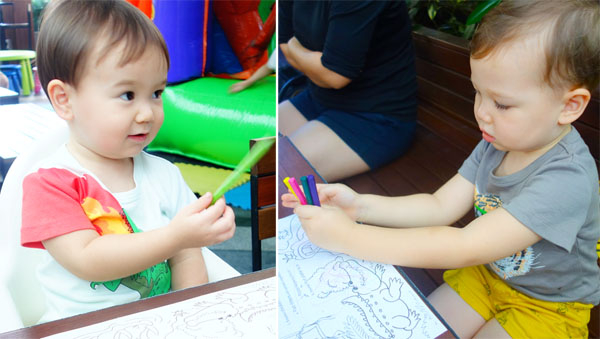 A dragonfruit blend, an iced coffee, and an iced latte. I must note here that I'm really liking how District 10 serve their iced drinks in a large glass. It makes me want to cry when restaurants serve them in that skinny little glass (which is 80% ice), you know what I'm talking about!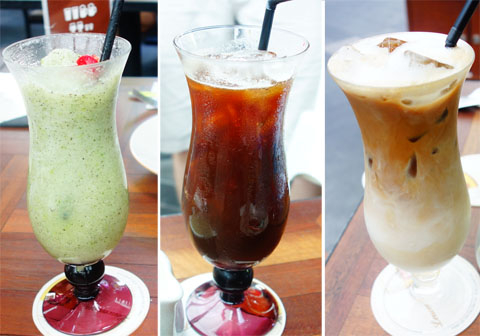 The kids shared a pineapple juice, that was kindly divided up into two kiddy cups. Unfortunately they don't do freshly squeezed juices, or I'd have ordered an orange juice for them.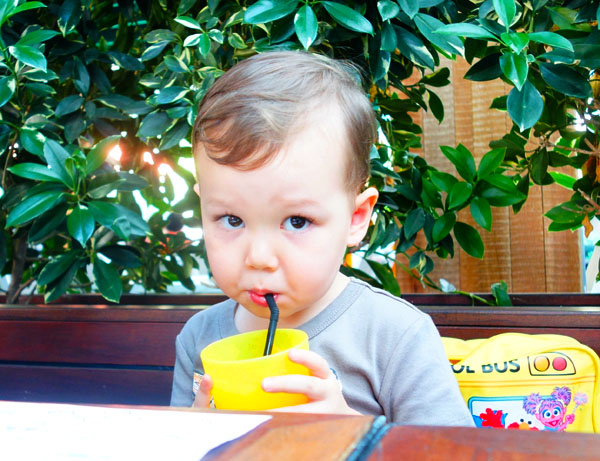 Carter, looking a bit anxious, waiting for the food to arrive.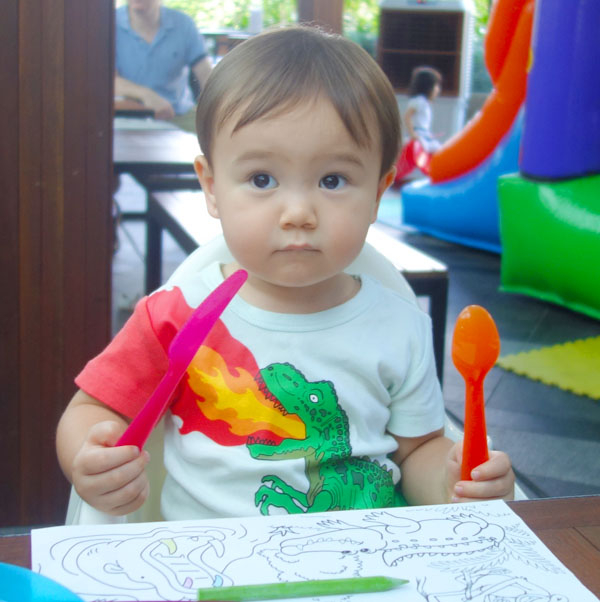 This is District 10's version of the traditional big breakfast. Fried eggs on English muffins, bacon, roasted tomato, hash brown, and grilled mushrooms. It's a sizeable platter with a lot of variety. The eggs were cooked perfectly, and I must give the bacon a special shout out – it was still meaty and tender, not overcooked or too crisp.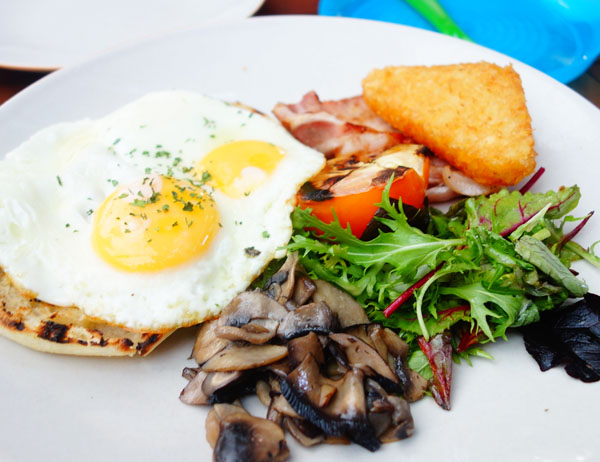 Hunter really liked the hash brown – evidently!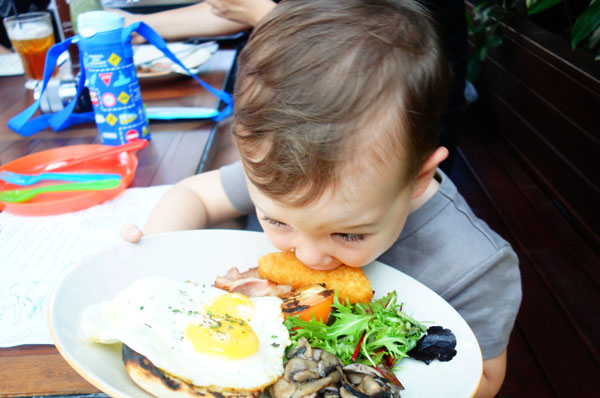 The Spanish omelette looked very similar to the previous dish, thanks to the identical side dishes (salad/hashbrown/tomato). The omelette is generously sized and I really enjoyed the sliced sausages in there, which gave the omelette that salty kick.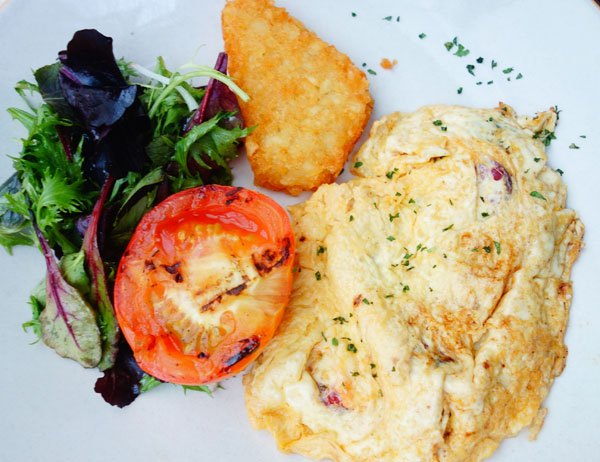 Our Eggs benedict also looked very similar to the other mains! The kids really enjoyed the poached eggs, but I found them a bit too cooked for my liking – I prefer them runny and oozing. We did, however, enjoy the lusciously creamy hollandaise sauce drizzled over the eggs.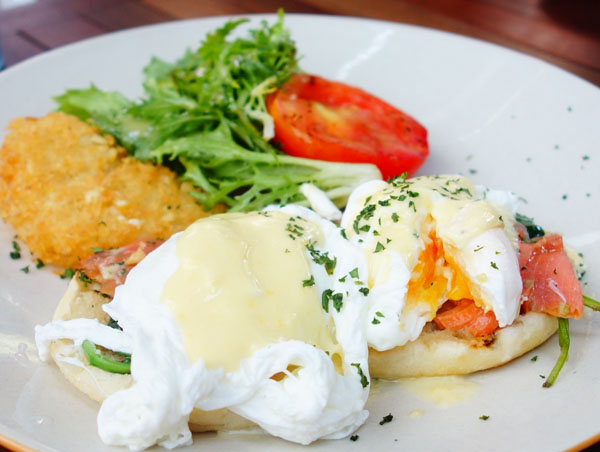 By special request, we managed to get two of their tapas menu (normally available on weekday lunch and dinner). This is Huevos Rotos, a dish we had when we were in Barcelona and we adored it. It is a heart-stopping concoction of fries, layered with jamon and a gooey fried egg. It is a KILLER combination!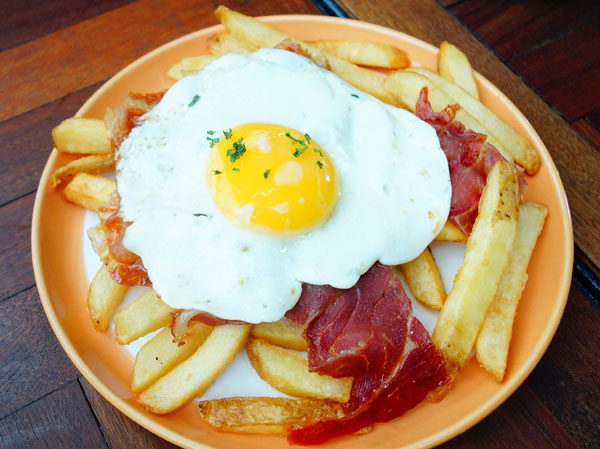 And, my personal favourite when we were in Barcelona, Patatas Bravas. Soft potato chunks draped in a spicy tomato sauce and mayonnaise. How can you go wrong with this combination???? It was delicious and I gobbled my way through half this dish myself.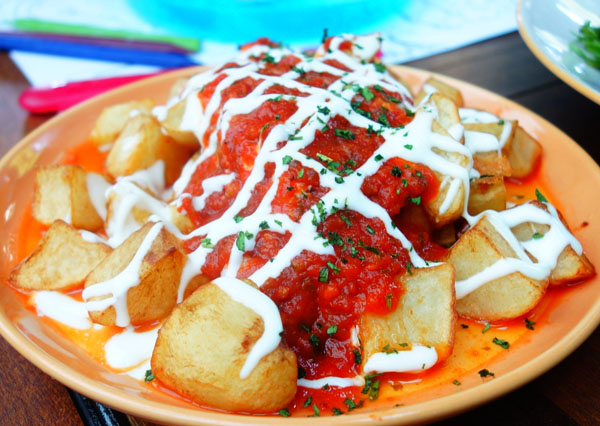 Dessert was green-coloured Pandan pancakes with gula melaka syrup. It sounds incredibly sweet, but the pancakes are actually very mildly flavoured, border-lining on bland. It meant we drenched it in syrup *ahem* to make it sweet, but for the kids, I was happy that the pancakes were not overly sweet because they ate the pancakes as-is and didn't go into a sugar high.
The pancakes are hotcake-style, high and fluffy. They're moist on the inside and I found myself wishing for some salted butter to go with that gula melaka syrup!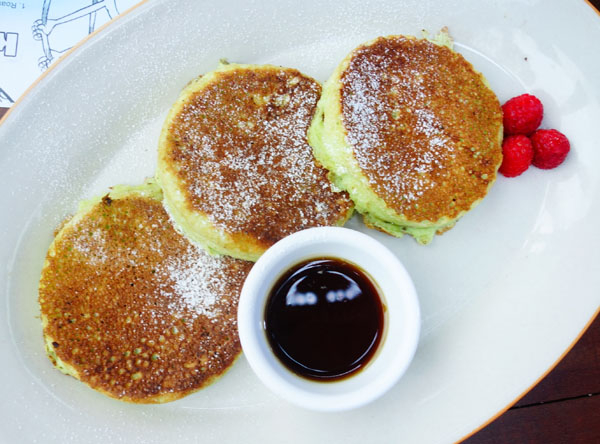 The French toast is very basic looking and in exactly the same presentation (ie. 3 raspberries as decor) as the previous pancakes. It would have been gorgeous dotted with strawberries and blueberries instead, and with a scoop of freshly whipped vanilla bean cream on the side.
The French toast was very well cooked, though. It wasn't soggy, nor was it dry. It had the perfect amount of eggy batter, and was lightly pan fried til golden-brown. I would have liked the syrup in a little pot on the side, as it came with it already poured on top of the French toast.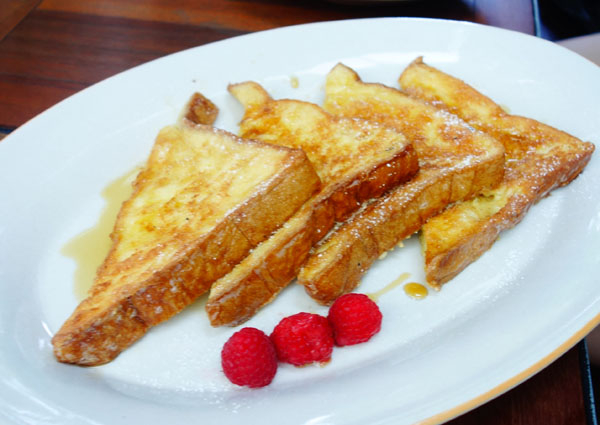 There's a TV in the corner out the outside area, which kept the boys occupied for awhile too.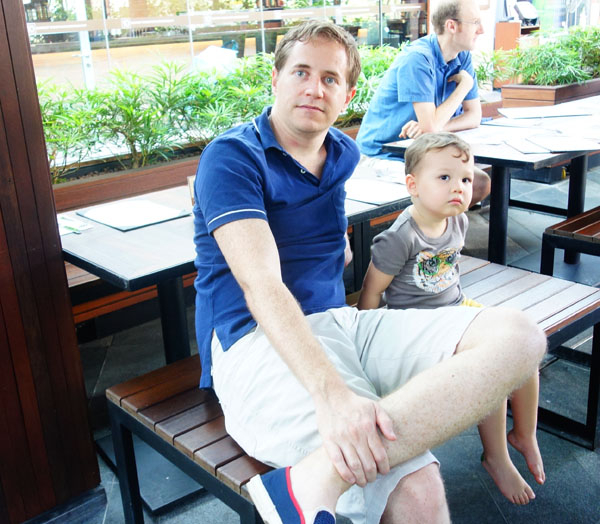 Last Bite: District 10 @ Star Vista serves up simple brunch dishes in accompaniment with icy cold drinks, to keep you comfortable whilst your kids have a ball playing on their bouncy castle.
Highchairs: Yes
Easy access: Yes
Change tables: Yes (in the mall)
Kids' menu: Yes
District 10 Bar Tapas Restaurant @ Star Vista
1 Vista Exchange Green
The Star Vista #01-42/K3
Singapore 138617
Phone: 6694 2884
Prices: $$$
Hours: See here