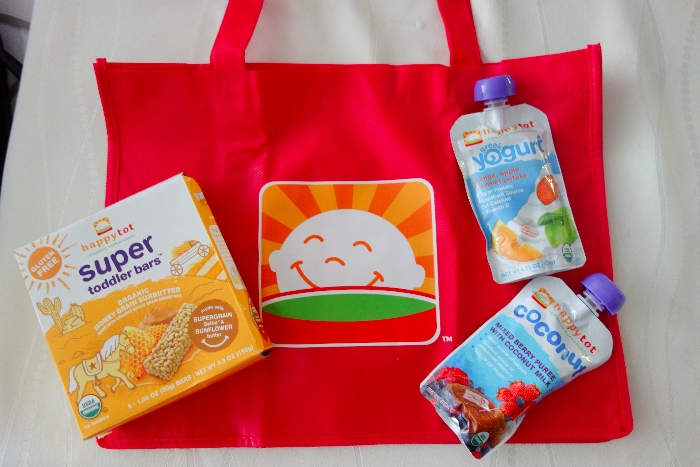 I have a confession to make. As much as I personally love eating out (make that eating in general), Cheese is happy to just eat fruit and vegetable baby pouches at a restaurant. While we've been able to introduce her to enough solid food she'll now happily eat, she is a total baby pouch addict, particularly when we're on the go.
So, with that in mind, I did a little happy dance when Happy Family offered to send us some of their goodies to try on the kids. Here are the results of the Toddler Taste Test:
Happy  Tot Super Toddler Bars
Little J: He loves snacking on "bar" (that's what he calls all granola bars) on the go, so on a screamy, whiny car ride I threw one of these babies in his direction (I unwrapped it first. And I didn't really throw it at him. That wouldn't be nice.)  He ate the whole thing and didn't seem to notice that it was a healthier alternative to his usual Nature Valley bars (sugar, sugar, and more sugar). The bars are all organic and have Chia seeds (a superfood) as an ingredient. I was excited about it too, because I often like munching on Happy Family snack products myself (their Happy Yogis yogurt drops are really yummy). Unfortunately, the Chia seeds kind of overpowered the whole thing for me. But since this isn't really about me, and Little J liked it, I'd say it got a kid-rated thumbs up of approval.
Happy Tot Greek Yogurt
Little J: This little guy has been refusing anything in a pouch or of a creamy consistency since he was about seven months old. The other day in school the class "cooked" some yogurt with honey and cinnamon. Everyone else loved it, but Little J wouldn't even look at it. I gave my pouch to another mom friend of mine whose child is in the same camp as Cheese, and loves yogurt and other pouch foods.
Happy Tot Coconut
Cheese: This was a total winner for the little lady. She really enjoyed the berry flavor, and squeeze every last drop from the pouch (with a little assistance — anyone else rush to squeeze up from the bottom before their kid announces they're done, and the pouch is only half empty?) and I liked that it was an alternative to yogurt, as I'm trying to expose her to other kinds of "milks" and dairy alternatives, like coconut.
Happy Yogis
Cheese: We use these as a treat for Cheese. When we're out and she starts getting fussy (particularly in the stroller or on the subway), I whip out a bag of these yogis and she's happy to sit there stuffing her face with them till they're gone. I love that this "treat" is actually good for her, and she enjoyed the tart berry flavor (she doesn't like sweet things very much).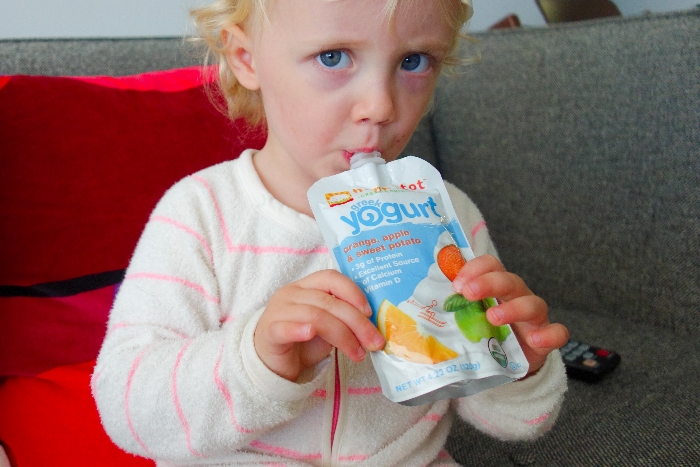 GIVEAWAY!
The kind folks at Happy Family are giving one lucky Brunch With My Baby reader a pack of Happy Family Toddler Food (value at $25). Basically, you get what's in the pic below — one pack of Happy Yogis, one box of Happy Tot Toddler Meal Bowls, four Happy Tot food pouches, One box of Happy Tot Super Toddler Bars, plus a Happy Family reusable bag like in the pictures above. Enter via the Rafflecopter widget below. Good luck!
The giveaway is open Wed Oct 16 2013, to 11:59pm Tue Oct 22, 2013.
Entry open to US mailing address only.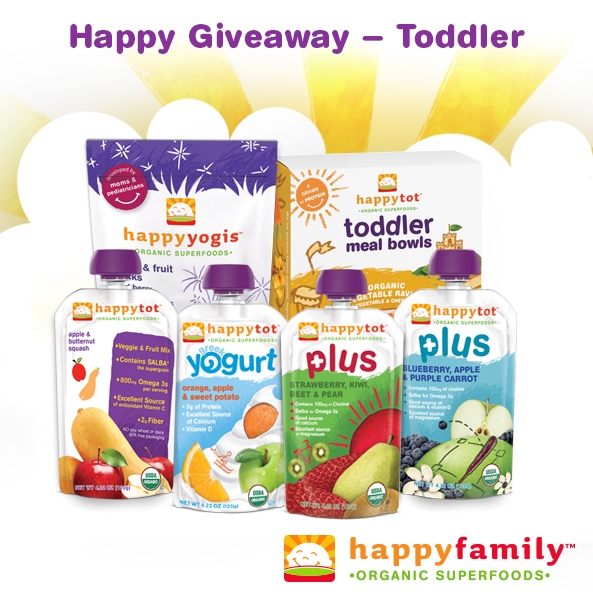 We were sent some Happy Family baby food to try out for this article. All opinions are our own.