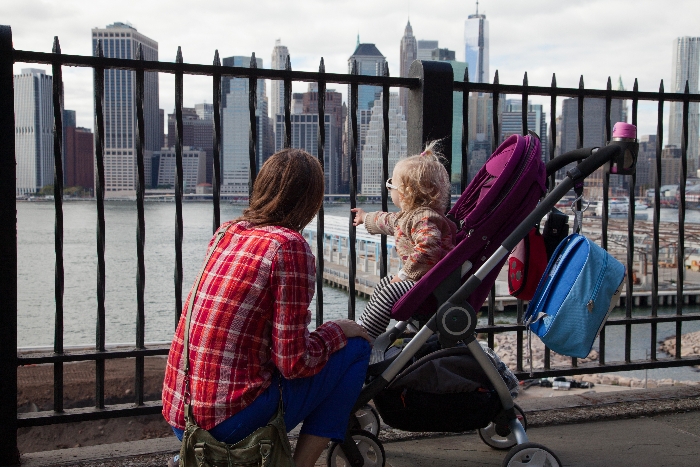 I've been known to own a few strollers (four — not all at once — to be exact). But the hunt for the perfect stroller is eternal, especially as one's needs change with the different ages and stages of a child's (and your) life. When I bought my main stroller, before Cheese was born, I really didn't consider my living situation well. Third-floor walk-up, with nowhere at the bottom of the stairs to store a stroller. I bought a stroller that was super heavy  (too heave for me to carry down stairs) and that needed the bassinet or seat removed before the bottom part was folded. Really, this stroller was suited to someone living in an elevator building, and so I didn't actually use the stroller much after a few aborted attempts where I kicked my shin on the bottom bar, until we finally did move into an elevator building a year later.
We are huge fans of STOKKE in our home, with Cheese's nursery filled with the Sleepi bed and Care: Change Table, and the Tripp Trapp highchair in the living room. STOKKE is known for their innovative designs and well-made pieces, so I was excited to check out the STOKKE Scoot. It has all the features that make is suitable for urban parents like myself. Check out my husband's and my road test of the STOKKE Scoot around our home 'hood in Brooklyn.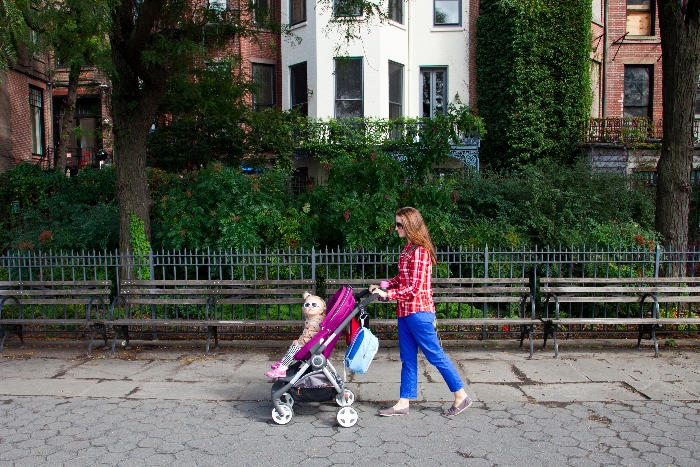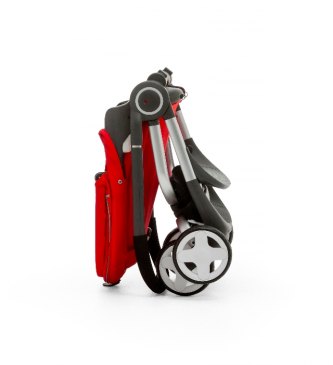 The Fold
The STOKKE Scoot comes all in one piece, so you don't need to remove anything to fold it (except anything you may have stored in the basket underneath). It's a bit tricky to master at first, as you have to follow a few steps before you can fold it: first, retract the handlebar. Then, fold it by doing the following: lift the bottom portion of the seat, push the seat backwards, then push the button on the wheel axle and pull it up to collapse the stroller into one slim piece. I know it sounds complicated (then again, try to express in words how to fold any stroller on the market these days and you'll have a similar list), but once you get the hang of it, it's fast and easy. Remove the cup holder from the handlebar and it balances on its side for easy storage in a small NYC apartment like mine.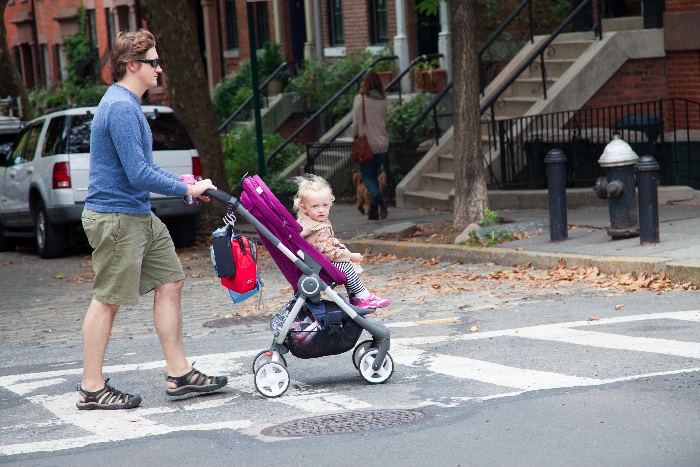 Collapses In One Piece
One of the biggest things that I love about this stroller is that it collapses into a sleek and thin silhouette — in just one piece. Living in NYC, this is an essential for making life easier for parents. It means being able to call a car to get home if you find yourself in torrential rain (been there!!) and easily throw the whole stroller in the back without having to first remove the seat of the stroller and then having to fold the body of the stroller. It also means you can go out to any restaurant without needing to check if you need to bring an umbrella stroller or carrier instead of the SUV-stroller, because when folded up, the Stokke takes up little real estate. Since we love to eat out, this feature alone was like hitting the holy stroller grail.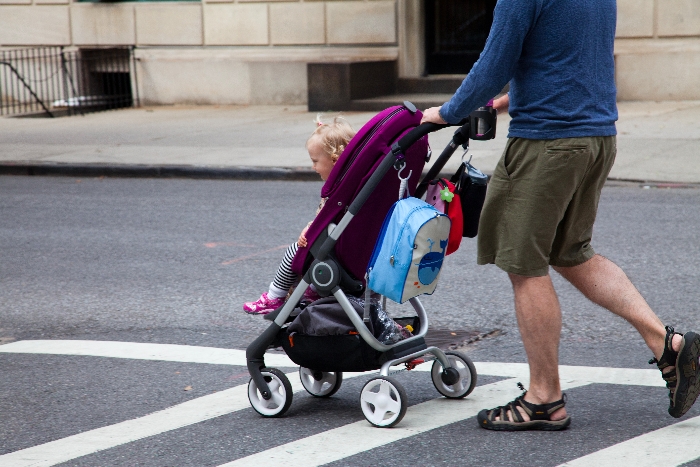 Storage Space
It's a truth universally acknowledged that you can never have enough storage space in your stroller basket (or anywhere, for that matter). There is a huge basket underneath the STOKKE Scoot, with plenty of room for groceries, or a huge diaper bag and sand pit toys. The stroller sits quite high, so there is a lot of vertical space as well, and it's all easily accessible from every side. The only improvement I'd like is for the back of the basket to sit a bit higher so it keeps items in even better. When you tilt the stroller to go over things like steps or curbs, items can fall out if not well-secured.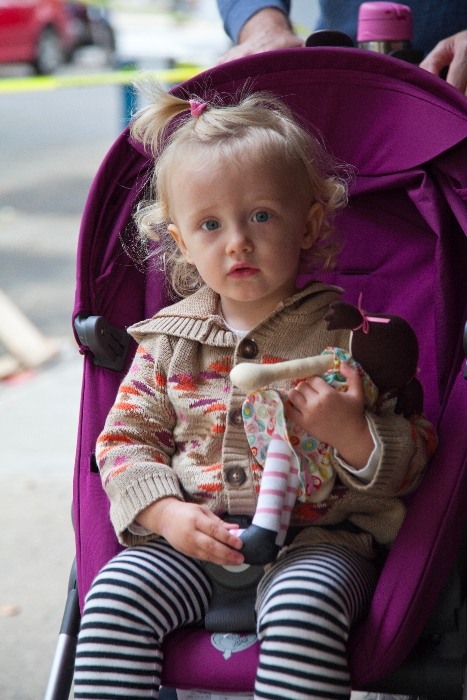 Weight
It's a hefty stroller, weighing in at 26 pounds. It can accommodate kids from birth (with the STOKKE Scoot Softbag) to 50 pounds — making it a great long-term investment. It's also a very sturdy, well-made stroller, but doesn't feel heavy to push. It's also tall rather than wide, giving it less of a footprint (which is valuable when you need to take it on the subway or park it in a small corridor or apartment).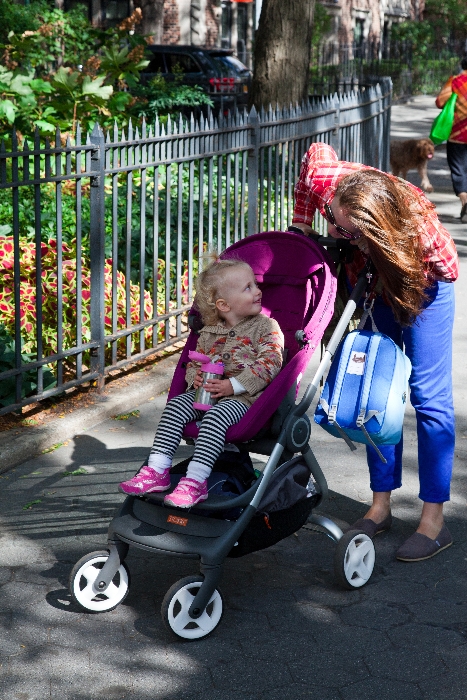 The Ride 
The Scoot features four-wheel suspension, so it's a smooth ride for Baby, even over Brooklyn cobblestones. The handlebar is adjustable, which is great for changing the height when my husband (who is 6′) takes over the driving from me (I'm 5'7). It's comfortable to push around for a long period of time, and is easy to steer, even with one hand (not that I'm texting while driving, or anything).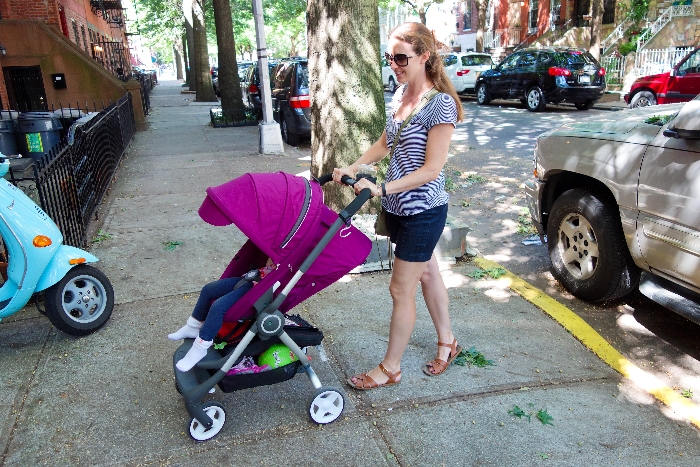 Recline
The Scoot features a full recline, that you engage by unclipping a clip on each side of the back of the canopy. It features four recline-to-upright positions: facing you, upright or reclined, and facing away from you, upright or reclined. There is only reclining position — all the way back. It would also be great if there was one button or clip you could use to recline the stroller so it could be done smoothly with one hand, but I didn't find it as awkward as I expected it to be when I used it, and Cheese had a really good nap in her little cocoon.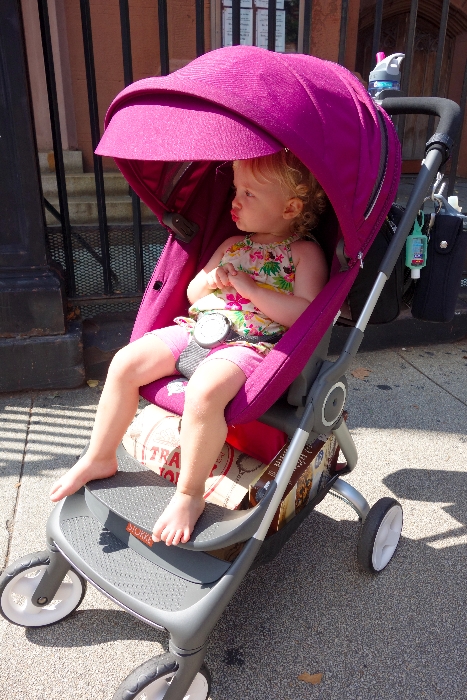 Canopy
It has a decent canopy, with a cute little visor that flips out (and zips off if needed), which, when tilted downwards, provides that extra bit of sun protection for your kid's legs. There is a zippered section in the canopy that, when open, lets air circulate better on a hot day, and lets you take a peek at what your kid is doing in there (or, in my case, making sure important apps aren't being deleted off my iPhone).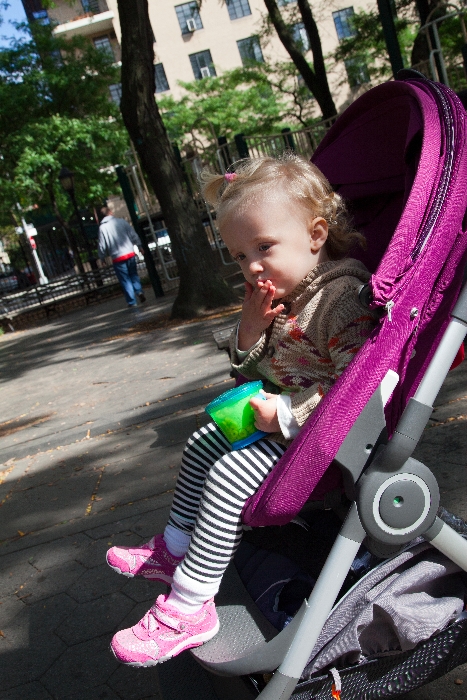 Adjustable Footrest
I love that I can adjust the footrest to my toddler's feet so they're not dangling down. And SHE loves that she can climb up and into it all by herself. What a fun, new game!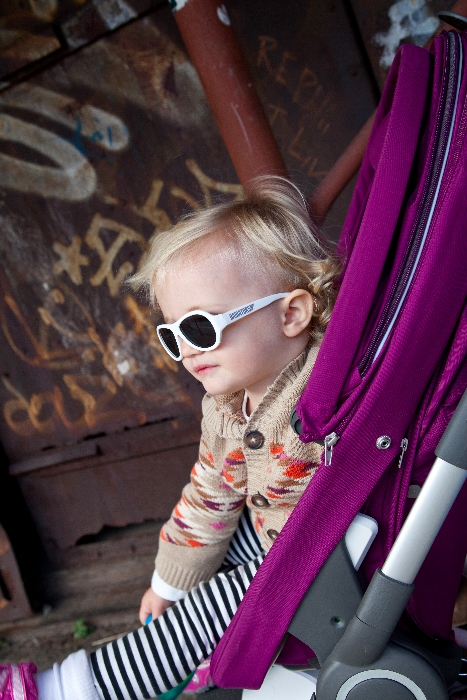 Accessories
The Scoot comes with a rain cover, mosquito net and cup holder. You can order car seat adaptors ($79.95) for Maxi Cosi and Peg Perego car seats. There is no bassinet with this stroller – but, to be honest, since I never used the bassinet for my toddler when she was a baby, I wouldn't let this deter me from buying. You could absolutely use it from newborn age by clipping in the car seat for the first few months.
The STOKKE Scoot retails for $599.99 and comes in a range of colors (brown, red, dark navy, purple, beige and black melange).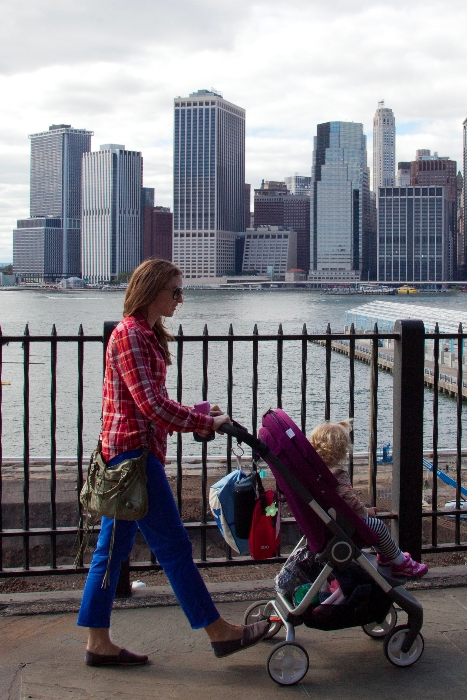 GIVEAWAY
The very kind people at STOKKE are giving Brunch With My Baby readers the chance to win one STOKKE Scoot in the color of her choice. Enter using the Rafflecopter widget below.
The competition opens Wed, Oct 2 to 11:59pm Tue Oct 8, 2013.
Entry open US mailing addresses only.
We were sent a product sample to aid us with this review. All opinions are our own.