While this year isn't the first holiday season for the toddlers, it is the first year that they are starting to understand what's going on. This makes me super excited, because I LOVE holidays. I really love getting arty and crafty with Cheese, so trying out the holiday Kiwi Crate holiday boxes were the perfect way to get her involved in preparing for the biggest holiday in our year, Christmas. For our friends celebrating Hannukah, we asked our friends with a crafty toddler to test drive Kiwi Crate's Handmade Hannukah.
Kiwi Crate boxes are so great for parents like us – people who like the IDEA of being crafty, but whose craft boxes contain little more than crayons, markers and stickers. If we want to make something special, we don't have any of the right bits and pieces, and, to be honest, I would have no idea where to get things like a few pom poms and ribbon bits that each project requires. Kiwi Crates contain everything you need for the entire project – including things like glue and paint brushes. I LOVE the assumption that we have nothing to being with because, to be honest, we don't! We have a TINY apartment and have no room for keeping bits and pieces of things in case we need them for crafting in the future.
All Kiwi Crate boxes are also generously stocked with supplies. More than you'll need for each project, so you have spare materials to customise projects to your child's preferences, plus have left over materials to make something else with next time.
The Kiwi Crate model is based on subscriptions, where you sign up for a new craft box to be delivered to you every month. They also offer single crates ($19.95 each), each one filled with enough materials for 2 – 3 projects, holiday crates and stocking stuffers.

Kiwi Crate Box One: Crafty Christmas Box, by Christine Knight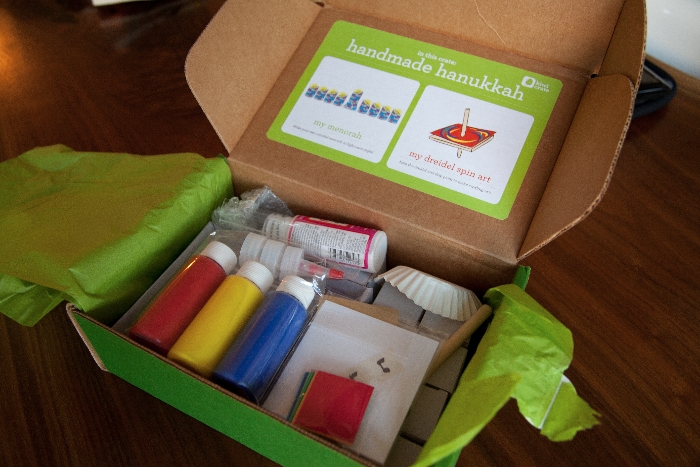 The box I was testing out was the Crafty Christmas box ($19.95). It includes materials to make three Swirly Ornaments (for hanging on the Christmas tree), a Gingerbread House and Paper Candies to decorate the house. The kit comes with a user guide for parents or older children, with very detailed instructions.
Gingerbread House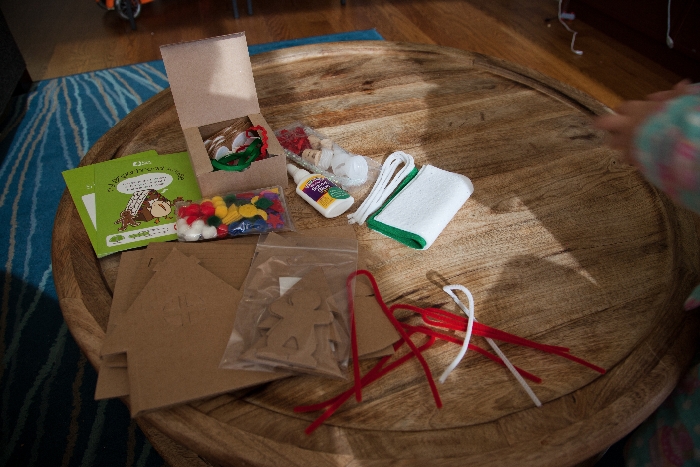 The Gingerbread House instructions had multiple options for house decorating ideas. Now, remember Cheese is only TWO. I had to give her a hand with a lot of the projects, like assembling the house and gingerbread man pieces. It was still a lot of fun for her, even though she couldn't complete the projects on her own.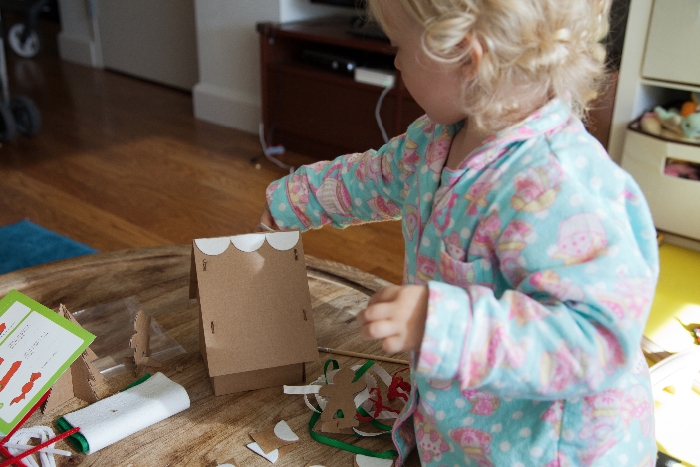 She was very interested in certain tasks, like sticking stickers on the roof of the gingerbread house, and especially pouring the paint into the ornaments. She wasn't interested in anything that took too long, so I had to assemble everything in advance so it was ready for her to add her part or she'd wander off to play with something else. It was a really fun way for us to spend time together, and for me to explain to her what everything was and what it meant.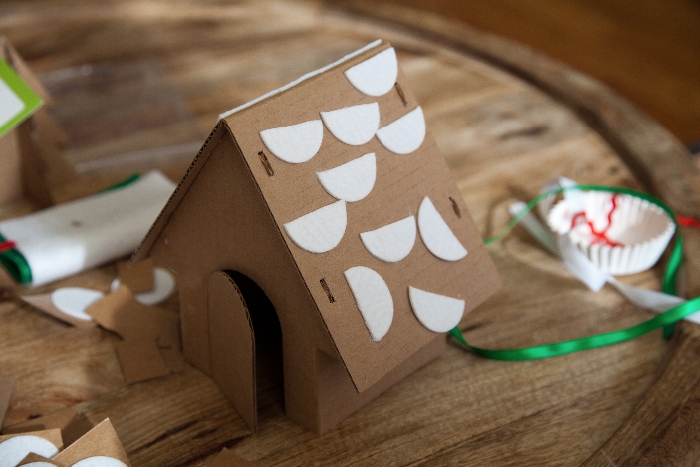 It was also great to let Cheese experiment with different materials that she wouldn't usually play around with. She loved pasting the pom pom balls to the Gingerbread House and placing the sticker tiles on the roof.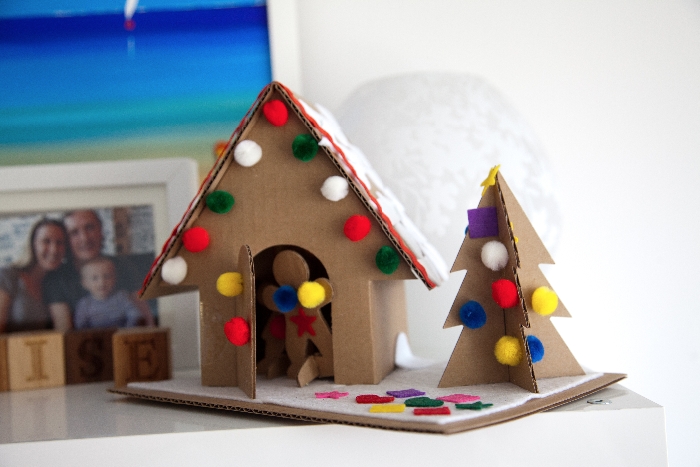 Swirly Ornaments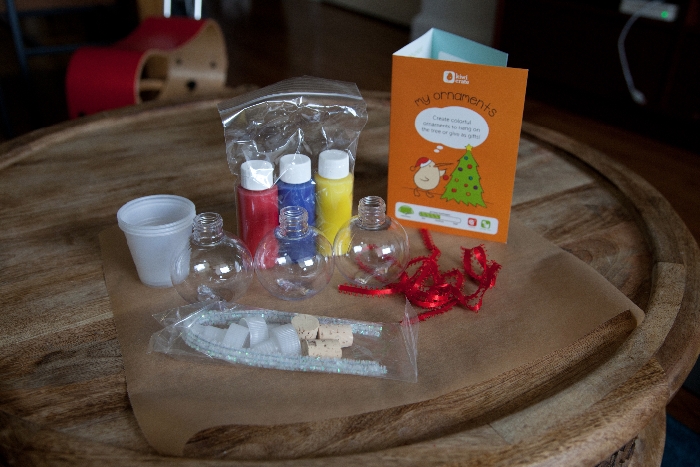 The ornament kit was much easier to do with a two-year-old. I prepped the area and pieces and gave the ornament bases to Cheese to squeeze paint into. She really loved that she could squirt the squeezing the paint into the ornaments by herself, and enjoyed turning them to see the colors swirl together. This project was a bit messier (paint!), but also a lot easier for a smaller toddler to work on as there were a lot less steps involved.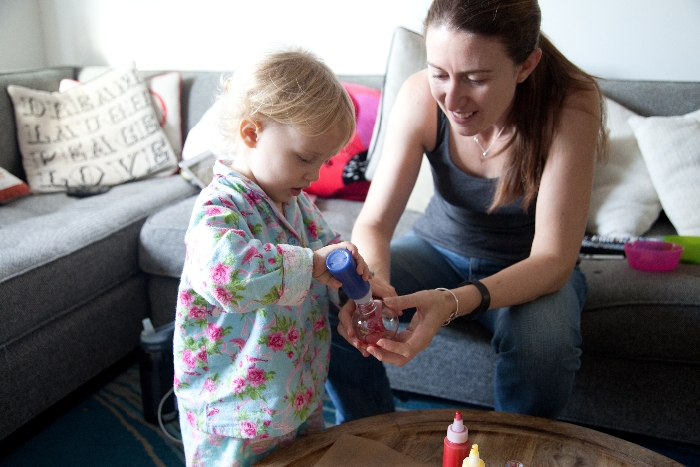 After the paint squeezing and swirling, the project was pretty much finished. The ornaments were left to drain excess paint and then dry over night, and Mommy was needed to cork and tie them up, ready for hanging.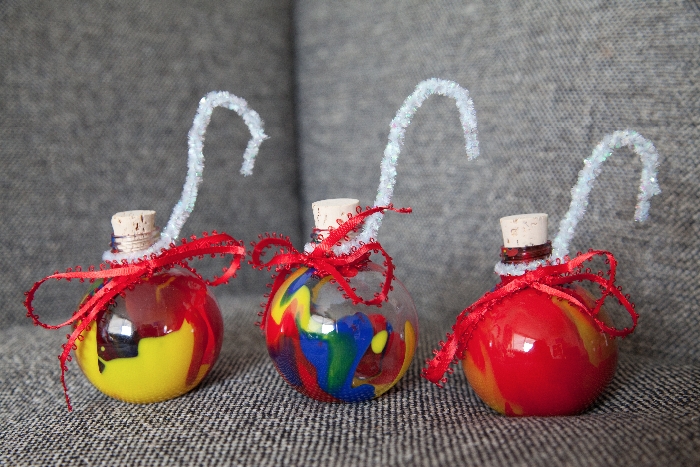 Both Cheese and I really enjoyed the craft projects. I'm not a super creative person when it comes to thinking up craft ideas, so I loved being given the framework and materials, and the freedom to decorate however Cheese saw fit. We will absolutely be ordering more of these boxes as Cheese gets older and can tell us what crafts she wants to do.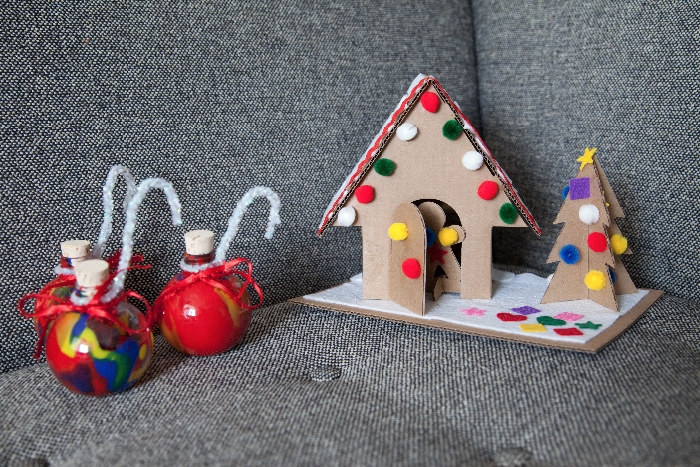 Kiwi Crate Box Two: Handmade Hannukah, by Dayna Brandoff of chaostheorynyc.com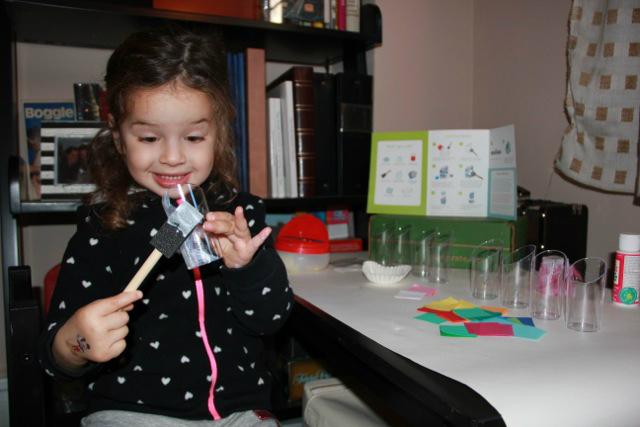 My daughter Tess (2 and 1/2 years old) and I made the menorah from the Handmade Hannukah box ($19.95) this morning. The box comes with candle holders (that look like slanted cups), tissue paper, paint and glue, plus a dreidel.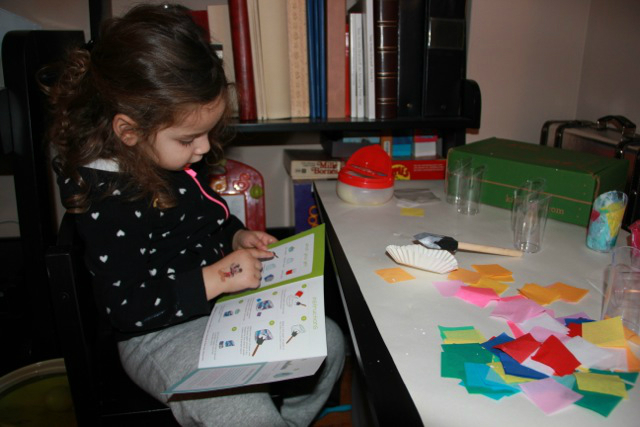 The project got off to a great start. I showed her how to do one of the cups — thin layer of glue, then tissue paper, then more glue. She did every step pretty much on her own for the next cup. The next three cups, however, she really only wanted to be the glue painter — which was fine — that was two out of the three steps (although I definitely helped with the second round of glue-painting to make sure the tissue paper would really stick). I will say that the project was not able to hold her attention for nine cups worth of time, so decorating the last four was mainly Mommy's job. We both had a ton of fun peeling the dried glitter glue off our hands afterward. And Tess was definitely proud of the finished product — and loves the special little battery operated candles. But convincing her to save the batteries until Chanukah? That's sure to be a challenge.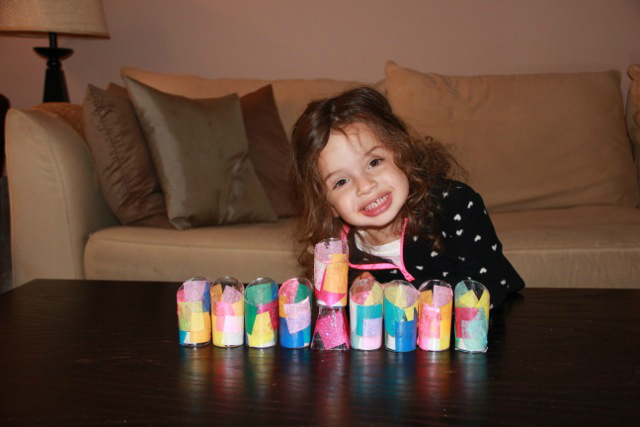 I also really liked that there's plenty of tissue paper and mod podge left over to do a similar project on recycled jar . . . .I think we will probably make "vases" for the grandmothers for the holidays using the same technique!
GIVEAWAY
The generous folks at Kiwi Crate have offered Brunch With My Baby readers the opportunity to win a crate of their choosing. Enter via the Rafflecopter widget below.
Competition is open Wed November 6, 2013 EST to 11:59pm Tues Nov 12, 2013, EST.
Entry open to US mailing addresses only.
Brunch With My Baby were sent product samples for reviewing purposes. All opinions are our own.