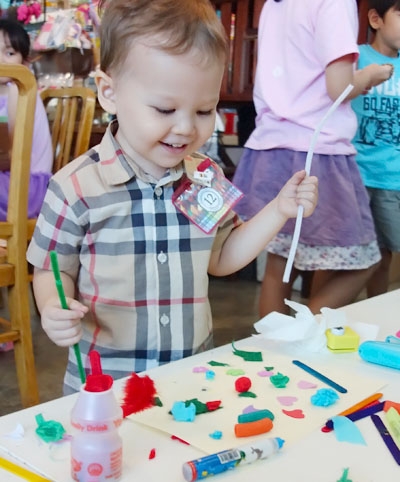 The interior of EatPlayLove Craft Cafe is an explosion of rainbow colours, lantern lamps, cute bunting and tons (and I mean tons) of toys. All set against bright turquoise walls in a spacious cafe.
It's pretty overwhelming.
Our kids gawked a little when they stepped in. I guess they were expecting a standard 'ol cafe for lunch.. and thought we'd gotten confused and brought them to a playgym instead!
They immediately dashed over to the craft area like their lives depended on it, busy inspecting all the little bits and bobs and excitedly chattering away.
And the adults? We dashed over to all the old school toys and snacks area.. completely enthralled with it all and equally as overwhelmed by all the cute little knick knacks everywhere. There is SO much to poke around in and check out!
The whole premise of EatPlayLove Craft Cafe is a place to dine whilst your kids are kept out of trouble (*fingers crossed*) crafting away at the kids table.
It's probably best for kids aged 2.5 years and up. Our kids are 2.5 years and didn't require hand-holding to craft, but they did need an eye kept on them, just in case they did something odd like try and lick the glue (gah) or snatch stuff from other kids.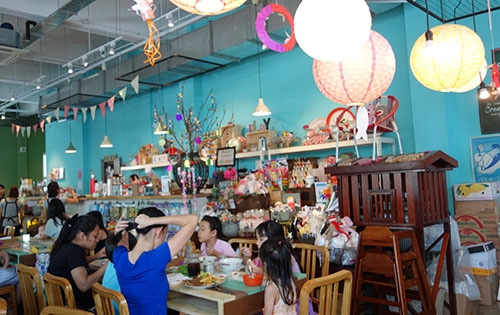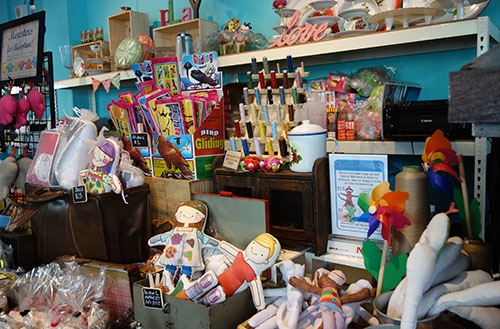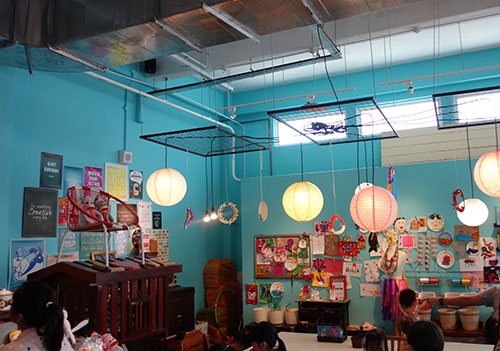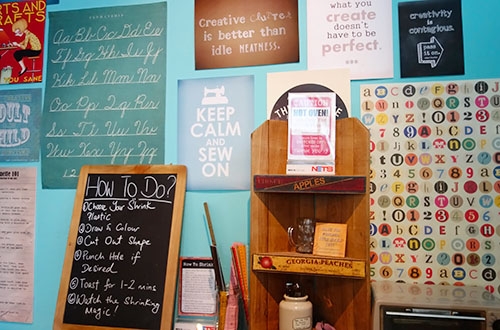 So the idea is, you pay $5 for 1 hour of crafting. I will make it LOUD AND CLEAR here: you must return your kid's badge when they are done! If you forget and get them to sit with you to eat, you'll end up with being charged for it despite the kid not crafting. This is exactly what happened to us, because I wasn't informed that I was supposed to return the badges (note: I did point out that I was never told this, so they waived the extra hour's charge).
For your $5, you get 1 sheet of paper and a little packet of crafty things, including glue. There are also tons of little ribbons, colourful pipe cleaners, etc that are at the crafting area, that you're free to help yourself to.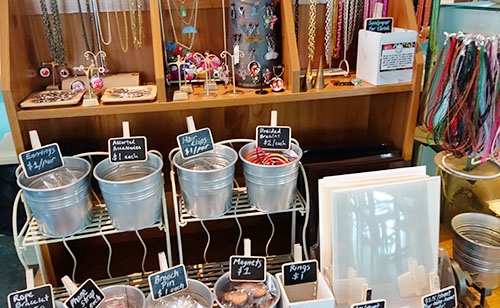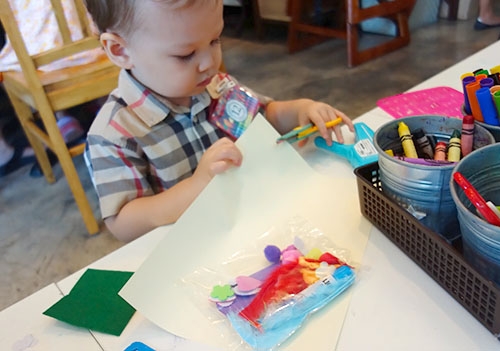 Our kids were completely absorbed for the 30mins that they were crafting, before the food arrived. Hunter was wearing 'nice' clothes but was very neat and didn't get himself messy. At 2.5 years old, he was able to apply glue, stick on whatever stuff, and cut things up.. all by himself. I think that's about average ability for his age, and this is why I think this crafting concept suits 2.5 years old and up the best.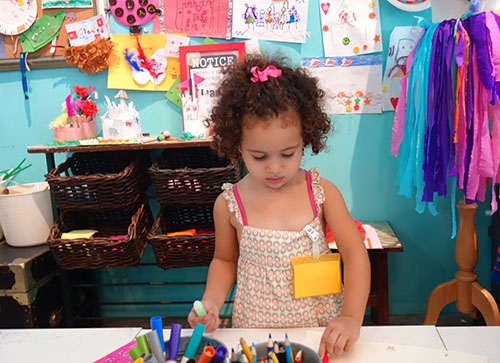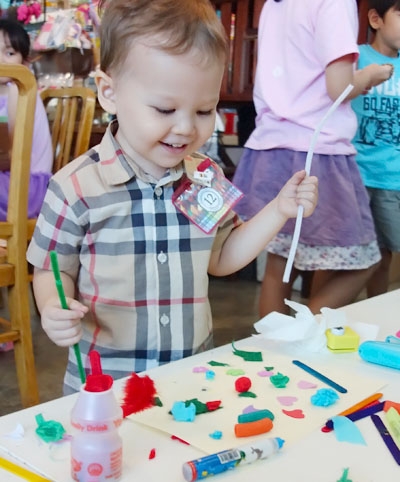 I was delighted to find out that the menu was fairly extensive, and very reasonably priced. The food is actually pretty good. Very home-cooking like, but tasty and satisfying.
I'm glad I picked the Iced Vietnamese Coffee – it was potent and really hit the spot. Plus, loving the old school glass mugs they serve drinks in!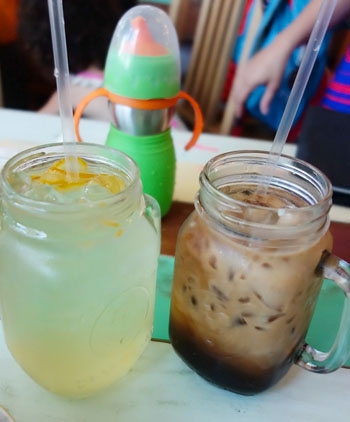 The Kids Menu consisted of a small main dish, and served with a drink of your choice (I chose Yakult). Hunter gobbled up almost his whole bowl of Chicken Macaroni Soup, which was very home-style and simple, but it seemed to go down well with him.
The other kids menu item we had was the Baked Macaroni and Cheese which came in a startling neon orange/yellow colour, but it was tasty and well-received.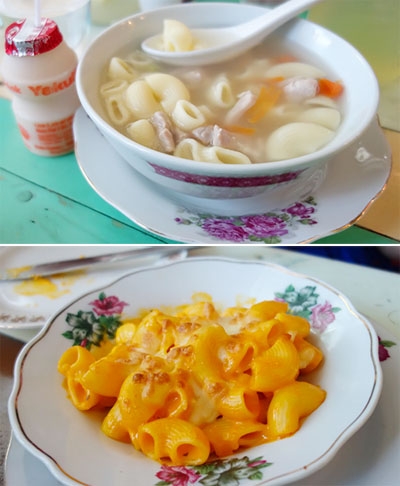 My Chicken Chop with fries was cooked very well. The chicken skin was crisp and flavourful, and the chicken itself was tender and juicy. I enjoyed the mushroom gravy poured on top, though I did crave for more of the stuff to slop my chicken and fries in.
Their fries are SUPERB. I'm not sure what they do, but the fries are so tasty and cooked to perfection. I could eat a whole bowl of these suckers!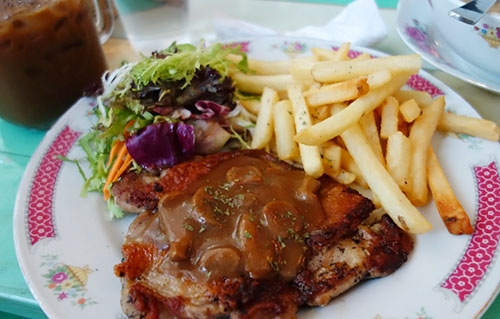 We requested for two high chairs, but were told only one was available. Something to note if your kid absolutely needs one – best to request for one the moment you step in the cafe, and not just when the food arrives.
That said, how cute is it?!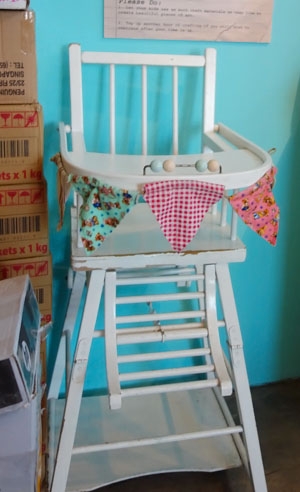 The kids were really proud of their handicraft and merrily posed for this picture. Hunter's craft is now displayed in the kids' room. I'm particularly proud of it because he did the entire thing himself (usually his handicraft is done with me beside him, guiding him along).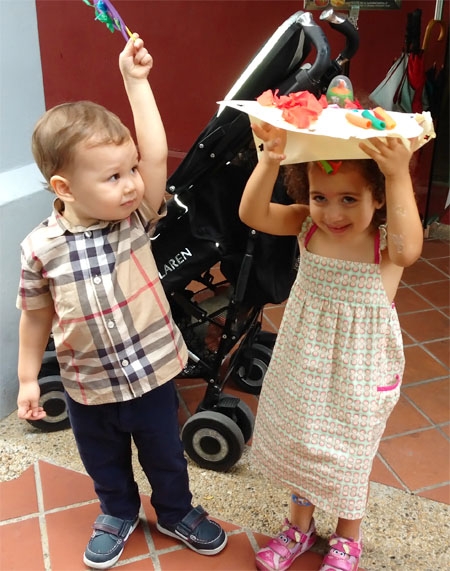 Hunter wearing a Burberry shirt, random pants, Pediped shoes.
Mia wearing an Elly dress
Last Bite: EatPlayLove Craft Cafe absolutely nails it in kid-friendliness, thanks to their $5-an-hour crafting session that is chockers with things to cut and glue. You'll be entranced by all the old school snacks and toys that they sell as well.
Highchairs: Yes
Easy access: Yes
Change tables: No
Kids' menu: Yes
EatPlayLove Craft Cafe
28 Aliwal Street #01-07
Aliwal Arts Centre
Singapore 199918
Phone: 6444 6400
Prices: $$
Hours: Mon: 12:00 pm – 10:00 pm, Wed – Sun: 12:00 pm – 10:00 pm