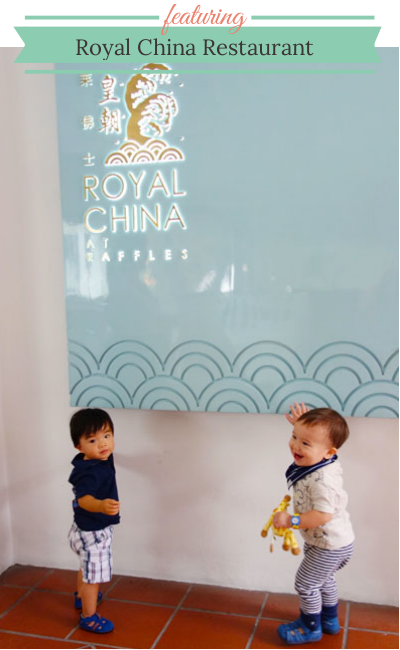 We used to yum cha all the time in Australia. But, for some reason, we hardly do since we moved to Singapore two years ago. Partly due to the fact that I'm not very familiar with such places in Singapore, and partly because my girl friends and I tend to end up at Western brunch places instead. Frankly, I get sick to death of Eggs Benedict! I've eaten it ten too many times…
So I was simply gagging for some good 'ol Chinese dim sum!!
Royal China at the Raffles Hotel came highly recommended by word-of-mouth of my friends, all assuring me "you're gonna LOVE the turquoise interior!". They were right. I give the place top marks based on their decor alone. Beautiful Tiffany-blue everywhere, down to the water's uniforms. High ceilings give it an airy, refined ambience. It's a real experience to step in…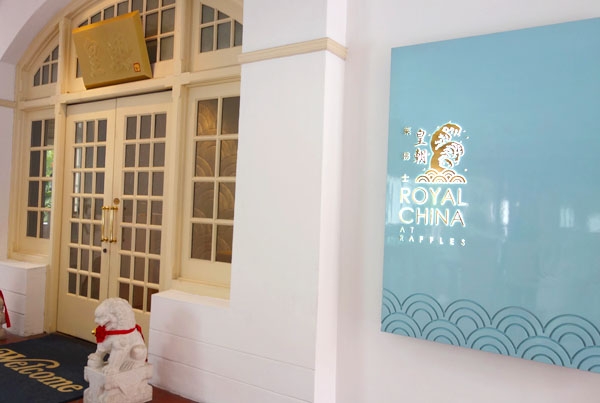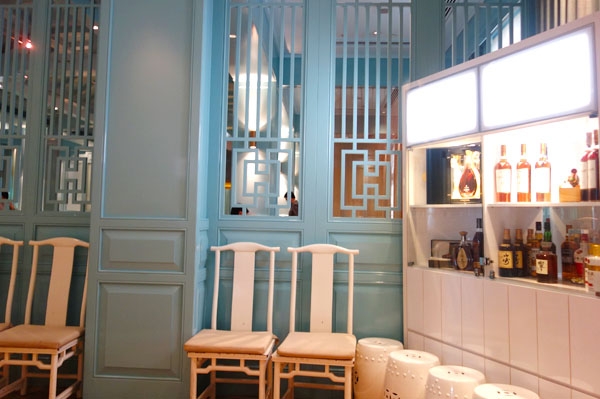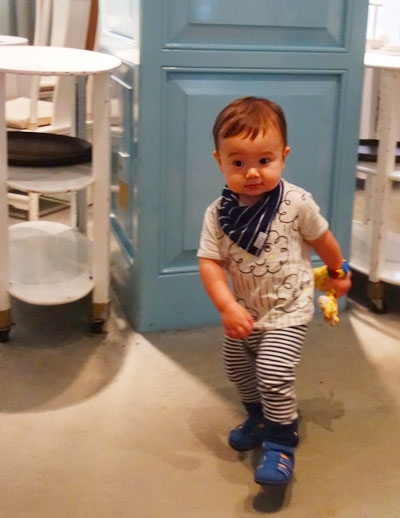 Because we had two young kids with us, we ordered the for Fish Congee ($7.80) for them to share. As one of the most expensive dim sum items, it was pretty skimpy on the fish – 3 slices and that was it. The rest was just rice. We were rather woeful, as the kids slurped the dish up with gusto and could have easily eaten double the amount of fish.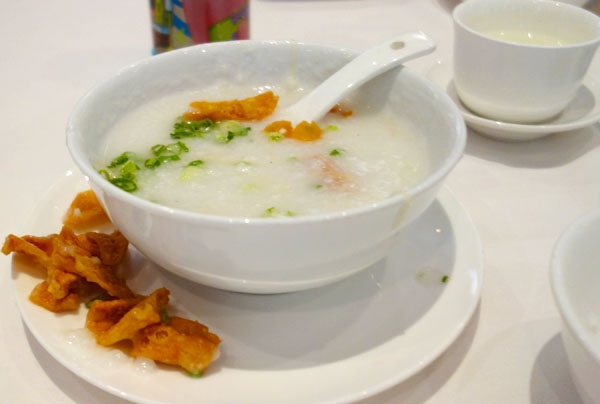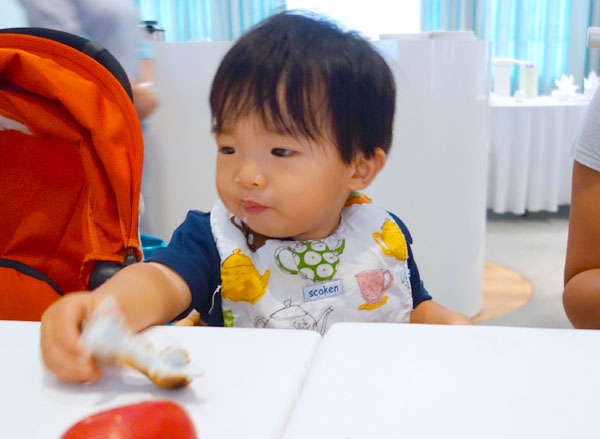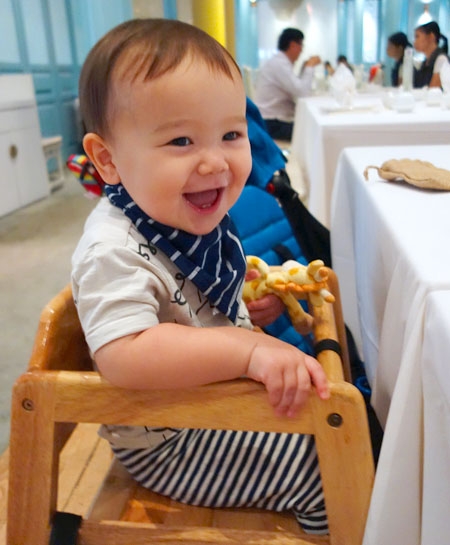 The most expensive item we ordered was the Carrot Cake with XO Sauce ($8.80). This is not to be confused with the carrot cake dessert by the way. This Chinese dish uses turnips which are stir-fried, in this case with egg and *horrors* beansprouts. I don't recall this being mentioned on the menu, and I have a massive aversion to nasty little beansprouts, so this dish made it to my no-go zone. That said, it was tasty (albeit spicy) so if you don't mean beansprouts, you'll probably enjoy this dish.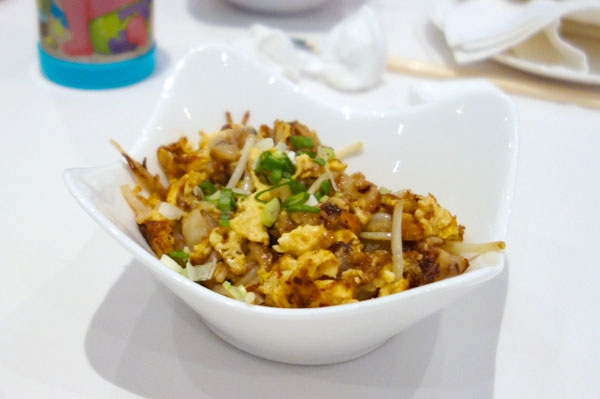 I was so pleased we ordered the Cheong Fun with Prawns ($5.80). The flat, wide strips of rice noodles were delicate and silky, balanced well with fresh prawns and a drizzle of light soy sauce. A simple but satisfying dish on the palate and I'd order this one again.
The Siew Mai with Goji Berries ($5.60) were delicious and steamed well. The goji berry was pretty redundant, apart from adding a cute pop of colour to this otherwise simple-looking dish.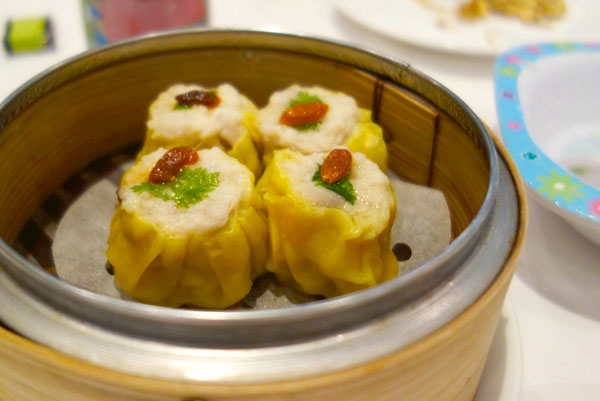 The Yam Puff with Scallops ($5.60) will satisfy those deep-fried lovers out there. It's so airy and crispy, with a soft interior filled with mince and mushrooms. The scallop on top was, again, redundant – it was pretty dry and did not lend a lot of flavour to the yam puff.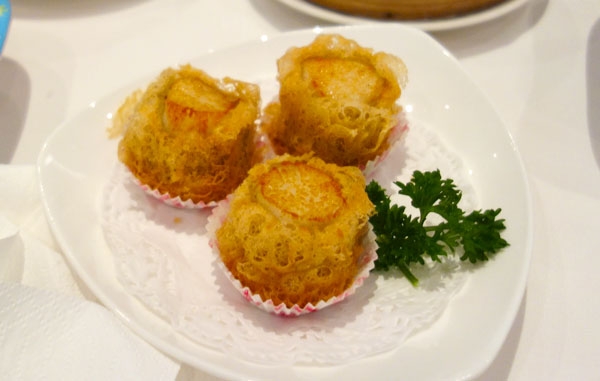 Boasting an ultra fluffy bun, the Steamed Pork Buns ($4.80) were a hit with both adults and kids. The savoury filling and gravy paired very well with the plain steamed bun, and we all wolfed this one down.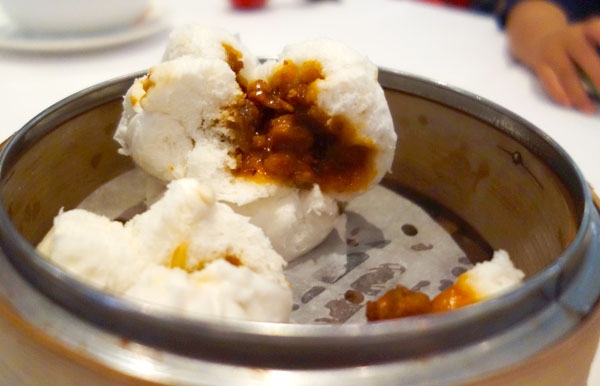 Ahhhh.. the best for the last. I've recently discovered the joys and wonder of Egg Yolk Custard Buns. This makes me wonder what I've been doing in the past three decades of my life. Not much, clearly. BECAUSE THESE BUNS ARE AMAZING!!!!!! Royal China's Egg Yolk Bun ($4.80) was a delight. Different to other restaurants, they inject some mango juice in theirs, which sounds weird but it works. The sweetness and freshness of mango somehow takes away from the heaviness of the egg yolk custard. And ohhhhh that ooze!! I could eat four of these at one go.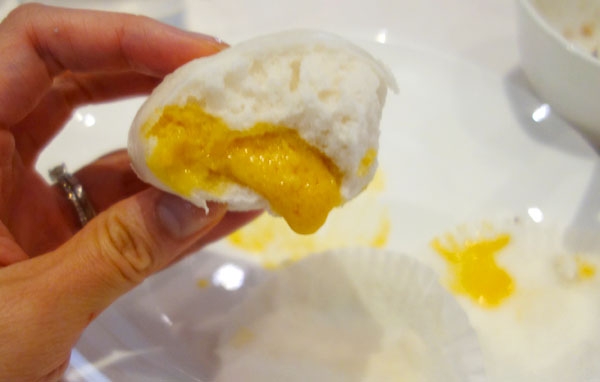 Last Bite: Royal China do quality dim sum in an elegant setting within Raffles Hotel. Their Egg Yolk Buns are a must for dessert!

Highchairs: Yes
Easy access: Yes
Change tables: No
Kids' menu: No
Royal China
Raffles Hotel
#03-09
1 Beach Rd
Singapore 189673
Phone: 6338 3363
Prices: $$$
Hours: Mon – Sat: 12:00 – 15:00, Sun & PH: 11:00 – 15:00, Mon – Sun: 18:00 – 22:30