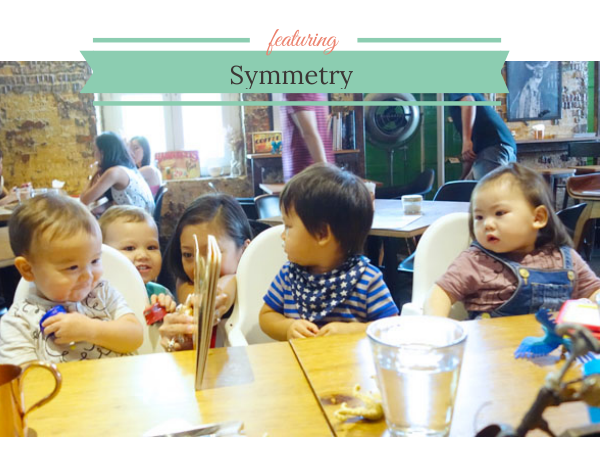 So here's the funny thing: I actually never considered Symmetry to be "kid-friendly". The cafe is extremely cramped, with chairs with skinny metal splayed-out legs, tables with sharp corners, little vintage ornaments perfectly at kid-grabbing distance, near impossible to get a stroller into (steps and not enough space)…. and the fact that there are always ZERO kids there. Except mine. And my friends.
Yet, despite that, I've been there perhaps 10 times in the past few months. Always dragging one or two kids in tow… and just praying that my kids will sit obediently and quietly in their high chairs whilst I have a leisurely lunch and lovely chat with my girl friend(s) for two hours.
Obviously THAT never happens.
I invariably end up dealing with one or both kids that end up getting bored, wanting to run around, bumping their heads on sharp corners, crying, YOU NAME IT!!!!
So….. why do my friends and I go, with kids in tow?
Because of THIS below. This is an Iced Peppermint Mocha. And Symmetry do a perfect rendition. Served in a thick-walled glass and with a metal straw (awesomeness!) jutting out, this concoction is like coffee on steroids. Yes, real coffee connoisseurs will sneer and say it's not a "proper coffee" but it's so fun to drink and delicious that I don't care. This weighs in at a hefty $7.20 (!!!!!) for glass, but it's my little treat because I do love it so.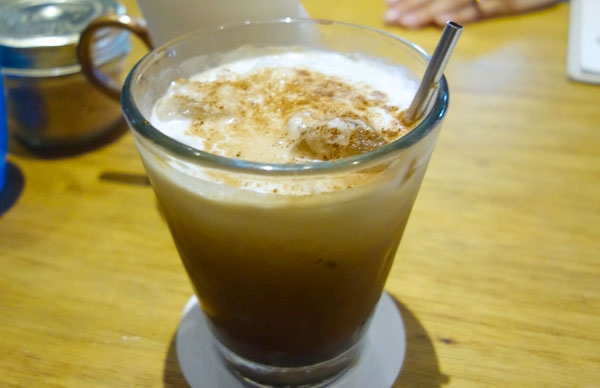 Obviously, their food is also pretty good. We didn't order any appetizers during this particular lunch, but normally we do. Every single appetizer is excellent.. from their bacon & cheese rissoles, to their fried mushrooms, to their crispy white bait, to their breaded prawns. Seriously, just order any appetizer from the menu and you won't be disappointed. Just to point out, though, almost all the appetizers are deep fried.
This particular Smoked salmon croque monsieur was a bit of a giant! The bread was thick and fluffy, and a hit with my kids. It was drenched with sour cream and chives, and topped off with melted cheese. Served with chunky fries, this was a bit of a heart-attach dish 😉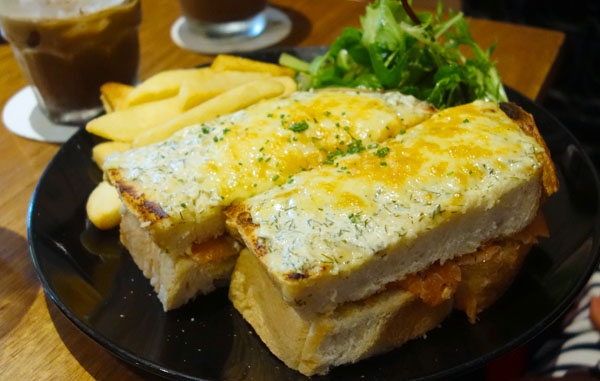 I almost always order the Smoked salmon carbonara ($23)  here (though I always get mine without the rocket leaves, as I can't stand them). This time, however, we found the smoked salmon a bit too salty. I wish they would use fresh salmon instead, so we can order this dish for our kids.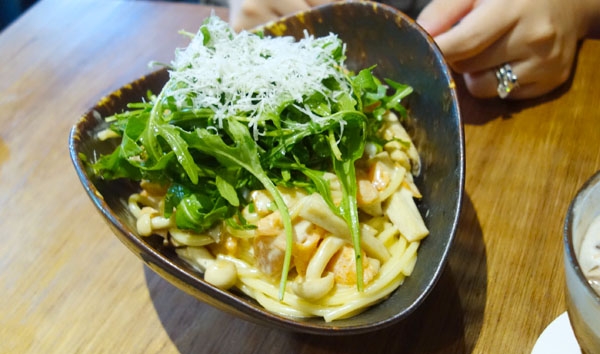 I enjoyed my Pork collar croissant ($19), which came with a generous portion of tender pork and served in a fluffy croissant. I swapped my rocket leaves for some avocado and they obliged – so bonus points for that! My kids basically ate this whole dish by themselves. Not the fries though. Both scoffed at the fries and wouldn't have any (what gives?!)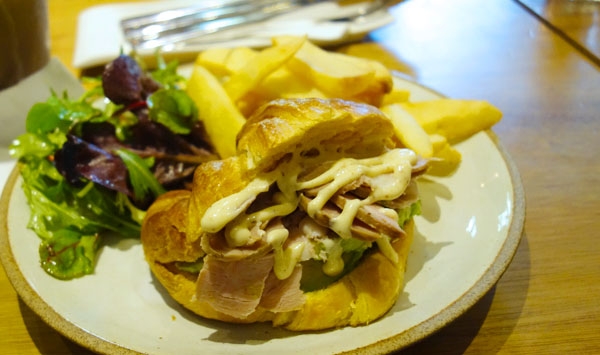 I thought their Waffles and ice cream ($14) was a winner. The waffles were buttery and fluffy, with a golden crisp edge. I don't like fruit on my waffles, but the kids obviously did because they gobbled it all up. Just as well, because I got to gobble up the waffles and ice cream!!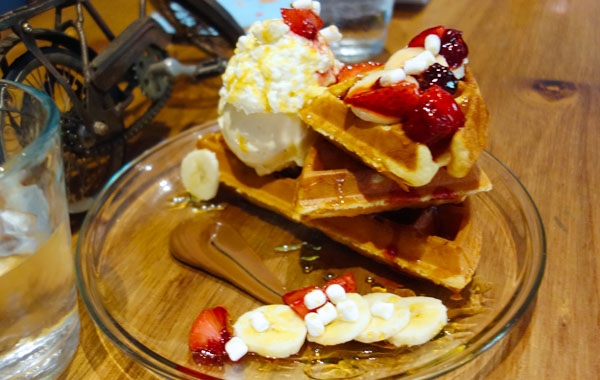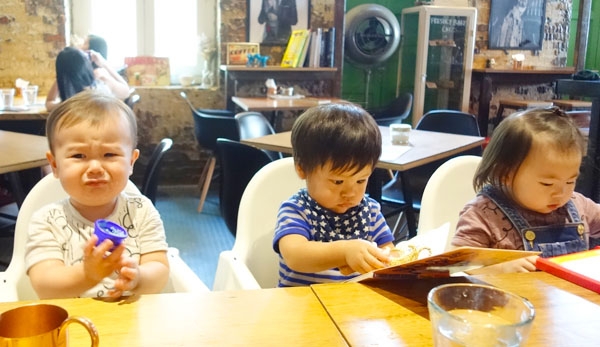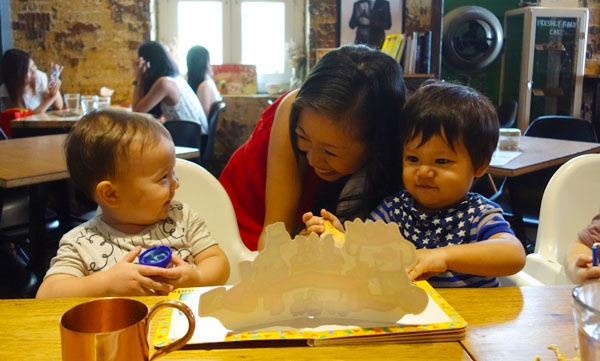 Last Bite: Symmetry may not be the most kid-friendly place, but their killer Iced peppermint mocha makes up for it. Don't miss their appetizers – any one of them!

Highchairs: Yes
Easy access: No
Change tables: No
Kids' menu: No
Symmetry
9 Jalan Kubor
Singapore 199206
Phone: 9626 7911
Prices: $$
Hours:
Mon: 10:30 am – 9:00 pm, Tue – Thu: 10:30 am – 11:00 pm, Fri: 10:30 am – 12:00 am, Sat: 9:00 am – 12:00 am, Sun: 9:00 am – 9:00 pm