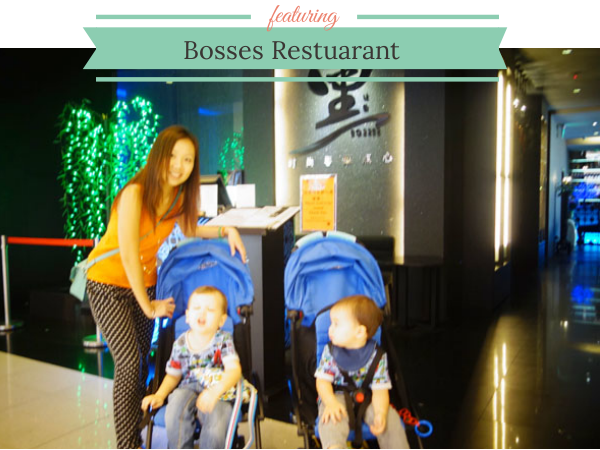 I've walked past Bosses Restaurant so many times at Vivocity, but had no idea it was a restaurant. It actually looks more like a dark nightclub (or Chinese triad gang hangout) from the outside! It doesn't help that the only english word there is "Bosses", with no obvious reference that it's an eatery.
But, oh my, what an impressive restaurant it is! Walk through the narrow and dark corridor (full of mood lighting), and it opens out to a HUGE restaurant, all encased in glass windows, overlooking the water. Everything there is themed in jet-black, unusual for a restaurant, but it works – it's pretty cool.
It looks like a fine-dining Chinese restaurant, and perhaps it is in the evenings, but in the day time, there is a lively buzz of chatter and most of the diners there are doing business lunches.
My kids were the only kids in the restaurant, but they were SO well looked after by the staff. The staff were incredibly patient, genuinely friendly, and very nice with the kids. I admit, I was a bit eye-bally with them at the start (I get like that when I'm in a fancy looking restaurant because I start to break out into a nervous sweat wondering if my kids will make a ruckus or break anything and shame me forever)… but the staff really won me over and made me feel relaxed within minutes.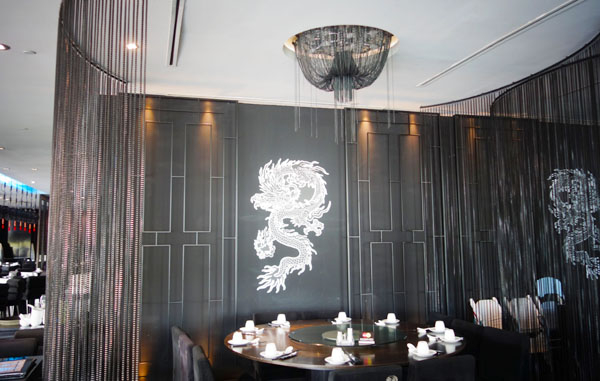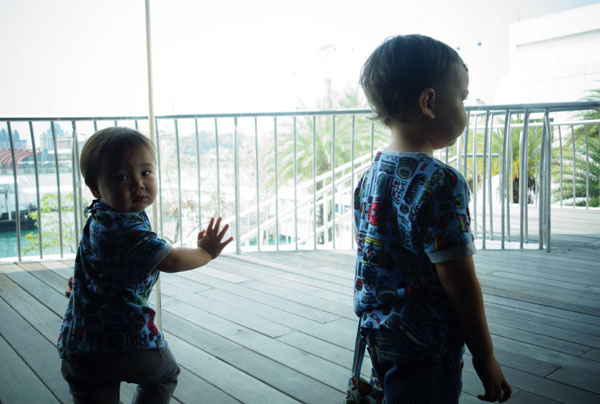 Their yum cha menu of a huge variety of dim sum was SLAM DUNK WINNER with the kids!!! They ate so much, and with such gusto, I am totally insisting on this place the next time we are at Vivocity.
We got the Signature fried noodles with superior soya sauce ($6.80) which was not overly salty, but featured lovely springy oodles in a lightly-flavoured sauce. It's a simple dish, but excellent. Hunter loved it so much he…….. wait for it…… self-fed. This is a BIG DEAL because the kid does not self-feed – food simply doesn't interest him enough.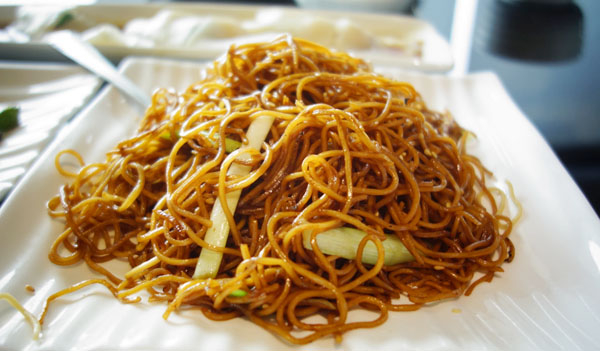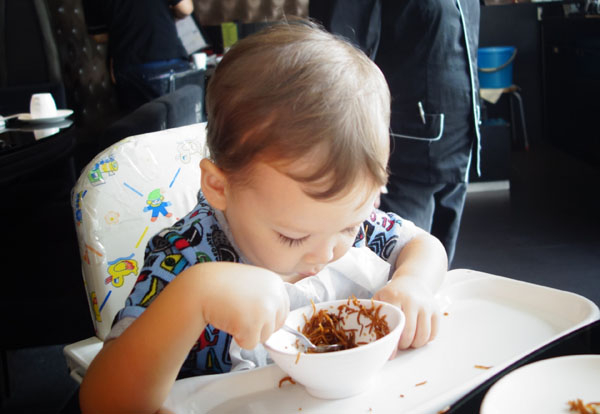 The Shanghai xiao long bao ($6.50) was had a thicker and chewier skin than Din Tai Fung's version, but I preferred it this way because it gave the bao more "oomph". The meat was tender and juicy, and the kids both lapped this up.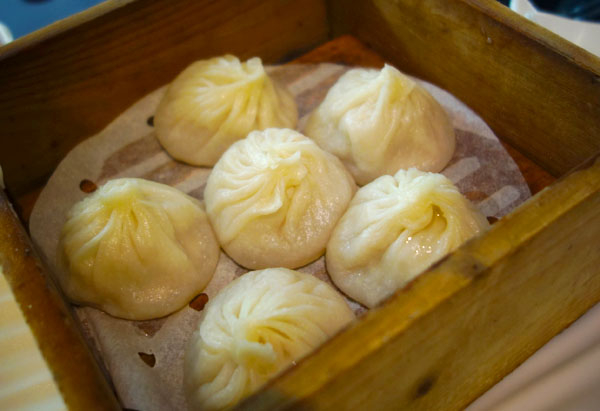 I'm not a huge fan of Prawn and asparagus rice roll ($7.80) because I always find rice roll dishes a bit bland, but my kids loved it gobbled most of it up.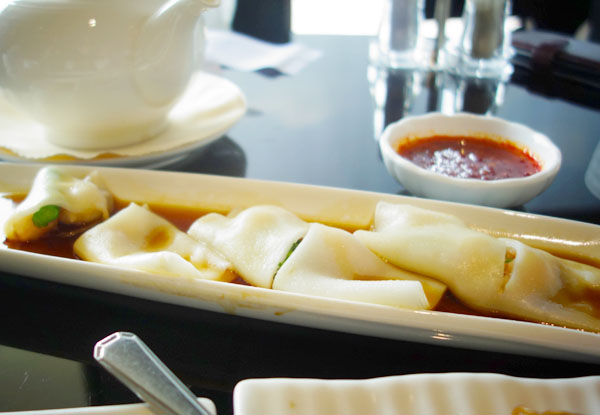 My favourite – Szechuan fried beans. I am a bean fanatic, especially when it's cooked like this. It wasn't too spicy, but did have a delicate kick, and the beans were cooked to perfection. Still dreaming about this dish right now…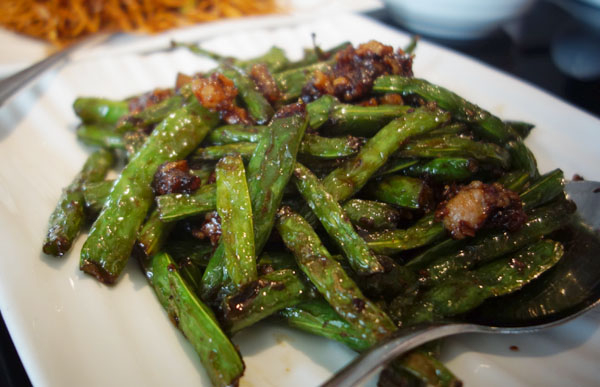 The kids each polished off one Supreme minor char siew bun ($4.50) each. The BBQ pork (char siew) within wasn't overly sweet – often they are at many restaurants, and that annoys me because I think the sweetness takes away from the delicate flavour of the fluffy bun. This was done very well.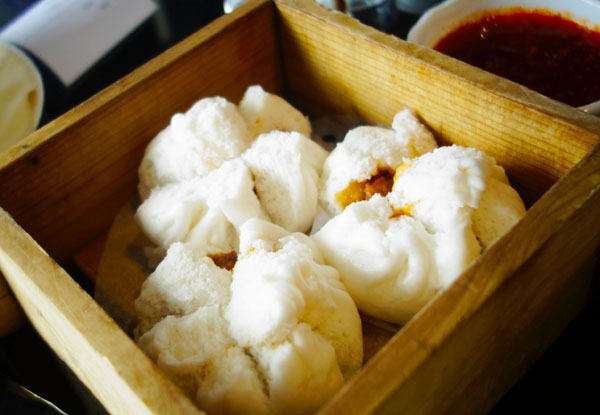 The Queen of Shumai ($6.00) only came with 3 pieces in the bamboo box, which I was disappointed about (too few!). But they were large and fat, and I liked the whole prawn sitting on top. It was delicious dipped in the accompanying chili sauce.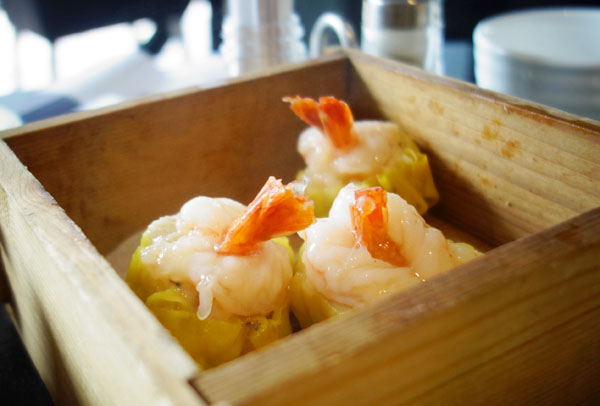 The Deep fried cod fish was ordered off their regular menu, and was around $20+ I believe. Expensive, but all was forgiven when I saw the kids NOM IT ALL UP!!!!
The cod was delicate and flaky and moist, and the batter encasing it was crispy and seasoned to perfection. These "fish nuggets", as the kids call them, were AWESOME. I loved them, they loved them. We were all very pleased. A must-order!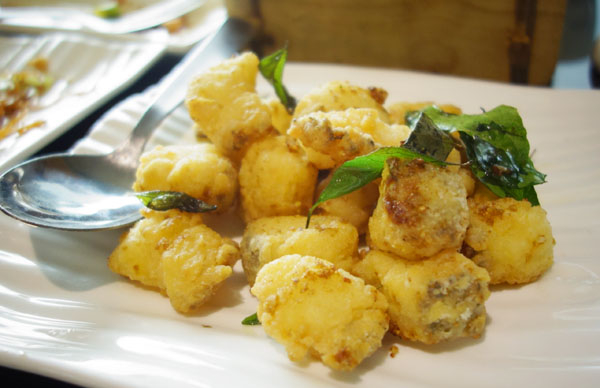 It seems I am incapable of visiting a yum cha joint and stepping away without ordering their Salted egg yolk bun. Bosses Restaurant call them Signature custard lava bun ($6.00), though these are called "liu sha bao" in Mandarin and I believe the "liu" bit means "to flow".
And, man, does the inside flow out!
Bosses version is FREAKING AMAZING. It is worth going to the restaurant solely for these babies. The yellow bun was soft and fluffy, and the insides oozed out in the most luscious and sexy way. Mmmm…. oh man it was good.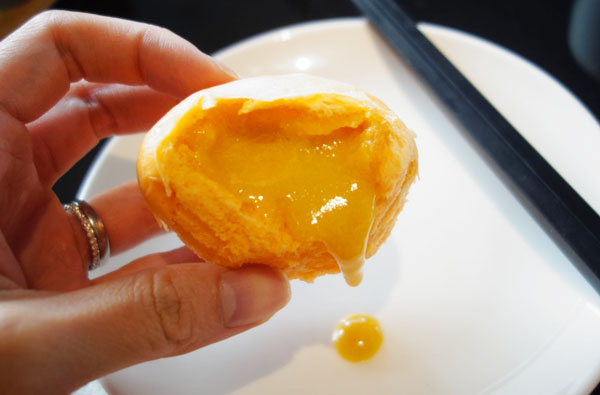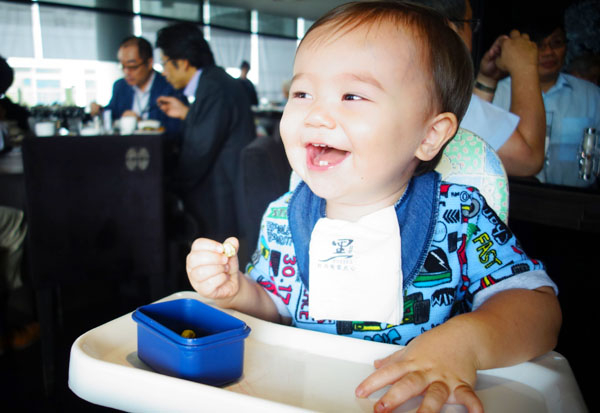 Last Bite: Bosses Restaurant offers gorgeous views of the water, impeccable service, and stellar yum cha during brunch. Every single dish we ordered was a hit with the kids and/or adults!

Highchairs: Yes
Easy access: Yes
Change tables: Yes (in the mall)
Kids' menu: No
Bosses Restaurant
1 HarbourFront Walk
#02-156 VivoCity
Singapore 098585
Phone: 6376 9740
Prices: $$$
Hours: Mon – Tues : 11am – 9pm, Wed : 12pm – 9pm, Thur – Sun : 11am- 10pm