The Grounds of Alexandria is about as kid-friendly a place to eat as you can get: in addition to its indoor dining, there's a large outdoor garden area with lots of space for prams and careening toddlers. Oh and there's a pig. Called Kevin Bacon.
The Grounds, as the locals affectionately call it, is an oasis in the inner city known for its coffee (they've got a research and testing facility on site) and sustainable food practices (they grow their own herbs and seasonal produce). It's more a destination spot than just a restaurant, café and bakery. And did I mention they've got a pig? Kevin Bacon.
On a gorgeously sunny winter day, I ventured out with Baby Lukas to meet a friend for lunch at The Grounds.
As I've mentioned in previous posts, Baby Lukas has been known to nuclear react at this time of day, and The Grounds is perfect for this potential situation: the amazing rustic outdoor garden, nestled amongst produce grown for the café, means that screaming, misbehaving and bored children blend into the scenery instead of standing out. There are lots of nooks and crannies to explore, including a gym for kids. Oh, and did I mention the pig Kevin Bacon?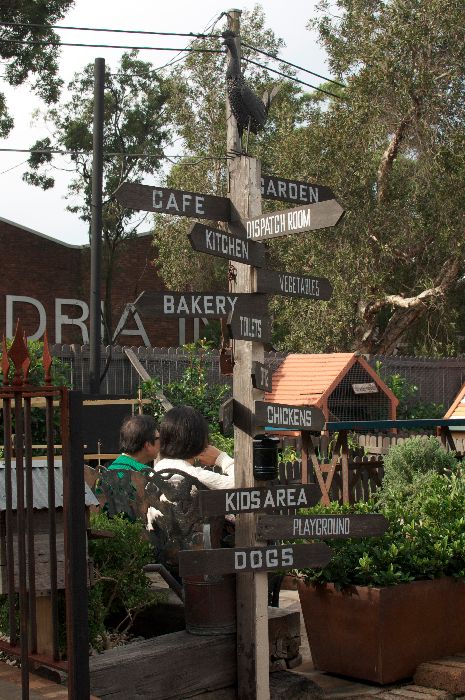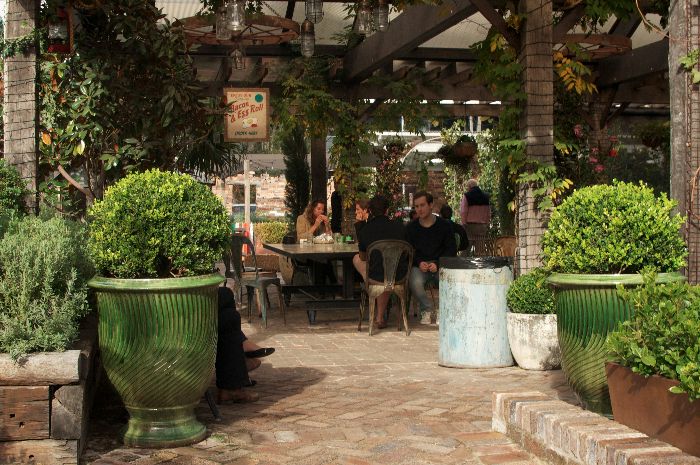 Once you get over the gorgeousness of the place, the takeaway menu (only available to those eating in the garden) presents mouth-watering options. On today's outing, I chose a Chicken Burger with Chips, and I can't recommend this unique burger enough. Don't ask questions, just order it. You won't be disappointed.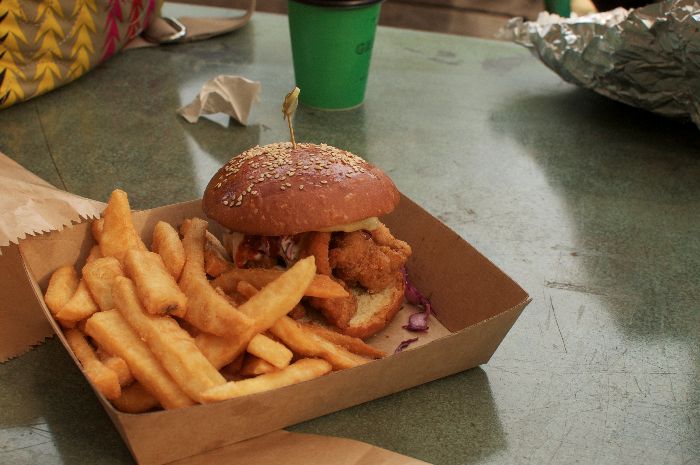 Baby Lukas kindly waited until I had shoved a few bites into my mouth before deciding to nuclear react, which is about when I played my trump card: off to visit Kevin Bacon. The pig. Needless to say, it worked a treat. Lukas was smitten and I was able to shove the rest of my delicious meal in my face. Happy ending indeed.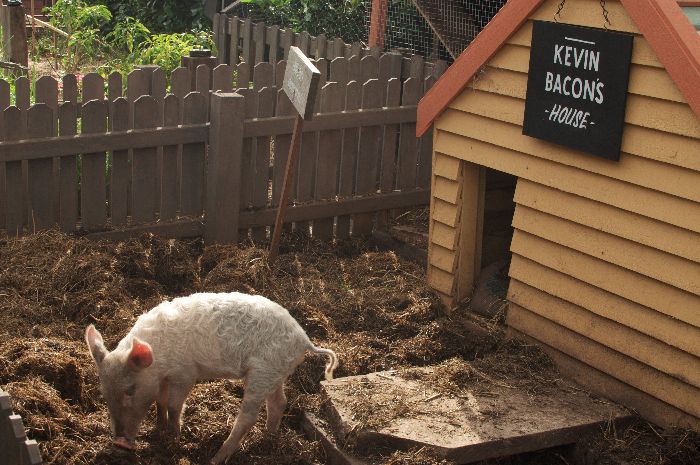 Now the one thing I would recommend is getting there early. The Grounds attracts the hordes, and even though the outdoor area is large enough to almost always find a place to sit, the queues for ordering food can be daunting.
Last bite: If you're looking for a kid-friendly eatery and destination that offers more than just food and excellent coffee on the menu, The Grounds is the place to be.
Highchairs: Yes.
Stroller storage: Yes.
Easy access: Yes.
Change tables: Yes.
Kids' menu: No. Lots for kids to eat off the menu, though!
The Grounds of Alexandria
Building 7A, N0.2 Huntley St
Alexandria, NSW 2015
Phone: (02) 9699 2225
Hours: Mon-Fri 7am-4pm, Sat-Sun 7:30am-4pm