The Chalkboard Cafe is a baby-friendly gem amongst the hectic café scene near the bustling Danks Street in Waterloo. Integrated into the home interiors stores featured in the PYD building, the café is a trendy place to brunch.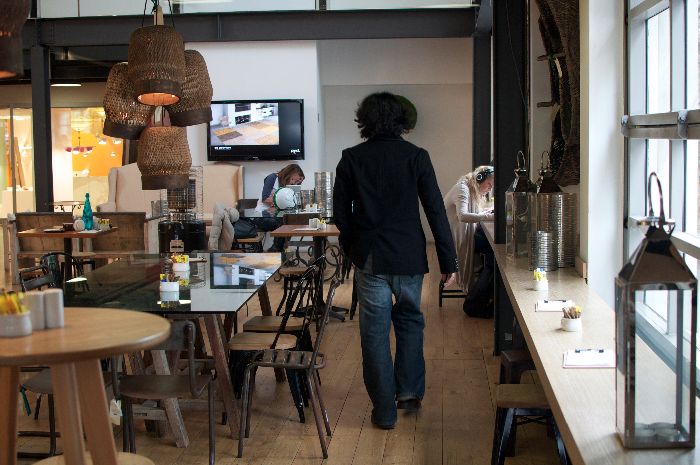 This afternoon my husband Lorin and I decided to take Baby Lukas there for a feed. Living quite literally around the corner from this baby-friendly find, we freehand-ported Baby Lukas, though the large space can fit multiple prams. In fact, it's ideal for mothers groups for this very reason.
As soon as we got there, Baby Lukas required a nappy change (I think he planned it). There's a change table on the second floor, which is a little cumbersome to get to but a set of stairs or a slow lift will assist.
Once Baby Lukas was sorted, we sat him down on a large square table (quite literally). The staff quickly offered us a highchair but were perfectly content if we just let him play on the table. Because let's face it: Baby Lukas doesn't do highchairs. Now, I should point out that this is very nice (naive?) of the staff because most of the furniture in the café is for sale from the stores in the building.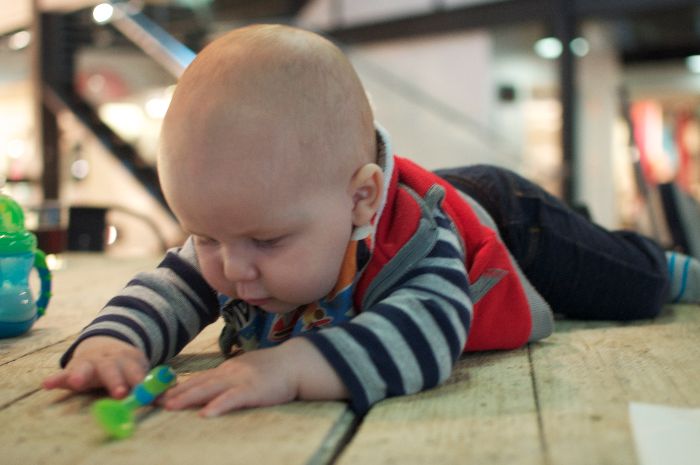 The menu has a great selection of all-day brunch items as well as sandwiches, salads and soups. I ate a delicious Crispy Chicken plate, comprising deep friend tenders with chili sauce, a tortilla and a side salad. Lorin scored a surprisingly Canadian affair of Brioche French Toast with bacon rashers, maple syrup and carmalised bananas. We were both pleased with our meals.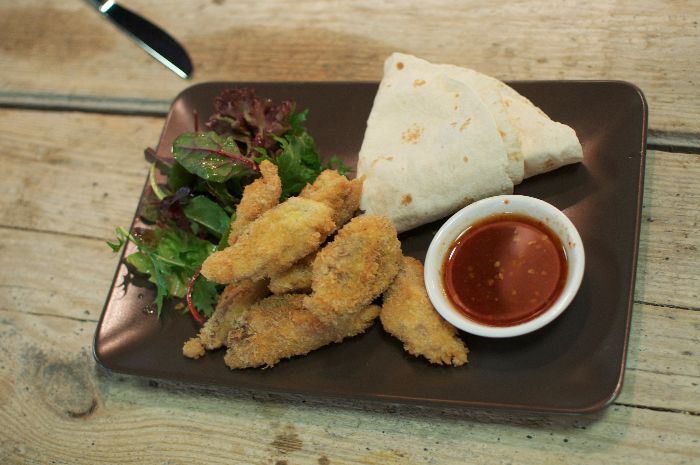 While we ate, we were visited by several staff who kept Baby Lukas happily occupied. On cue, about five bites before I would consider my meal finished, Baby Lukas started fussing, his low-grade, pre-banshee warning siren.  Considering he hadn't soiled or broken anything, it was high time to make an exit before he de-charmed the staff.
Last bite: If you're looking for a baby-friendly café with lots of space for prams in the bustle that is trendy Danks Street in Waterloo, The Chalkboard Cafe is the go.
Highchairs: Yes.
Stroller storage: Yes.
Easy access: Yes.
Change tables: Yes.
Kids' menu: No.
The Chalkboard Cafe
197 Young St
Waterloo, NSW 2017
Phone: (02) 9698 2553
Hours: Mon-Sat 7am-4pm, Thurs-Fri 5pm-9pm