We decided to take a cheeky mid-week Spring break down to the sunny holiday spot of Jervis Bay for a few days and Huskisson is a family favourite of ours. Finding kid-friendly cafes beyond fish and chips was a new experience we were willing to take on and Pilgrim's Wholefood was an excellent start. Tucked along a retail corridor the interior of Pilgrims encapsulates a beach side cantina feel with a little bit of Sydney hipness.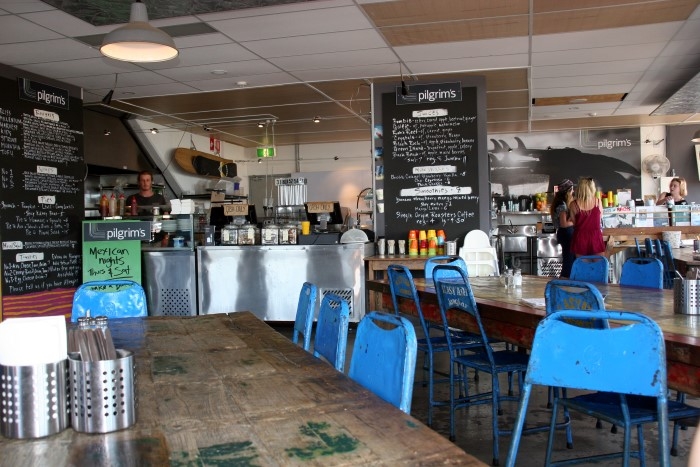 Being a devoted meatatarian I was impressed by the modern menu, which is made up solely of vegetarian options utilizing local fresh produce. The wait staff helpfully offered up the most popular choices (both burgers!). Ross selected the Bliss Burger, $11 (mixed grain pattie with fried onion, avocado, cheese, tabouleh, sprouts, special sauce & peanut sauce on a wholemeal roll) and I opted for the Millenium Burger $11 (Curry lentil pattie, fried onion, avocado, lettuce, beetroot, cucumber, sprouts, tahini sauce & sweet chilli sauce on a toasted wholemeal roll). Jenson had a Kids Burger, $8 (mixed grain pattie, fried onion, cheese, sprouts & special sauce on a toasted wholemeal roll).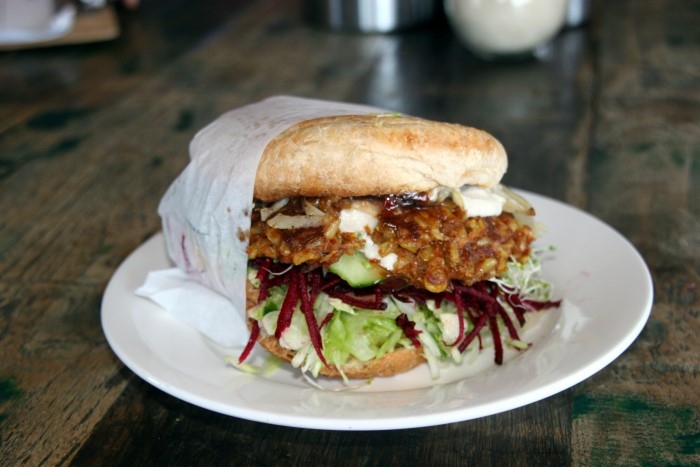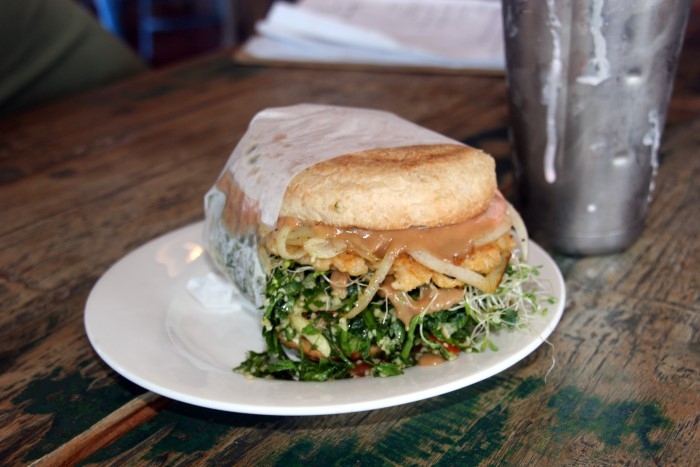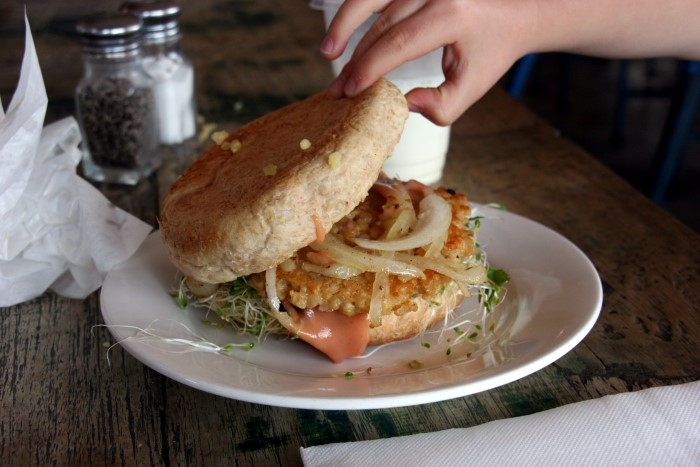 We all opted for cold drinks and Jensons' Kids Banana Smoothie, $4.50, was generous in size and arrived first, which is always smart when kids are dining. The adult Thickshakes, $7, each are served in traditional chilled metal cups and hit the spot on a warm day.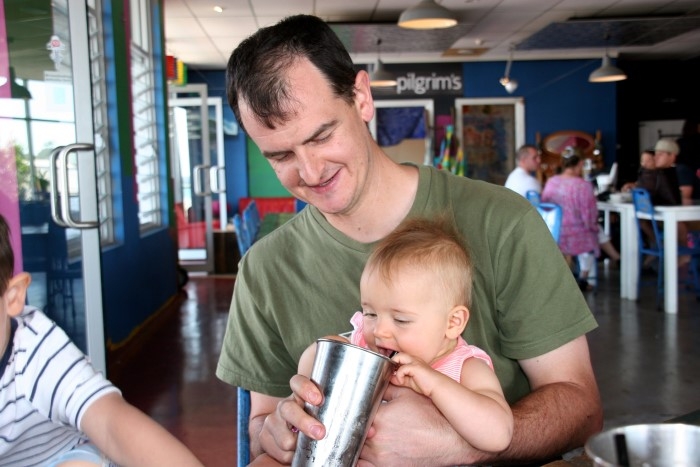 The adult burgers were both delicious and satisfying and didn't need any accompaniments such as chips, although they were a little messy. Jenson tried his burger but wasn't really into the non-traditional flavours. It would be more suitable for a child who is either a little more worldly with their eating, or can accept that a burger can be something other than meat, cheese, tomato, lettuce & sauce! Never mind, more for us to snack on!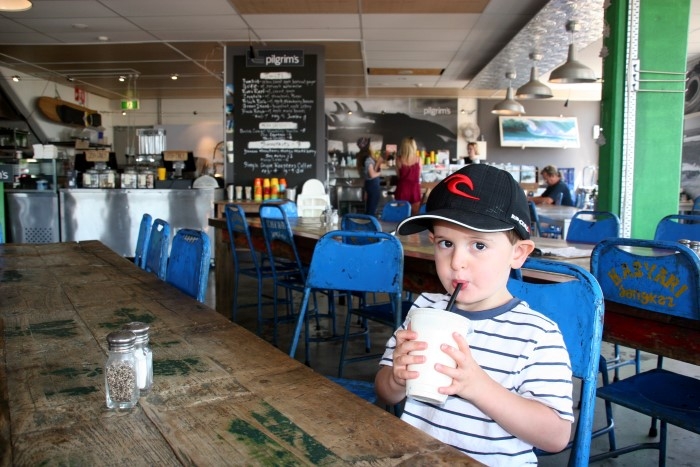 Pilgrim's Wholefood is a little bit of everything with typical breakfast fare in the morning (although still all vegetarian), burgers, wraps, pies & salads and coffee during the day with Mexican cuisine at night. This could allow you to return three times a day and have a different culinary experience each time. The café is spacious with long rustic wood tables built for sharing with a few smaller tables dotted around and has a small retail corner for local designer clothes & art for purchase or browse whilst waiting for your food.
Last Bite: Pilgrim's Wholefood brings the Sydney vibe to the beachside town with unique vegetarian wholefoods, stylish interior and things to look at and poke around for the kids. Takeaway is also an option if the café is buzzing and you need space with a kid-friendly park directly underneath the shop.
Highchairs: Yes
Stroller storage: Yes
Easy access: Yes
Change tables: No
Kids menu: One or two options, might be best to ask for a custom sandwich or wrap if child is a little picky!
Pilgrim's Wholefood
Shop 5/57 Owen Street, Huskisson, NSW 2540
Phone: 02 4441 6118
Price: $$
Hours: Mon-Sun 9am-3pm, Thur-Sat 6pm-9pm