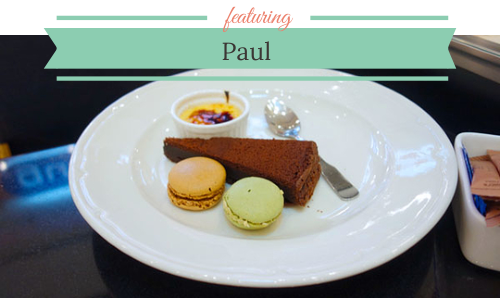 I'd been to PAUL Bakery when we lived in Shanghai, and we'd always enjoyed their coffees and pastries. I was delighted when they opened a branch in Takashimaya mall in Singapore, and now in Tanglin Mall (in July 2013).
PAUL prides themselves on their baked goods, but we'd decided to visit for lunch to try their lunchtime menu.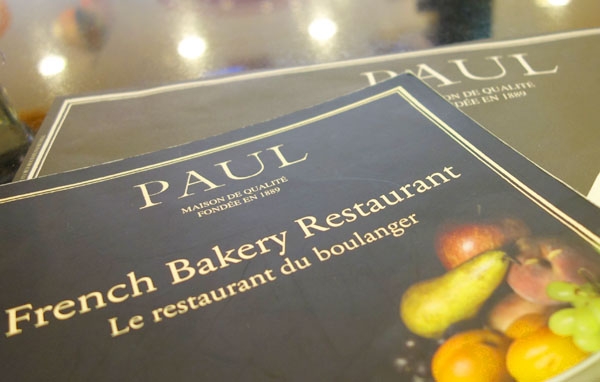 I was pleasantly surprised by the complimentary bread basket which was filled with sliced baguette. It seems fewer and fewer cafes are doing so in Singapore, so the ones that still do get a big thumbs up in my book. Specifically because my kids love bread (don't all kids?!) and it keeps them occupied as they merrily chew on the bread whilst we await our mains.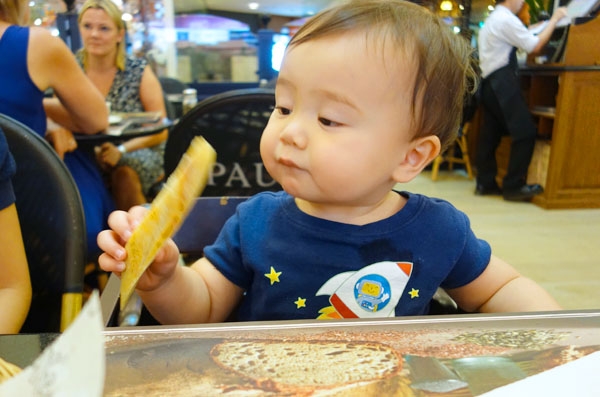 I opted for the Ham, cheese and mushroom crepe. Oddly, it doesn't exist on PAUL's menu, which either has ham/cheese combination, or mushroom/cheese combination. But because I am a greedy pig, I asked for all three, and they complied.
I believe they charged me around $20 for this (the crepes on the menu run around $18 each) and I thought it was pricey for a small serving. It's enough for breakfast or for a very petite eater, but otherwise, you'd be left pretty hungry.
Thumbs up, however, for the large roasted tomato on the side. It added juiciness to the dish and complemented it well.
They went fairly heavy-handed on the cheese, which I was delighted with. I would have preferred another slice of ham (could hardly taste it as it was one thin sliver), and for the crepe itself to be a little drier and crispier as it was a tad soggy. I suppose I'm used to the amazing crepes we had in Paris!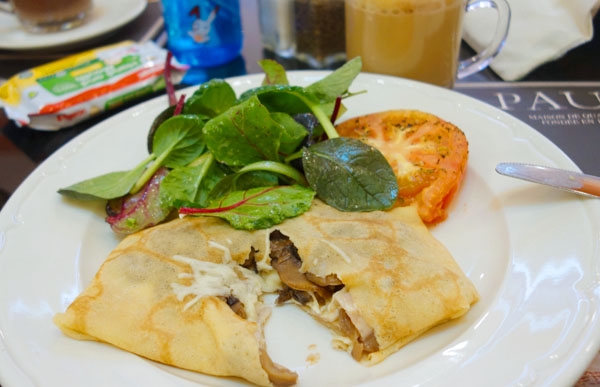 Their latte was superb and hit the spot. It was served in an adorable thick-walled glass mug, and had a rich foam over a punchy coffee.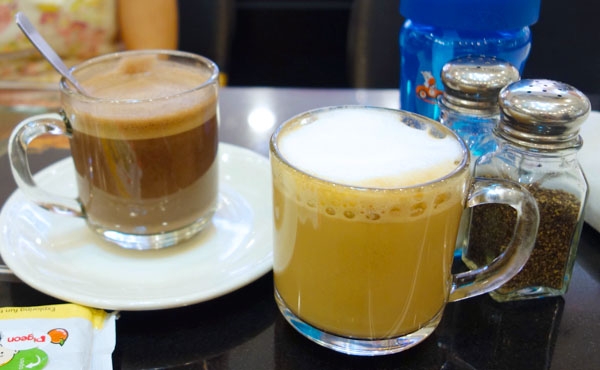 Their dessert+coffee set is a staple of mine. This mini dessert platter comes with a tiny pot of creme brulee (Carter loved this), a small slice of chocolate fudge cake (absolutely luscious), and two macaroons (lovely).
It's the perfect portion size for a dessert, and will leave you satisfied but not overly-full.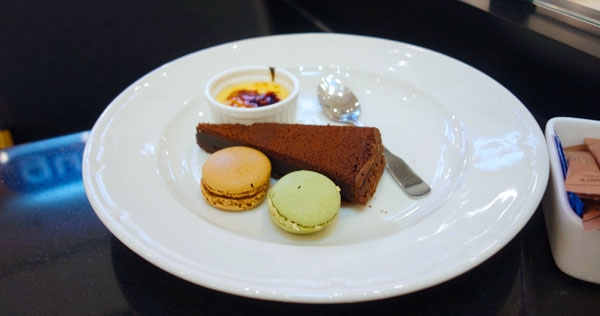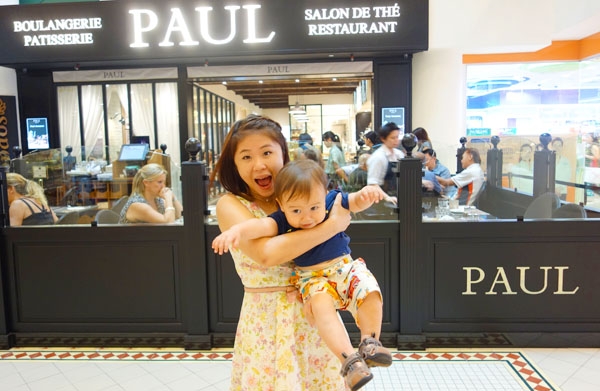 Last Bite: PAUL Bakery now has two convenient locations on Orchard Road, and offers a small but satisfying lunch menu. Our favourite? The dessert + coffee set!

Highchairs: Yes
Easy access: Yes
Change tables: Yes (in the mall)
Kids' menu: No
PAUL Bakery
Tanglin Shopping Centre
163 Tanglin Road
#01-16/17
Singapore 247933
Phone: 6736 3257
Prices: $$
Hours: Sun-Thu 8am-9:30pm; Fri-Sat 8am-10pm